Healthy Red Velvet Brownies
I love Red Velvet anything.  Love love loooove!  Red Velvet is basically vanilla with a hint of chocolate, that is dyed a vibrant red.  These Healthy Red Velvet Brownies, on the other hand, are just like any regular brownie — fudgy, moist, dense, sweet, chocolatey — only with a lovely (naturally) reddish hue.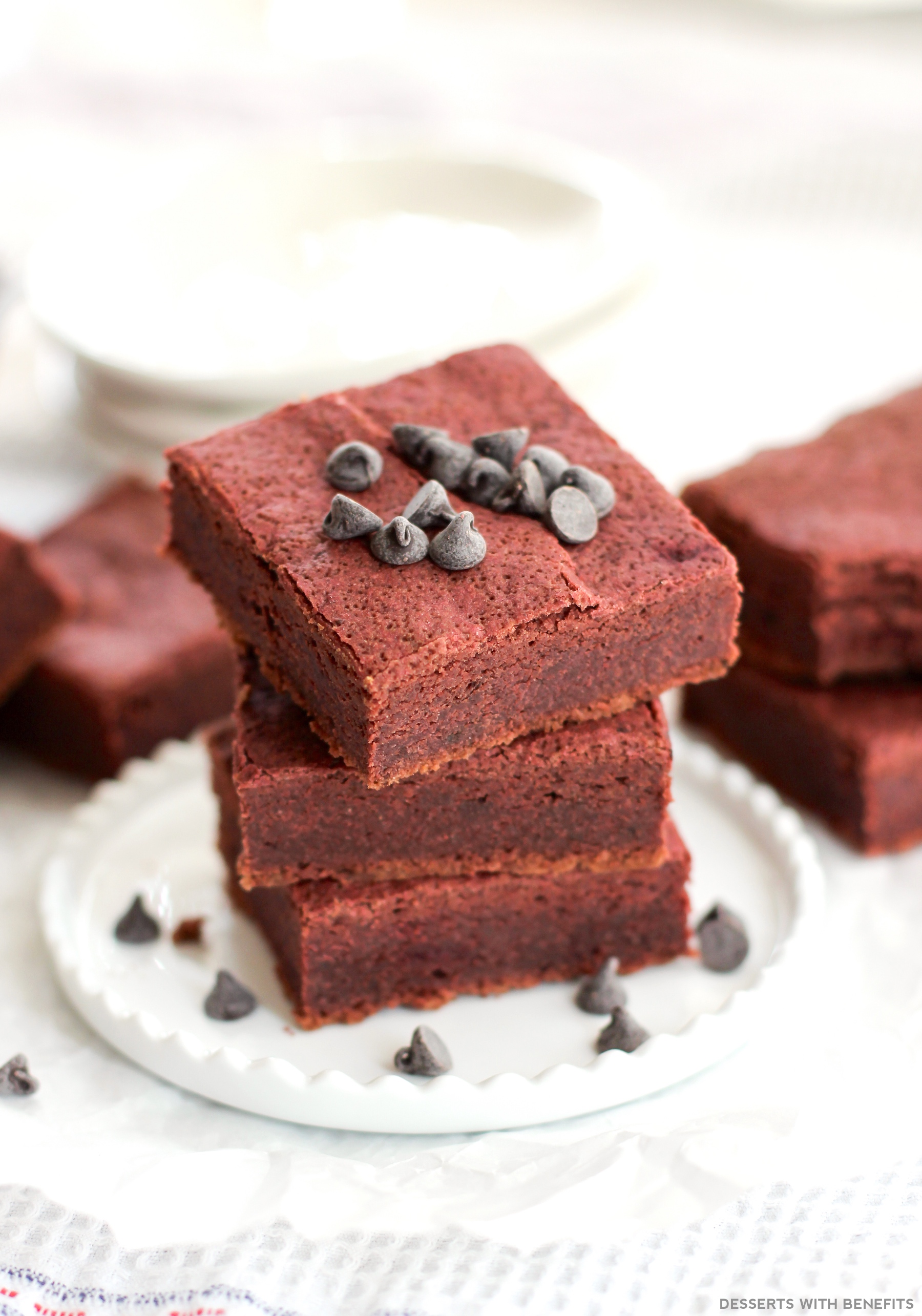 Red Velvet Brownies.  It can't get better than that, right?
Oh wait, it just did — HEALTHY Red Velvet Brownies!
Yup, I said it, these brownies are good for you.  They are 100% whole grain, free of refined sugar, gluten free, and vegan to boot.  Oh, and they're hiding a VEGETABLE.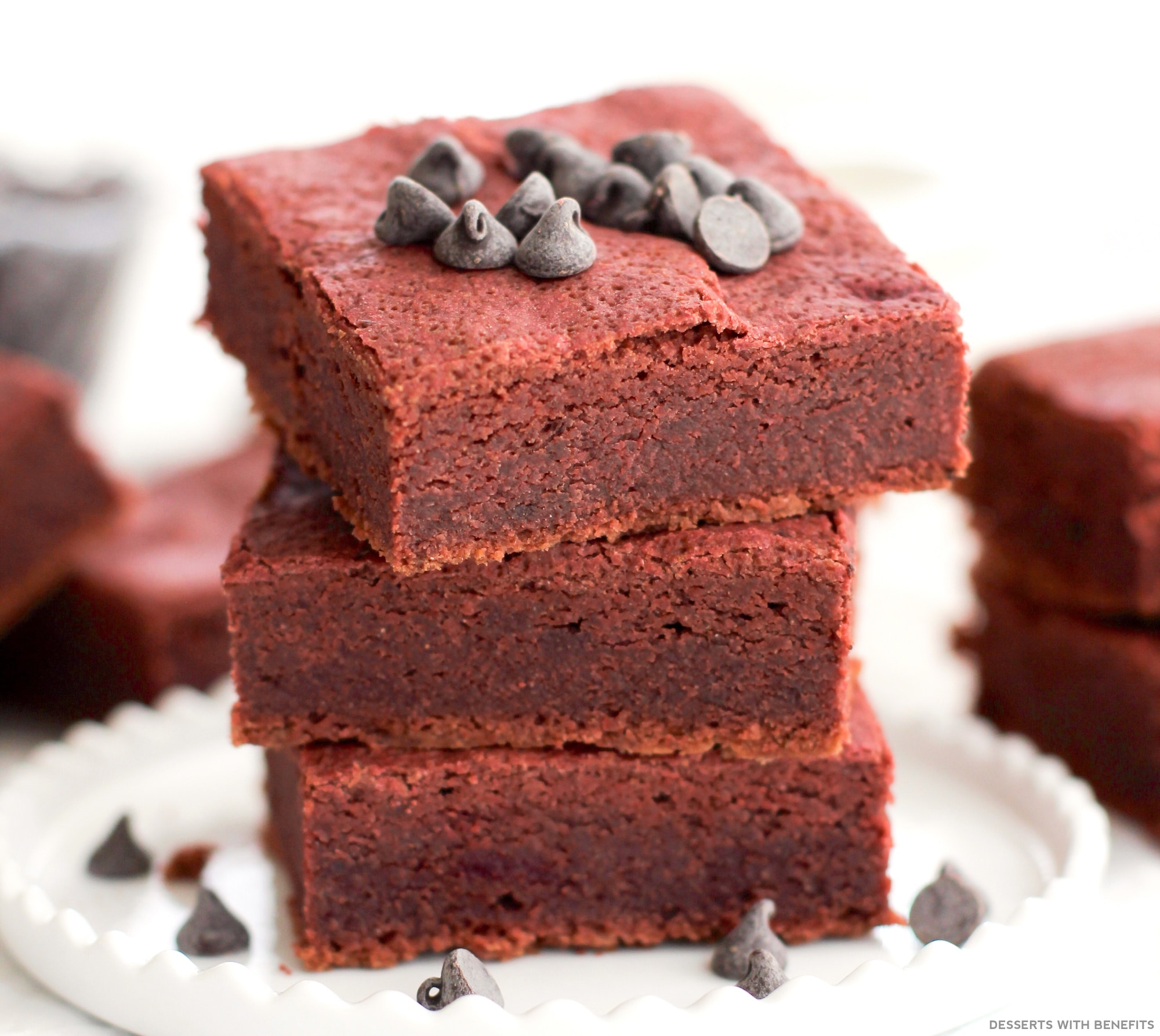 Feel free to add a big sprinkle of mini dark chocolate chips to the batter as you make these Healthy Red Velvet Brownies.  Emphasize that chocolate yo.
Chocolate lovers, REJOICE.  Because there is no such thing as too much chock-oh-law-tay.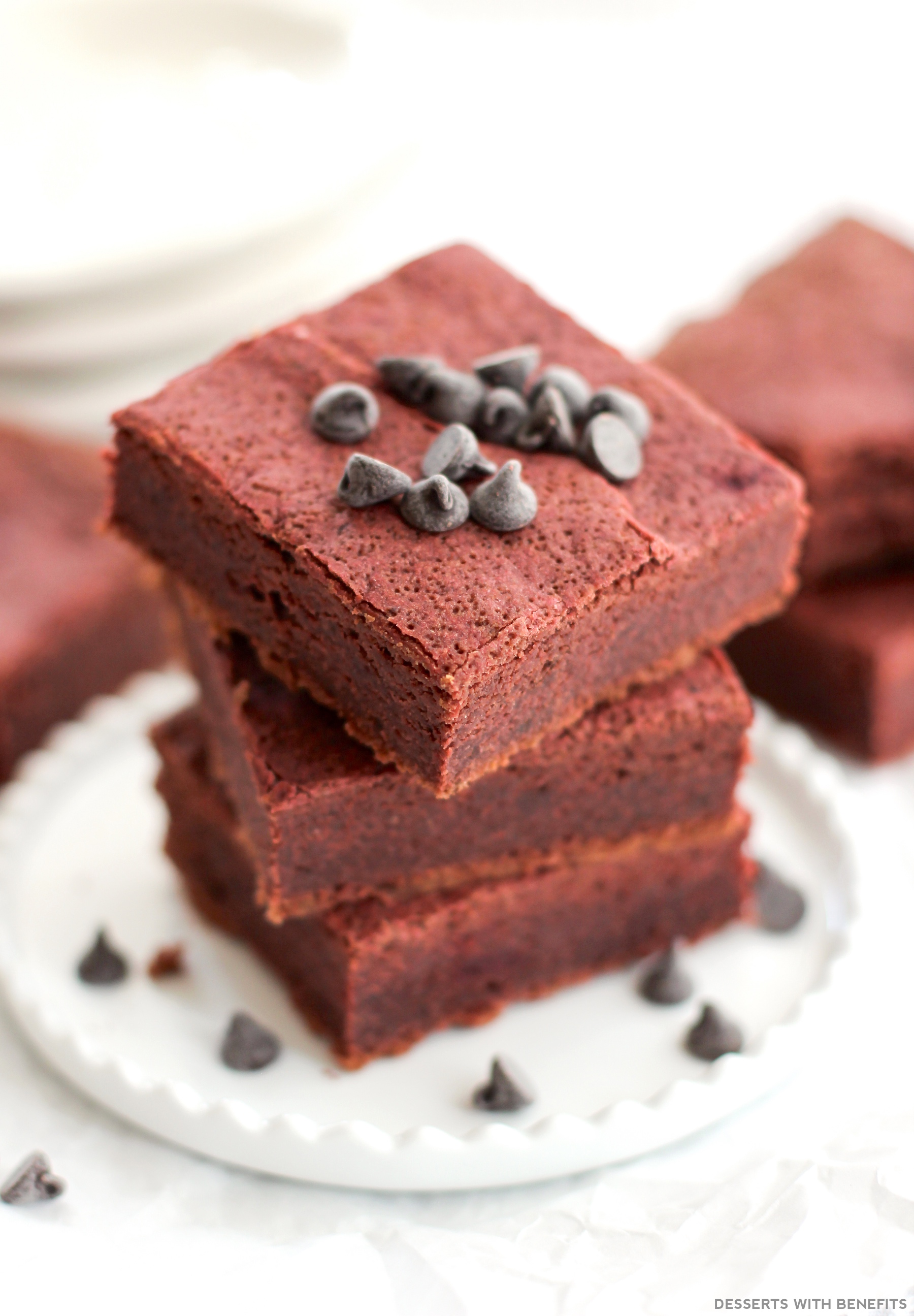 Healthy Red Velvet Brownies
Prep Time: 1 hour 30 minutes
Cook Time: 30 minutes
Total Time: 2 hours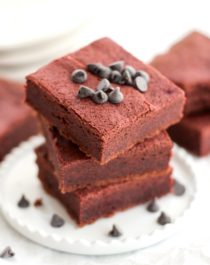 Fat per serving: 14g
Calories per serving: 220
Ingredients:
Directions:
For the Roasted Beet Puree:
Preheat the oven to 400 degrees Fahrenheit.
Rinse and gently scrub 3 medium beets, then individually wrap them in foil.
Place the beets on a jelly roll pan and bake for 1 hour, or until a fork pierces through the center of the beets with ease. Carefully unwrap the beets and let cool for 30 minutes.
Scrape off the beet skins (they should peel off easily) and chop into chunks. Add the beet chunks to a food processor and purée until completely smooth.
For the Brownies:
Preheat the oven to 350 degrees Fahrenheit and line an 8×8″ brownie pan with parchment paper both ways.
In a small bowl, whisk together the oat flour, erythritol, sorghum flour, cocoa powder, baking powder, salt and xanthan gum.
In a large bowl, whisk together the beet puree, melted cacao butter, warm almond milk, vanilla extract, butter flavor and stevia extract.  Dump the dry ingredients over the wet ingredients and whisk well.
Last, whisk in the vinegar and optional mini chocolate chips.
Scoop the mixture into the prepared pan and spread it out with an offset spatula.  Bake for ~34 minutes, or until the center of the brownies spring back when tapped.  Let cool, then slice and serve.
Notes:
Best served THE DAY OF MAKING or the day after.  Any longer and they'll dry out.  To serve them as if they were "freshly baked," pop a brownie in the microwave for ~10 seconds!
The recipe above is my revised recipe.  I originally posted a Red Velvet Brownie recipe back in 2013 but felt like it could use some work on the texture.  Just in case you wanted to see the previous recipe and/or the changes I made, I'm providing the old recipe here:
18g (4½ tsp) Ener-G Egg Replacer
½ cup Unsweetened Vanilla Almond Milk
138g (½ cup + 1 tbs) Roasted Beet Puree
2 tsp Vanilla Extract
2 tsp Natural Butter Flavor
1 tsp Stevia Extract
160g (1 cup) Brown Rice Flour
144g (¾ cup) DIY Vanilla Sugar (or dry sweetener of choice)
136g (1 cup) Sweet White Sorghum Flour
20g (¼ cup) Unsweetened Natural Cocoa Powder
1 tsp Baking Powder
½ tsp Salt
28g (2 tbs) Coconut Oil, liquid
1 tsp Apple Cider Vinegar
All images and text ©
.
.
As if the ingredient list didn't prove the healthfulness of these brownies already, I made a nutrition label for the recipe as well:
Compared to typical brownies, these brownies are lower calorie and higher fiber with no added sugar and zero cholesterol!
Mind. Blown.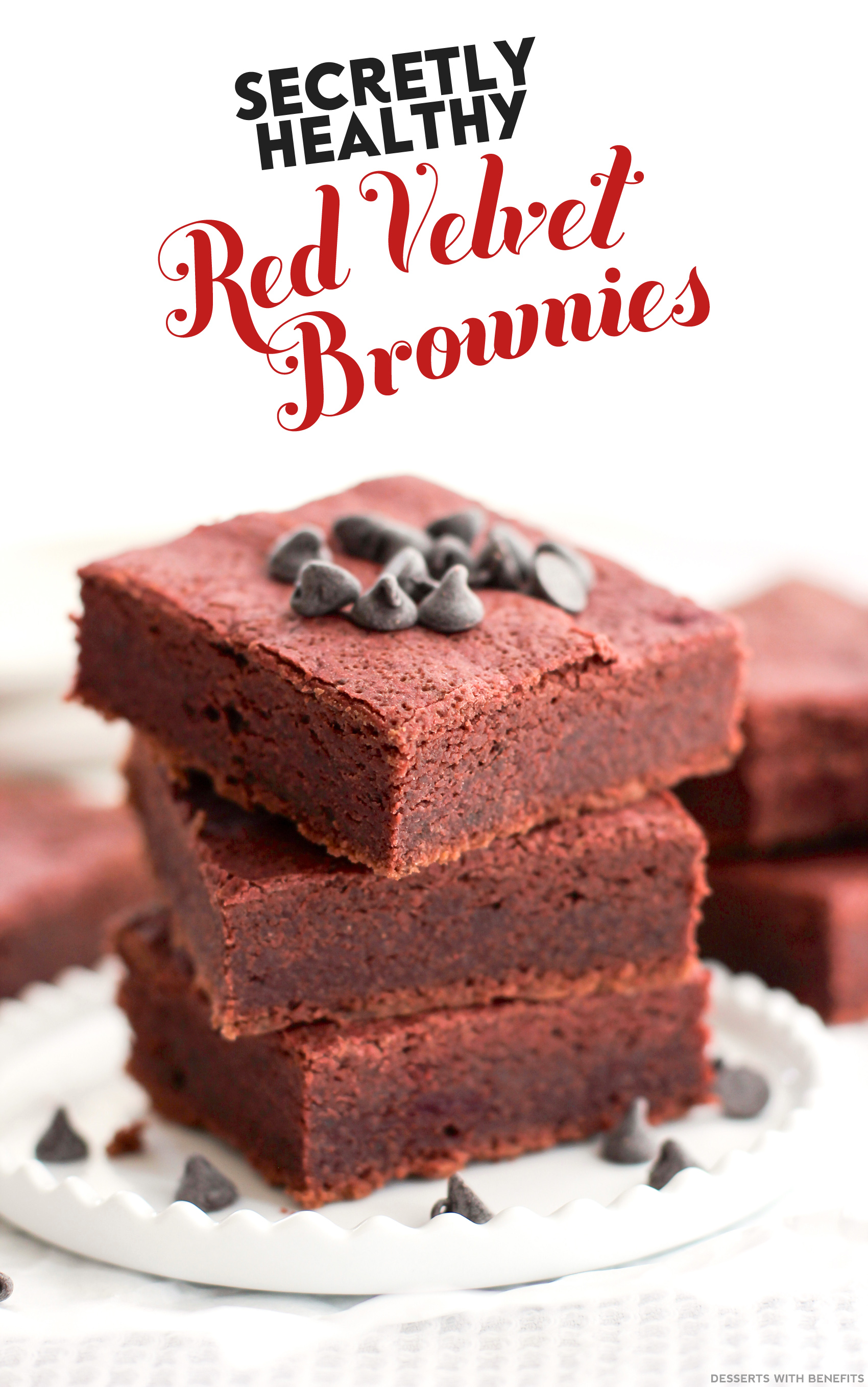 Time for brownie number two.  It's the obvious choice guys.
.
With love and good eats,
.
– Jess
.