Healthy Vegan Pecan Pie
That (totally awesome) Maple Pecan Pie was loved by all… except for my vegan friends.  I'm sure they would have loved it if they had tasted it, but for them, eggs are a no-no.
I could sense the torture I was putting them through.  Imagine smelling that pie baking in the oven and not being able to taste it?  I would have a meltdown and curl up in the fetal position force myself to leave the premises…  😉
To make sure my vegans still loved me, I made them a pie they could eat.  That's right.  I made a (seriously, totally awesome) Maple Pecan Pie… vegan!
Oh yes.  That popular dessert that usually contains a ton of butter and eggs is veganized!  So not only is this pie vegan, but it's 100% natural and actually good for you.  Yup, no butter, no eggs, no corn syrup, no processed white sugar.  And it tastes great.
*faints*
It's that amazing.
Shhh, here's a secret:  my non-vegan taste testers (some of whom are not health-conscious) loved this pie, and they didn't even know it was vegan  😉
Does this Healthy Vegan Pecan Pie belong on your holiday spread?  YES.  Duh.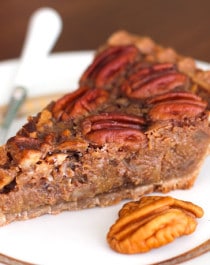 Print Recipe
Pin Recipe
Healthy Vegan Pecan Pie
Ingredients
Graham Crackers

(recipe also in the cookbook!)

Salt

Coconut Oil

Unsweetened Vanilla Almond Milk

Organic Extra Firm Tofu

Pure Maple Syrup

Molasses

Vanilla Extract

Oat Flour

Pecans
Recipe Notes
I originally wasn't going to share the recipe here because I worked so incredibly hard on publishing Naughty or Nice.  But, I understand not having a recipe here can be frustrating.  So, I'll meet you halfway...  how does that sound?  I'll show you all the ingredients I use in the recipe.  That way, you can determine on your own whether or not the cookbook is for you!
Nutrition Facts
Healthy Vegan Pecan Pie
Amount Per Serving (1 serving = 1/12th of pie)
Calories 290
Calories from Fat 117
% Daily Value*
Fat 13g20%
Sodium 170mg7%
Carbohydrates 39g13%
Protein 5g10%
Calcium 100mg10%
Iron 1.8mg10%
* Percent Daily Values are based on a 2000 calorie diet.
Enjoy!
.
Be happy.
Live fully.
Feel naughty, eat nice.
.
– Jess
.