Healthy Cinnamon Rolls (2nd Attempt)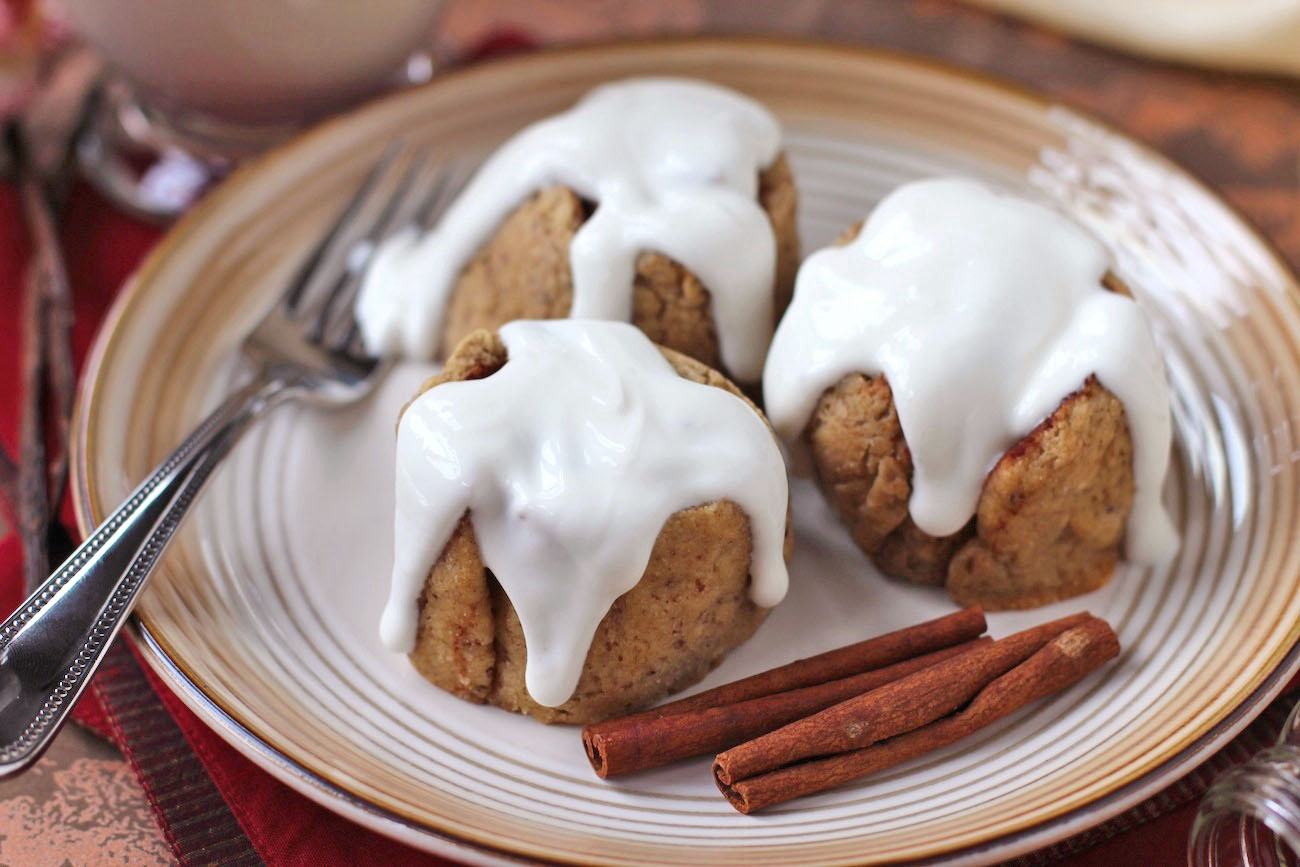 I've made healthy Cinnamon Rolls before, but like I explained in that post, they weren't the most authentic-tasting (you know, the completely artificial stuff that comes in a tube at the grocery store… or those giant, trans fat-filled buns at the mall slathered with about a pound of butter each?).  Well, I revamped my previous recipe to make the Cinnamon Rolls feel softer, taste sweeter, and have more cinnamon flavor.  Sadly, these babies are still no Cinnabon replicas, but my taste-testers and I are really happy with the results!
Yeah, they're kinda ugly (not gonna lie)…  but oh so delicious  😉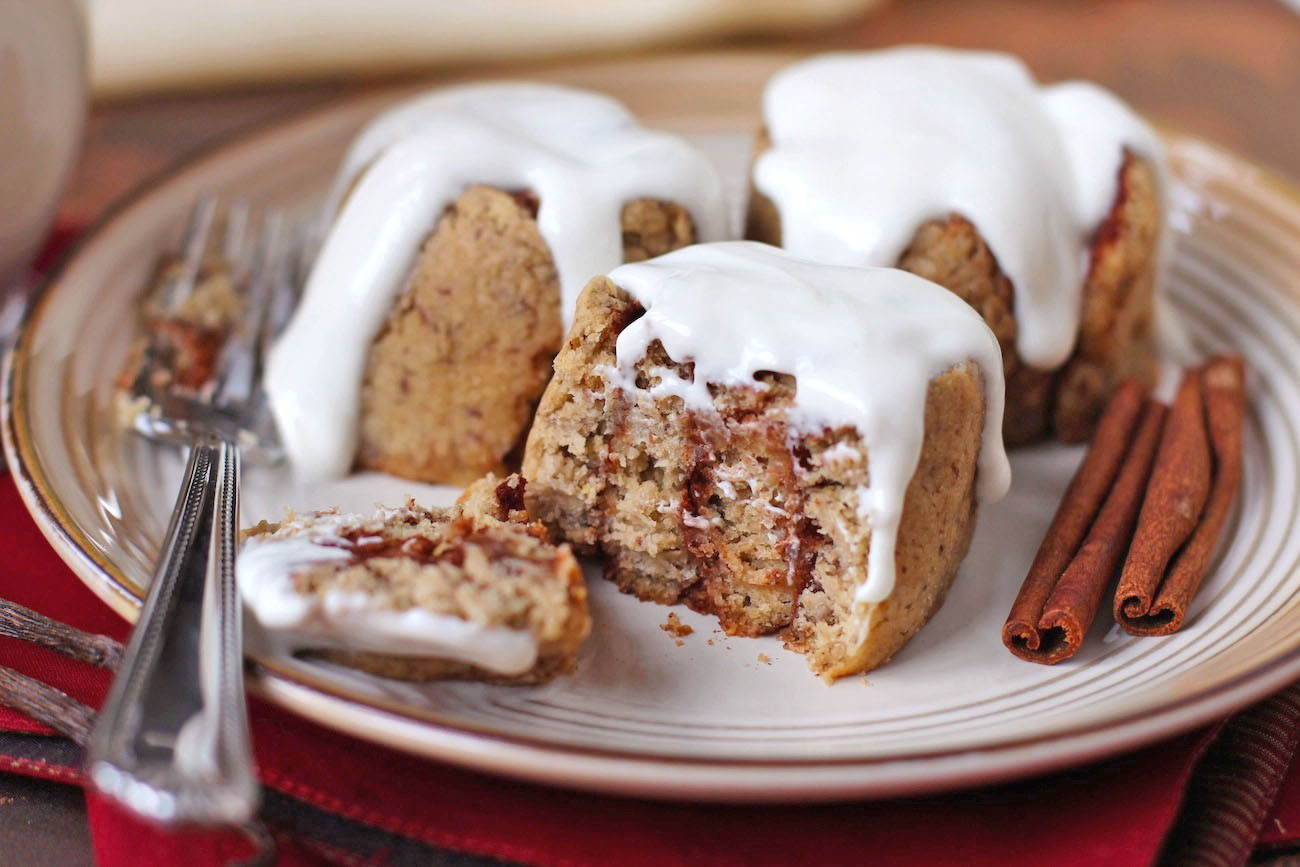 Soft, moist, decadent, rich, flavorful, buttery, sweet and nutritious.  Ahhhh just stop talking and give me a bite please!  If it's guilt free, healthy and delicious HAND. IT. OVER.
Now.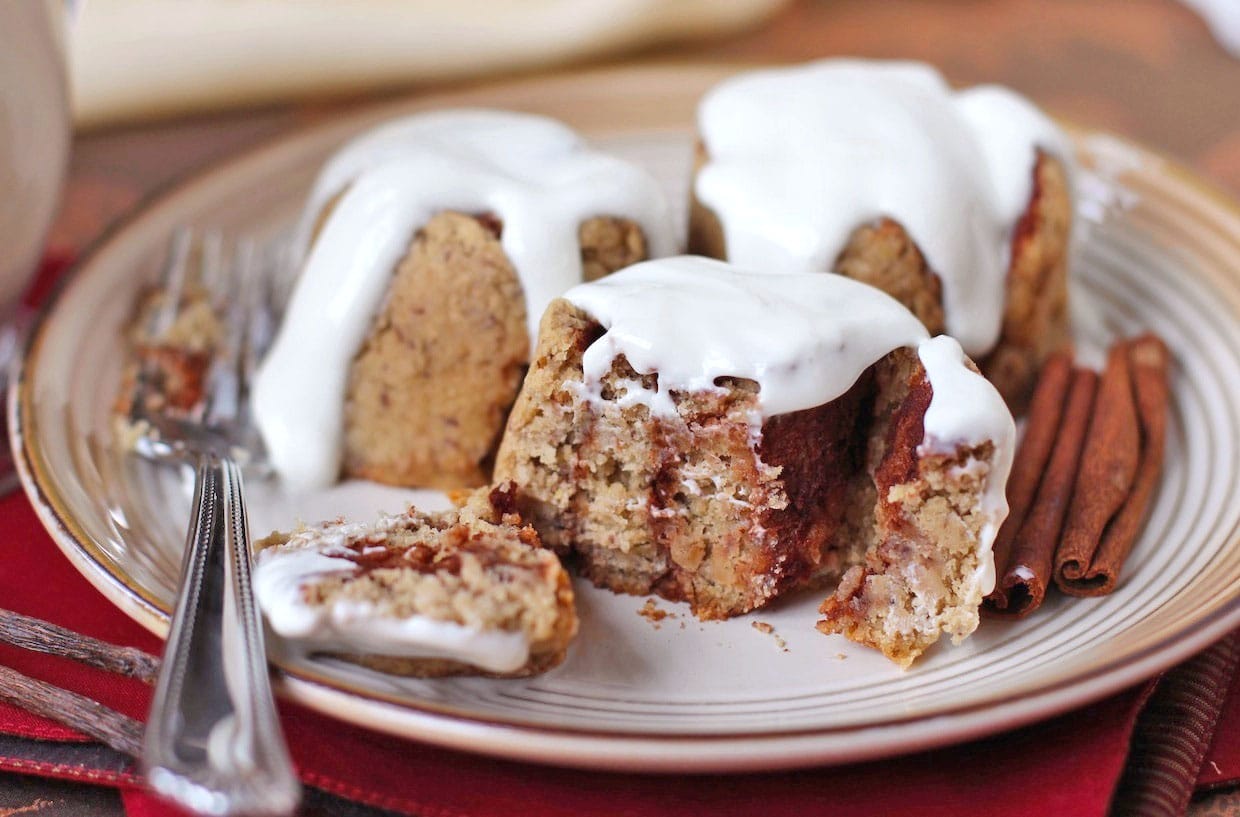 Mmmm, just look at the sweet and cinnamon-y filling.  These Healthy Gluten Free Cinnamon Rolls are all-natural and whole grain (aka, totally suitable for breakfast, lunch, a mid-day snack AND dessert,  that's how healthy they are).  Check out the nutrition label comparison below!
Healthy Gluten Free Cinnamon Rolls
Ingredients
Cinnamon Roll Dough:

13g (2 tbs) Ground Flaxseed + 3 tbs Water
28g (2 tbs) Coconut Oil, melted
2 tsp Stevia Extract
2 tsp Vanilla Extract
2 tsp Butter Extract
3/4 cup Unsweetened Vanilla Soy Milk
12g (1 tbs) Sucanat
1 tbs Active Dry Yeast (8g)
120g (1 cup) Oat Flour
120g (3/4 cup) Brown Rice Flour
56g (1/2 cup) Almond Meal
2 tsp Baking Powder
1/2 tsp Xanthan Gum
1/3 tsp Salt
~2 tbs Oat Flour, for rolling

Filling:

28g (2 tbs) Coconut Oil, liquid
1 tsp Butter Extract
96g (1/2 cup) Granulated Erythritol (or dry sweetener of choice)
2 tbs Cinnamon

Frosting:

1 cup Plain, Nonfat Greek Yogurt (other yogurts will work)
3-6 tbs Unsweetened Vanilla Soy Milk, depends on how thin/thick you like the frosting
1-1.5 tsp Stevia Extract (to taste)
Instructions
For the Cinnamon Rolls:

In a small bowl, stir together the flax and water until thick and gel-like. Stir in the coconut oil and extracts.
Add the soymilk to a glass measuring cup and microwave for 15 seconds, or until warm. Stir in the sucanat, then stir in the yeast. Let sit ~10 minutes, the mixture should become foamy.
In a medium-sized bowl, whisk together the oat flour, brown rice flour, almond meal, baking powder, xanthan gum and salt.
Stir the flax mixture into the measuring cup with the yeast, then pour this over the dry ingredients. Stir the mixture with a rubber spatula until it forms a very soft dough.
Sprinkle the oat flour onto a Silpat and LIGHTLY knead the dough just 3-4 times, or until it can form a ball.
Spray a clean bowl with cooking spray and place the dough ball inside. Cover with plastic wrap and let dough proof for 1 hour in a warm space (I used a warming drawer set to 88 degrees Fahrenheit)
Sprinkle a tiny bit of oat flour onto the Silpat and place the dough on top (do not punch the dough down). Sprinkle a tiny bit of oat flour over the dough and place another Silpat sheet on top. Roll the dough out into a large rectangle.
In a small bowl, stir together the coconut oil and butter extract.
In another small bowl, stir together the erythritol and cinnamon
Brush the oil mixture onto the dough rectangle, then sprinkle on the cinnamon-sugar mixture.
Roll the dough, carefully, by lifting the Silpat up so that the dough curls onto itself. Now just use your hands to continue rolling the dough.
Put the dough "log" seam side down, and slice the log into 8.
Grease an 8" springform pan with cooking spray and arrange the slices inside. Cover with plastic wrap and let rise for 1 hour in a warm space (I set my warming drawer to 90 degrees)
Preheat the oven to 350 degrees Fahrenheit and bake for ~33 minutes, or until the surface is somewhat firm when tapped. Remove the outside of the springform pan and let the cinnamon rolls cool.

For the Frosting:

In a small bowl, stir together the yogurt, soymilk and stevia. Give it a taste and adjust as needed.
Frost the cinnamon rolls!
Notes
This recipe is: low sugar, high fiber, high protein, eggless, gluten free, vegan optional!
http://dessertswithbenefits.com/healthy-cinnamon-rolls/
www.DessertsWithBenefits.com
I'm sure someone out there is wondering what the nutrition stats are for this recipe so I made a nutrition label for it.  I was surprised at how nutritionally balanced the recipe was and wanted to see how it would compare to the all-famous Cinnabon nutrition labels.  Because Cinnabon sells ginormous cinnamon rolls I compared my recipe's nutrition label to the Minibon…  my cinnamon rolls are still bigger than the Minibon but it makes the discrepancy between the two a little easier to take in.  The Minibon nutrition label is on the left,  the Desserts with Benefits nutrition label is on the right:
Yup, my healthified recipe is far better than the Minibon.  My recipe has:
100 less calories
ZERO trans fats (the dangerous/deadly fats that clog arteries, cause disease, cancer, etc)
less sodium and less carbohydrates
NO refined sugar
more fiber, more protein and more nutrients + minerals
If only someone had made me this recipe years ago when I used to eat at Cinnabon every time I went to the mall…  grrrr!!  While this recipe came to me a little late in life when I have already cut out refined sugar and stopped eating processed foods, I hope this recipe serves you well so we can all stop ingesting 3/4 cup of sugar in one sitting eating crappy mall food!