Healthy Marshmallowy Coconut Krispy Treats
If I were forced to choose the tastiest food combination ever–one more flavorful than apples + cinnamon, one more tempting than chocolate + caramel, and one more lip-smacking than peanut butter + jelly…  it would have to be coconut + chocolate!
FATE:  the reason why these Coconut Krispy Treats came to be
Coconut…
and Dark Chocolate
You can't go wrong with that combination, now can you?
No, you can't.
These bars (and I don't know why or how) tasted very similar to the real Rice Krispy Treats… like, mysteriously similar.  I don't know how to explain it, but it definitely has something to do with the coconut butter.  And it's amazing.  It tasted like real marshmallows were hiding somewhere!
My father said that this was the best thing he's ever eaten, and he is a 
serious
 foodie!  My whole family loved it.  I should make it for my dorm roomies when school starts 

These reminded me of my childhood where — along with chocolate — I was totally obsessed with Rice Krispy Treats.
In the first bite, you get a soft, yet crunchy, bar.  Sweet and delicious.  Your tastebuds sense hints of marshmallow, but in a few seconds they will realize that it is coconut.  As you continue to chew, you taste the rich, chocolate flavor from the glaze.  Soon, the treat is no more and you grab another one.
Healthy Marshmallowy Coconut Krispy Treats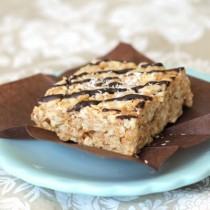 Ingredients:
Dry:
Wet:
210g (1/2 cup + 2 tbs) Brown Rice Syrup
98g (1/4 cup + 3 tbs) Raw Coconut Butter
14g (1 tbs) Coconut Oil
1 tsp Vanilla Extract
1 tsp Stevia Extract
1/2 tsp Coconut Extract
Chocolate Drizzle:
1.5oz 100% Cacao Unsweetened Chocolate
4g (1 tsp) Coconut Oil
Directions:
Line an 8" brownie pan with parchment paper.
In a large bowl, measure all the dry ingredients and stir carefully.
In a large microwave-safe bowl, add the wet ingredients.
Microwave the wet ingredients at 30 seconds intervals until all is melted and runny.
Pour the wet ingredients over the dry ingredients trying to cover every krispy possible, and stir until everything is incorporated with a rubber spatula.
Scoop the mixture into the brownie pan and press down with the spatula (a Silpat works too) until it is firm and flat. Refrigerate for 10 minutes while you make the chocolate drizzle.
Roughly chop the chocolate and put into a microwave safe bowl with the coconut oil. Microwave at 30 second intervals until all is melted. Stir.
Take the krispies out of the fridge and drizzle with the chocolate.
Refrigerate for 30 minutes, or freeze for 10 minutes until chocolate is hard. Slice and serve!
Oops!  I took a picture of an empty plate.
Oh yeah.  They went fast.