Part II: A Deeply Personal Post…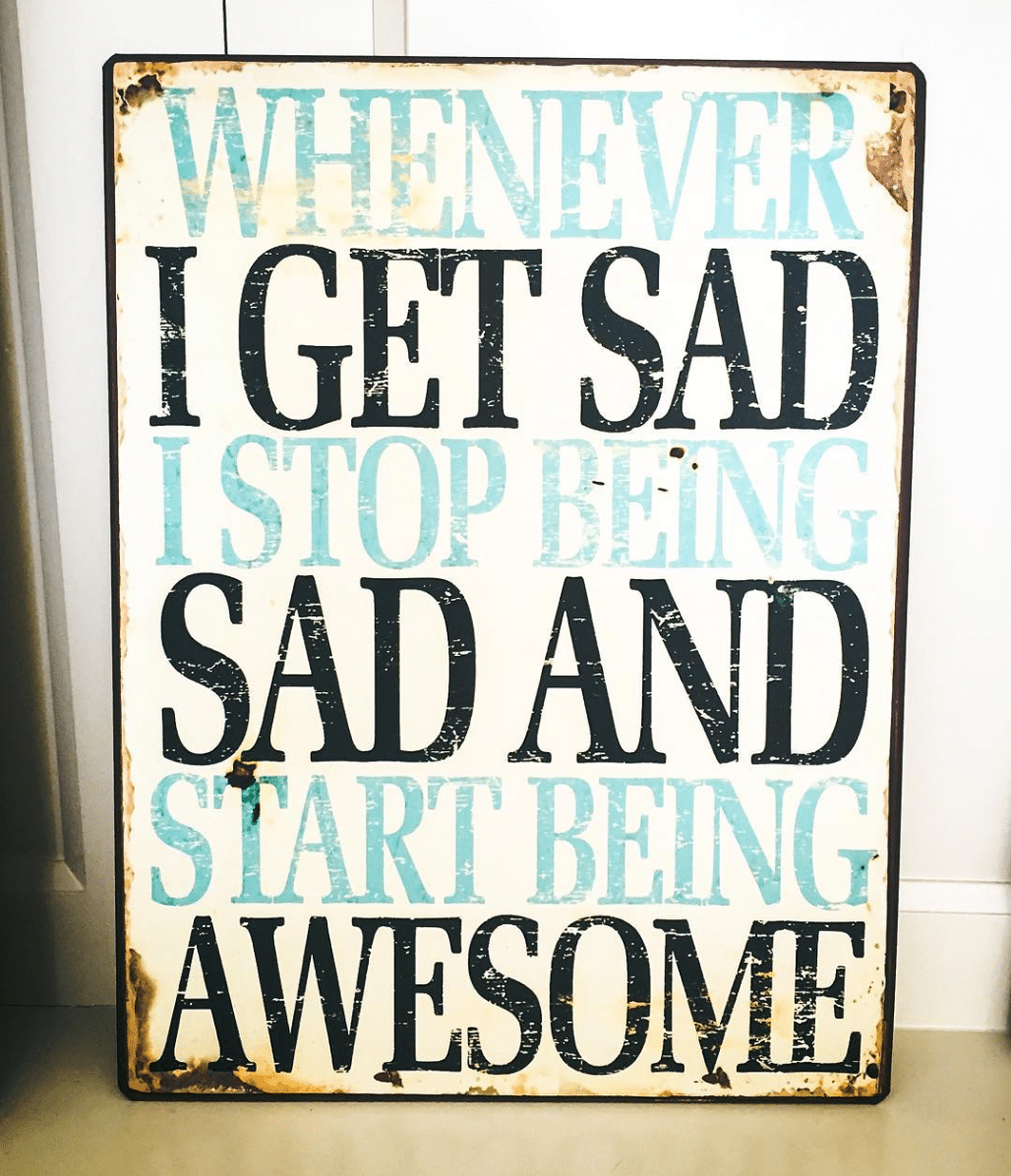 I posted this picture not too long ago on Instagram.  Would you ever guess that someone took this cutesy little sign offensively?
A viewer commented, "As a person who struggles with clinical depression I find this very offensive," and in another comment, "This is false and damaging advice to be putting out there …  You can't just 'shake off' depression.  It's a real thing just like a broken leg"
Yes, I 100% agree with that statement.  But how that person reacted so negatively to such a lighthearted sign just rocked me.  Not because of what they said, but because all the memories that rushed into my head at once.
This person ended up apologizing after I had responded to their comments, and along the way, had inadvertently shared something deeply personal to me:
I responded by saying, "This sign is not offensive or false or damaging.  I'm not very open about this on my blog, but I suffer from depression too.  Have been since I was 6.  Suicide was a [common] thought years ago.  So please don't assume I'm sending out silly, damaging advice ✋"
Soooo that happened…  I wasn't planning on ever sharing this on the blog.  But, I'm tired of trying to bury my past and hide from it.  I shouldn't be ashamed, because I know I'm not alone.
I really want to strengthen the relationship between you, the readers of this blog, and me, the girl behind the screen.  I want us to feel closer.
You aren't just a number to me, you're an actual person that I'd love to get to know.
And I'm not a robot, I'm a human being.  And here's my story.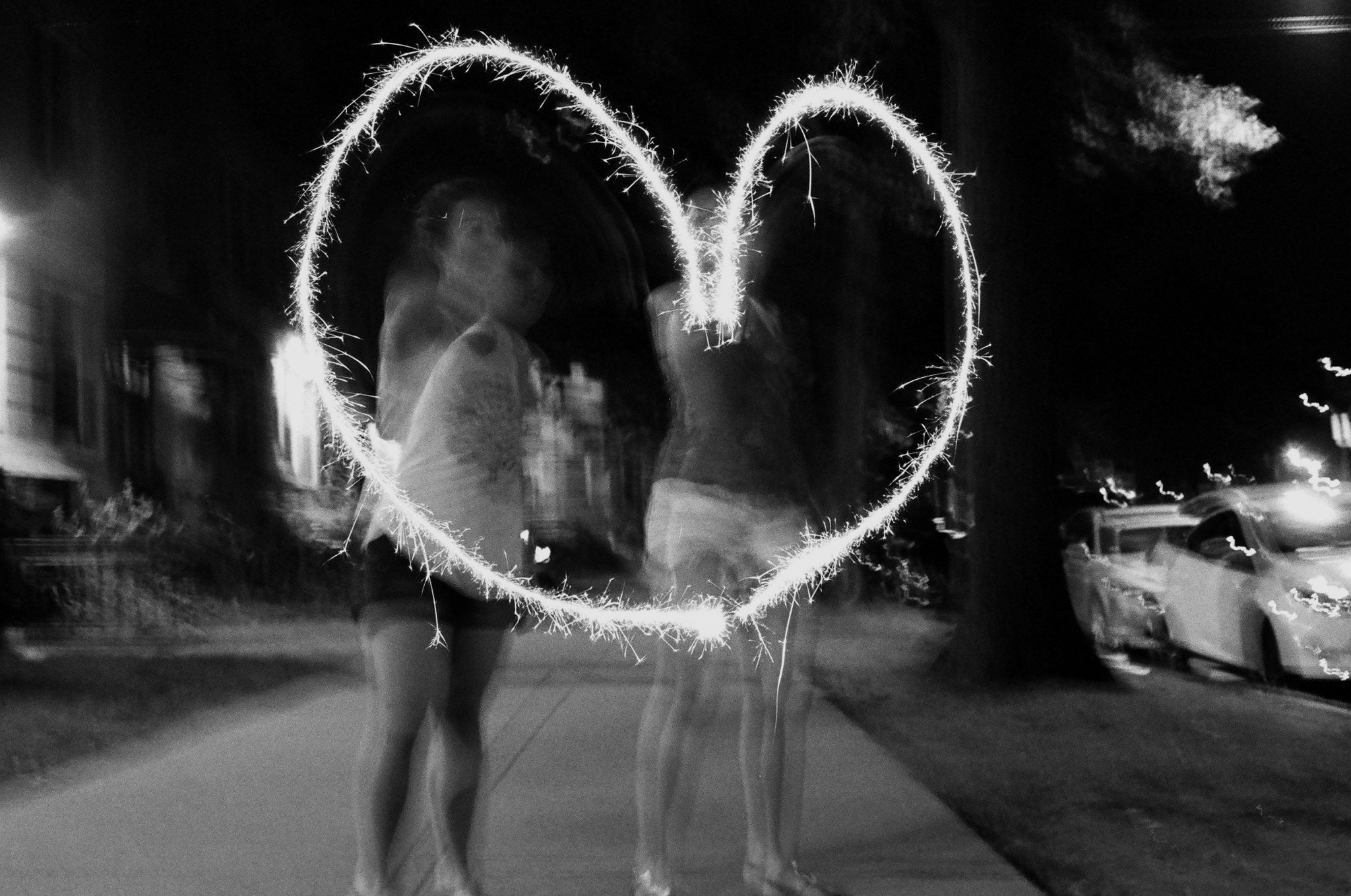 This picture is from one of my favorite nights ever, spent in Boston with my two best friends.
I was born in Calgary, Canada, and around age seven, my family and I moved to the United States.  We packed up and flew across the country to Connecticut.  Boring, dreary, uneventful Connecticut.
Though, it wasn't the move that made me depressed.  I feel like I've always had this feeling of uneasiness that I couldn't explain.  I remember feeling out of place, invisible, and inadequate in third and fourth grades.  In fifth grade, I thought about suicide, and increasingly so from sixth grade to my freshman year in college.  I was stressed, I was confused, I was lost, I was blind.  I wasn't meeting society's "standards" and I certainly wasn't living up to any sort of expectations that anyone had set for me.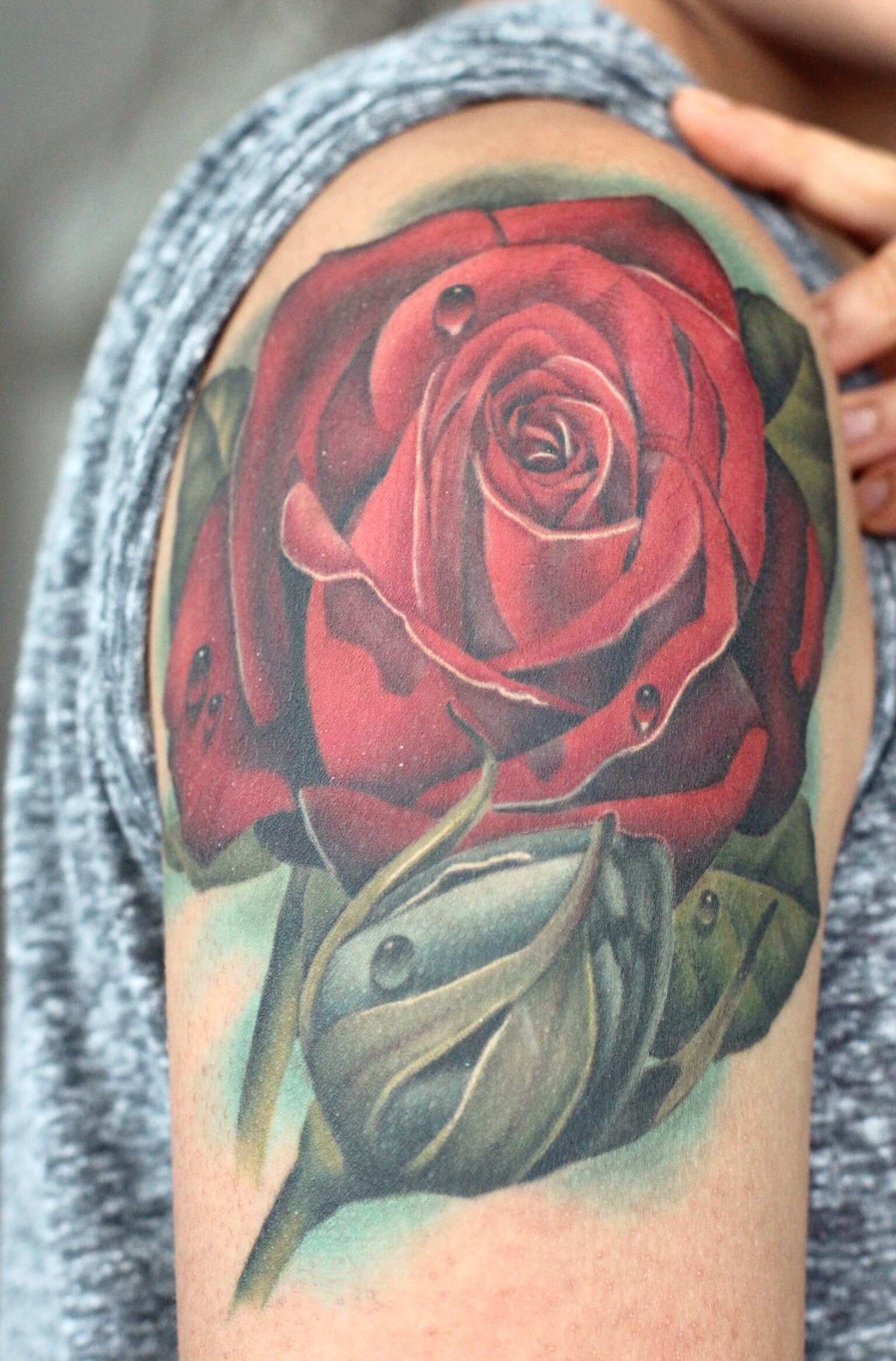 This is my first tattoo ever.  I got it just a few months ago.
To be honest, I really couldn't care less about flowers.  Like, at all.  But I got this tattoo for what it symbolizes.
In a previous post, I explained a little bit on what this tattoo means, but not to its full extent.  In my tattoo, the big red rose is meant to attract your eye and be noticed first.  Then, you will notice the rosebud.  I feel like I represent the rosebud.  In my favorite childhood movie, Mulan, Fa Zhou (Mulan's father), said, "My, what beautiful blossoms we have this year.  But look, this one's late.  But I'll bet that when it blooms, it will be the most beautiful of all."
Throughout my entire life, I've always been a late bloomer — physically, academically, confidence-wise, etc.
I didn't discover my true passions (food, nutrition, baking, and blogging) until I went to college.  And I never took school seriously until my sophomore year in university (!!!).  I didn't even want to go to college.  School in general was never my strong suit.  But, I felt pressured to go.  I rushed together a few college applications and submitted them just before their due dates.  I magically got accepted into one of the universities I had warmed up to — The University of Arizona (it's sunny almost year-round and they've got freakin' PALM TREES on campus).  I never toured the school, let alone stepped foot in the state of Arizona, but despite that, I still enrolled.
I was alone, across the country from my family, and felt like I was attending school "against my will" (hah, I was such a drama queen!).  I tried going through the motions — wake up, shower, go to class, study, finish homework, study some more, go to bed, repeat — but I sunk deeper and deeper into a depression.  I had to slide out of bed every morning I felt so lethargic, and walking felt like a chore.  I wanted to put on a brave face but couldn't even manage that.  I just didn't smile.
Overwhelming feelings of unhappiness, bitterness, anger and self-loathing consumed me.  I remember walking on campus thinking, "Wow, I'm only eighteen?  I feel like I've been living for twice that.  Life is so long.  This is hell."
I remember not being able to focus for longer than ten minutes in Chemistry class — a class that I absolutely hated (and admittedly, still hate) with a passion, but desperately needed to pay attention in because it was a prerequisite.  I was constantly fading in and out, from living in the moment to experiencing the darkest thoughts I've ever felt.
It gives me chills to relive this period in my life, but I'm glad that I'm finally confronting it now.  No more pride, no more sweeping it under the rug — humility is a virtue.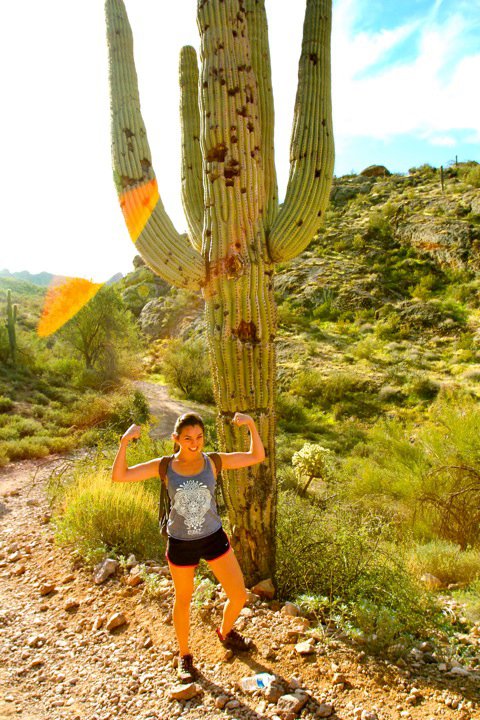 Hiking on the beautiful Arizona trails.
Now, I know this sounds like a complete cliché, but I'm gonna own it — I feel like a new person.  No wait, I don't "feel" like a new person, I "AM" a new person.
If you've read my About page, you know that I actually created this blog while procrastinating studying for finals.  I try to laugh it off, but at the time, I was desperately trying to find something that would make me happy, passionate, motivated, and determined.  Something that would give me purpose, direction, strength, hope, and most importantly, a desire to live.
I found that "something," and that "something" was FOOD…  food, nutrition, baking, and blogging.
This blog, online community, loyal readers and commenters…  I can honestly say that it all saved me.
I chose to get healthy, change my life, and improve my outlook on the world and the people in it entirely.  What a stark contrast between freshman and sophomore year in college.  Before, I dreaded every single day and thought life was too long to bear.  After, I genuinely looked forward to living my life and what was to come in the future.  I finally got motivated in school and I KILLED it.  My GPA rose higher than it was in any previous semester (and yeah, that's including easy peasy middle school).
Still, college was really tough for me.  First year was the hardest.  Or was it the second?  Third?  Fourth?  Oh God I have no clue.  It was all hard!  Did I mention I hate science and that was like, the CORE of the Nutrition major??  Biology, Microbiology, Chemistry, Organic Chemistry, Biochemistry, Physics…  that list makes me want to punch a wall.
School had its ups and downs (LOTS of downs), but I'm so glad I stuck with it and didn't quit.  I made it through.  I am a university graduate.  Something I never dreamed I'd be.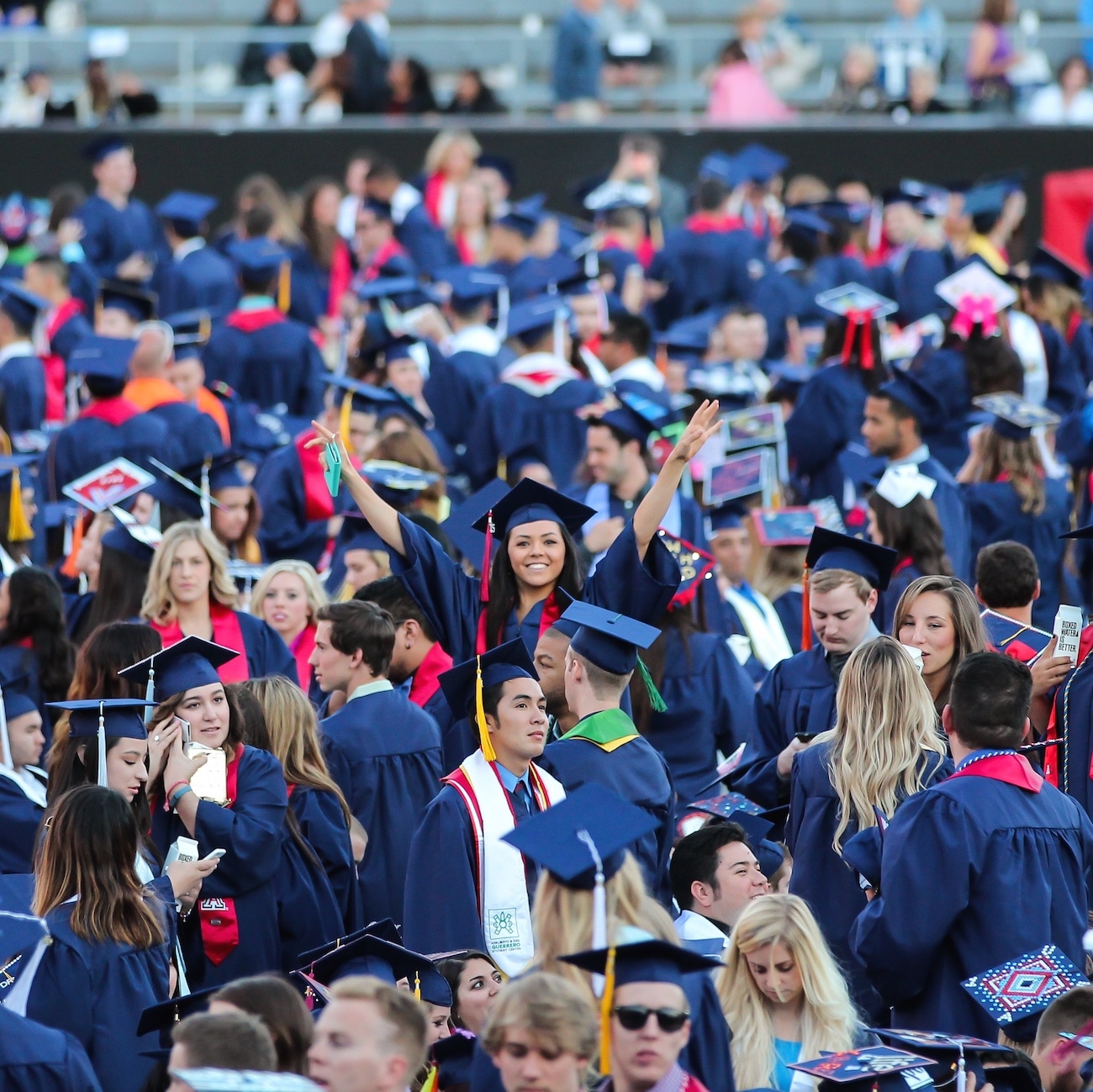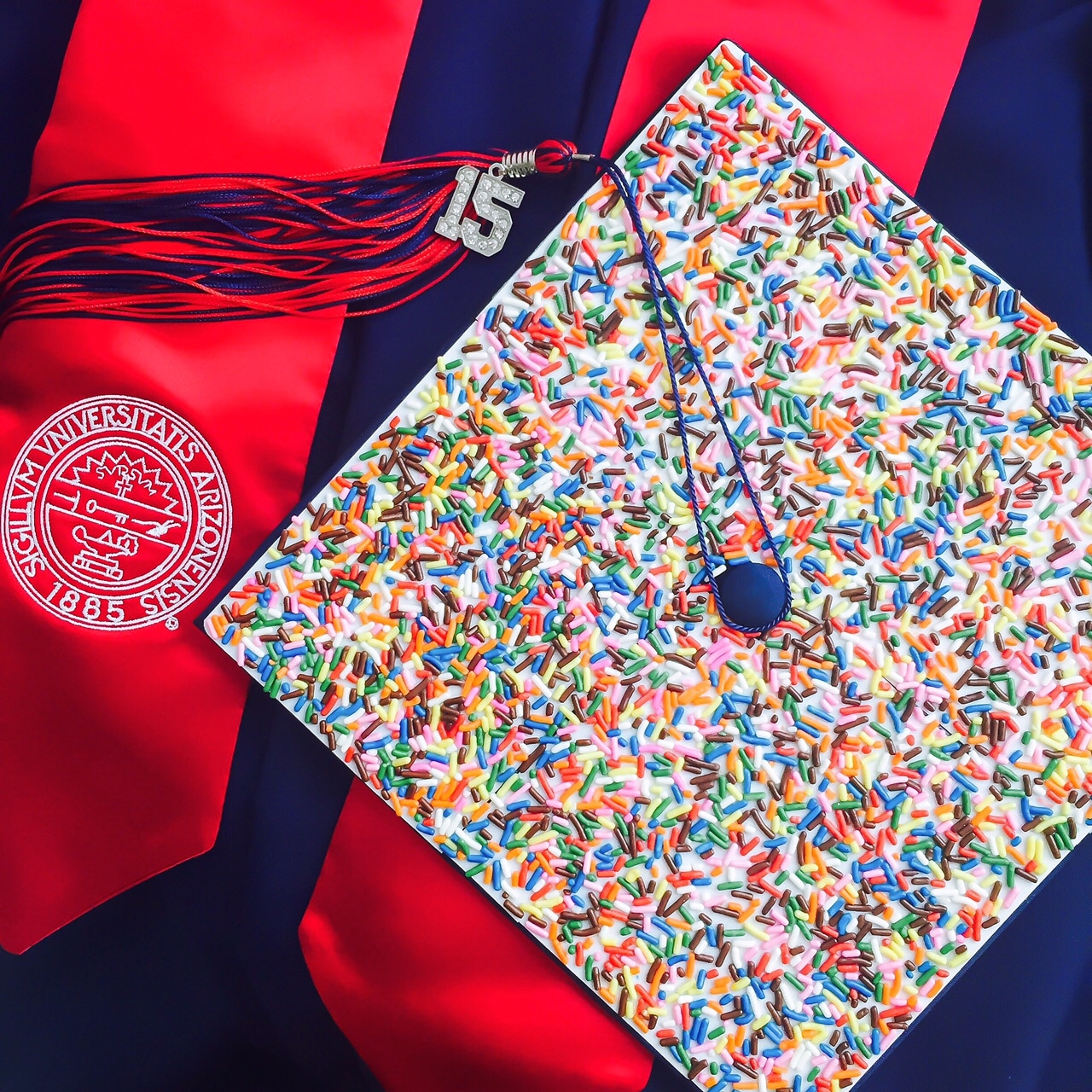 Yes, I decked out my graduation cap with SPRINKLES!!
When times are tough, DON'T. FREAKING. QUIT!  Keep going, persevere.  Everything works out in the end.  If it's not working out, then it's not the end.
Ever since I was little, my dad would always ask me, "When you fall off your horse, what do you do?"
And I'd say, "You get back up."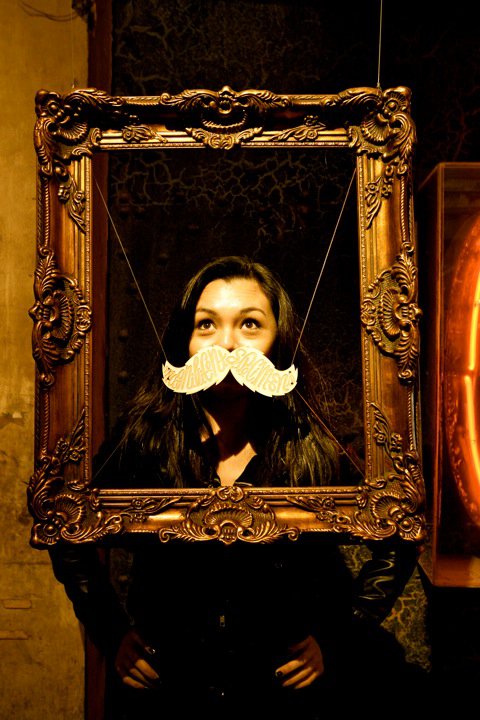 I haven't truly opened up about myself on the blog until today, but whenever I have shown just a HINT of self-doubt or sadness in my posts, some anonymous people (angels?) from around the world were there to give me encouragement.  And for that, I am truly grateful.
I am beyond thankful to my loyal Desserts With Benefits fans (and newcomers alike)!
I am so SO glad that I finally discovered my career path — baking and blogging.
And I am incredibly relieved to be free of depression's tight grip.
…  a little later is better than never, right?  ABSOLUTELY.  It's okay to be a late bloomer.
My tattoo is like a daily reminder to stay motivated, determined, focused and ambitious, because everything comes together in due time.
If you have any questions, feel free to ask in the comments section below  🙂
.
With love and good eats,
.
– Jess
.
.
PS:  Be sure to read the other entries in this 4-part series!
.