Healthy Almond Joy Chocolate Candy Cups
At first people will think these are Reese's, but then they take a bite.
Their eyes burst wide open and their senses clear.
Another bite.  They smile, and then they melt with happiness.
The almond and coconut flavors pair perfectly.  And why not make it better by encasing the two in smooth, milky chocolate?
That's sort of my solution to everything — cover it in chocolate!
I know I'm not alone on that one  😉
These are divine, even a bit sophisticated, but oh so simple.  These are rich, even indulgent, but oh so nutritious…
(shhh, no one will know these are healthy!)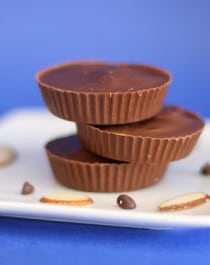 Print Recipe
Pin Recipe
Healthy Almond Joy Chocolate Candy Cups
Ingredients
Instructions
Melt the chocolate and line

this mold

or silicone muffin liners with the chocolate, creating a base and walls. Refrigerate for 40 minutes to an hour, whenever chocolate is completely hardened.

Fill each cup with the spread (I didn't measure, I just put a spoonful in each). Spoon some chocolate over the spread and anchor the chocolate to the edge of the hardened chocolate. Refrigerate for 2-3 hours or overnight, when chocolate is completely hardened (I refrigerated overnight).

When completely hardened, pop the candy cups onto a serving plate and serve.
Make these now!
.
With love and good eats,
.
– Jess
.