Healthy Almond Joy Candy Spread
I never thought I'd say this but …  phew …  I would choose this Almond Joy Spread any day over peanut butter!
*flinches*
Oh, I thought you were going to (virtually) punch me for a second there.
This spread is super buttery and creamy, similar to peanut butter, only it's sweet and full of three amazing flavors:  almond, coconut, and chocolate…  totally unlike peanut butter.  It's like spreadable dessert!
This is probably definitely the best replacement out there for fruit jellies and jams, cream cheeses, butter, and dare I say, other plain nut butters?  Plus, it's lower calorie and lower fat (see the nutrition label below)
Healthy Almond Joy Candy Spread
Prep Time: 5 minutes
Cook Time: 5 minutes
Total Time: 10 minutes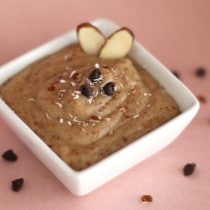 Ingredients:
64g (¼ cup) Raw Almond Butter
64g (¼ cup) Raw Coconut Butter
¼ cup Light Coconut Milk, canned
2 packets Truvia (or sweetener of choice)
¼ tsp Almond Extract
¼ tsp Coconut Extract
¼ tsp Chocolate Extract (or Vanilla Extract)
1 tbs Mini Chocolate Chips or No-Sugar Added Chocolate Chips (optional... no, not really)
Directions:
Warm the almond butter and coconut butter until both are melted.
Stir in the coconut milk, then add the sweetener and extracts.
Serve immediately along with the chocolate chips, or put it in a jar, seal tightly and refrigerate to store.
A candy-like spread for about half the calories and fat of peanut butter?!
GIMME!  GIMME!!  GIMMEEEE!!!