Healthy Chocolate Buckwheat Protein Pancakes
Pancakes are taking over my life!!
Juuust kidding, but I kind of wish they were…  ever since I made my first successful batch I've wanted to eat pancakes all day long.  Breakfast, lunch and dinner.  I know I'm not alone on that one  😉
Pancakes are so simple to make at home, there is no reason to buy those processed storebought mixes.  These Healthy Chocolate Buckwheat Protein Pancakes are easy to make and nutritionally balanced, just take a look at the nutrition label below!
I'm not an enthusiast for low-fat recipes, but I try to keep certain ones on the low end for two reasons: one, everyone has their preferences, and two, I like to top my desserts with an insane amount of toppings.  You know, peanut butter, chocolate almond butter, maple syrup, fruit, jam, etc…
But you see that stack of pancakes below?  Think:  sugar free, high fiber, high protein, filling, healthy, guilt free awesomeness…  because that's what these pancakes are!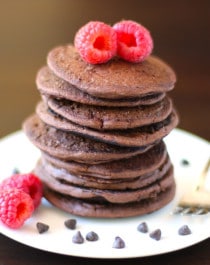 Print Recipe
Pin Recipe
Healthy Chocolate Buckwheat Protein Pancakes
Instructions
Spray a nonstick pan with cooking spray and place on your stove's lowest heat setting.

In a small bowl, whisk together the buckwheat flour, protein powder, cocoa powder, baking powder, truvia and salt.

Add the almond milk and whisk until clumps are gone.

Raise the stove's temperature setting to medium/medium-high and once hot enough, scoop a spoonful of batter onto the pan. Cook for 2-4 minutes, or until the entire pancake surface looks dry. Gently flip the pancake (careful, they are a delicate) and cook for an additional 2-4 minutes.
Nutrition Facts
Healthy Chocolate Buckwheat Protein Pancakes
Amount Per Serving (10 pancakes = entire recipe)
Calories 230
Calories from Fat 45
% Daily Value*
Fat 5g8%
Sodium 450mg20%
Carbohydrates 31g10%
Protein 21g42%
Vitamin A 200IU4%
Calcium 400mg40%
Iron 6.3mg35%
* Percent Daily Values are based on a 2000 calorie diet.
C'mon, make these now.
You only need 6 ingredients, 15 minutes, and one serious appetite!
.
With love and good eats,
.
– Jess
.