Healthy Buckwheat Pancakes
These 4-ingredient Healthy Buckwheat Pancakes are fluffy, delicious, hearty, and filling.  They're super easy to make and even easier to eat.  And just to take 'em to the next level, these guys are sugar free, high fiber, high protein, gluten free, dairy free, and vegan too!
Every time I think of pancakes, I smile.  Not because they are totally freaking awesome moist and taste incredibly delicious, but because I remember how I used to eat them as a child.  I would drown my pancakes in that fake Aunt Jemima stuff to the point where there was more syrup on my plate than pancakes.  And I never understood why people used plates either, I needed a bowl to hold all that syrup!  Kind of like how I wonder why restaurants serve rice on plates with forks rather than bowls with spoons… it just makes more sense to use a bowl.
So last week when someone requested me to make pancakes, I smiled.  Not because a silly image popped into my head of me holding a bottle of syrup directly over my pancakes, but because I realized how far I had come in my healthy eating journey.  When I was five, I ate the all purpose flour, butter and corn syrup, whereas today, we will be indulging in healthy buckwheat flour, no added sugar or oil, and pure maple syrup!
These Healthy Buckwheat Pancakes are the perfect base for ALL THE TOPPINGS — pure maple syrup, homemade maple syrup, fresh fruit, blueberry compote, peanut butter, Nutella…  the list goes on!
Healthy Buckwheat Pancakes
Prep Time: 10 minutes
Cook Time: 20 minutes
Total Time: 30 minutes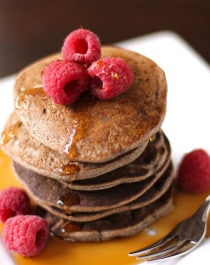 Fat per serving: 4.5
Calories per serving: 240
Ingredients:
60g (½ cup) Buckwheat Flour
½ tsp Double-Acting Baking Powder
⅛ tsp Salt
½ cup Unsweetened Vanilla Almond Milk (or milk of choice)
Directions:
Spray a nonstick pancake griddle with cooking spray and place over medium heat.
In a small bowl, whisk together the buckwheat flour, baking powder, truvia and salt. Stir in the almond milk.
Scoop a large spoonful of batter onto the pan, cook for 2-4 minutes or until entire surface looks dry and bubbles no longer pop on the surface. Flip and cook for an additional 2-4 minutes. Do this until all batter is used up.
Notes:
*Use 2 packets if you plan to douse your pancakes with maple syrup, use 4 packets if you're a little modest.
All images and text ©
.
Serve with enough maple syrup to run Canada dry!
.
Here is the recipe's nutrition label:
Oh yeah, I forgot to mention that the entire batch of pancakes has only 240 calories and 4.5g fat!  Not to mention, 12g of fiber and 11g protein.  Totally makes up for what I'm about to show you….
I totally would have given you a sequence shot series of me eating the pancakes, but that would only be fun for me… not so much for you  😉
.
With love and good eats,
.
– Jess
.