Healthy Homemade Nutella
Nutella is a chocolate-hazelnut spread that is creamy, rich, chocolatey and oh so delicious.  Though, sadly, it's full of sugar, artificial flavoring and palm oil…  not so appetizing.  So I made a healthy homemade version!  No nasty ingredients whatsoever.  This all-natural Healthy Homemade Nutella has all the taste, texture and richness of the storebought stuff without the excess calories, sugar and fat.  You will eat this by the spoonful.
You can use this Healthy Homemade Nutella in any way you'd use the storebought version!
It's perfect spread on some whole grain toast.
It makes every bowl of oatmeal come alive with flavor.
It's delicious spooned over Vanilla Frozen Yogurt.
And when it's paired with sliced apples, strawberries, or bananas you'll shout, "Mmmmm!!"
I could go on listing more and more ideas but I should probably just give you the recipe, huh?  I'm sure you know what you'll do with a jar this chocolate-hazelnut magic.  Dive in head first, right?  😉
This recipe might be light on calories and light on fat, but it sure isn't light on flavor!
This Healthy Homemade Nutella is seriously rich, totally creamy, incredibly chocolatey, and perfectly hazelnutty.
Yeah, I know that's not a word but I don't really care because I have a jar of healthy Nutella sitting in my kitchen calling my name.  SEE YA!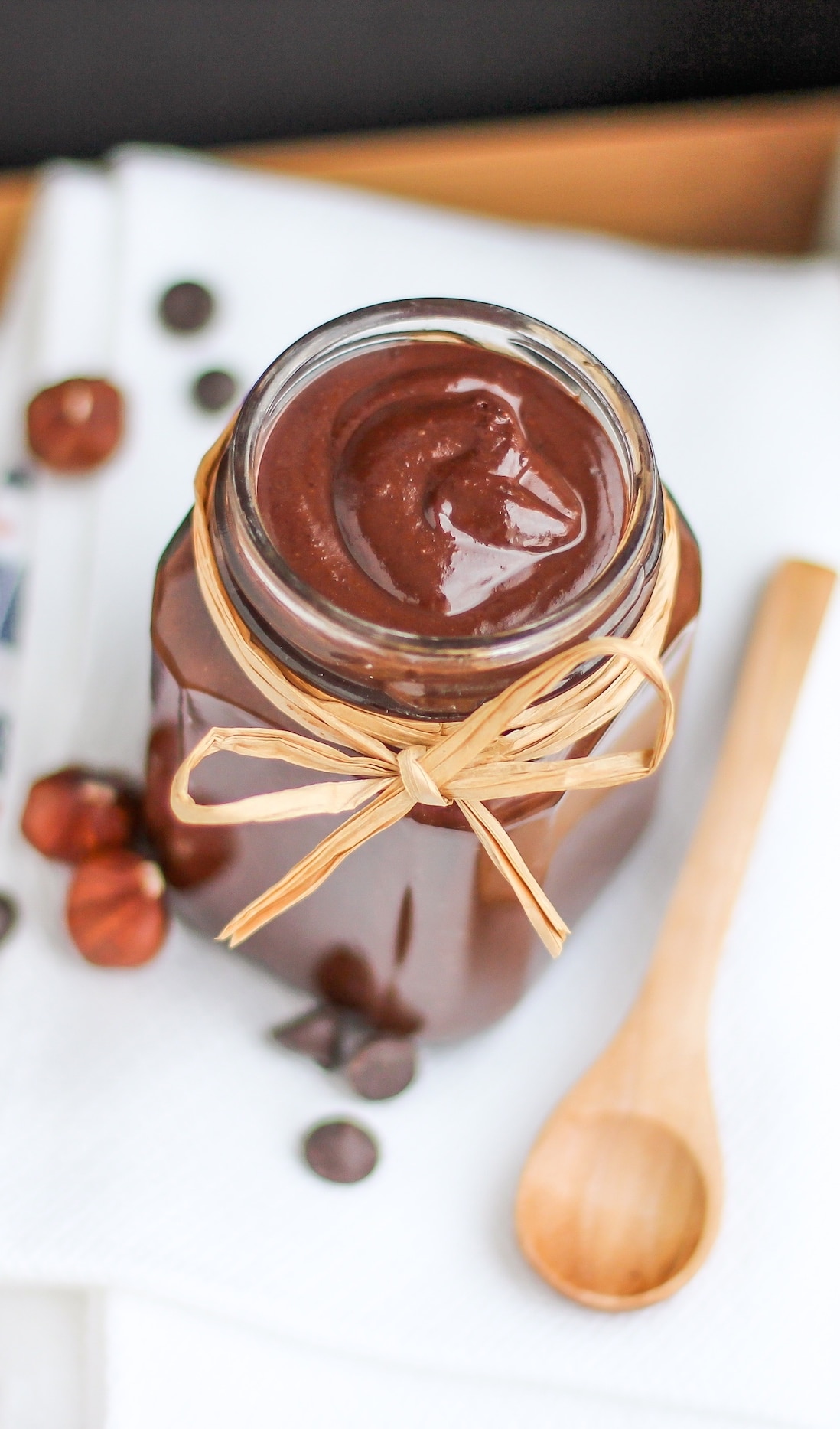 Healthy Homemade Nutella
Prep Time: 20 minutes
Cook Time: 0 minutes
Total Time: 20 minutes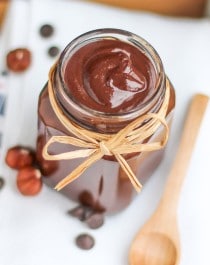 Fat per serving: 8
Calories per serving: 90
Ingredients:
Directions:
In a blender (I used my NutriBullet), add the hazelnut butter, almond milk, and stevia extract.  Blend until smooth.
Add the erythritol, cocoa powder, and salt.  Blend again.  Serve immediately, or store in a tightly sealed container in the fridge for ~1 week.
Notes:
I have an older Nutella recipe on the blog HERE.  This recipe is the new and improved version (also in my cookbook!) but both are delicious.
All images and text ©
.
Recipe republished with permission from the Naughty or Nice Cookbook!
.
.
Here's a video I filmed showing you how fast and easy it is to make this Homemade Nutella!
Enjoy!
.
Be happy.
Live fully.
Feel naughty, eat nice.
.
– Jess
.