Healthy Nutella Overnight Dessert Oats
Nutella lovers, breakfast lovers, and dessert lovers alike, I bring to you…  Healthy Nutella Overnight Dessert Oats!
A breakfast so rich, so creamy and oh so chocolatey.  A breakfast so satisfying, so nutritious and oh so easy to make.
Imagine waking up in the morning with this in your fridge.  You might actually have trouble falling asleep after smelling its sweet hazelnut aroma.  But when you finally do, you will dream of all things good…  and all things chocolate
…  these are the dreams I covet.
But this is not a dream, it's reality.
You can indulge in a healthy dessert for breakfast, even though it tastes so incredibly unhealthy.
You can satisfy your morning sweet tooth with no guilt at all.
Too good to be true, you say?  Nonsense.  Look at the ingredient list!
Healthy Nutella Overnight Dessert Oats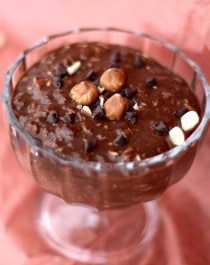 Ingredients:
½ cup Old Fashioned Rolled Oats
32g (1 scoop) Chocolate Whey Protein Powder
1 tbs Unsweetened Natural Cocoa Powder
1 tbs Ground Flaxseed
pinch of Salt
½ cup Unsweetened Vanilla Almond Milk
1 tbs Natural Hazelnut Butter or 2 tbs Homemade Nutella
Directions:
In a medium-sized bowl, stir together the oats, protein powder, cocoa powder, flax, sweetener, and salt.
Stir in the milk and hazelnut butter/Nutella. Cover and refrigerate overnight. Enjoy in the morning!
Notes:
Feel free to sprinkle on some mini chocolate chips and/or chopped hazelnuts!
All images and text ©
.
The flax made this super creamy and fudgy, it was like real Nutella was used!
Yeah…  this is definitely going to be my new breakfast for the next month week…
.
With love and good eats,
.
– Jess
???
.
Be sure to follow @DessertsWithBenefits on Instagram!  If you try this recipe, make sure to snap a picture of it, tag me @DessertsWithBenefits, and hashtag #DessertsWithBenefits.  I'd love to see it and feature you on #FanFaveFridays!
.