Healthy DIY Hazelnut Butter
Healthy DIY Hazelnut Butter — only one ingredient and only 10 minutes required.  Plus 10 ways to use it!
I caved.  I bought a mini food processor!
Hey now, it wasn't that expensive and it's adorable little size made me love it even more.  Plus, I'll be saving loads of money by making my own nut butters at home.
Giant, cheap bag of nuts + a few minutes = healthy, low cost and (kind of) easy nut butter.
WIN.
I probably should've started off slow with the new kitchen gadget, but no, I went all in and had to make nut butter for its first use.  The only thing I don't like about the food processor is that the longest recommended processing time is one minute… so this nut butter took me a little longer than it would a normal person with a normal sized food processor.  I don't regret the buy though.  I like mini.  And I liked the low price  🙂
The end result was well worth the extra time.  This nut butter is incredibly aromatic.  It looks chunky in the pictures but it spreads remarkably well, especially on a warm slice of toast.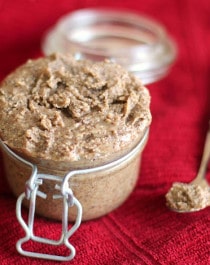 Healthy DIY Hazelnut Butter
Ingredients
2

cups

Hazelnuts

(raw or roasted)
Instructions
Add the hazelnuts to a food processor and pulse about 20-30 times until you get hazelnut crumbs.  Process again for a minute straight until you get hazelnut meal.

Scrape down the sides of the food processor and process again (follow your processor's instructions, I had to stop every 60 seconds. It took me about 20 minutes total of constant processing, scraping, processing, etc...).

When nut butter is smooth and buttery give it a taste (add salt and/or stevia to taste). Let cool a bit and scoop into a pretty jar with a sealable lid. Store covered in the refrigerator.
Recipe Notes
Feel free to add ~1 tbs of oil (preferably a nut oil like hazelnut oil, walnut oil, almond oil, or even avocado oil) to make the processing go faster, you'll just get a slightly drippier nut butter.
.
HERE'S A VIDEO SHOWING YOU HOW FAST AND EASY IT IS TO MAKE THIS HOMEMADE HAZELNUT BUTTER!
.
So how can you use this DIY Hazelnut Butter?
1.  Spread it on a warm slice of toast with a drizzle with agave or pure maple syrup
2.  Spread it on a warm slice of toast and top with grated chocolate (better option than #1 right??)
3.  Top your morning oatmeal with it
4.  Use it in "Nutella" Overnight Dessert Oats
5.  On your finger a spoon
6.  Hmmm, actually yeah, on your finger
7.  Spread it on these yummy Chocolate Banana Muffins (best served warm!)
8.  Spread it on these moist Raisin Bran Muffins
9.  In any recipe using nut butter
10.  To make Healthy Homemade Nutella!
.
With love and good eats,
.
– Jess
.