Healthy Homemade Hazelnut Butter
If you've always wanted to make nut butter at home, but didn't know where to start, this is YOUR TIME.  Here we've got homemade Hazelnut Butter — an ultra rich, smooth, and creamy spread that's perfect on toast, oatmeal, ice cream, parfaits…  and a spoon all by itself!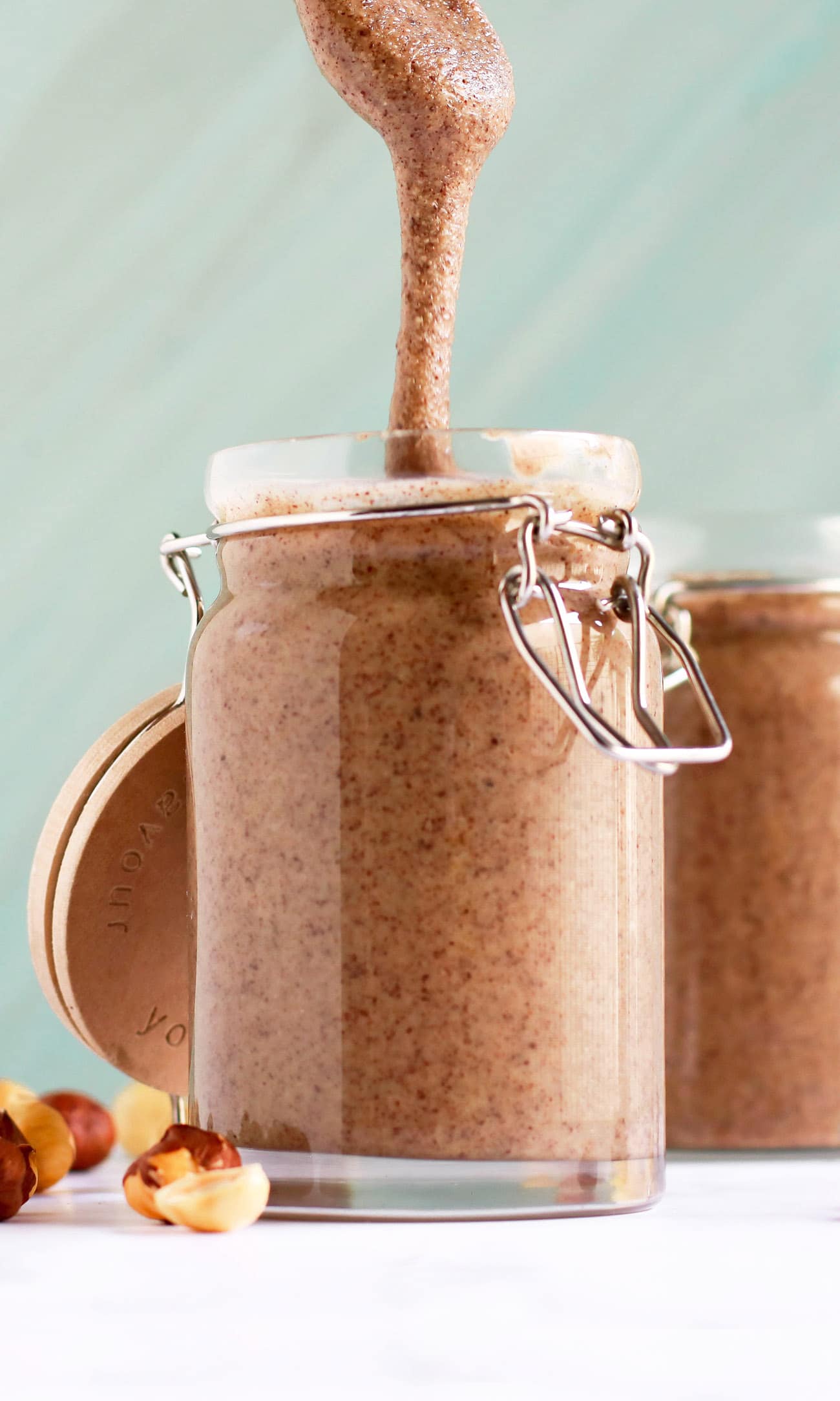 This healthy homemade Hazelnut Butter is made with one ingredient and one ingredient only — toasted hazelnuts.
No added sugar, oil, or artificial ingredients whatsoever.  It's sugar free, low carb, gluten free, vegan, paleo, and keto-friendly too!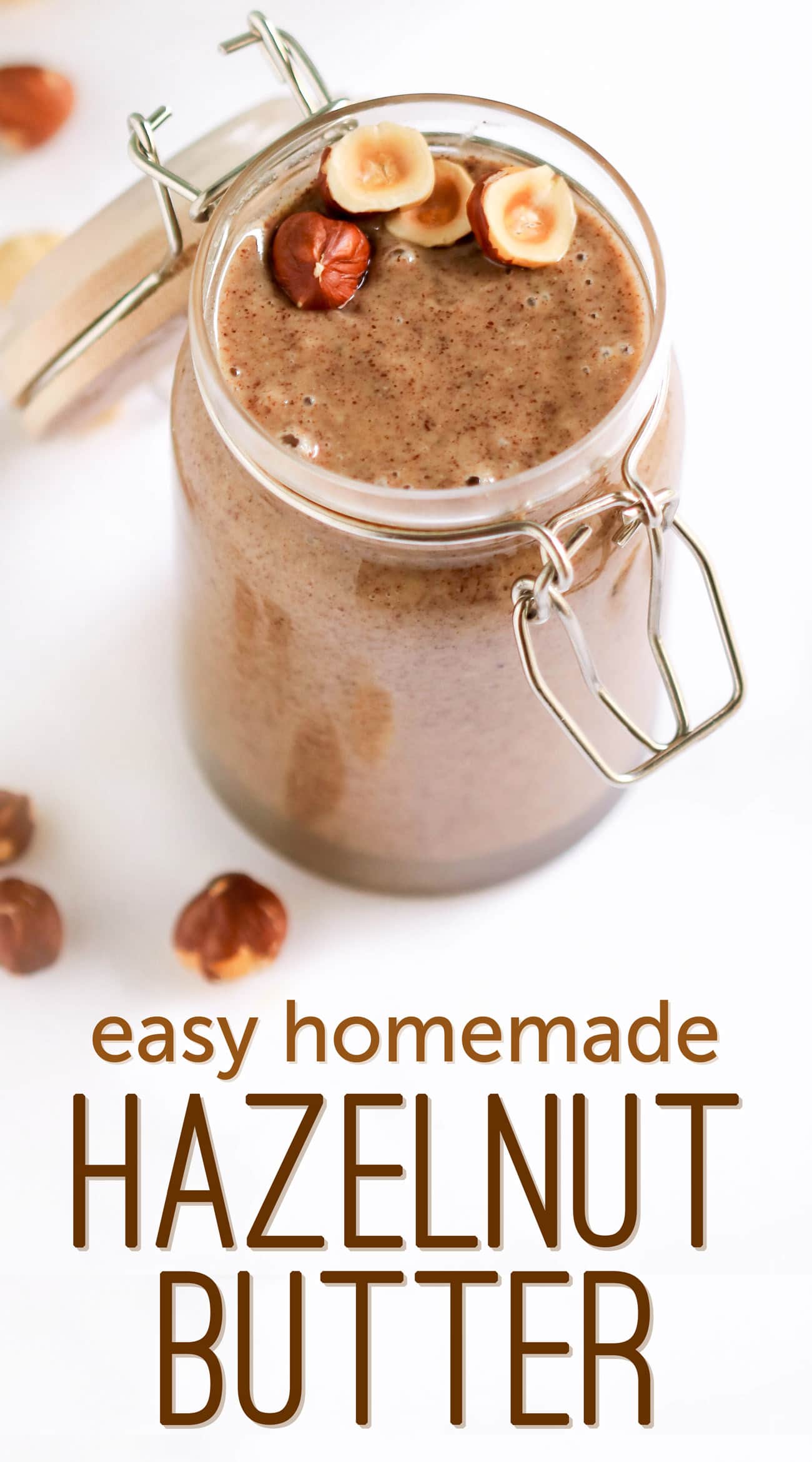 If you've ever bought almond butter or cashew butter or walnut butter…  literally any other nut butter other than peanut butter, then you know how expensive it gets.  I've seen a single 16oz jar of almond butter cost $16.99.
And you know what's more expensive than almond butter?  HAZELNUT BUTTER.
Which is a huge bummer, especially when you make Homemade Nutella as much as I do.  A 16oz jar of Hazelnut Butter can cost anywhere from $18 to $30!
Not here buddy.  You can save so much money by making nut butters at home!
If 3 pounds of hazelnuts costs $19.99, then 16oz of this Hazelnut Butter costs just $6.67.
That means you can save anywhere from $11 to $23 for every 16oz of nut butter!
MIND. BLOWN.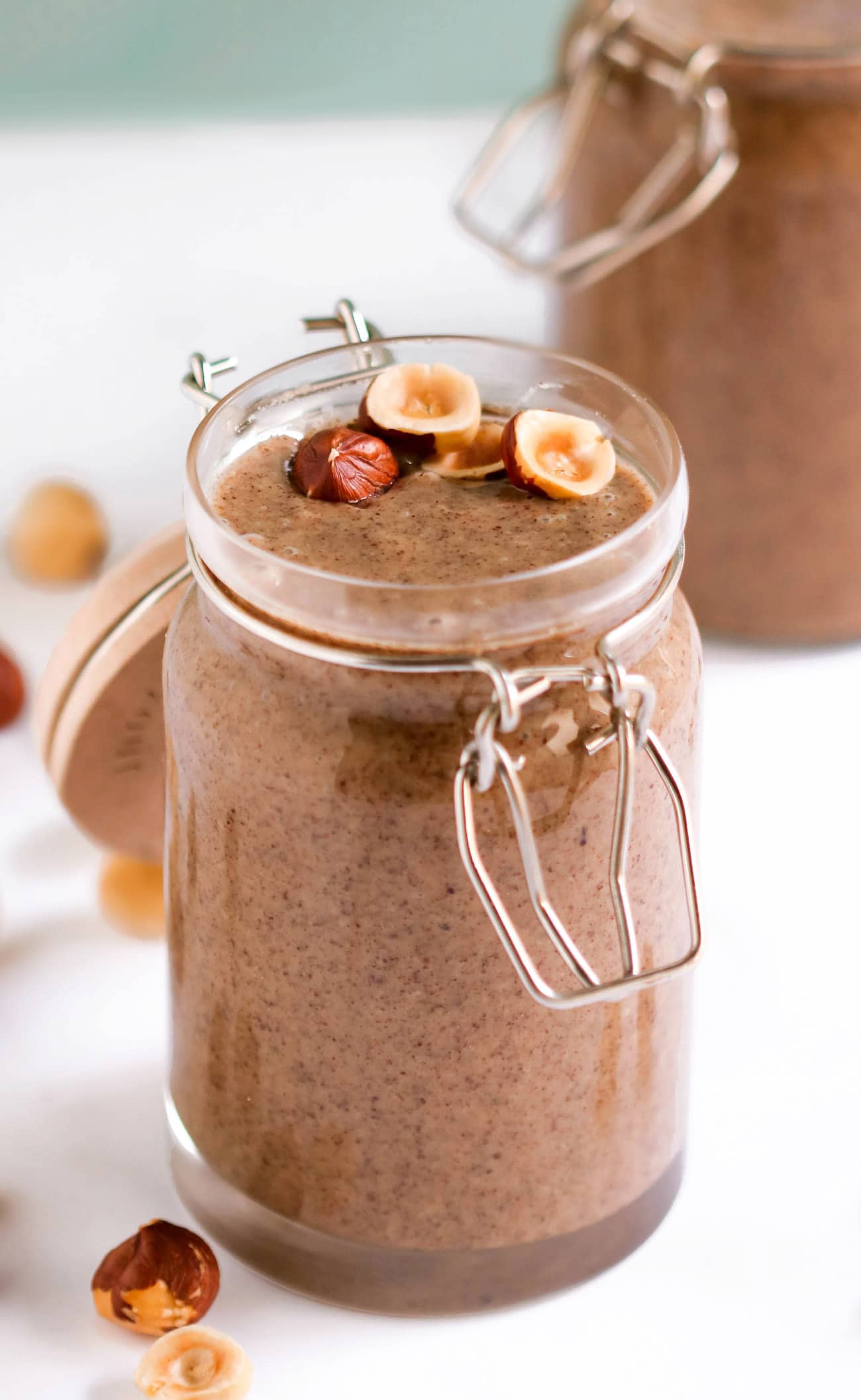 Giant, cheap bag of nuts + a few minutes = healthy, low cost, easy nut butter.
WINNING.
The end result was well worth the extra time.  This nut butter is incredibly aromatic and spreads so dang well — almost TOO well, if ya know what I mean  😉 — on a warm slice of toast!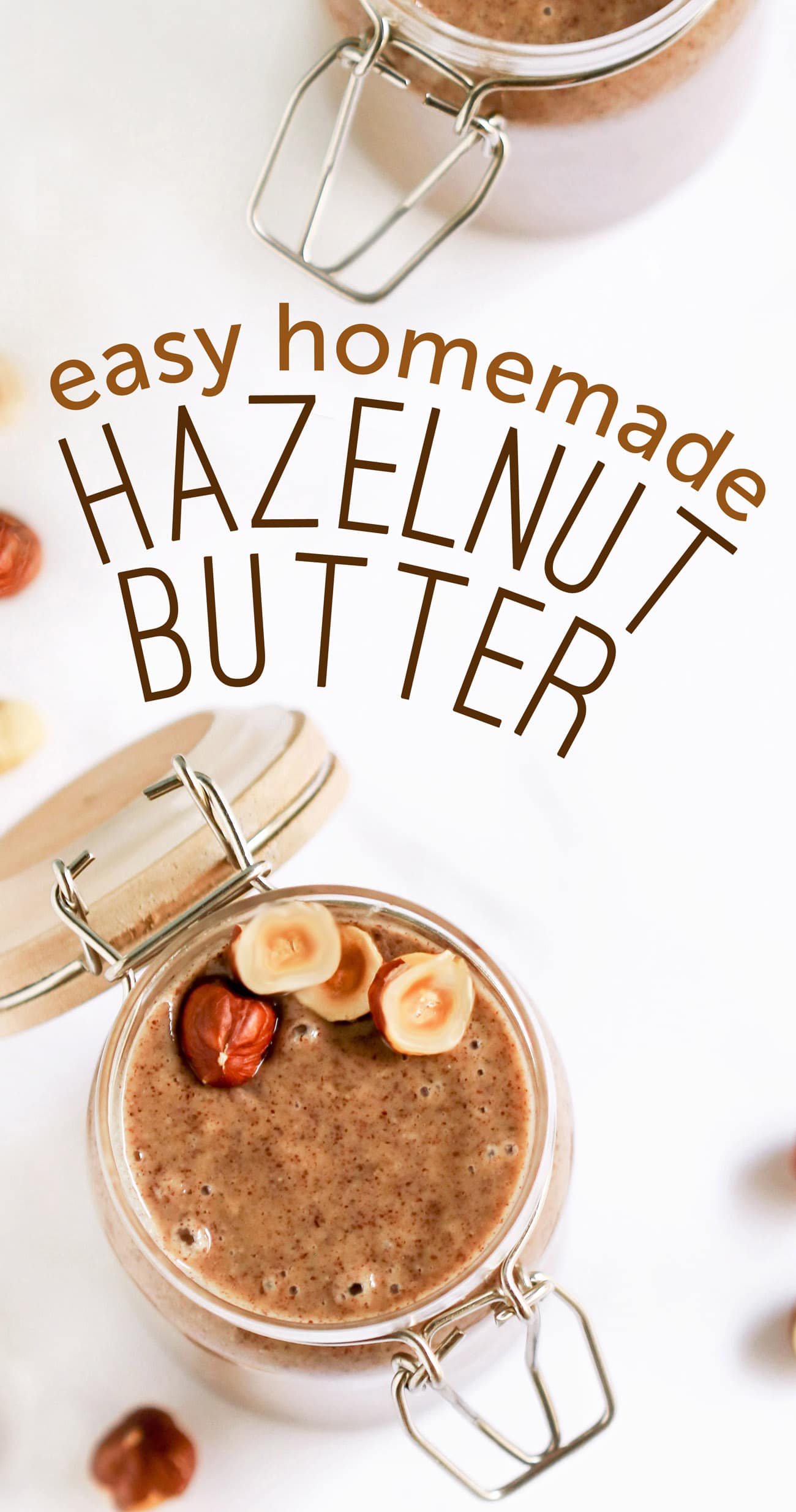 So how can you use this Hazelnut Butter?
Spread it on a warm slice of toast with a drizzle with agave or pure maple syrup
Spread it on a warm slice of toast and top with grated chocolate (better option than #1 right??)
Top your morning oatmeal with it
Use it in Nutella Overnight Dessert Oats
On

your finger

a spoon
Hmmm, actually yeah, on your finger
Spread it on these yummy Chocolate Banana Muffins (best served warm!)
Spread it on these moist Raisin Bran Muffins
In any recipe using nut butter
To make healthy homemade Nutella!
.
Here's a video showing you how fast and easy it is to make this homemade hazelnut butter!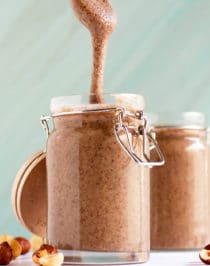 Print Recipe
Pin Recipe
Healthy Homemade Hazelnut Butter
Ever wondered how to make nut butter at home? Watch this helpful step-by-step video on how to make homemade hazelnut butter! Ultra creamy, smooth, and rich. Perfect on toast, oatmeal, ice cream, parfaits, AND a spoon! Best of all, it's sugar free, low carb, gluten free, vegan, and keto-friendly!
Ingredients
4

cups

Hazelnuts

(you can use raw or toasted)
Instructions
Add the hazelnuts to a food processor and pulse about 20-30 times until you get hazelnut crumbs.  Process again for a minute straight until you get hazelnut meal.

Scrape down the sides of the food processor and process again (follow your processor's instructions, I had to stop every 60 seconds. It took me about 20 minutes total of constant processing, scraping, processing, etc...).

When nut butter is smooth and buttery give it a taste (add salt and/or stevia to taste). Let cool a bit and scoop into a pretty jar with a sealable lid. Store covered in the refrigerator.
Recipe Notes
Feel free to add ~1 tbs of oil (preferably a nut oil like hazelnut oil, walnut oil, almond oil, or even avocado oil) to make the processing go faster, you'll just get a slightly drippier nut butter.
Nutrition Facts
Healthy Homemade Hazelnut Butter
Amount Per Serving (2 tablespoons)
Calories 200
Calories from Fat 171
% Daily Value*
Fat 19g29%
Potassium 220mg6%
Carbohydrates 5g2%
Protein 5g10%
Vitamin C 2.5mg3%
Calcium 30mg3%
Iron 1.4mg8%
* Percent Daily Values are based on a 2000 calorie diet.
Enjoy!
.
With love and good eats,
.
– Jess
.