Healthy DIY Nutella
DIY Nutella???
Oh yes, DIY Nutella.
A homemade Nutella is 100% natural and made with good-for-you ingredients.  A version that is high in fiber and free of refined sugar, that actually tastes good great amazing.  A homemade version that tastes like the real deal!
To be honest, all I can think about is this dreamy chocolatey spread…  probably because I'm so shocked at how good it turned out (unlike my failed attempt a couple months ago, which was gritty, bitter and turned rock hard in the fridge).
But don't worry, I'm not obsessed with this Healthy DIY Nutella.  I'm not.
Okay I definitely am.  I ate this off the whisk, I ate this off multiple spoons a spoon, I even ate it off a knife… definitely not the safest thing to do, it was just that good.  I couldn't help it, I couldn't stop!  It's just so sweet and creamy and smooth and chocolatey.  It satisfies the chocolate monster inside you.
I'm starting to think I don't have a chocolate monster inside me at all, I'm just the chocolate monster itself.
Did I mention I ate this off a knife?  Oh, the things I'll do for some chocolate…
For the safer chocolate monsters out there, spread this "Nutella" on whole grain bread … with a butter knife  😉
You can also use it as a dip for apples, bananas and other fruits.  That or a spoon.  Whatever suits you more (I like the spoon option).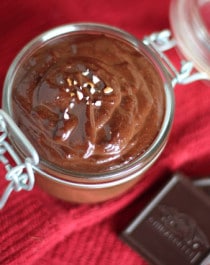 Print Recipe
Pin Recipe
Healthy DIY Nutella
This Healthy DIY Nutella recipe is delicious and tastes extremely authentic! It's sugar free, low carb, high fiber, gluten free, dairy free, and vegan!
Instructions
In a blender, add the hazelnut butter, hazelnut oil, almond milk, stevia extract, and vanilla paste.  Puree until smooth.

In a small bowl, whisk together the erythritol and cocoa powder.  With the blender running, slowly add the dry ingredients to the blender.  Puree until smooth.  Add more stevia/erythritol or a pinch of salt to taste, if you like.

Serve immediately or store in a pretty, sealable jar in the fridge. Stir before using.  Keeps for 1 week.
.
See this post for the NEW and IMPROVED Nutella!
.
Life is complete with a jar (or three) of this in the fridge.
.
With love and good eats,
.
– Jess
.