Healthy Nutella Chocolate Candy Cups
As if I had my fill of healthy Nutella!  That's just not possible.  I could eat the stuff straight up.
Wait, I did…  and um, I may have, just possibly ate it off of a knife.  Oh my, chocolate makes you do craaazzyy things sometimes.
So I made these candy cups in attempt to consume my Nutella in a safer manner.  Because a thick, sweet chocolate shell totally means this is safe…
(NOT)
I made my homemade Nutella as soon as I ran out (obviously), and serving them in a chocolate casing just sounded natural to me.  Each cup is sweet, creamy and absolutely delicious.  Yum!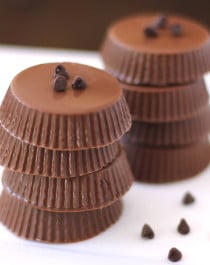 Print Recipe
Pin Recipe
Healthy Nutella Chocolate Candy Cups
Instructions
Fill the chocolate cups with the Nutella, then spoon the remaining melted chocolate on top to coat. Refrigerate until firm. Pop the cups out of the mold, then serve and enjoy!
Feel free to stir in some chopped hazelnuts into the "Nutella" and fill the Healthy Nutella Chocolate Candy Cups with that!
Mmmm, enjoy  🙂
.
With love and good eats,
.
– Jess
.