Healthy Chocolate Banana Muffins
Healthy Chocolate Banana Muffins — sweet, moist and fluffy, and PACKED with chocolate and banana flavor!  You'd never know these babies are good for you!  Oh yes.  They're refined sugar free, low fat, high fiber and 100% whole grain.  One bite and you won't believe any of that, though.  Yeah, so uh, you're welcome.  That is all.
These Chocolate Banana Muffins are the best way to satisfy that ravenous morning sweet tooth without all the sugar (and excess calories and fat).
The minute I wake up, the first thing on my mind is FOOD.
MUST. FIND. FOOOOD!
And when I skip downstairs and open up the fridge, I'm usually greeted with delicious, home-baked goodness.  For the last couple of days I've been forced to eat these muffins for breakfast.  DON'T YOU FEEL SORRY FOR ME??  My life is so hard right now.  That was sarcasm, bee tee dubs.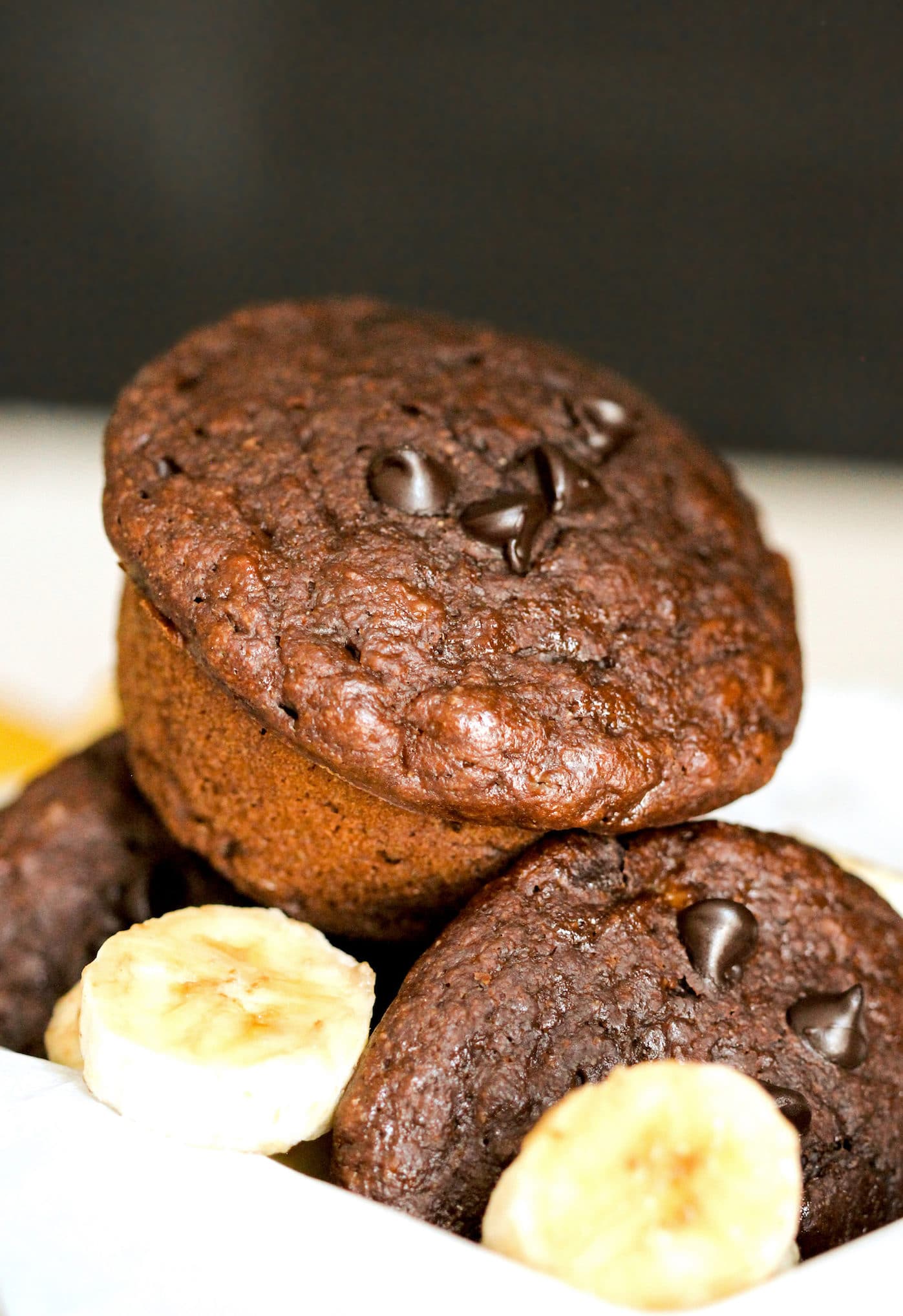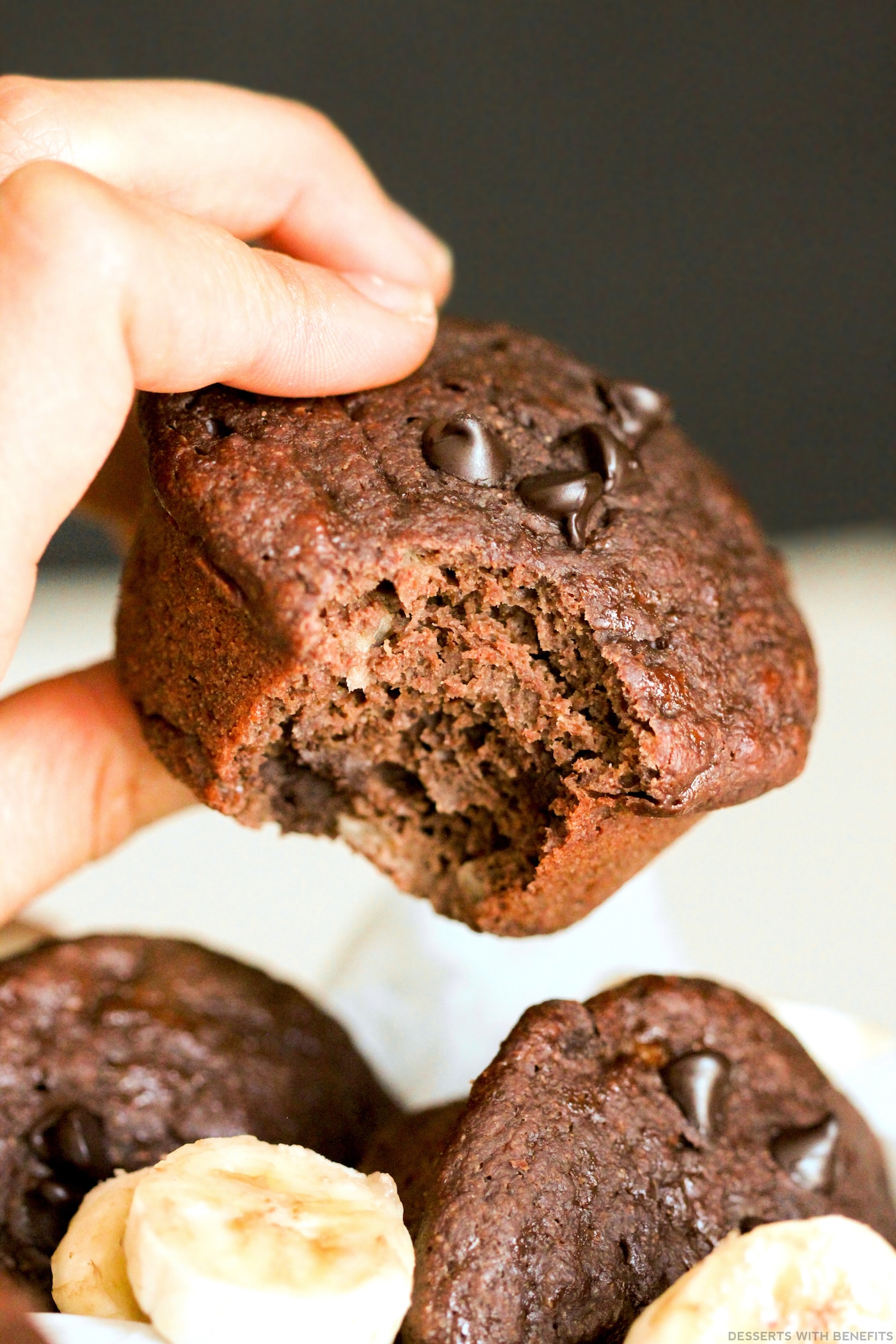 Just look at that chocolate chippy fluffy banana heaven-ness.  I just can't handle it.  I CAN'T.
The banana + chocolate combo is so good, it was destined to be turned into a muffin.  When you're in the mood for something chocolatey, but have a few ripe bananas on hand, this needs to be your go-to recipe.  Since 2011, this recipe has taken me five batches to perfect.
My first batch?  Oh goodness…  the muffins smelled like chocolate but tasted like a bland banana bread.  Or maybe my tastebuds are totally desensitized from inhaling so many chocolate bars when I was younger…
My second and third batches were a little dry and needed more chocolate flavor, yet again.  I wasn't sure what to do, so I went on FoodGawker to see if anyone else has made Chocolate Banana Muffins.  Apparently, lots of my blogger peeps do!  I found quite a few recipes, but many of the ingredient lists seemed a little…  daunting.  I'd like to avoid the 2 cups of sugar and 3 sticks of butter, thanks.  I'd rather not have a heart attack in a muffin liner.
A couple more batches (and lots of nanners) later, I arrived here, with these perfect Healthy Chocolate Banana Muffins!  Made with extra bananas for flavor, organic stevia for sweetness, a dash of Greek yogurt for moisture, and egg whites for "lift," we don't need any of the sugar, butter, or oil.
Let's just have a moment of silence for this amazingness, please.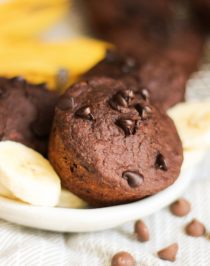 Print Recipe
Pin Recipe
Healthy Chocolate Banana Muffins
These Chocolate Banana Muffins are the best way to satisfy that ravenous morning sweet tooth without all the sugar (and excess calories and fat).
Instructions
Preheat the oven to 350 degrees Fahrenheit and spray a standard muffin tin with cooking spray.

In a small bowl, whisk together the flour, cocoa, baking powder and salt.

In a stand mixer bowl fitted with a beater attachment, add the bananas, Greek yogurt, erythritol, egg whites, vanilla and stevia.  Mix on medium speed until completely mixed through.

Turn off the mixer and dump in the dry ingredients.  Mix on low speed until JUST incorporated (do not overmix!).  Fold in ¼ cup of the chocolate chips.

Scoop the batter into the muffin tin.  Sprinkle the remaining chocolate chips on top of the muffin batter.  Bake for ~19 minutes, or until the muffins spring back when tapped.  Let the muffins cool in the pan for about 30 minutes, then transfer them to a wire cooling rack to cool completely.
Recipe Notes
The recipe above is my revised recipe. I originally posted a Healthy Chocolate Banana Muffin recipe back in 2011 but felt like it could use some work on the texture.  Just in case you wanted to see the previous recipe and/or the changes I made, I'm providing the old recipe here:
150g (1¼ cups) Whole Wheat Pastry Flour
42g (½ cup) Unsweetened Natural Cocoa Powder
48g (¼ cup) Sucanat
1 tsp Double Acting Baking Powder
¼ tsp Sea Salt
4 Large Egg Whites
240g (~2 large) Bananas, very ripe
113g (½ cup) Plain, Nonfat Greek Yogurt
1 tsp Vanilla Extract
1 tsp Stevia Extract
½ cup Bittersweet Chocolate Chips
3 tbs Coconut Oil
Nutrition Facts
Healthy Chocolate Banana Muffins
Amount Per Serving (1 muffin)
Calories 130
Calories from Fat 18
% Daily Value*
Fat 2g3%
Sodium 160mg7%
Carbohydrates 19g6%
Protein 4g8%
Vitamin C 3.3mg4%
Calcium 80mg8%
Iron 1.4mg8%
* Percent Daily Values are based on a 2000 calorie diet.
I'll take three please.  Gimme gimme gimme!
This is a picture of the Chocolate Banana Muffin recipe I posted back in 2011.  I baked them in a jumbo muffin tin and do not regret that decision one bit.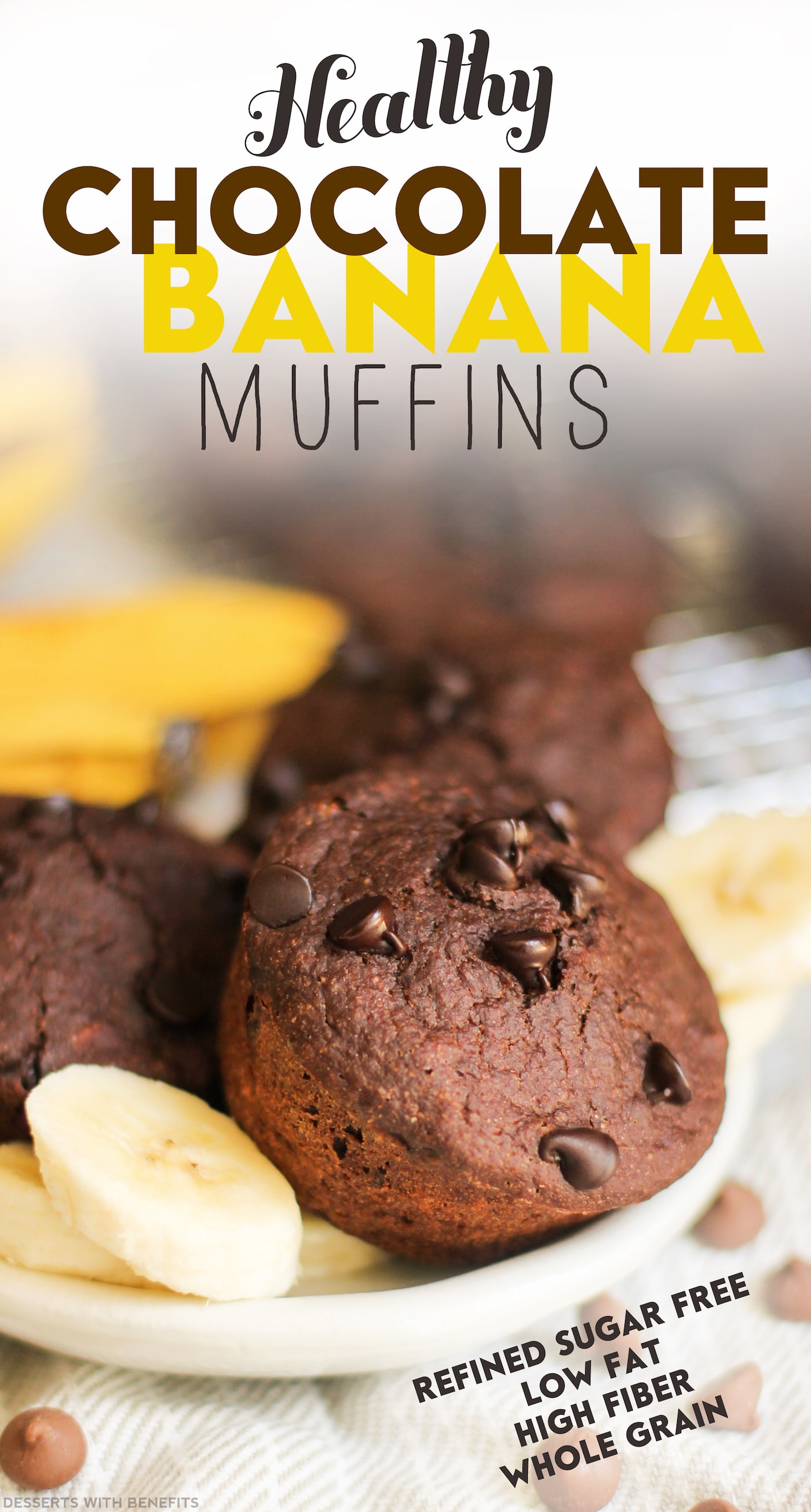 If you like eating freshly baked muffins, even the day after you bake 'em off (if there are still some left), just pop a couple in the microwave for ~10 seconds and POOF!  You have yourself a super soft, warm muffin that oozes delicious, creamy, melty chocolate…  mmm, I'm drooling just reliving the moment.
Enjoy!
.
– Jess
.