Healthy Peanut Butter Brownies with Homemade Peanut Butter Chips
My oven has not had any action in about a week.  I'm pretty sure it snuck on an online dating baking site to go find a new owner.  BUT…  I made it up to Mr. Oven alllll day yesterday.  I made these Healthy Peanut Butter Brownies with Homemade Peanut Butter Chips (yes, HOMEMADE PB CHIPS!! 😍), Vegan Red Velvet Cake, Chocolate Banana Muffins, and Chocolate Brownie Truffles.  Out of all that goodness, though, I had to share this amazing brownie recipe FIRST.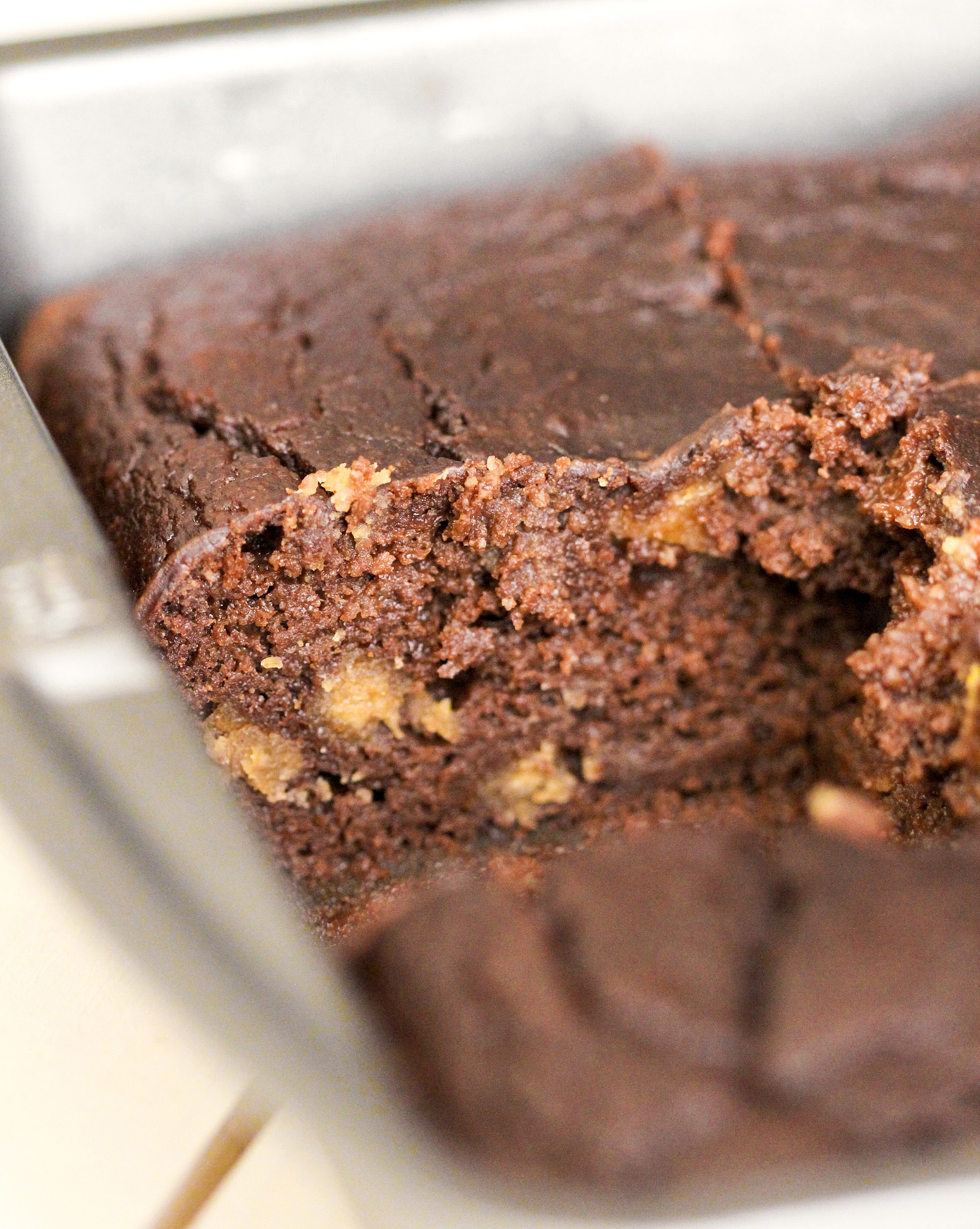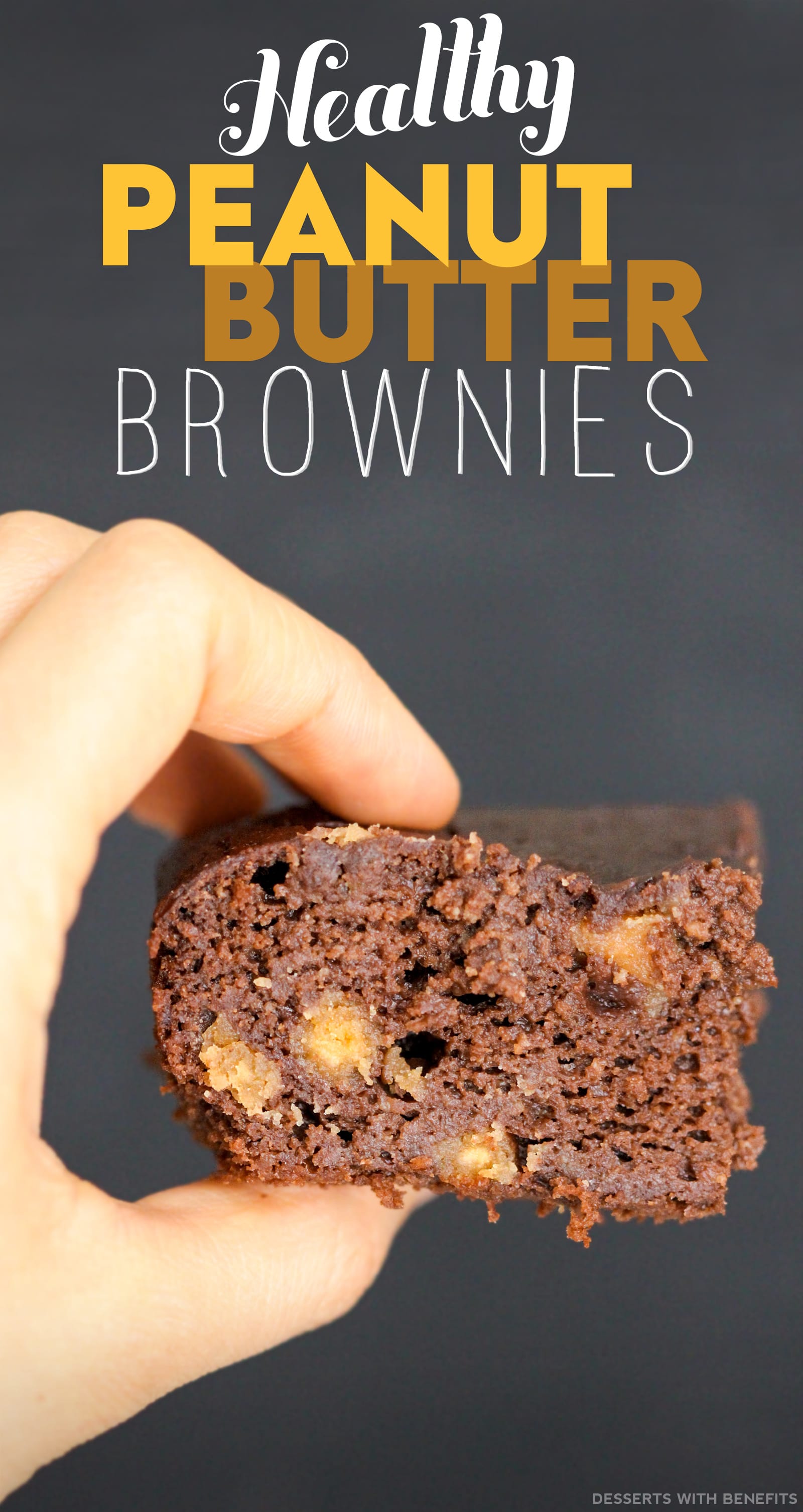 The brownie batter is full of peanut butter flavor already, but I added Peanut Butter Baking Chips to bring these guys over the top.
Really now, these brownies are BOMB.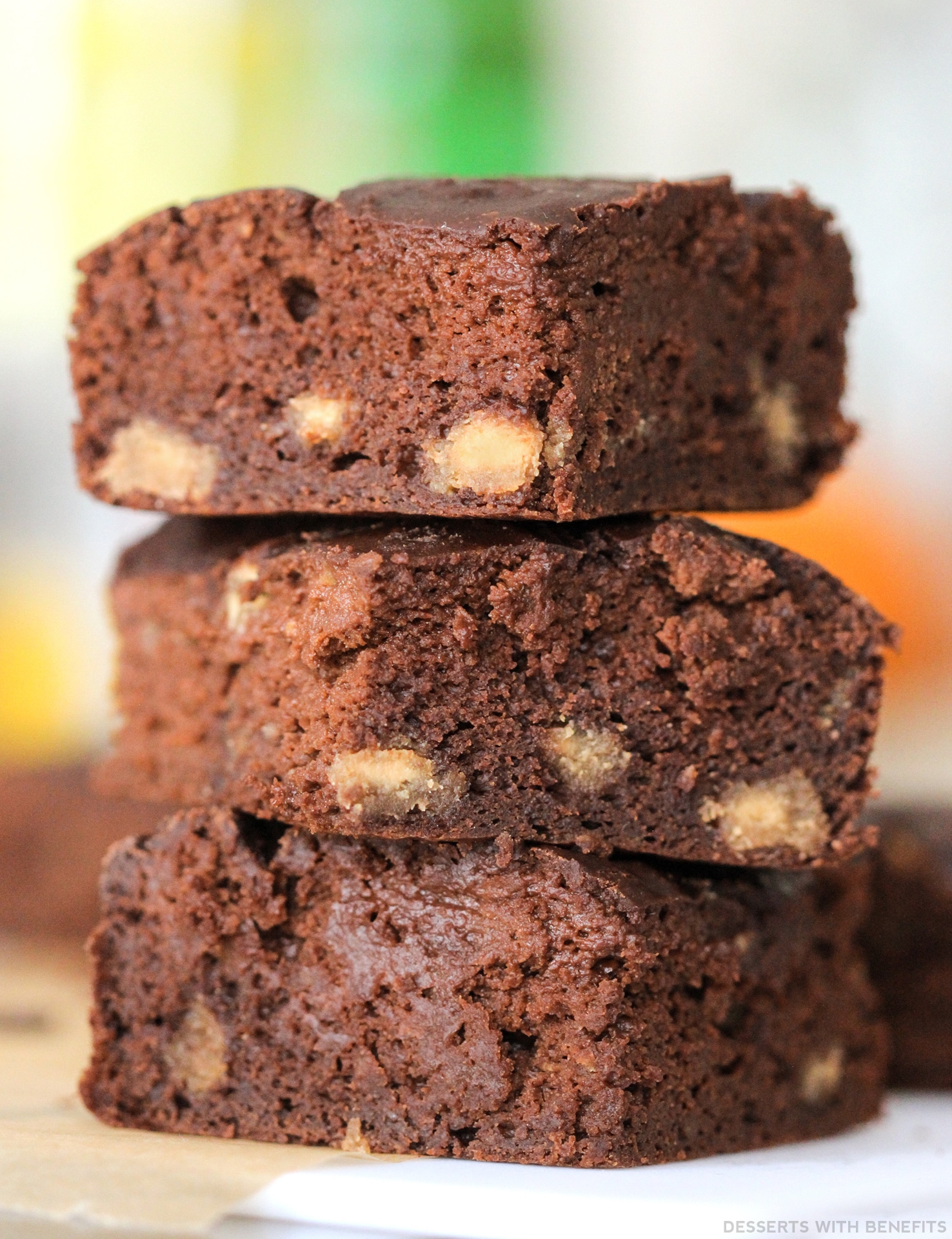 And they're substantial.  You'll be full after eating just ONE (unlike typical store- or bakery-bought brownies, which are never satisfying and leave you still hungry and wanting a second, third, and maybe fourth brownie, until you're sick from all the sugar and feel sluggish all day).
These Healthy Peanut Butter Brownies with Homemade Peanut Butter Chips are incredibly dense, fudgy, sweet, and chocolatey.  Oh, and they're ultra decadent and rich from those peanut butter chips.  We've got ourselves a winner here y'all 🙌

I should probably mention that these taste disgustingly unhealthy.  One bite and you'll think it's full of sugar, butter, and flour.  But no siree!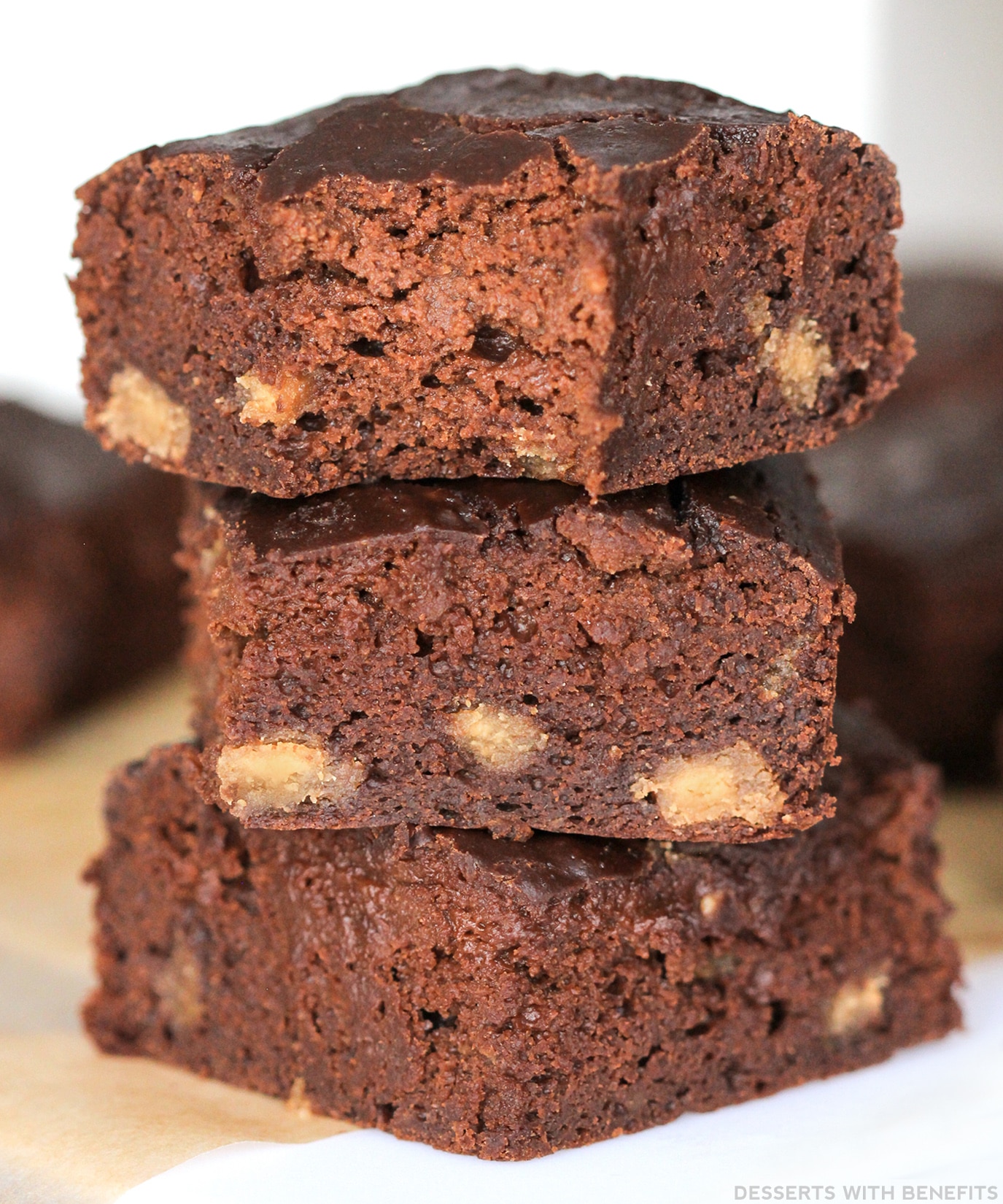 These incredibly addicting and delicious Healthy Peanut Butter Brownies are refined sugar free, low carb, high protein, high fiber, and gluten free.  For real.  One bite and you won't believe any of that, though.  You'll think someone swapped your healthy brownie for an unhealthy storebought one…  these are THAT good!
Healthy Peanut Butter Brownies with Homemade Peanut Butter Chips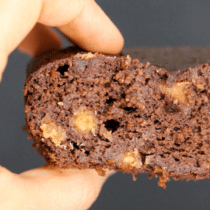 Ingredients:
Directions:
Preheat the oven to 350 degrees Fahrenheit, spray a 9" brownie pan with cooking spray, and line with parchment paper one way for easy removal later.
In a medium-sized bowl, whisk together the peanut flour, erythritol, cocoa powder, baking powder and salt.
In a large stand mixer bowl with beater attachment, add the applesauce, egg, almond milk, stevia extract and vanilla. Mix on medium-low speed until combined.
Turn off the mixer and dump in the dry ingredients.  Mix on low speed until fully incorporated, then scrape down the sides of the bowl.  Increase the mixer speed to high to get rid of any clumps.  Once the mixture is smooth, gently fold in the peanut butter chips by hand.
Pour the batter into the prepared pan.  Bake for ~38 minutes, or until the center springs back when tapped (if you want a more "set" brownie and less fudgy texture, bake for ~5 extra minutes).  Let cool in the pan, then slice and serve!
Notes:
The recipe above is my revised recipe. I originally posted a Healthy Peanut Butter Brownies with Homemade Peanut Butter Chips recipe back in 2013 but felt like it could use some work on the texture.  Just in case you wanted to see the previous recipe and/or the changes I made, I'm providing the old recipe here:
150g (1¼ cups) Peanut Flour
120g (1 cup) Oat Flour
20g (¼ cup) Unsweetened Dark Cocoa Powder
20g (¼ cup) Unsweetened Natural Cocoa Powder
2 tsp Double Acting Baking Powder
½ tsp Xanthan Gum
½ tsp Salt
1 Jumbo Organic Egg
96g (½ cup) Granulated Erythritol
431g (1¾ cups) Unsweetened Applesauce
⅓ cup Unsweetened Vanilla Almond Milk
1¼ tsp Stevia Extract
Be sure to follow @DessertsWithBenefits on Instagram!  If you try this recipe, make sure to snap a picture of it, tag me @DessertsWithBenefits, and hashtag #DessertsWithBenefits.  I'd love to see it and feature you on #FanFaveFridays!
.
Here is the recipe's nutrition label:
CAN YOU BELIEVE THIS?  AM I DREAMING??  Only 190 calories for a super decadent unhealthy-tasting brownie?!  Oh, and 6g of filling fiber and a whopping 17g of protein.  I'm not sharing these.  Nope, these are ALL mine.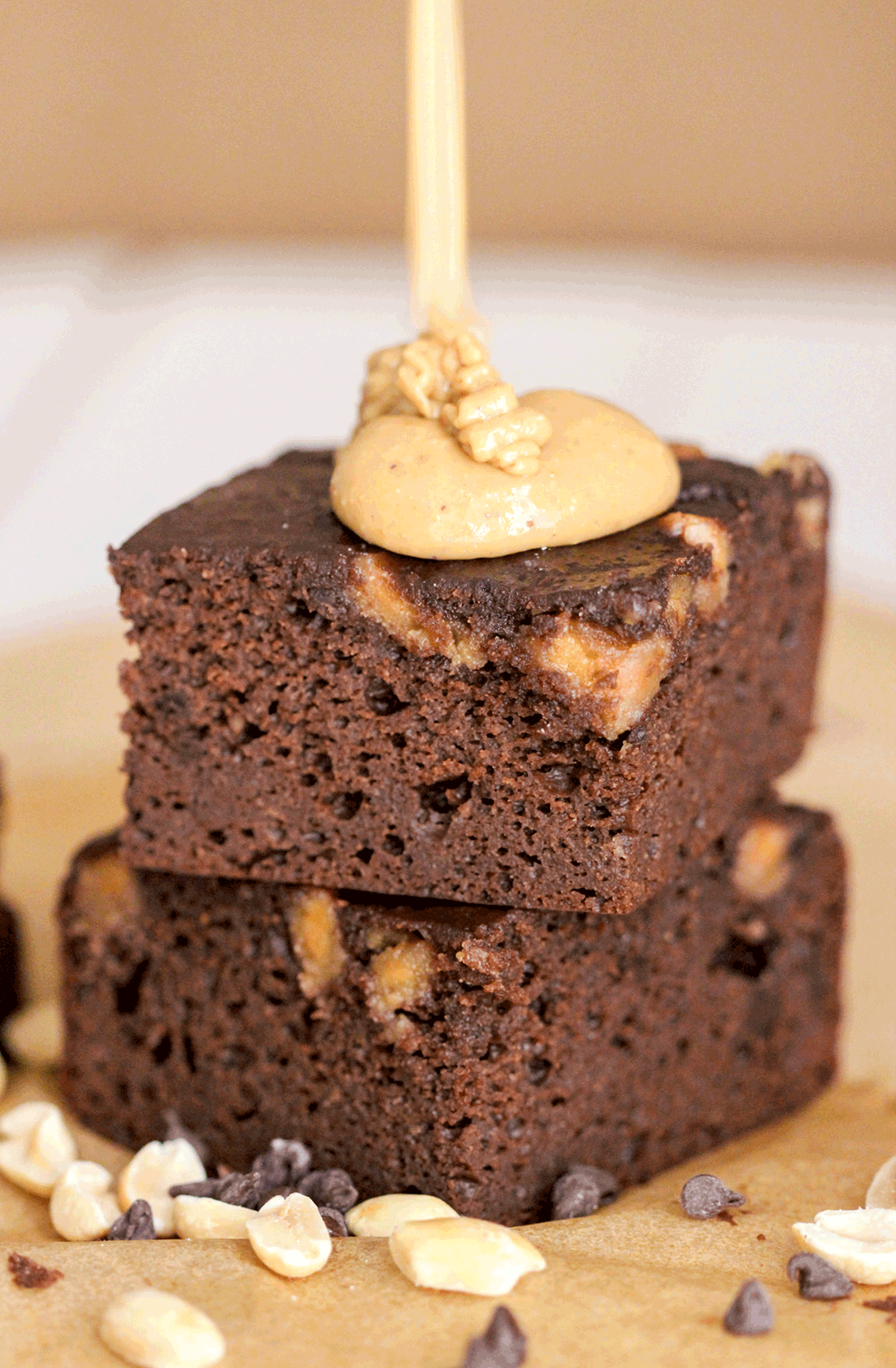 I've made these brownies quite a few times to get the recipe juuuuust right.  The GIF and 4 pictures above is of my first batch, using 2 eggs, 1½ cups applesauce, and an 8″ brownie pan.  While they were absolutely delicious, they were a little too tall and ended up looking more like cake.  Unsurprisingly, people happily gobbled these up without any complaints whatsoever 😉
.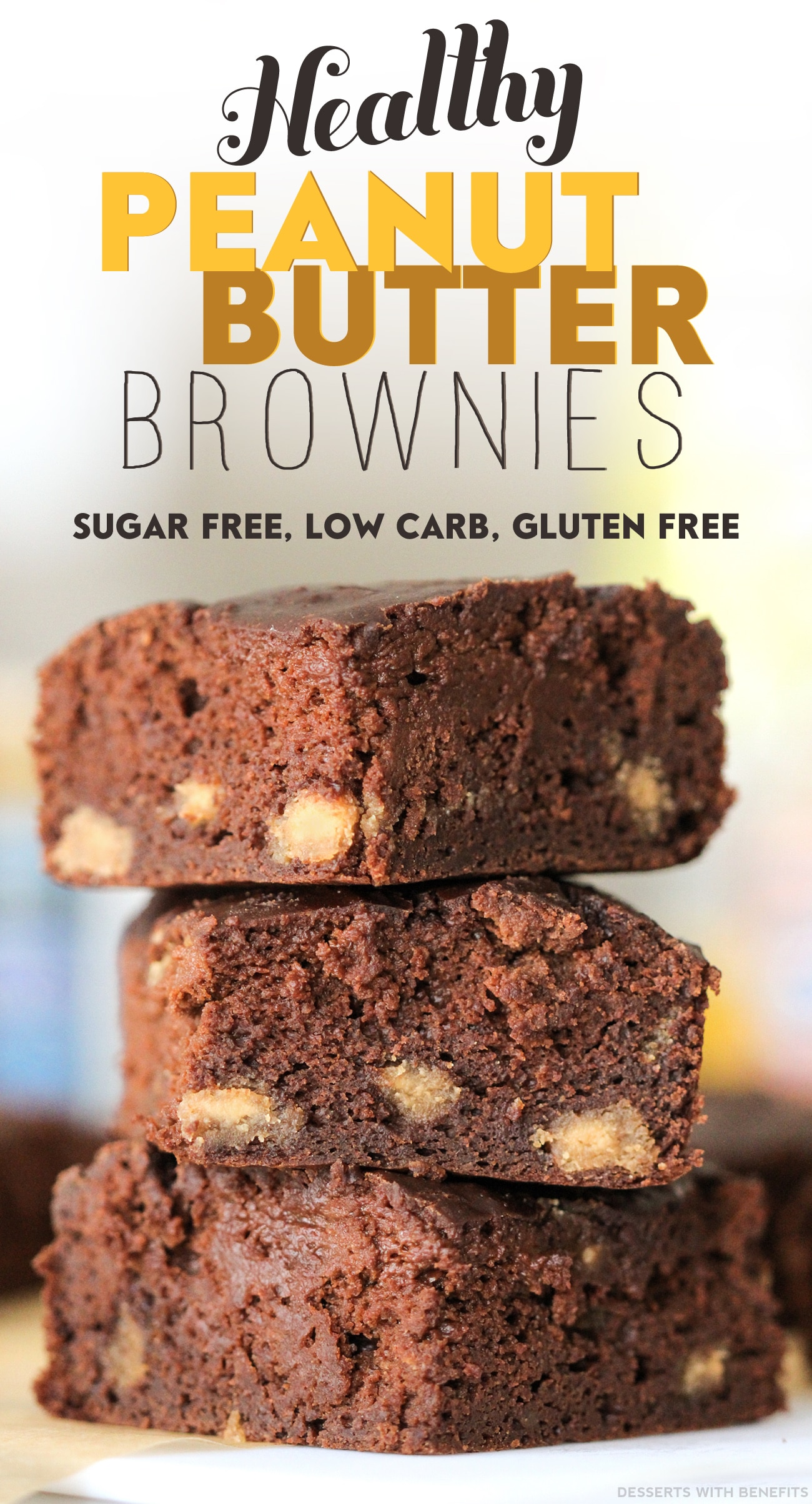 Enjoy!
.
– Jess
🎂🍴💕
.