Healthy Chocolate Fudge Truffles
Guys.  I'm excited.  About these truffles.  These Healthy Chocolate Fudge Truffles…  REALLY EXCITED, GAHHHH!
Well, I'm clearly so excited that I can't even form proper sentences  😉
So, in case you didn't guess, I'm pretty pumped about this recipe.  So pumped that I somehow forgot to mention that these are just 50 calories a piece.
*falls to knees and bows*

Me:  "Hello, my pretty."
Truffle:  "BITE ME!"
Me:  "If you insist…"
OhmygoodnesslifefreakingROCKSrightnow.
5-ingredient 50-calorie Chocolate Fudge Truffles!
No, you're not dreaming.  Yes, this is real life.
The FUDGE factor, people.  I can barely handle it.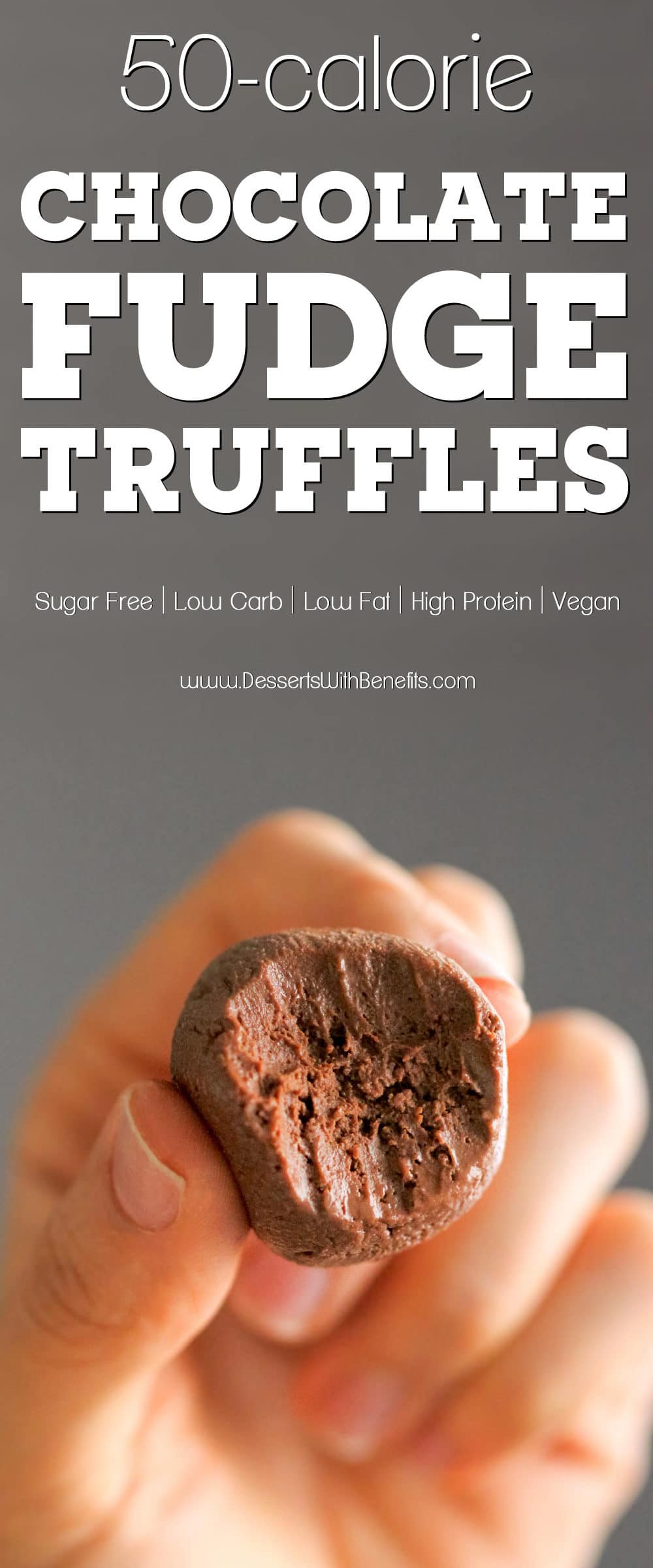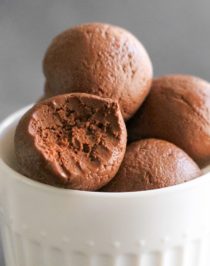 Print Recipe
Pin Recipe
Healthy Chocolate Fudge Truffles
These 50-calorie Healthy Chocolate Fudge Truffles taste like heaven in a bite-sized package! They're so sweet, chocolatey, and fudgy, you'd never be able to tell they're low calorie, low carb, sugar free, high protein, dairy free, AND vegan!
Instructions
In a large bowl, whisk together the condensed milk and stevia extract.

Add in the protein powder, cocoa powder, and salt.  Whisk together until completely combined (mixture should thicken like frosting).  Cover and refrigerate the mixture for 5+ hours (mixture should firm up).

Line a cookie sheet with parchment paper.

Use a cookie scoop (for the food service peeps, I used the #40 1½ tbs purple disher) to portion the fudge onto the cookie sheet.  Refrigerate uncovered for 30 minutes to an hour.

Roll the scoops between your palms to form balls, then place back in the fridge for another 30 minutes to an hour.  Serve and enjoy!
Recipe Notes
The recipe above is my revised recipe. I originally posted a Chocolate Fudge Truffle recipe back in 2014 but felt like it could use some work on the flavor.  Just in case you wanted to see the previous recipe and/or the changes I made, I'm providing the old recipe here:
1 Large Avocado, ripe
170g (¾ cup) Plain, Nonfat Greek Yogurt
1 tsp Vanilla Paste (I used homemade!)
1 tsp Stevia Extract
105g (¾ cup, packed) Chocolate Brown Rice Protein Powder
10g (2 tbs) Unsweetened Dark Cocoa Powder
⅛ tsp Salt
Try the Ferrero Rochers variation of this recipe!
Nutrition Facts
Healthy Chocolate Fudge Truffles
Amount Per Serving (2 truffles)
Calories 100
Calories from Fat 45
% Daily Value*
Fat 5g8%
Sodium 70mg3%
Carbohydrates 4g1%
Protein 12g24%
Calcium 40mg4%
Iron 2.7mg15%
* Percent Daily Values are based on a 2000 calorie diet.
Feel free to coat the truffles in cocoa powder, shredded coconut, mini chocolate chips, natural rainbow sprinkles, or whatever you want!
I liked how the chocolate chips added a nice crunch to contrast the smooth and creamy fudge.  But then again, the sprinkles were good too…  because, well, what is life without sprinkles?  While these truffles were good and I'm pretty sure I inhaled them in 2 days, I felt they could have been better.  That's why I revamped the recipe!
Each amazing-to-all-that-is-good chocolate fudge truffle has only 50 calories and 2.5g fat, along with 6g of protein!
Hi, um, yes.  I'll take seven of these to go, thanks.  You only live once soooo…  eat to your heart's content.
This is chocolate nirvana.  So if you are craving chocolate (WAIT, what kind of question is that?  Of course you're craving chocolate) then make these Chocolate Fudge Truffles.  They're super chocolatey, seriously decadent, and totally guilt-free!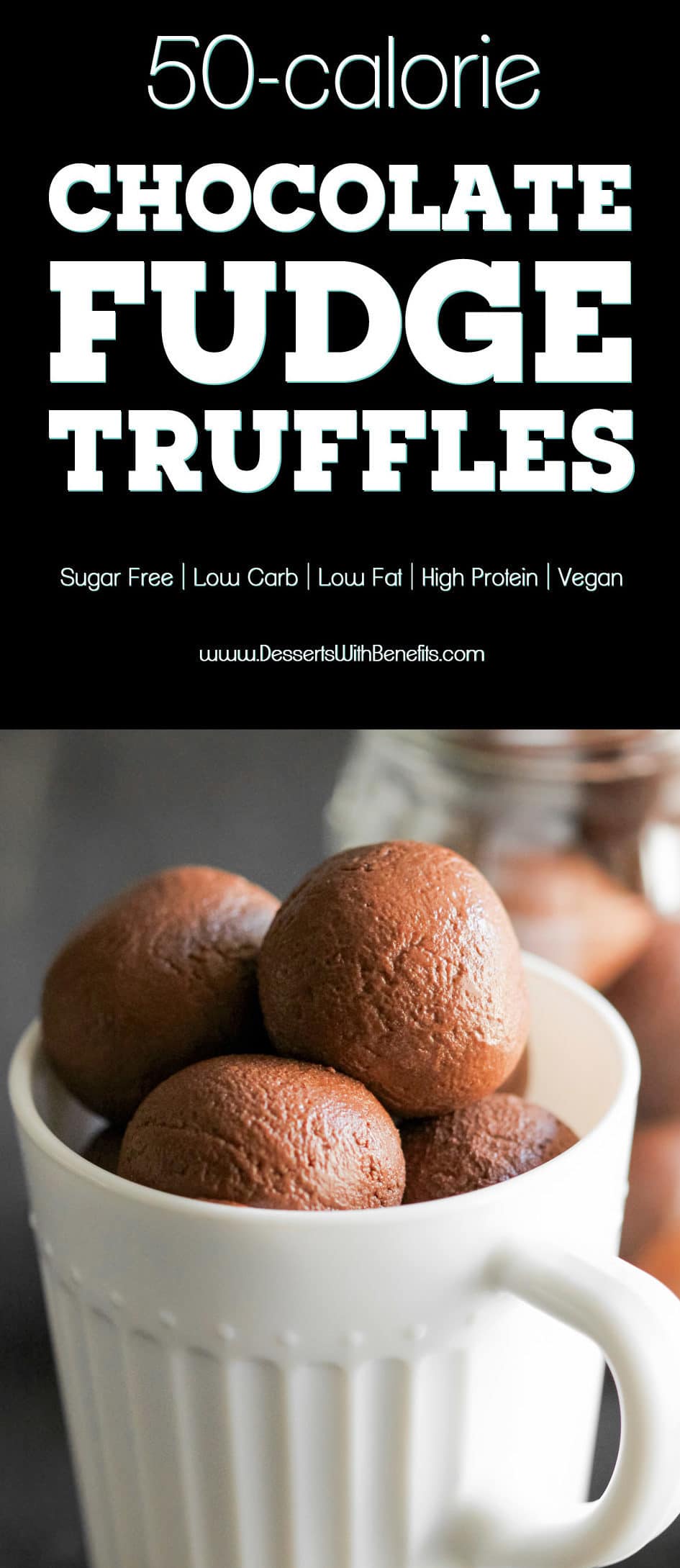 Enjoy!
.
With love and good eats,
.
– Jess
.