Healthy Homemade Ferrero Rocher (To Celebrate My 22nd Birthday!)
Mmmm…  Ferrero Rocher® — you know, that popular chocolate truffle-like candy with a whole hazelnut in the center, surrounded by a thick layer of chocolate fudge, wrapped in a crunchy thin wafer, and then coated in milk chocolate and chopped hazelnuts?
Did your jaw just drop to the floor?
And are you drooling?
Because that's what I'm doing and I'd hate to be alone on that one…  hint hint, drool with me  😉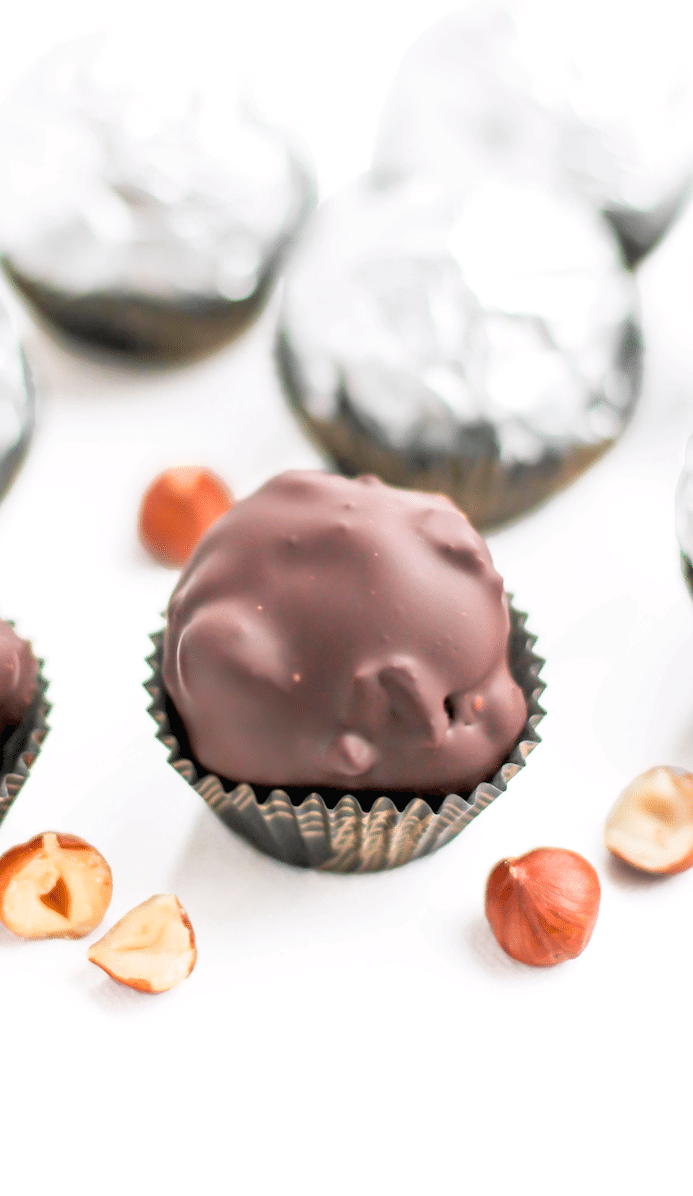 Are you drooling???  Yes?  Good.
Ferrero Rocher® is dear to my heart.  While it wasn't necessarily my favorite candy as a child (I preferred Hersheyz, Snickerz, Oreoz, and Pop Tartz), whenever I see a box of these candies at the store, I remember all the times my grandpa used to buy them for me every time I'd visit him.  Especially on my birthday.
I never had the guts to tell him that I actually didn't like hazelnuts, so I ate them without complaining.  When he wasn't looking I'd pick out the hazelnut in the center and give it to my sister.
I found out just last week that I'll be seeing my grandpa this December when I'm done with my Fall semester and back home in Connecticut for the holiday break.  Literally, the second I heard, "grandpa," I thought of Ferrero Rocher®.  I immediately remembered those chocolate goodies — the chocolate fudge, the hazelnut crunch, mmmm.
I wanted needed to make a healthified version ASAP.  My taste buds have changed since I was a kid and I have fallen in love with hazelnuts.  But, I haven't changed that much…  I made a batch of Healthy Homemade Ferrero Rocher for the chocolate part  😉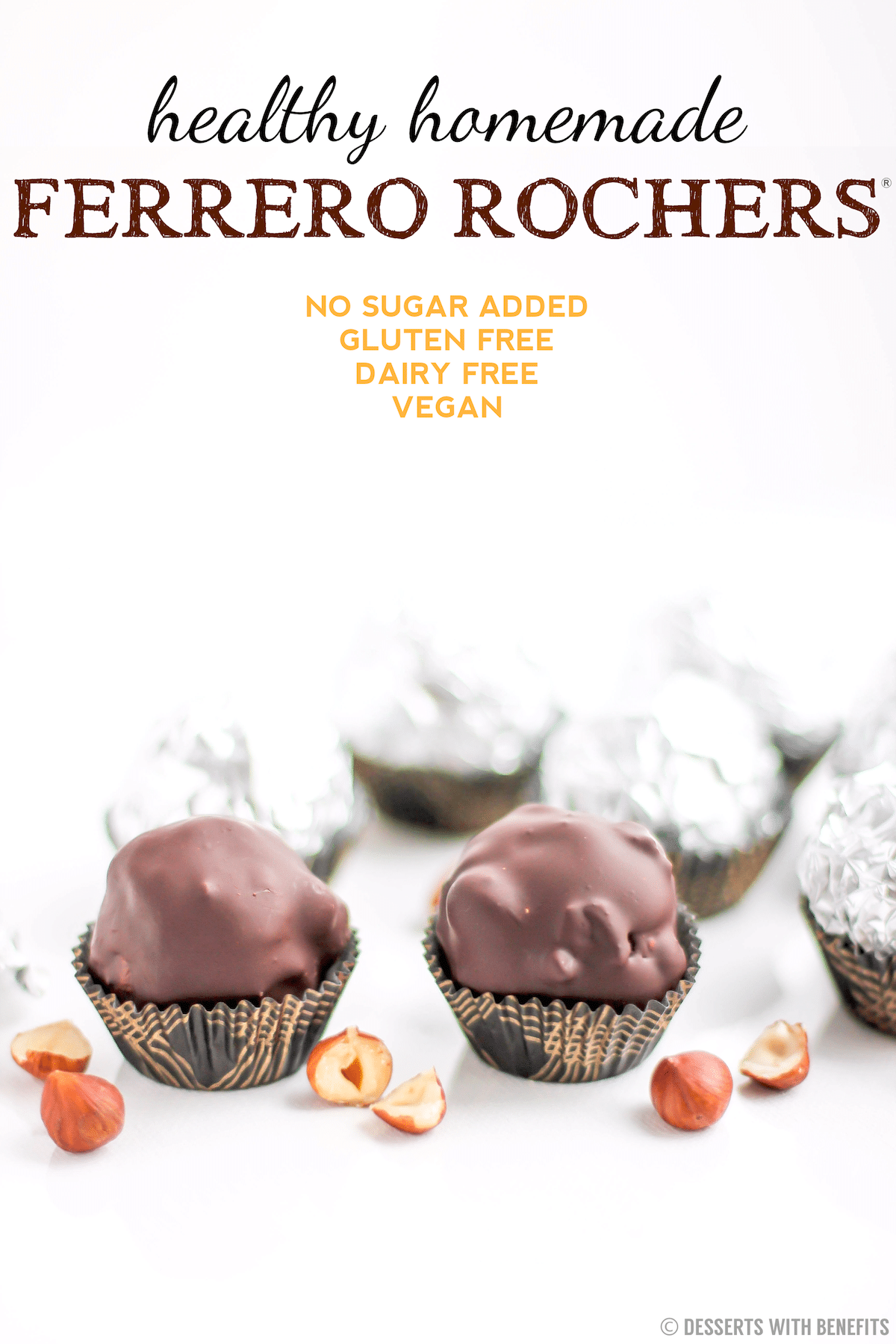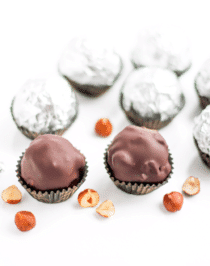 Print Recipe
Pin Recipe
Healthy Homemade Ferrero Rocher
These Healthy Homemade Ferrero Rochers are super delicious and easy to make, you'd never know they're low sugar, high protein, gluten free, dairy free, vegan!
Ingredients
Coating:
½

cup

Chopped Hazelnuts

6

oz

70% Cacao Dark Chocolate

(melted)
Instructions
Slice the avocados, remove the pits, and put the flesh into a medium-sized bowl (the flesh of my avocado weighed 292g). Add the vanilla paste and stevia extract. Blend with a hand blender (I used my

KitchenAid Hand Blender

with Star Blade) until smooth. This measured 1⅓ cups after pureeing.

Add the protein powder, cocoa powder and salt and blend again (the mixture should be thick like frosting).

Line a cookie sheet with foil or parchment paper. Use a 1½" cookie scoop to scoop the fudge cream onto the prepared pan. Press the hazelnuts into the center of the scoops and refrigerate uncovered for 1 hour.

In a bowl, stir the chopped hazelnuts into the melted chocolate.

Roll the chocolate "scoops" into balls, then dip them into the melted chocolate.  Place the balls back on the pan.  Refrigerate until firm.  Wrap the balls in squares of tin foil and refrigerate to store. Keeps for 3 days.
Nutrition Facts
Healthy Homemade Ferrero Rocher
Amount Per Serving (1 Ferrero Rocher)
Calories 140
Calories from Fat 81
% Daily Value*
Fat 9g14%
Sodium 50mg2%
Carbohydrates 9g3%
Protein 7g14%
Vitamin C 3.3mg4%
Calcium 40mg4%
Iron 1.8mg10%
* Percent Daily Values are based on a 2000 calorie diet.
As a comparison, here is the nutrition label for storebought Ferrero Rocher®.  Since my Healthy Homemade Ferrero Rocher are a bit larger than the storebought version, a typical nutrition label comparison wouldn't be very accurate.  I made the nutrition label comparison to compare by weight.
Compared to the original, my homemade version is lower in calories, fat, carbs and sugar, and higher in fiber, protein, vitamins and minerals!  Oh, and mine are all natural too.  The storebought kind contains "vanillin" — the artificial version of vanilla extract.  Is it really that hard to just use pure vanilla?  Nuh-uh.  Didn't think so.
Soooo…  yeah, I'll take mine.  And like, three (or all) of them.
Join me please  😉
My Homemade Ferrero Rochers are quite larger than the storebought version.  I didn't have a small cookie scoop (#60) so I had to use my regular cookie scoop (#30).  Yes, that big.  But I don't really care, because that's just more chocolate to shove in my face.  Aaaaanyways…  feel free to use a small cookie scoop if you have one.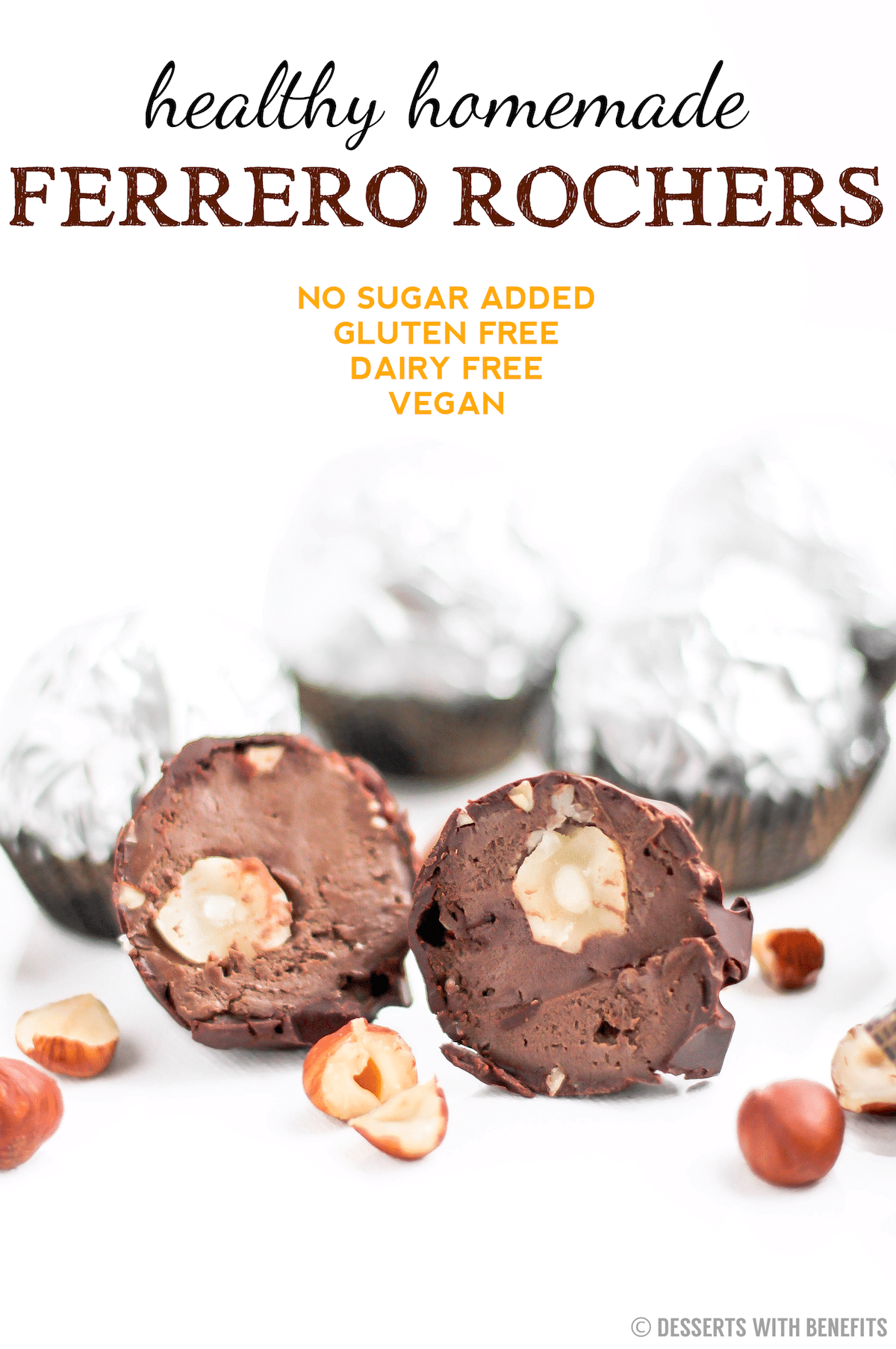 And grandpa, if you're reading this, I'm super excited to see you this December!  You are so strong, independent, kindhearted…  and occasionally super stubborn…  but you have always been a role model to me.  You make me laugh, you make me think about what's really important in life.  I hope you enjoy these Homemade Ferrero Rocher when I make them for you this winter!  Only a few more months.
.
With love and good eats,
.
– Jess
.