Healthy Mo-tella Fudge DIY Protein Bars (Nutella-ish, but BETTER!)
What are these Healthy Mo-tella Fudge DIY Protein Bars you speak of?  They're basically like Nutella-infused protein bars — sweet, chocolatey, and hazelnutty — but without all the junky ingredients.  These are made secretly GOOD for you!  They're no bake, super easy to make, decadently fudgy, and supremely addictive.  You'd never know they're sugar free, whole grain, gluten free, dairy free, and vegan!
Wholesome and all natural chocolate-hazelnut protein bars?  Yes puh-lease.  One bite and you'll be screaming, "Gimme MO of those Mo-tella Protein Bars!!"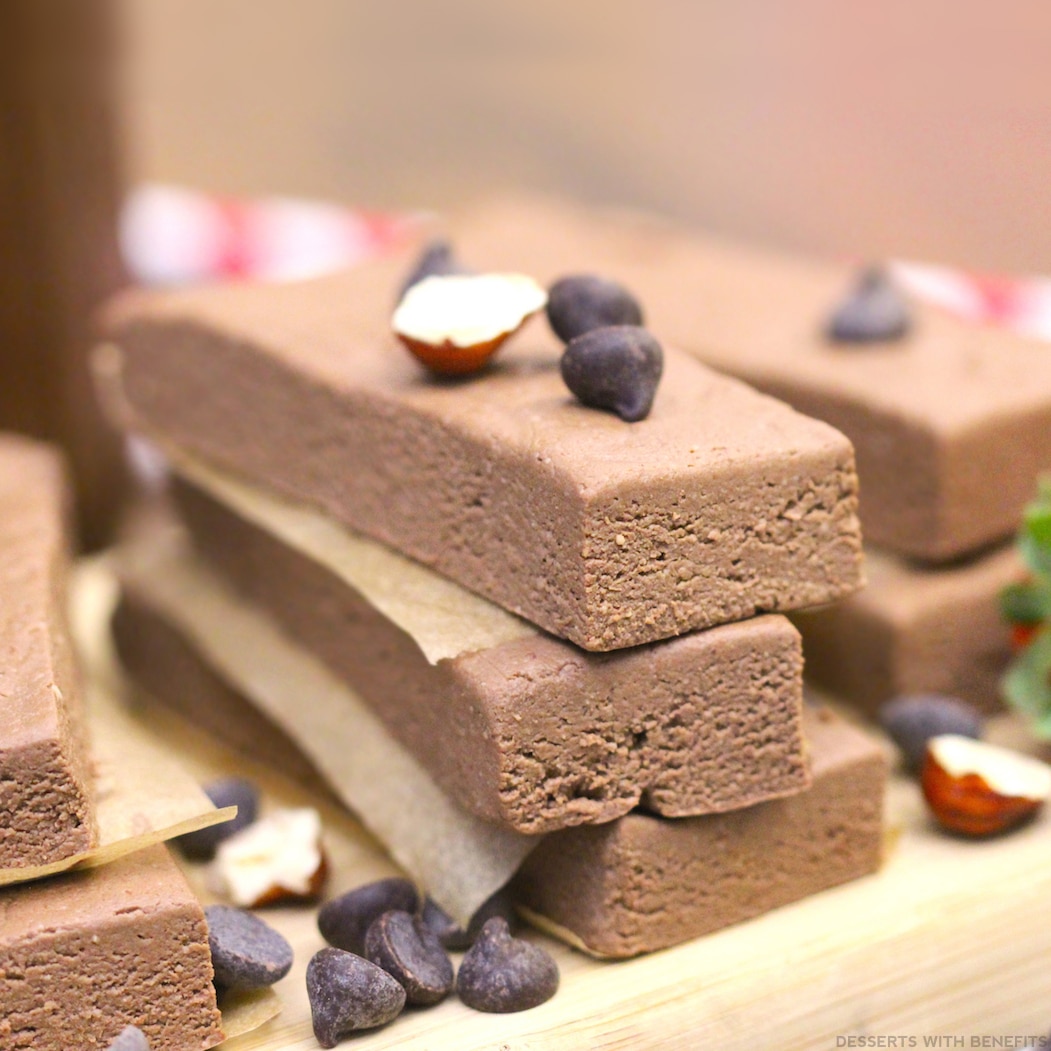 Did you happen to see last week's post for my Healthy Matcha Green Tea DIY Protein Bars?  I officially announced that I (finally) finished the DIY Protein Bars Cookbook revamp!  Retested the recipes, rephotographed them, redesigned the book's interior.  New errthang.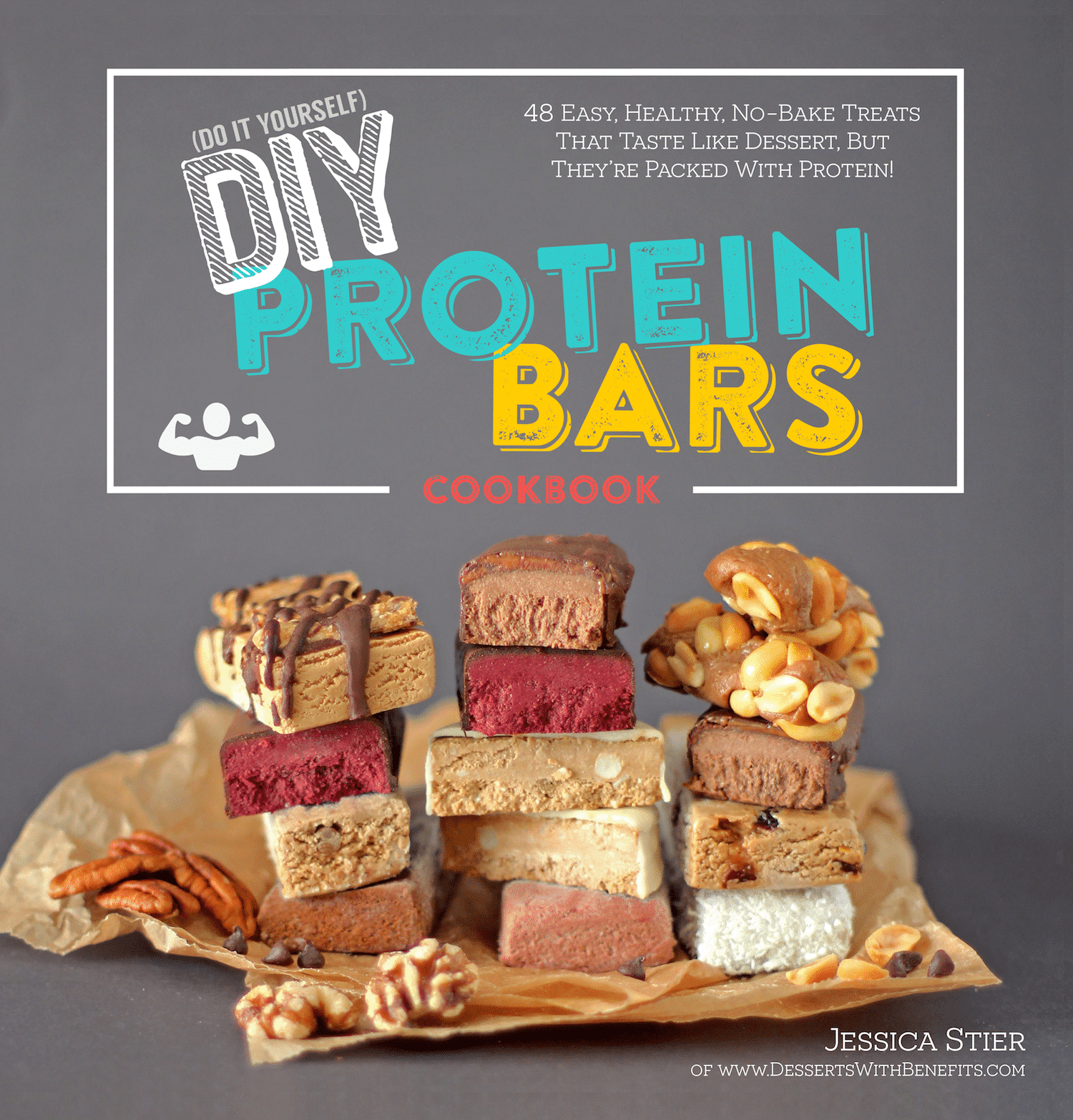 Anyways, let's talk protein bars now.  Healthy Mo-tella Fudge DIY Protein Bars, that is.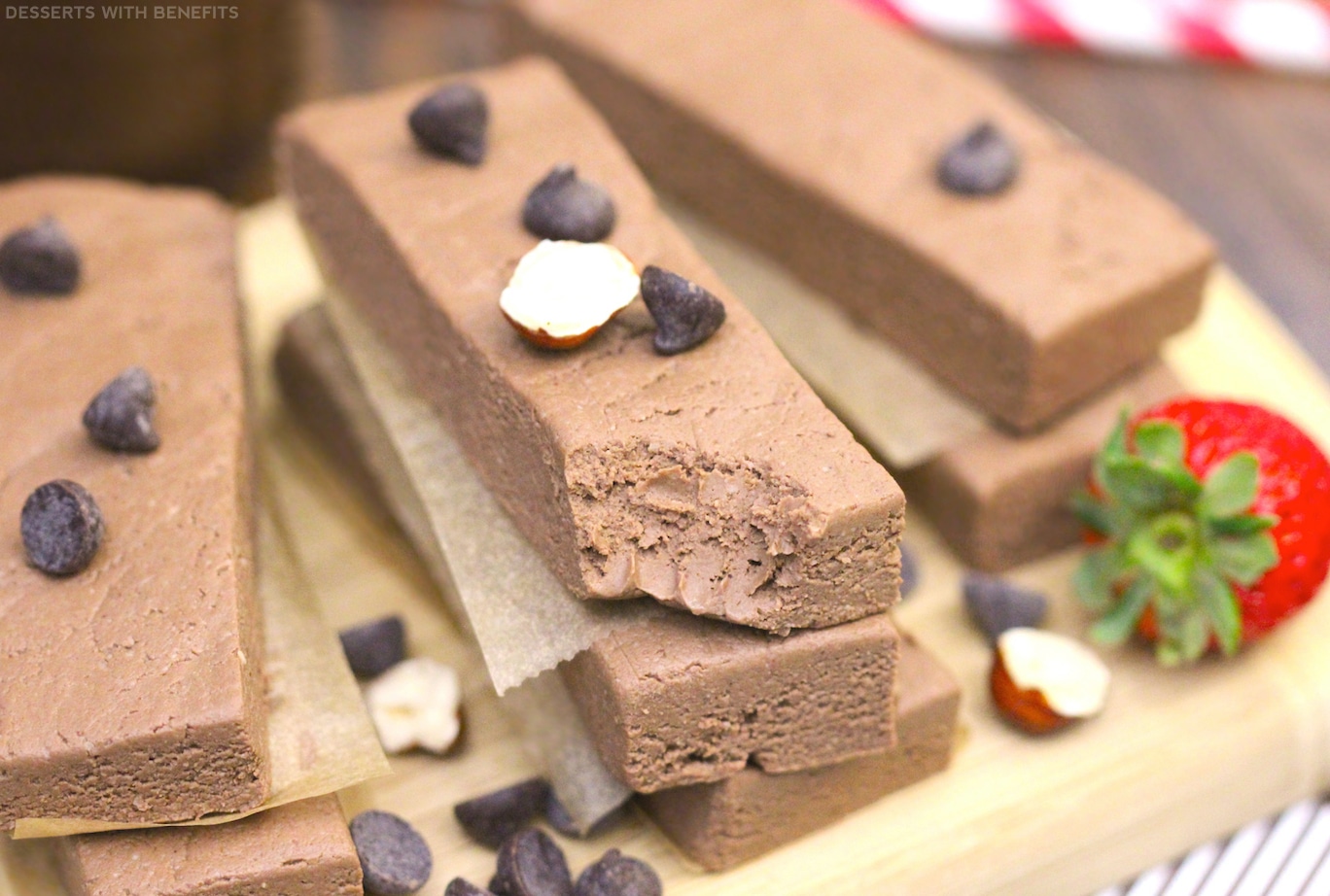 LOOK AT THE FUDGINESSSSSS!
If you're looking for a tasty, quick breakfast/snack on the go, make these Healthy Mo-tella Fudge DIY Protein Bars.  Natural ingredients come together to make this fudgy goodness as guilt-free as possible so you can feel good about eating them.  You can have ALL the taste of Nutella® but without all the nasty sugar, added oils, and preservatives.
These protein bars are for serious chocolate lovers only.  Either join the chocolate-lovers club or get outta here ✋
You must make these protein bars as soon as you step foot inside your kitchen.  You will have quick and easy snacks all ready for you for the entire week!  If they last that long.  All by myself, these lasted me 3 days (there is NO such thing as taking things slowly).  When I was in college, I used to take them to school to snack in between classes.  Every time the bell rang, a huge smile would creep on my face.  Oh yeah, the bell meant it was snack time.  I'd eat a protein bar before class (for concentration, fuel, and energy) and a protein bar after class (as a post-class reward, duhhh).
I wonder how long this chocolate-hazelnut goodness will last in YOUR home.  Not long, I'm sure.  Not long at all.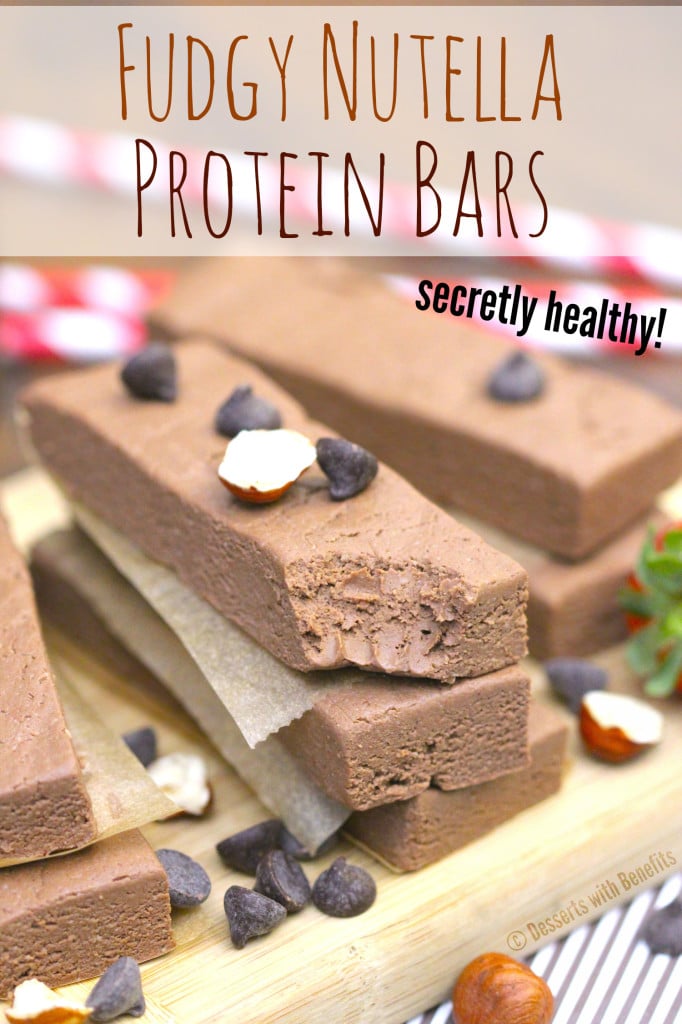 Healthy Mo-tella Fudge DIY Protein Bars
Prep Time: 30 minutes
Cook Time: 0 minutes
Total Time: 30 minutes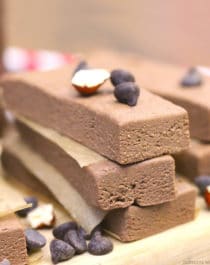 Fat per serving: 9
Calories per serving: 170
Ingredients:
Roasted Hazelnut Butter**
Unsweetened Vanilla Almond Milk
Oat Flour
Unsweetened Dutch Processed Cocoa Powder
Salt
Mini Semi-Sweet Chocolate Chips (optional…  or are they?)
Directions:
Notes:
I originally wasn't going to share the recipe here because I worked so incredibly hard on publishing DIY Protein Bars.  But, I understand not having a recipe here can be frustrating.  So, I'll meet you halfway…  how does that sound?  I'll show you all the ingredients I use in the recipe.  That way, you can determine on your own whether or not the cookbook is for you!
**You can buy hazelnut butter online or you can make it at home.  Making nut butters at home saves a TON of money, but you do need a good food processor to do it!
Do not use whey/egg/casein protein!  The mixture will be gooey and won't solidify.
Keeps for ~1 week in the fridge or ~3 months in a sealed sandwich baggie in the freezer.
All images and text © .
.
I am so incredibly lucky to be a part of such a loving, adoring, and supportive online community.  Here are some of the pictures readers have shared with me on social media and via email of their Healthy Mo-tella Fudge DIY Protein Bar remakes!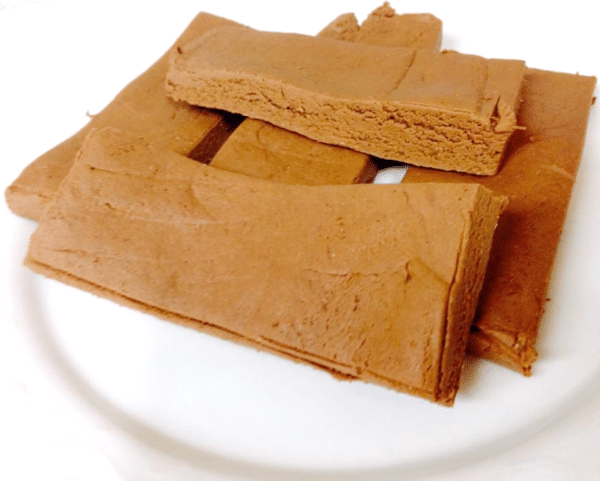 Thanks Lauren G!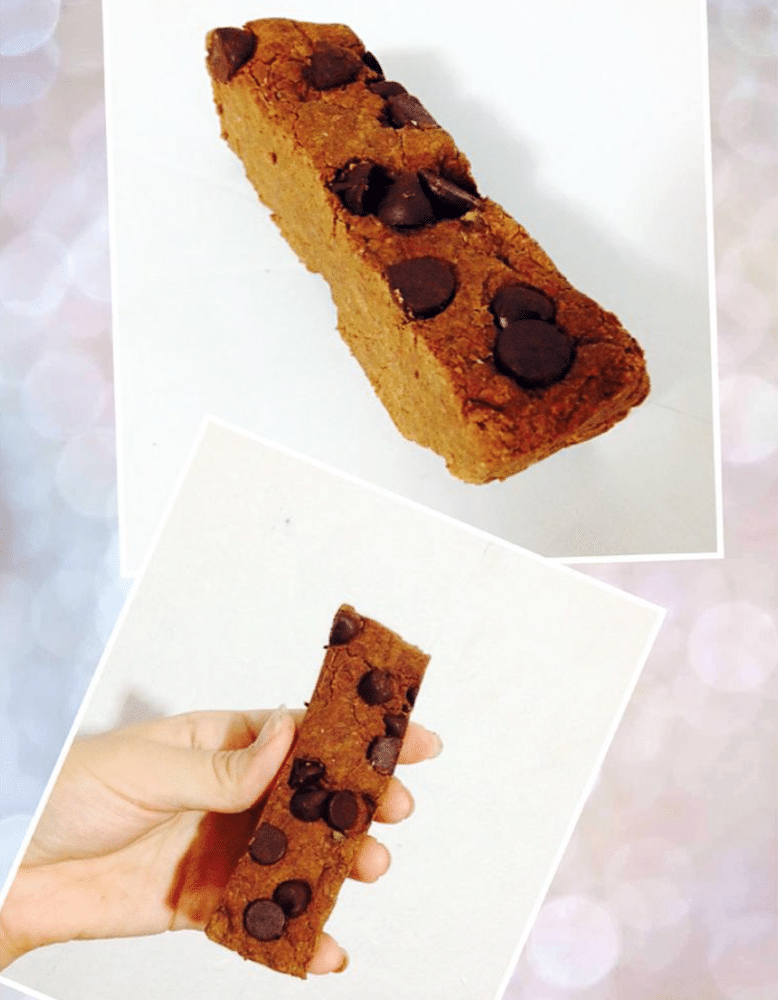 Thanks @brekbp!
.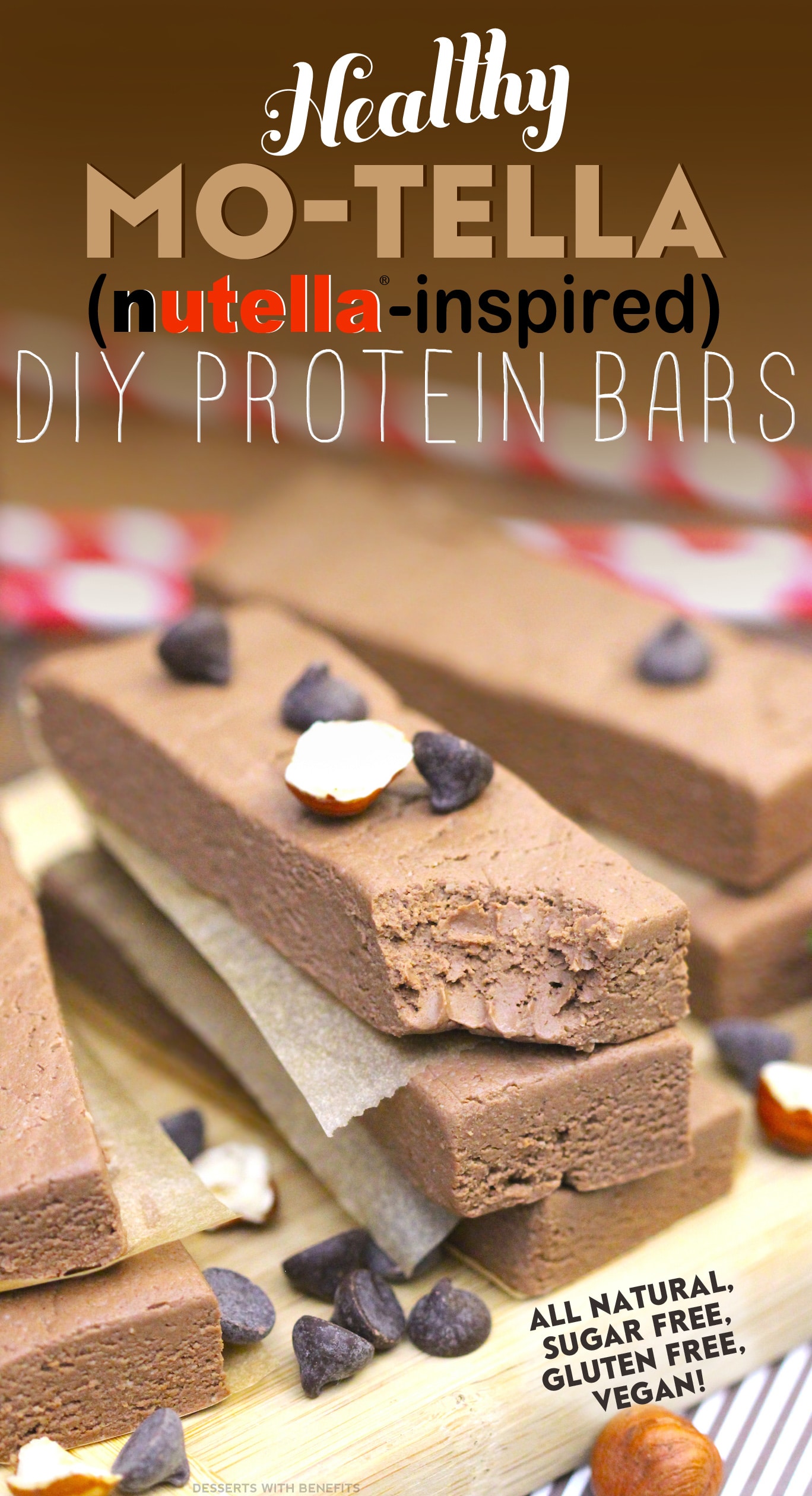 These Healthy Mo-tella Fudge DIY Protein Bars are super healthy, packed with healthy fats, fiber, complex carbs and high-quality protein.  Yeah, I'll take twelve.  *whistles and looks away*
.
Be happy.
Live fully.
Eat protein bars.
.
– Jess
.