Healthy Triple Chocolate Fudge Protein Brownies
You know how when you're reading a book and you come across a particular word that sticks in your mind, and not much later you hear it in a completely different scenario?  That's kind of what happened to me recently with protein bars.  Ever since I made my first protein bars at home, I've noticed how many people buy them from the store.  I feel like I see it everywhere, someone buying one from a vending machine, a muscle head chowing down on one on his way out the gym, a bar sitting on someone's desk waiting to be eaten, someone in front of me at the checkout line buying bars in every flavor possible, etc etc etc.  I'm not going to lie, I did that myself… especially with Luna bars.  My goodness those things they are addicting.
But why buy those expensive, sugary, processed products when you can make a healthy version at home?  A healthy version that tastes even better than anything inside a plastic wrapper can provide.
Just like my Chocolate Peanut Butter Protein Bars, these are fudgy and chocolatey.  They taste like a serious diet-buster but are totally diet-approved.
Healthy Triple Chocolate Fudge Protein Brownies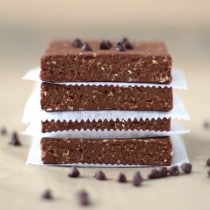 Ingredients:
Directions:
Line a 9" brownie pan with parchment paper both ways and set aside (or 8" pan for thicker brownies).
Using a stand mixer, add the almond butter and milk to a large bowl and mix on low (don't use a whisk attachment).
Add the sweetener, stevia and butter extract.
Add the cocoa powder and salt.
Process the oats in a blender or food processor (I blended them to a coarse flour for texture), then add to the mixer. Add the protein powder (mixture should look like cookie dough and firm/thick like play-doh)
When mixture is even, fold in the chocolate chips. Scoop into the prepared pan and flatten with the spatula (I used a pastry roller). Refrigerate covered overnight and slice the next day. Store covered and in the fridge.
Notes:
Feel free to add ¼ teaspoon of instant coffee to the mix if you want a stronger chocolate flavor.
I decided to compare my nutrition label to Lenny & Larry's® Muscle Brownies.
L&L's label is on the left, DWB's is on the right:
I guess you can say I'm pretty darn happy right now.  DWB's version has:
70

 less calories

ZERO

 cholesterol

Less

 saturated fat, sodium, carbohydrates and sugar

More

 fiber, calcium and iron
A whole lotta loooovee
All that for TRIPLE. CHOCOLATE. FUDGE. BROWNIES.
Yes, believe it.  Life is good.
Edit:  Life is good with one of these Healthy Triple Chocolate Fudge Protein Brownies in your mouth hand.
---
.
Like this recipe?  Then you'll LOVE the DIY Protein Bars Cookbook!  With 48 dessert-like protein bar recipes, full-color pages and photos for every recipe, you'll never think twice about buying protein bars from the store again.  See this page for more information on the book, including the Table of Contents, some sneak peaks and sample images.
Order it from Amazon here!