11 Healthy Protein Bar Recipes to Announce the DIY Protein Bars Cookbook!
Tired of buying protein bars from the store (and shelling out all that cash for them)?  Then make protein bars at home!  Here are 11 popular Healthy DIY Protein Bars that I posted on the blog over the years — they're all no-bake, ultra fudgy, and nice and sweet, you'd never know they're refined sugar free, gluten free, vegan, and all natural.  Yup, that means absolutely no preservatives, high-fructose corn syrup or artificial flavorings.
Plus, I'm making an announcement.  A big, MEGA HUGE announcement:
🙌 🙌 🙌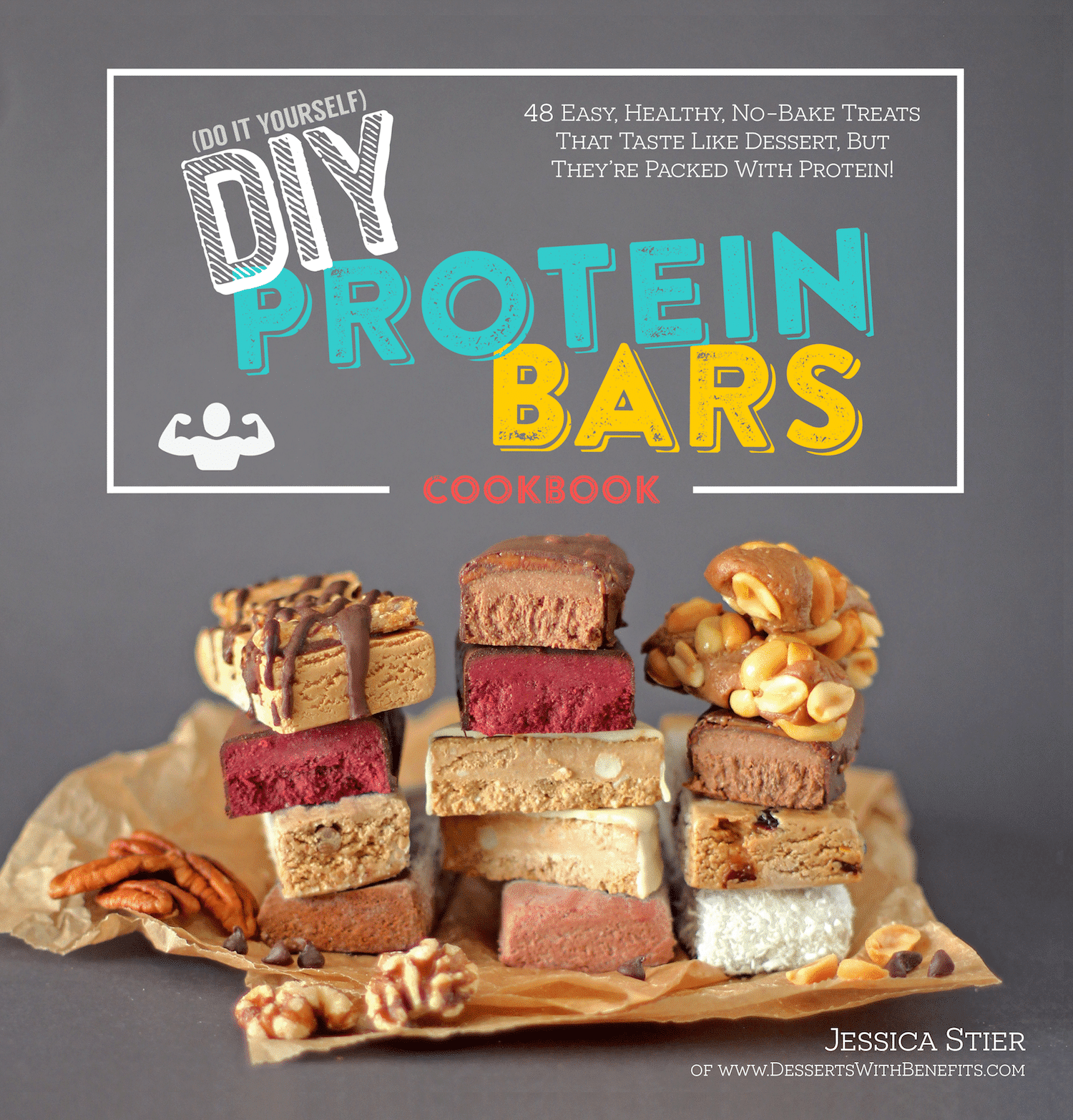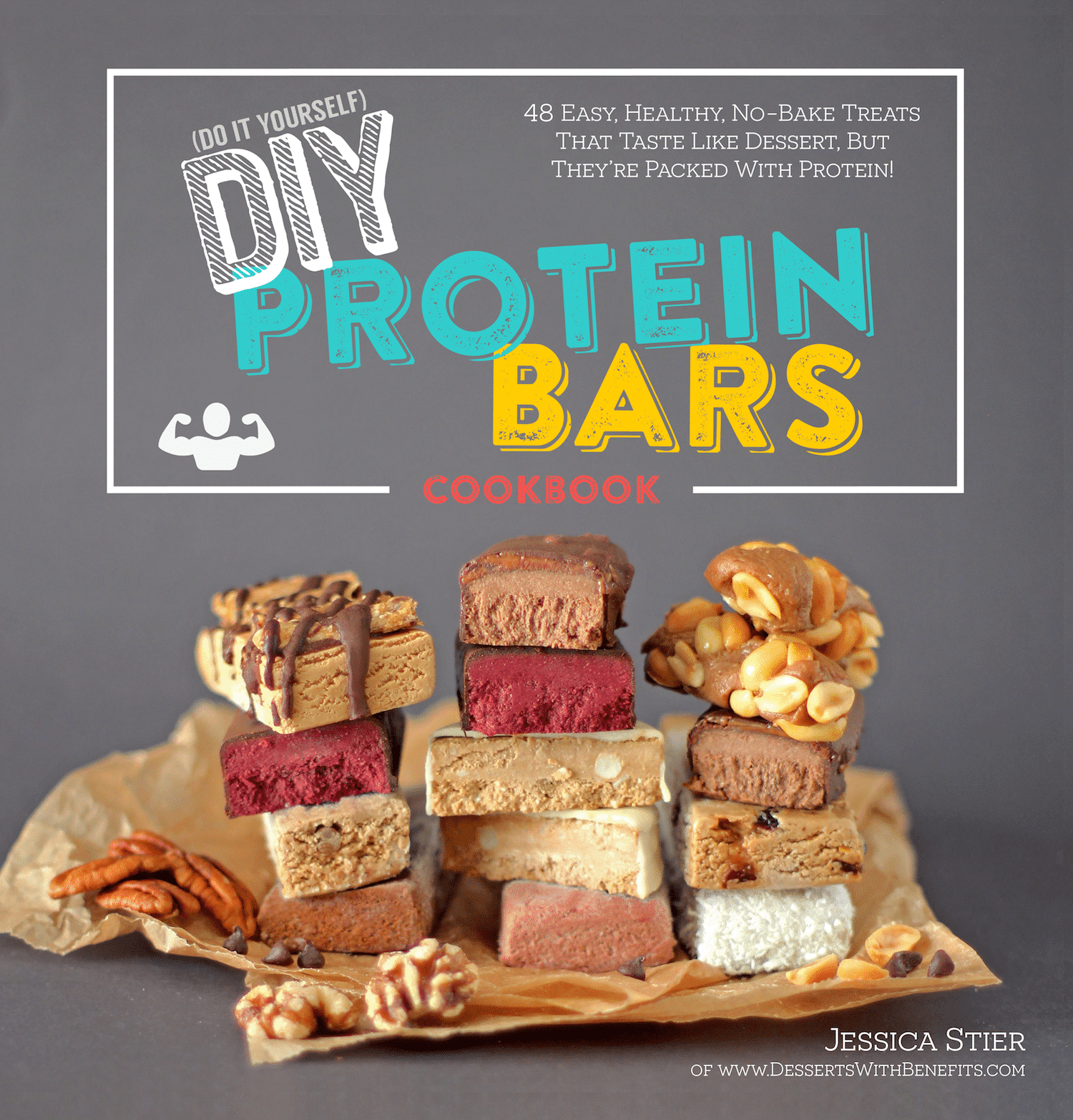 DIY Protein Bars is a collection of 48 easy, healthy, no-bake treats that taste like dessert, but just happen to be packed with protein!
.
.
I've posted 11 protein bars over the years and they've always been huge hits.  I thought it would be fitting to share them all here now 😝
The cookbook contains brand new recipes along with improved recipes from the blog (like the Red Velvet Fudge DIY Protein Bars and oh-so popular Nutella Fudge DIY Protein Bars).  I made the blog recipes tastier and easier to make especially for the cookbook 🙂
Every recipe has been taste-tested by the harshest of crowds (family, friends, coworkers, etc.).  Oh, and did I mention that with all the recipe-testing my freezer is literally FILLED with protein bars?  Like, probably 60 or 70 of them?  I barely have room for anything else.  Those five months of straight recipe-testing was a b#$%* …  but eating all dem candy protein bars sure isn't  😉
.


Words cannot even begin to describe how amazing these 11 DIY Protein Bars are.
.
Below are all the protein bars posted on the blog.  They are listed in the order that I posted them in, earliest to latest:
.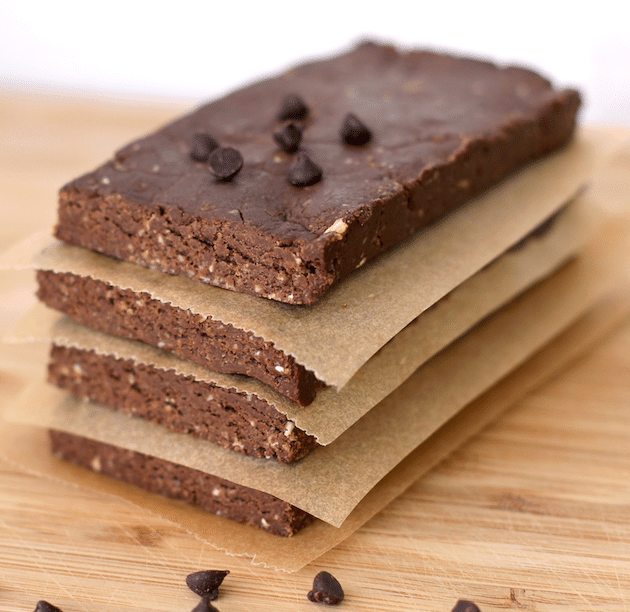 These are literally like brownies — fudgy, sweet, chocolatey…  except they don't require any baking!  Oh, and they're actually good for you too.
.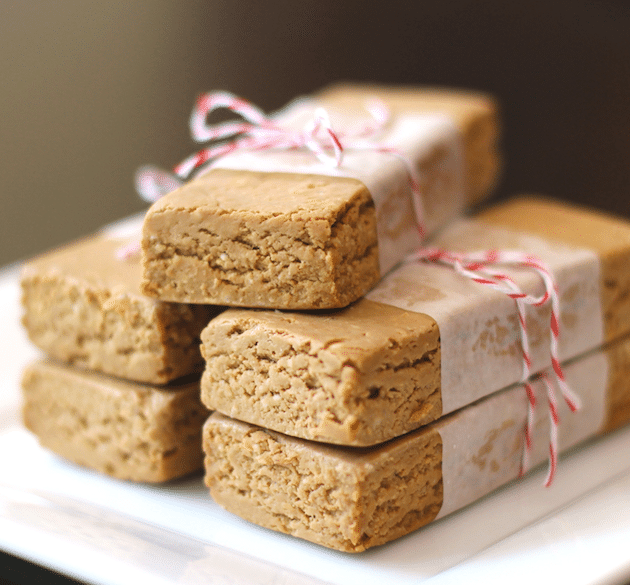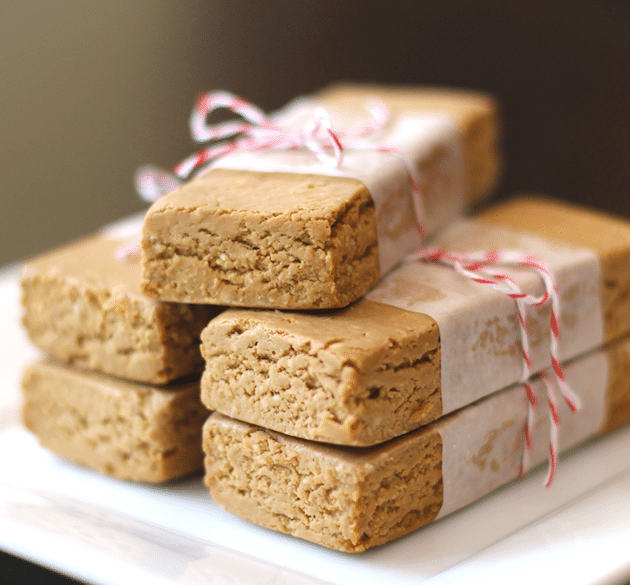 Talk about fudgy.  This is like Peanut Butter Fudge in bar form.  It's packed with peanut butter flavor, kind of like, you know…  peanut butter out of the jar?  Don't judge me!  We've allll been there.
.
Are you craving brownies?  Yes?  Okay, me too.  These Triple Chocolate Protein Brownies will satisfy your every chocolate/sugar/dessert/brownie craving and more.  They'll pretty much restore your faith in everything.
.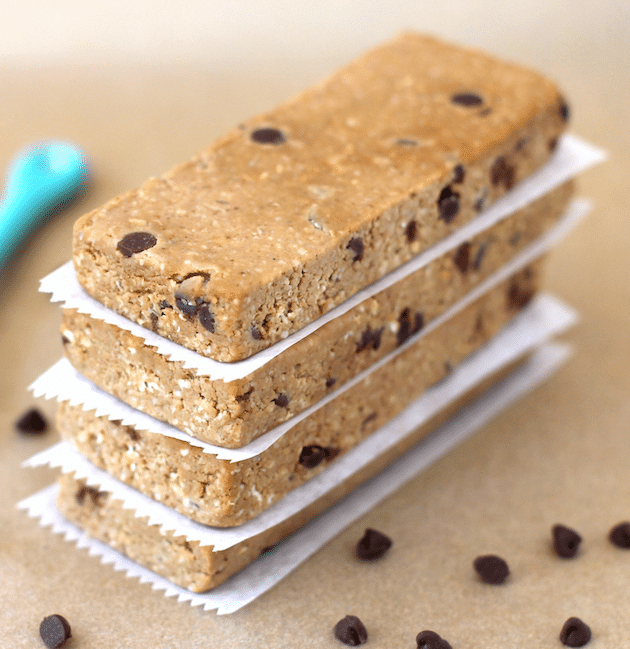 Chocolate Chip Cookie Dough PROTEIN BARS?!?  Hell yes.  I'll take seven.  These are fudgy, sweet, buttery and rich, just like cookie dough, but without the white flour, white sugar, butter, and eggs.
.
Ben & Jerry's Chubby Hubby Ice Cream is loved by all.  And so are these Chubby Hubby Protein Bars.  They're packed with peanut butter, pretzels and chocolate chips (and none of the white sugar, high-fructose corn syrup, preservatives and artificial flavorings).
.
Wanna feel like royalty?  Make these Millionaire's Protein Bars.  They have a rich, almond butter fudge protein base, a layer of liquid gold caramel, and a thick shell of decadent dark chocolate.  That's as rich as things can get.
.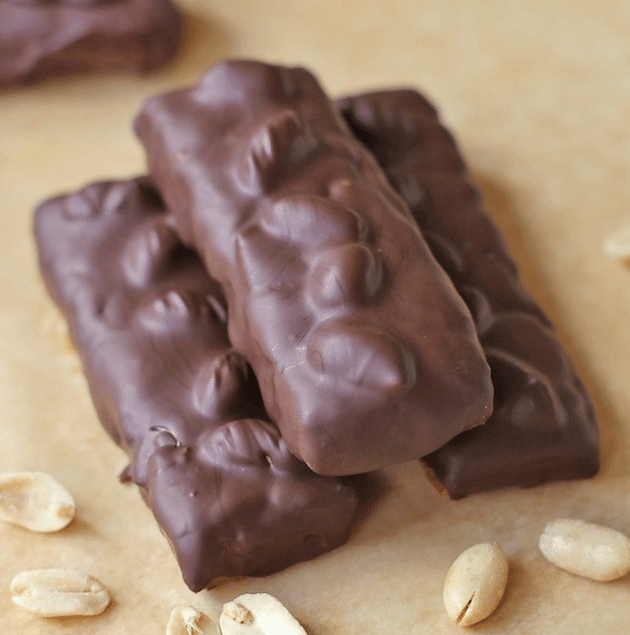 Protein-packed candy bars?  Um, I'll take seven of these as well.

And to-go, please.  Because I'm not sharing.
.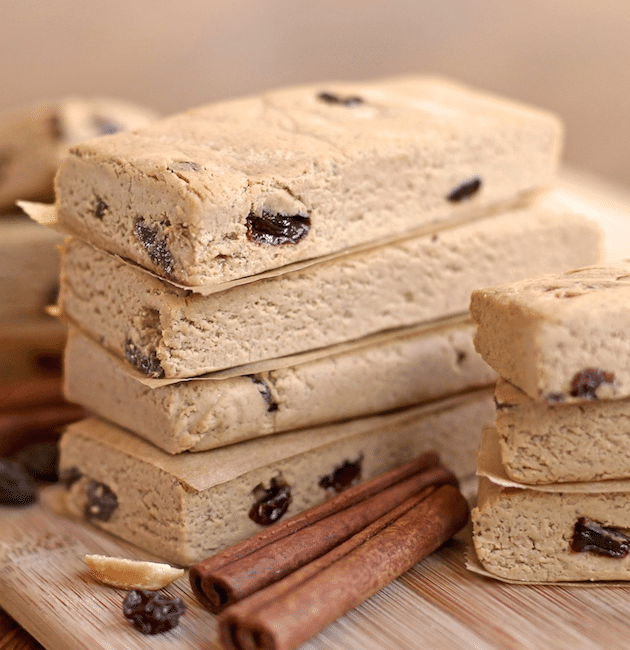 Cinnamon spice and everything nice!  Wait, no, it's cinnamon spice and everything nice, healthy, nutritious and delicious.  And packed with protein, of course (duh).
.
Red Velvet. Fudge. Protein Bars.

Need I really say more?  😉
.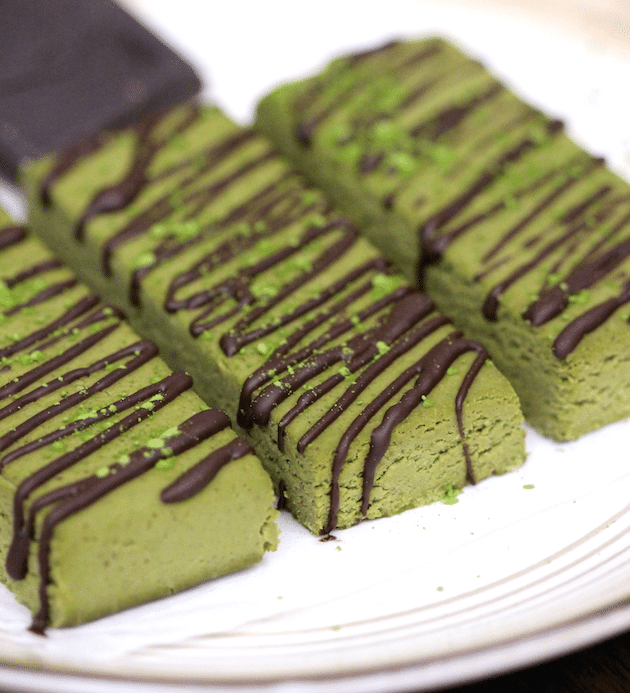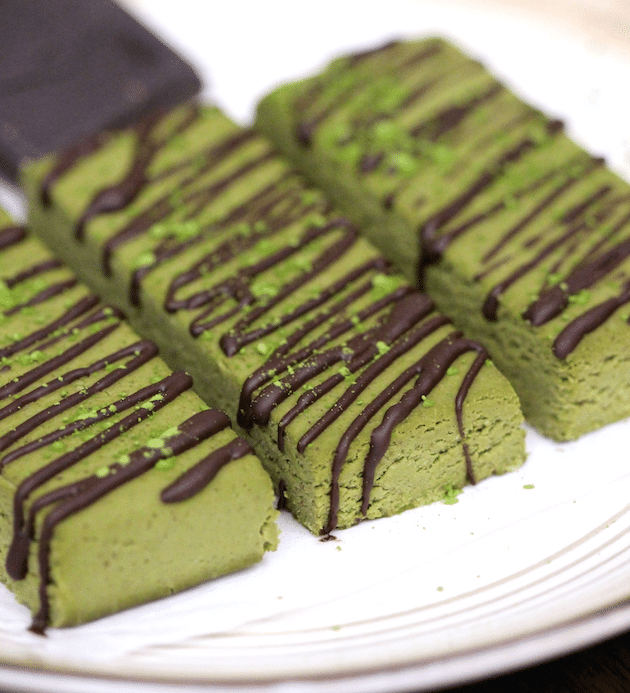 If you like matcha green tea, these are for you.  It's got all the flavor of a cup of matcha tea, just in the form of a fudgy protein bar!
.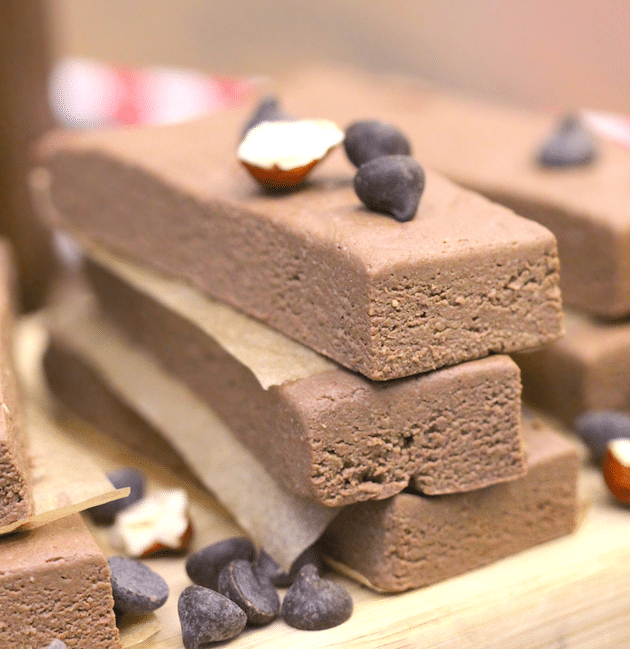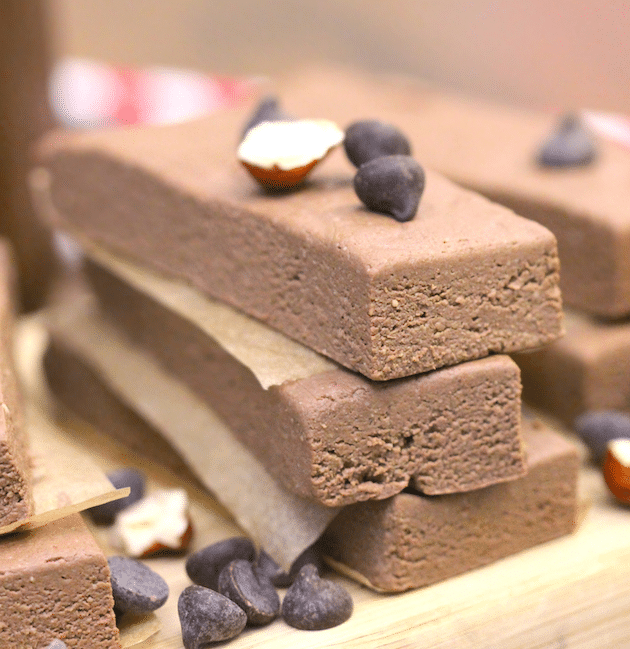 Do you like/love-so-much-you-want-to-marry Nutella?  Oh my gosh!  Me too.  That's why these Nutella Protein Bars are one of the top 10 recipes on this blog!
.
---
So, um…  are you drooling?  Because I'm drooling.  Like, a lot.  Thank goodness I have a stash (aka a lifetime supply) of protein bars in my freezer.  Which is actually kinda dangerous because my freezer is about 15 feet away from me…  hold on, I'll be right back.
*nom nom nom*
Okay, I'm back 😎
Now, I'm sure a big question that may have crossed your mind about these healthy DIY Protein Bar recipes goes something along the lines of, "Well, how much does it cost to make protein bars?"  And, "How does the price compare to storebought protein bars?"
Don't worry, I asked the same exact questions when I was writing the book.  Being in college and living in my first apartment ever, budgeting is one of the number one things I know how to do (aside from studying and baking, of course).
I include a cost analysis in the book and compare the price of buying protein bars from the store versus making your own protein bars at home.  Let's just say that I was pleasantly surprised…  because DIY Protein Bars can save you money!  Haaaaallelujah!  This reminds me of all the times I used to go to the store next to my dorm to buy groceries.  And protein bars.  The fact that 2 store-bought protein bars costed MORE than a dozen organic eggs kinda turned me away from them (that and the fact that they usually have 20-30g of sugar in a single bar.  No thanks!).
The recipes in the DIY Protein Bars Cookbook are (or can easily be made) gluten-free, refined sugar-free, soy-free, and vegan…  but you'd never know it.  These recipes might be "free" of some stuff, but they sure aren't free of flavor!
.
Be happy.
Live fully.
Eat protein bars.
(And leave none for Gretchen Wieners, bye)
.
– Jess 
♥
.