Healthy Beefcake DIY Protein Bars — like Snickerz in protein bar form (plus a giveaway!)
HALLOWEEN is coming up and I know how much we all love candy.  Trust me, I KNOW.  I used to sit at home after trick-or-treating and stuff my face full of Hersheys, Snickers, Milky Ways, Dots, sugar, sugar, sugar, more sugar, sugar on top of sugar, and so on.  Those candies are so addicting because they're full of fat, sugar, salt, additives, and artificial ingredients that are scientifically proven to make you want to eat more.  While I've made Healthy Homemade Snickerz here on the blog, the nougat takes a bit of time and patience to make, and sometimes, we just ain't got no time for that.  So I made these Healthy Beefcake DIY Protein Bars!  They're basically Snickers candy bars — they're full of peanut butter and caramel, they're coated in chocolate, they're sweet and satisfying — but without the sugar, corn syrup, hydrogenated oil, and artificial flavorings. Instead, they're filled with natural, wholesome ingredients, and a punch of protein.
These Healthy Beefcake DIY Protein Bars are pure bliss.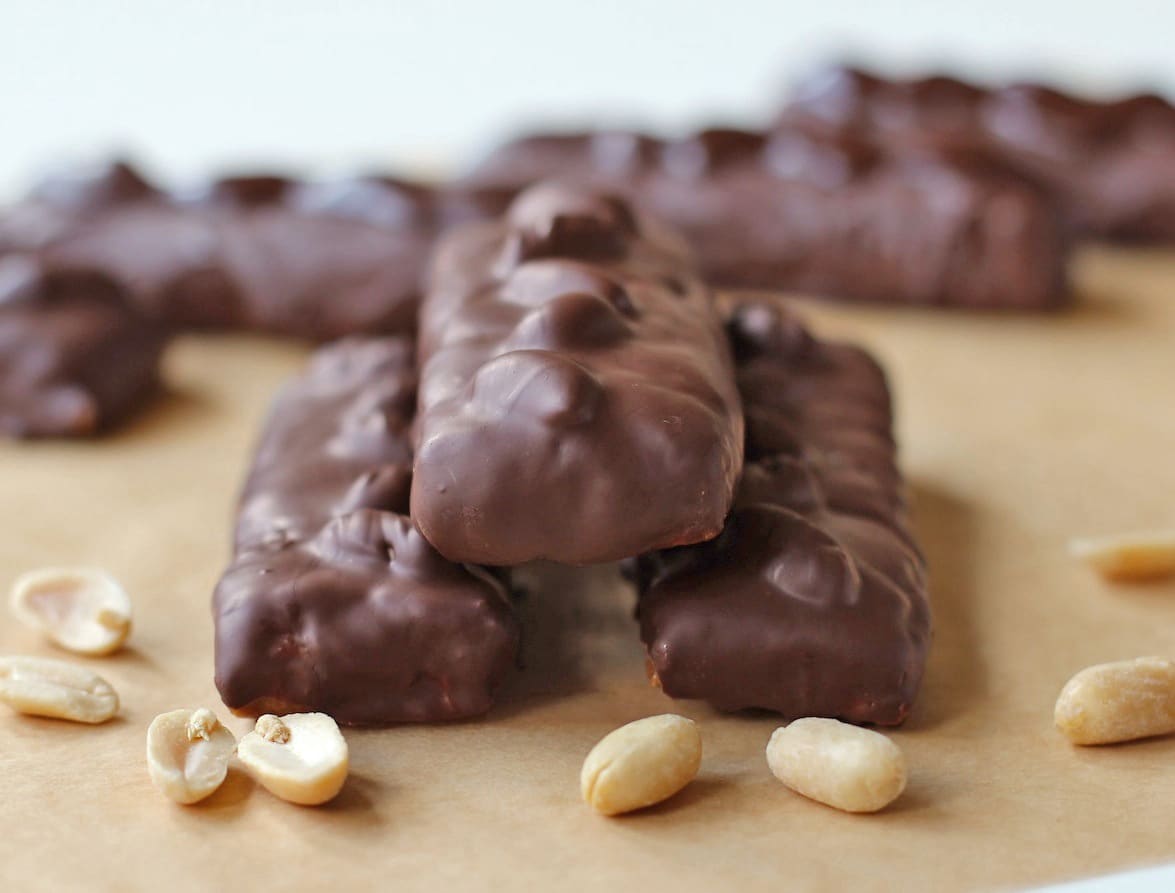 When you combine Healthy Homemade Snickerz Candy Bars + PROTEIN, you get these amazingly delicious Healthy Beefcake DIY Protein Bars. With a soft, chewy, peanut butter fudge base, a layer of peanut-studded caramel, and a rich, decadent, chocolatey shell, you are at a 99.99% chance of having a foodgasm.
These are some treats you can sink your teeth into.  Guilt free.
Chewy, crunchy, sweet, salty…  and secretly good for you.  Every single person who has tried these DIY Protein Bars could NOT believe they were healthy.  There is nothing healthy tasting about 'em 🍫😍
You can't go wrong with Healthy DIY Protein Bars!
These are some simply mouthwatering candy protein bars.  As you can see 😏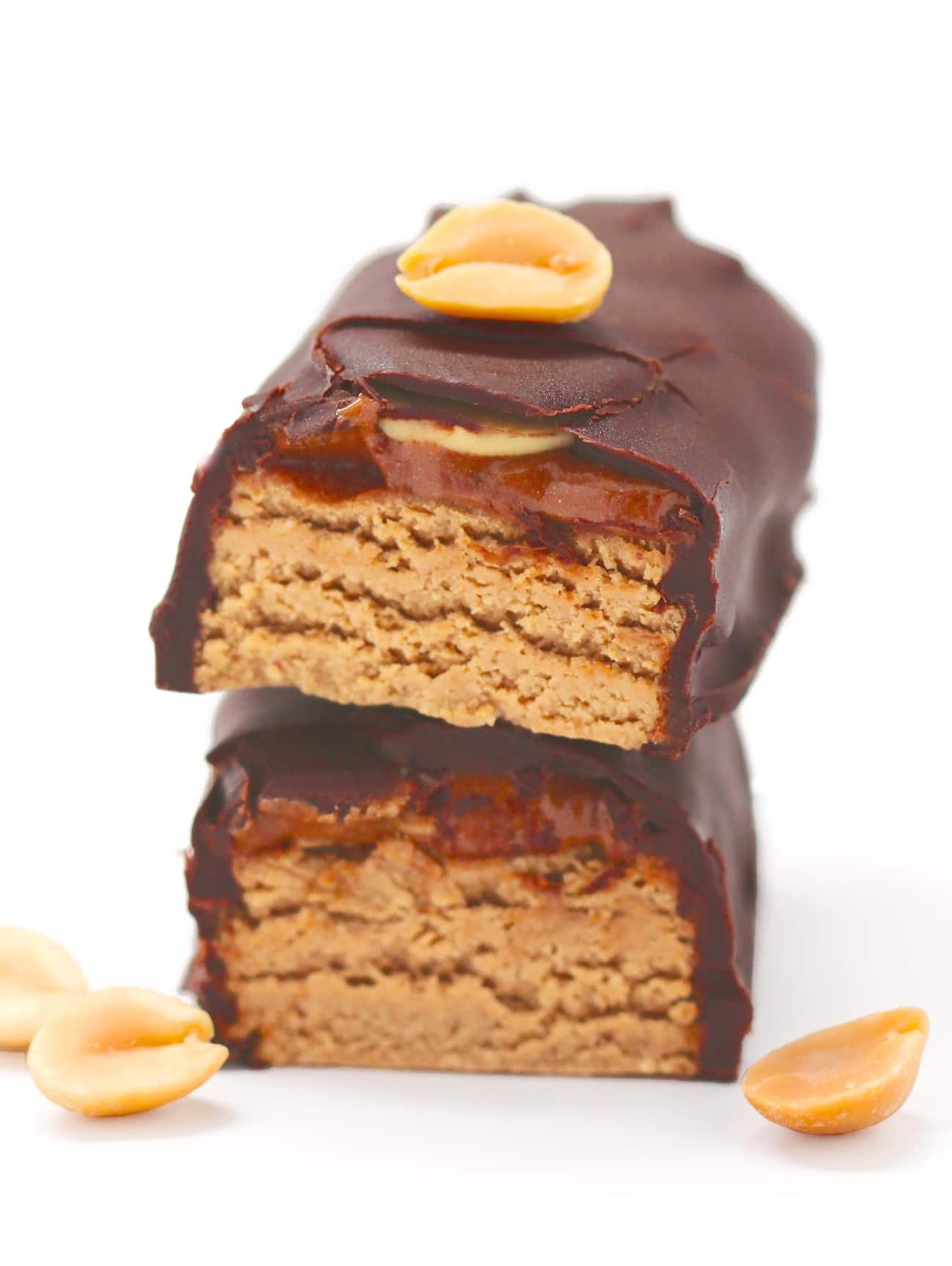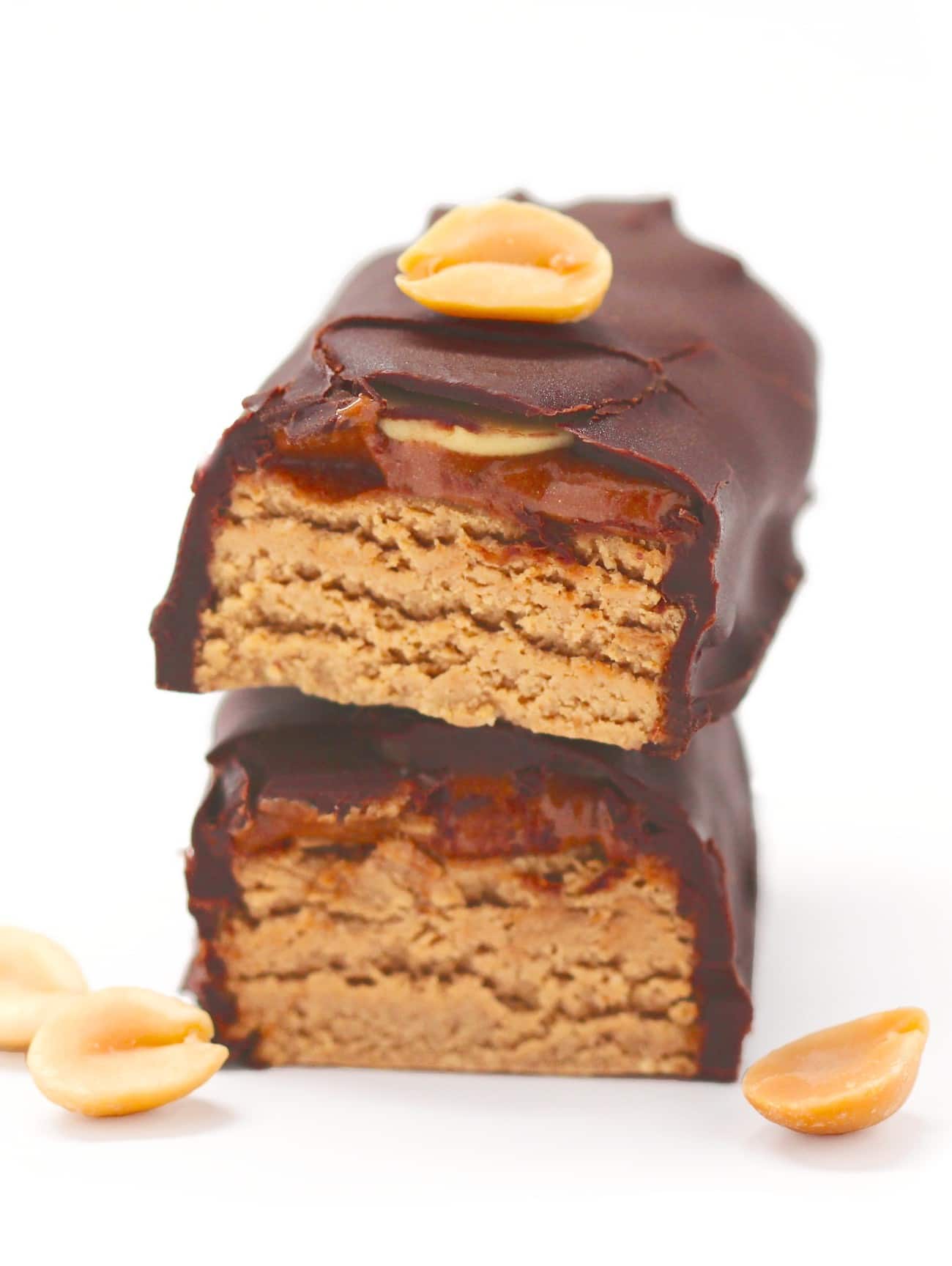 Healthy Beefcake DIY Protein Bars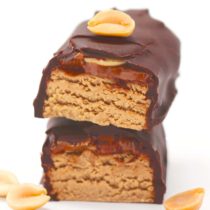 Ingredients:
Natural Roasted Peanut Butter
Unsweetened Vanilla Almond Milk
Oat Flour
Salt
Organic Caramel Sauce (I use Date Lady's date caramel)
Roasted Peanuts
Coconut Oil
Directions:
Notes:
I originally wasn't going to share the recipe here because I worked so incredibly hard on publishing 
DIY Protein Bars
.  But, I understand not having a recipe here can be frustrating.  So, I'll meet you halfway...  how does that sound?  I'll show you all the ingredients I use in the recipe.  That way, you can determine on your own whether or not the cookbook is for you!
Do not use whey/egg/casein protein!  The mixture will be gooey and won't solidify.
Be sure to follow @DessertsWithBenefits on Instagram!  If you try this recipe, make sure to snap a picture of it, tag me @DessertsWithBenefits, and hashtag #DessertsWithBenefits #DIYProteinBars #DIYProteinBarsCookbook.  I'd love to see it and feature you on #FanFaveFridays!
.
It's been almost 2 months since I published the 2nd edition of my DIY Protein Bars Cookbook, and I am SO so happy, proud, and blessed over its success! I've said it before and I'll say it again — I could NOT have published this cookbook with you guys.  I wouldn't have written it in the first place, but since so many of y'all asked me to write one, I did.  Thank you to all of your for your love, support, positivity, and constant encouragement! 🙌🤗💕
To celebrate the (almost) 2 month mark, I'm hosting a giveaway for 3 main ingredients needed to make these Healthy Beefcake DIY Protein Bars: my cookbook, protein powder, and organic caramel sauce 🎁😝
GOOD LUCK!
DIY Protein Bars Cookbook + SunWarrior Protein Powder + Date Lady Caramel Sauce Giveaway!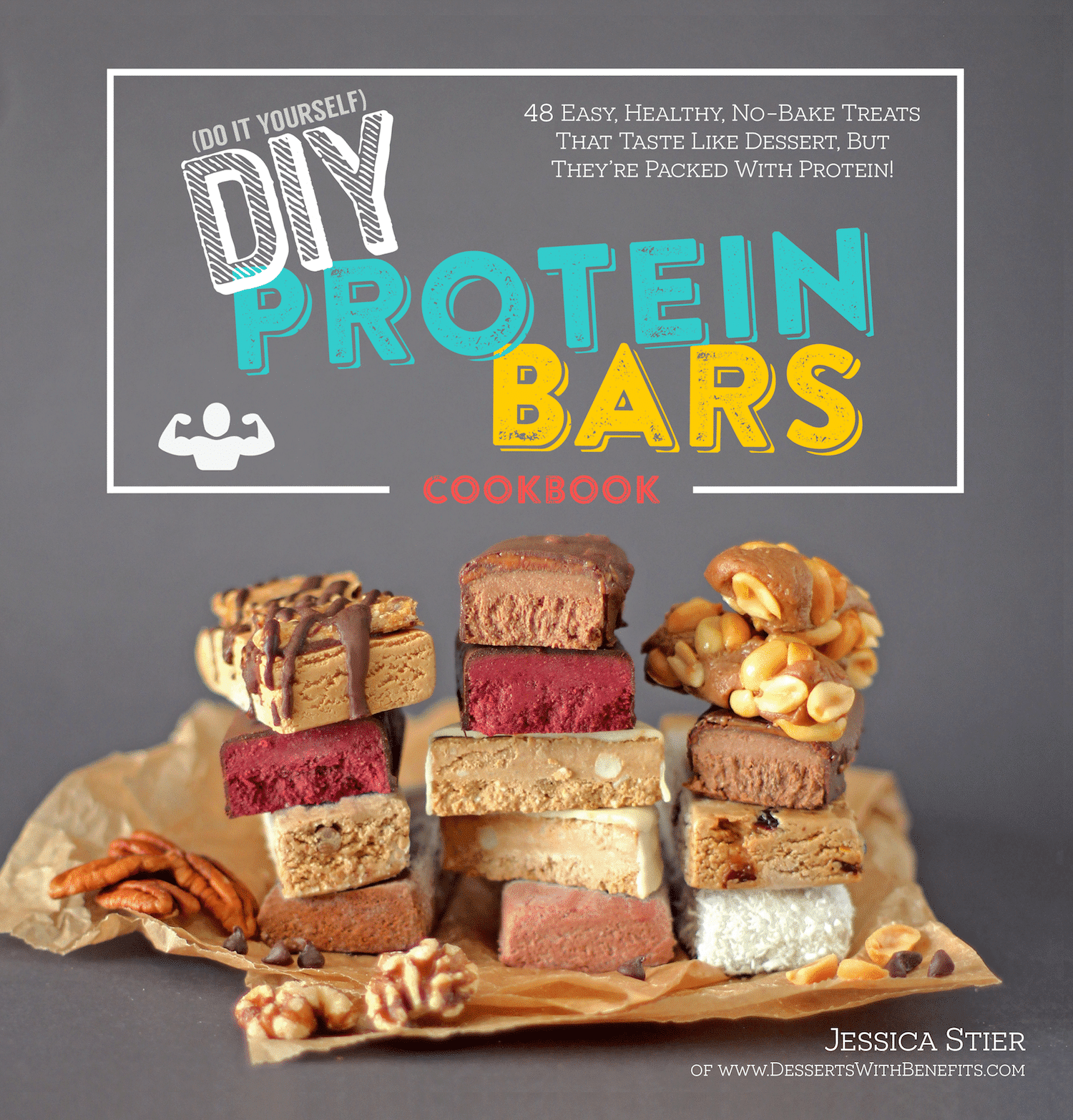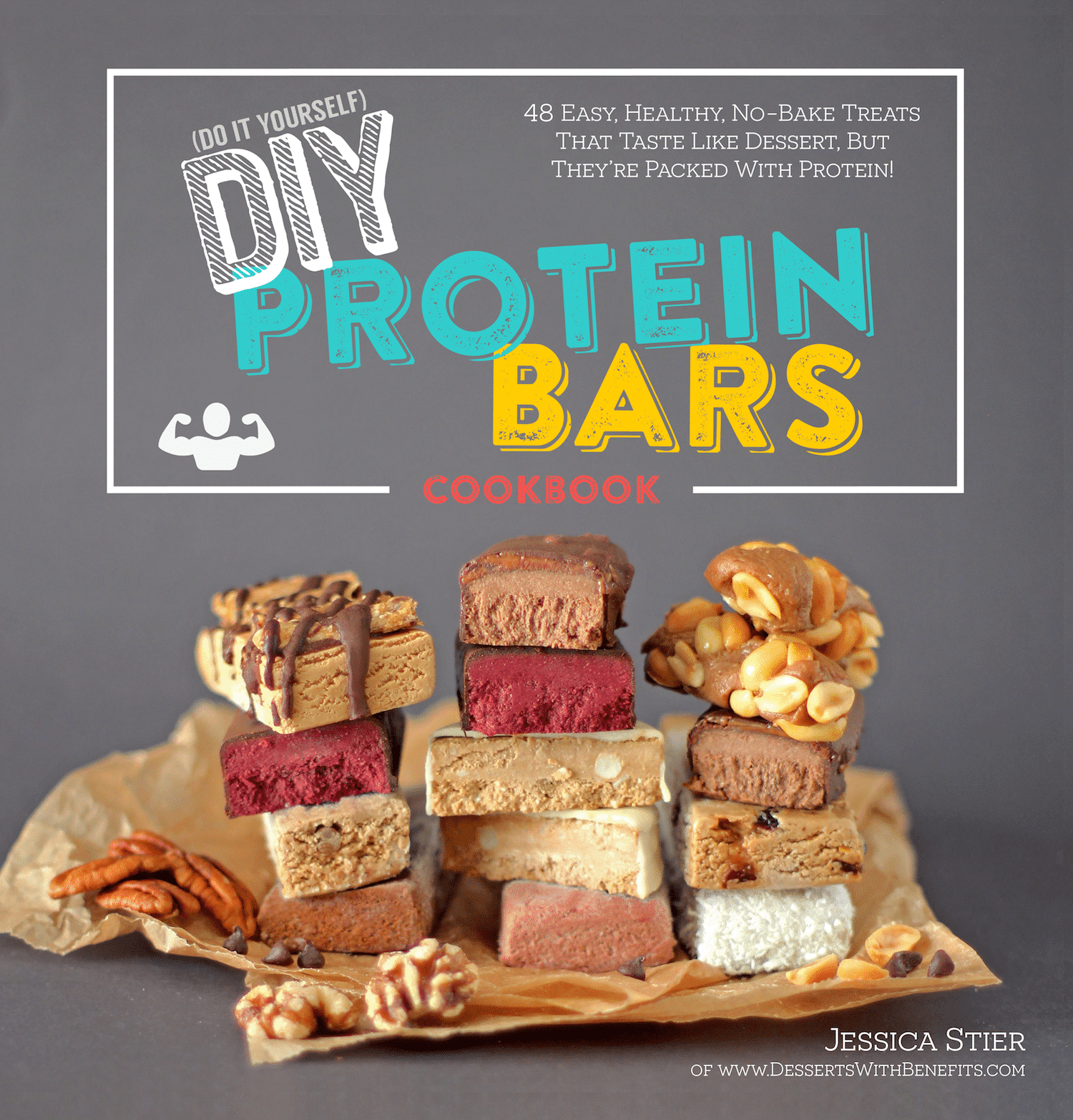 .
Be happy.
Live fully.
Eat protein bars.
.
With love (and healthy dessert),
– Jess
🎂🍴💕
.