Healthy Homemade Snickerz
Chewy, crunchy, sweet, salty, ooey, gooey, chocolatey, peanutty…  that's what these Healthy Homemade Snickerz are.
Yes, I said it.  HEALTHY.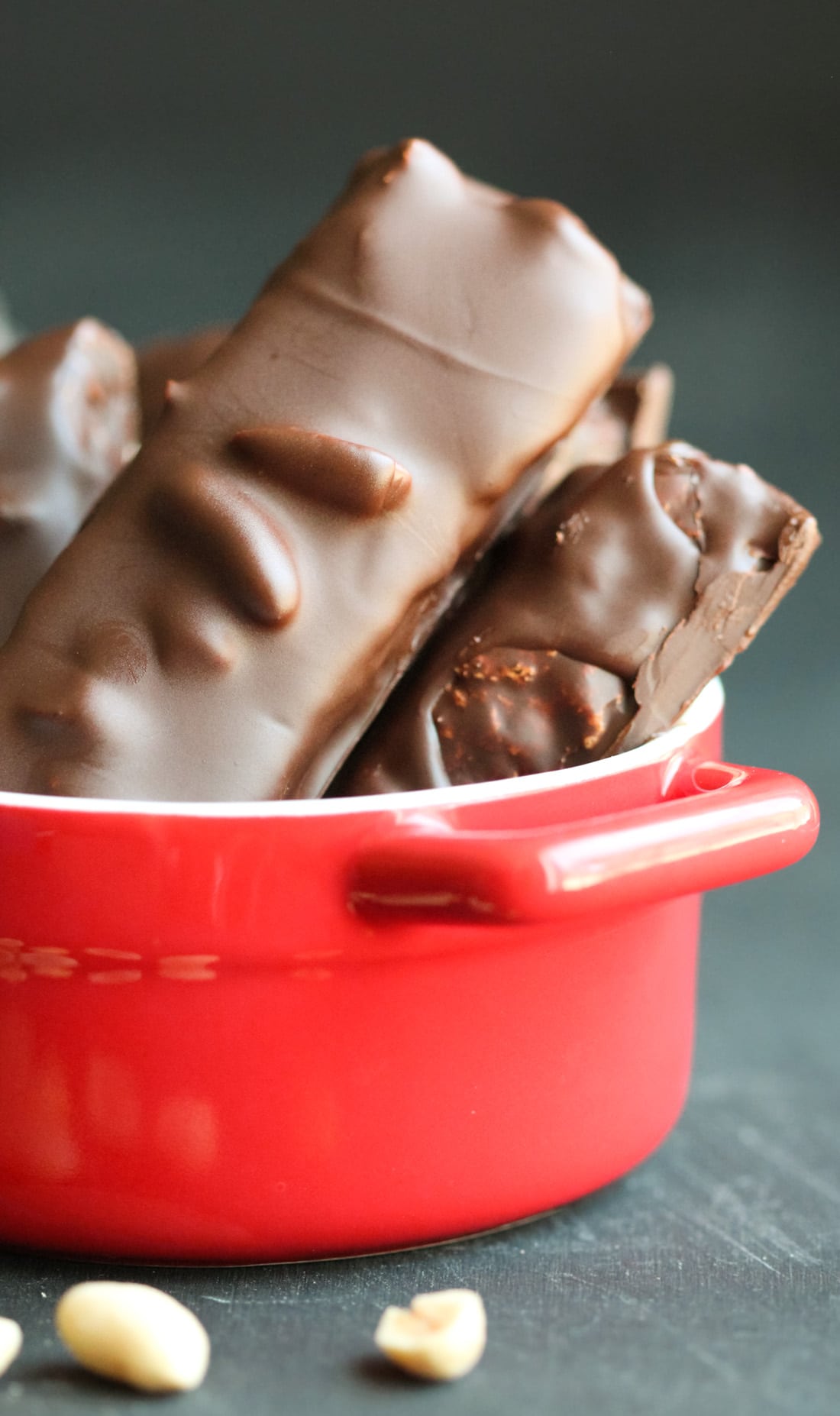 I keep forgetting that these Healthy Homemade Snickerz are free of the high-fructose corn syrup, hydrogenated oil, and unhealthy additives…  because they deeeefffinitely don't taste like it.  I mean, the soft homemade nougat, the sweet and comforting caramel sauce, the rich and crunchy peanuts, and the decadent chocolate coating…  how could you even BEGIN to think that this isn't terrible for you??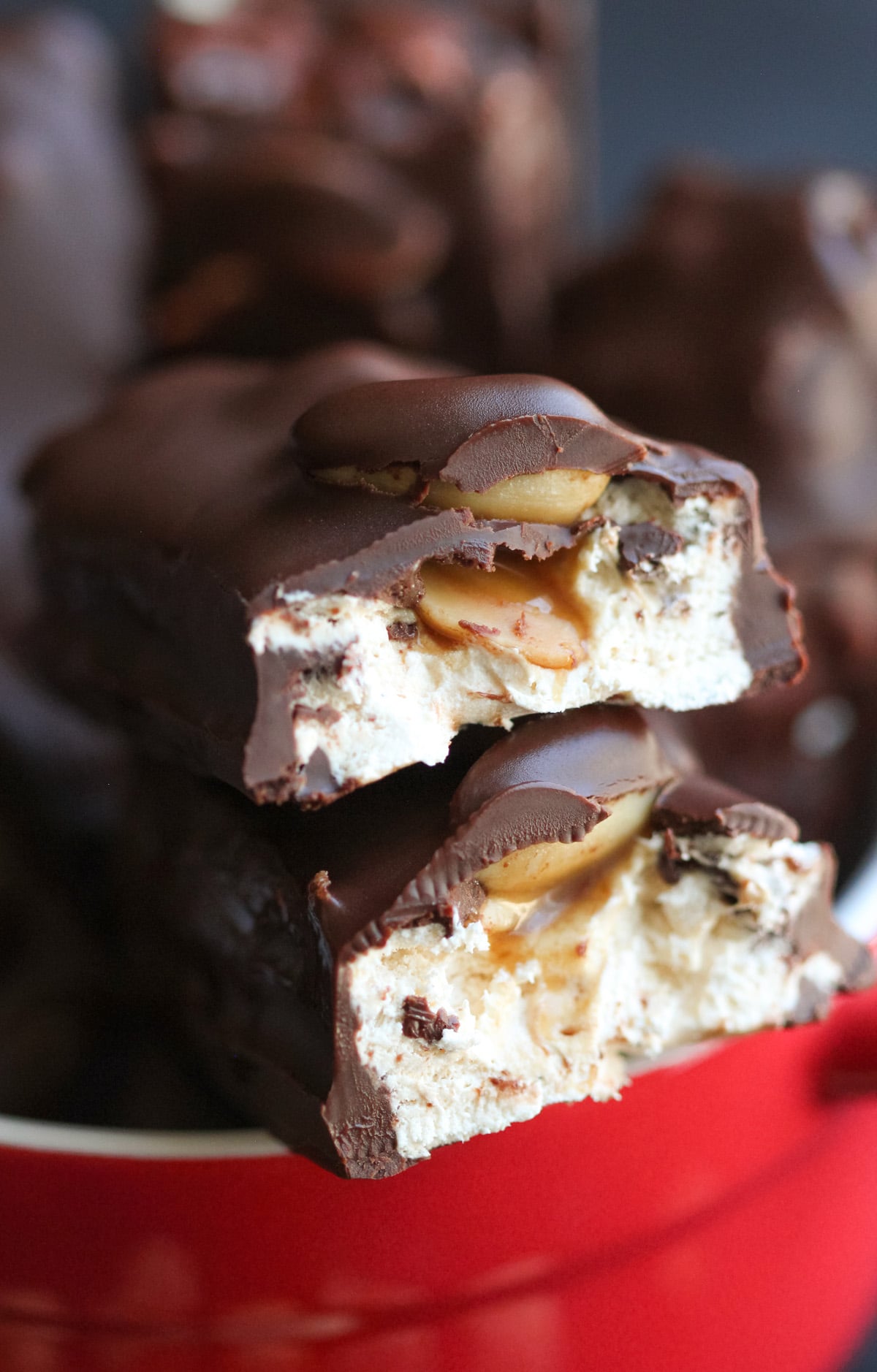 "Healthy" and "candy bars" are two words that never got along with each other.
Until now.
It seems to good to be true but it isn't.  These Healthy Homemade Snickerz are free from all things artificial and overly processed.
Prayers, ANSWERED!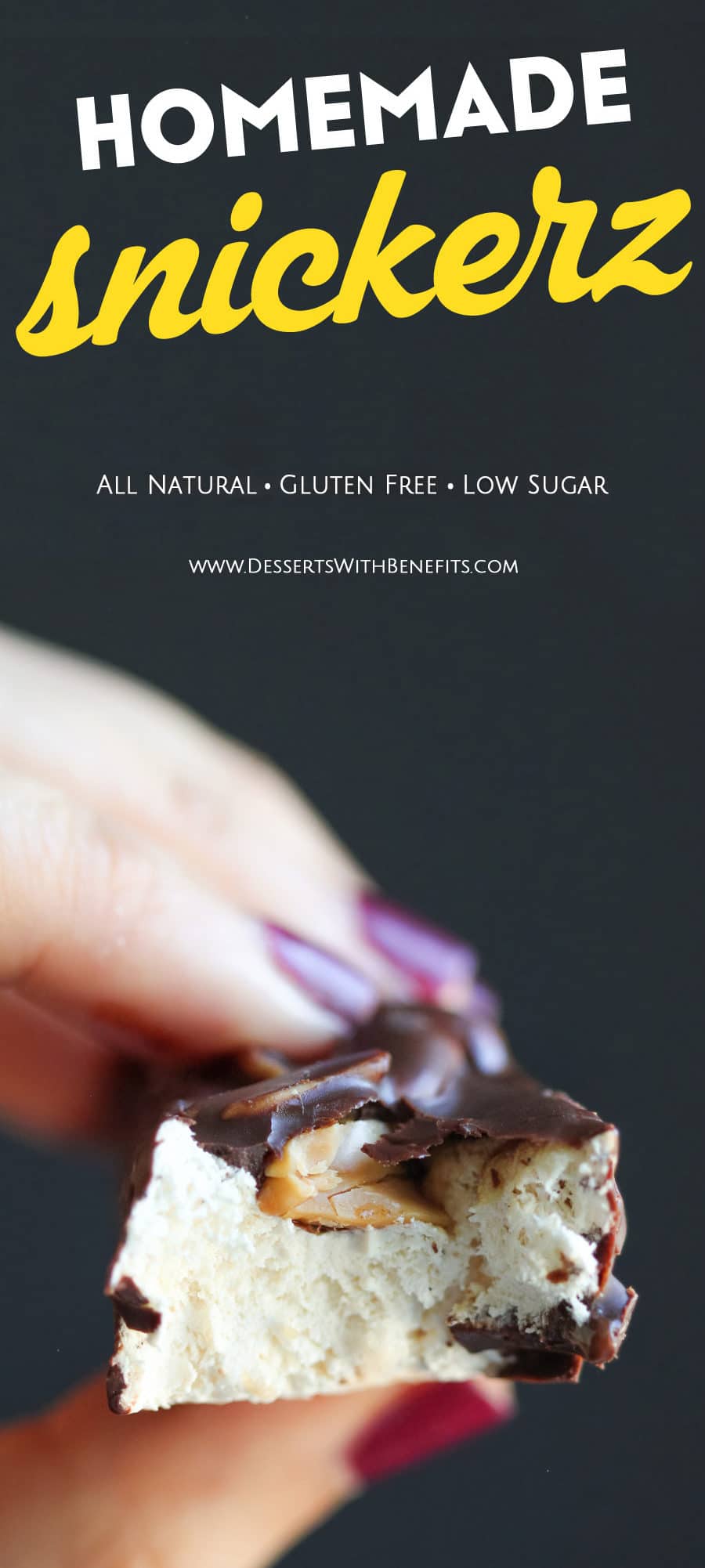 I know we just met and all, but I LOVE YOU!
Too soon?
Nahhhh.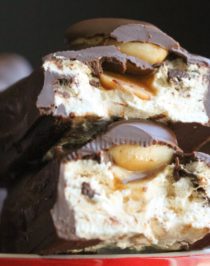 Print Recipe
Pin Recipe
Healthy Homemade Snickerz
We all know candy is bad for us, so I made these Healthy Homemade Snickerz Candy Bars! They're all natural, refined sugar free, and gluten free, you can indulge guilt-free!
Instructions
Spray two 8" brownie pans with cooking spray and line parchment paper both ways.

In a medium-sized saucepan  (I used a 

2-quart pan

), stir together the erythritol, agave, water, and salt, until evenly mixed. Place over medium-high heat and add a candy thermometer to the pot.  Cook without stirring until it reaches 220 degrees Fahrenheit. While this is on the stove, put the egg whites in stand mixer bowl with whisk attachment. When the stovetop mixture reaches 260 degrees, start beating the egg whites on medium/high until stiff peaks form.  When the temperature reaches 280 degrees, remove the pan from the heat.

Increase the mixer speed to high and VERY SLOWLY AND CAREFULLY drizzle the hot syrup into the whipping egg whites in a thin and steady stream. Beat until very thick and glossy (~8 minutes).  In the last minute, add the vanilla paste.

Scoop the mixture into both brownie pans, trying to make them as even as possible.  Spread the mixture out using an offset spatula.  Place a sheet of parchment paper on top of each pan of nought.  Press down with your hands to make sure it's flat and even. Let the nougat sit at room temperature overnight.

The next day, with a very sharp knife, slice each pan's worth of nougat into 6 long strips.  This nougat is fragile and sticky, so don't be too rough when slicing, and clean the knife off after every slice.  Refrigerate the nougat uncovered overnight.

The next day, gently press your index finger along the center line of the nougat strips, creating a "well" for the caramel sauce.

Spoon ~1 tsp of caramel sauce into each "well." Top the caramel with the peanuts. Freeze for 45 minutes.

Melt the chocolate and coconut oil together in a large, shallow dish.  Coat the nougat, one slice at a time, in the melted chocolate.  Use 2 forks to transfer, dip, flip over, and remove the nougat from the chocolate.

Chill until the chocolate hardens, then serve and enjoy!
Nutrition Facts
Healthy Homemade Snickerz
Amount Per Serving (1 bar)
Calories 190
Calories from Fat 113
% Daily Value*
Fat 12.5g19%
Cholesterol 3mg1%
Sodium 30mg1%
Carbohydrates 19g6%
Protein 4g8%
Calcium 20mg2%
Iron 1.4mg8%
* Percent Daily Values are based on a 2000 calorie diet.
Haaaaallelujaahhhh!!!!
Sorry for my ridiculous level of enthusiasm, it's just that with every bite of these Healthy Homemade Snickerz, I want to slap the old me for eating box after box of the storebought (and crazy unhealthy) version.  I used to bring candy bars to school with me every single day.  And if I ran out of candy bars at home, I'd run to the school's vending machine, money in hand and eyes all crazed (total sugar junkie…  how embarrassing), to get my fix.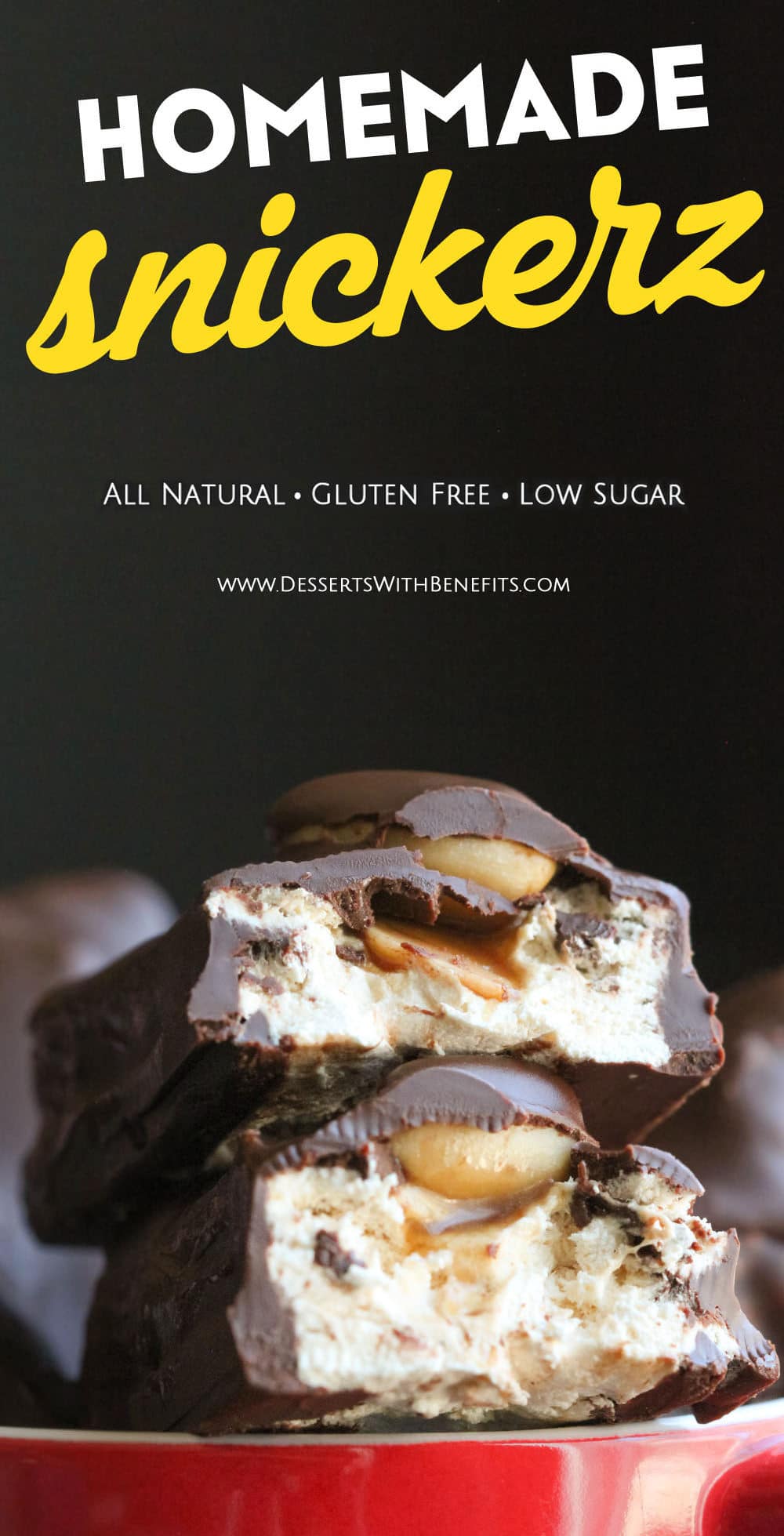 *foodgasm*
.
With love and good eats,
.
– Jess
.
SaveSave
SaveSave
SaveSaveSaveSave
SaveSave
SaveSave
SaveSave
SaveSave
SaveSaveSaveSave
SaveSave
SaveSave