Healthy Mint Chocolate Krispy Treats
These Mint Chocolate Krispy Treats are crunchy, chewy, sweet, rich, and UBER decadent.  You'd never know they're healthy!  Oh yes, these are refined sugar free, high protein, and gluten free too.
Back in college, I was obsessed with Clif bars.  But after finally reading the ingredient list and looking over the nutrition label, I decided to step away from them since they're incredibly high in sugar and not much else.  I swapped the energy bars with the Builders bars because, c'mon, they're freakin' delicious.  Although the Builders bars are still high in sugar, they have less than the energy bars, they're twice the size, they're more filling, and for roughly the same amount of calories you get a ton more protein.
Out of all the flavors I tried, the chocolate mint flavor was my favorite.  I guess you can say they were inspiration for these delicious Mint Chocolate Krispy Treats.  Or maybe I just needed to try a new flavor combination after four failed attempts at making (or trying to make) Snickers Krispy Treats…  haha *nervous laugh*
These crunchy and chewy Mint Chocolate Krispy Treats triumph over those storebought Clif Builders bars!  These don't have any refined sugars, they have a natural and refreshing mint flavor, and they're fun to make (and eat)!  Thank goodness this recipe required only two trials to perfect, because if it needed any more I would probably give up on krispy treats altogether.  Just kidding.  That would never happen  😉
Trial #1:
I made these bars similar to the Peanut Butter and Chocolate Krispy Treats:  a krispy treat base, chocolate layer, and icing design on top.  It was pretty, but the dark chocolate was way too overpowering (I used 100% cacao unsweetened chocolate).  The treats needed to be sweeter.  Much sweeter.
Trial #2:
Instead of adding more sweetener to the base, I doubled the icing topping and used it to make a "fondant" layer instead of design on top.  Because while an icing design on top of the treats would be pretty, more frosting = more fun.  Does that sound good or what?!?  Rhetorical question, because I already know the answer.  It does sound good, and it is delicious.

Look at these two lovebirds!  Sadly, for the guy on the bottom, I ate the cutie here on the top…  but it wasn't a sad moment for me!  🙂
These Mint Chocolate Krispy Treats are refined sugar free, low glycemic, high protein, and gluten free too!  Guys, I thoroughly enjoyed these krispy treats.  They're perfectly sweet, crunchy yet chewy, and best of all, healthy!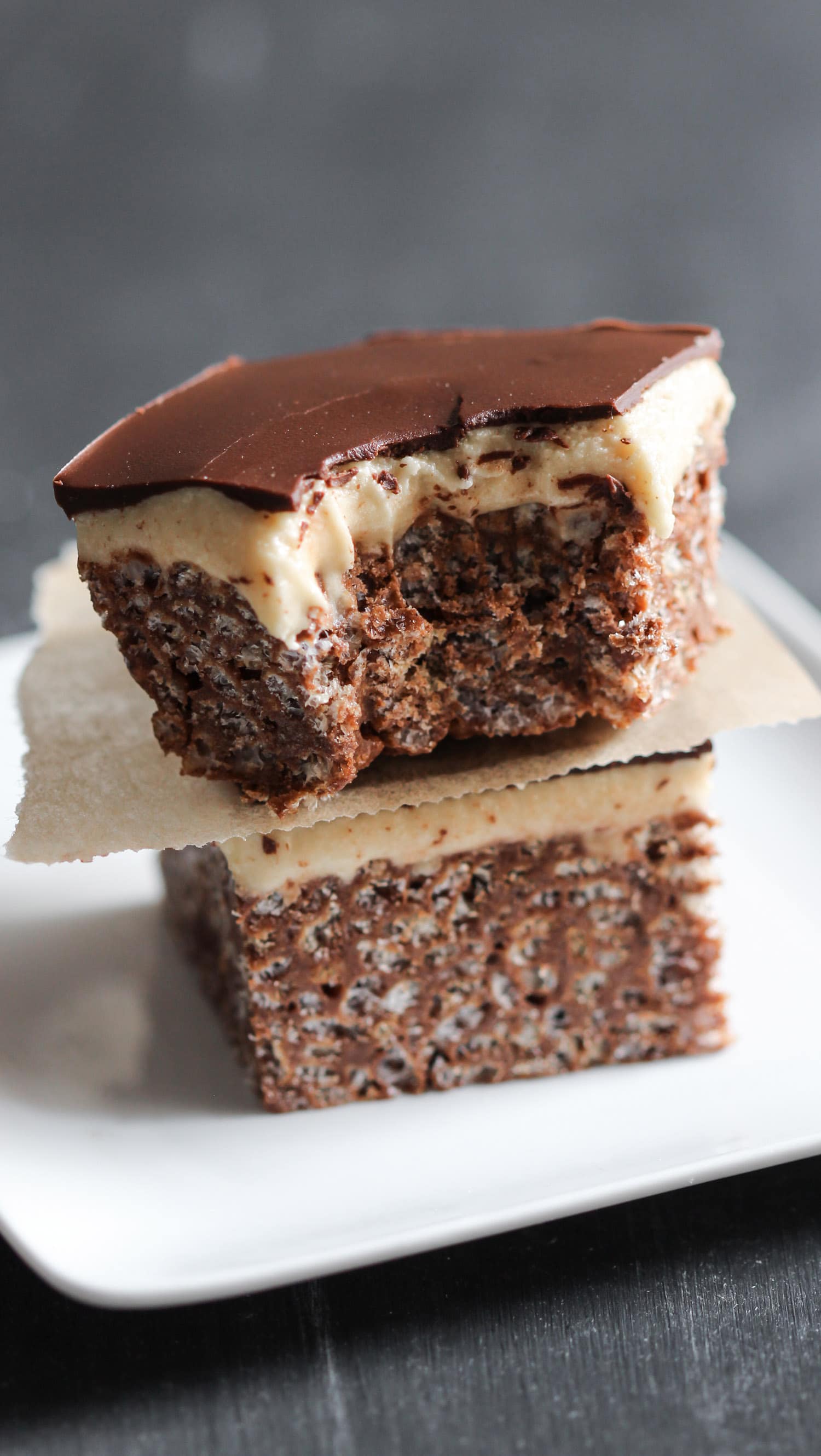 Healthy Mint Chocolate Krispy Treats
Prep Time: 35 minutes
Cook Time: 10 minutes
Total Time: 45 minutes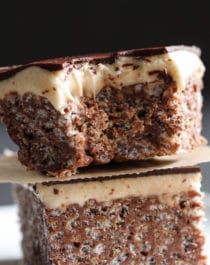 Fat per serving: 10
Calories per serving: 210
Ingredients:
Krispy Treats:
Mint Fondant Layer:
68g (¾ cup) Vanilla Whey Protein Powder
147g (7 tbs) Agave Nectar or Brown Rice Syrup
28g (2 tbs) Coconut Oil, melted
½ tsp Peppermint Flavor
Mint Chocolate Topping:
4oz Dark Chocolate
10g (2 tsp) Coconut Oil
¼ tsp Peppermint Flavor
Directions:
For the Krispy Treats:
Line an 8×8″ brownie pan with parchment paper both ways.
In a large bowl, add the crispy brown rice cereal.
In a small bowl, add the chocolate protein powder.
In a double boiler over medium heat, add the honey/brown rice syrup, almond butter, chocolate, vanilla paste, stevia extract, peppermint flavor, and salt.  Stir occasionally until the chocolate is completely melted.
Working quickly now, stir in the protein powder.  Scoop the mixture over the cereal, then fold together until completely combined.
Scoop the mixture into the prepared pan, flatten it out, and press it down..
For the Mint Fondant Layer:
In a small bowl, stir together all the ingredients until it's completely even (it should be like a thick, sticky frosting).
Scoop the mixture over the krispy treat base and gently spread it out.  Tap the pan on the counter a few times to help level it out.
For the Mint Chocolate Topping:
In a small, microwave-safe bowl, add the chocolate and coconut oil.  Microwave at 30-second intervals, stirring between each one, until completely melted.
Stir in the peppermint flavor.
Drizzle this all over the fondant layer, then tilt the pan to make sure the entire surface is coated in chocolate.  Refrigerate just until firm (if you refrigerate it for too long, you'll have a hard time slicing clean lines through the chocolate without it breaking).
Slice into 16 treats, then serve and enjoy!
All images and text ©
.
Store in hands, then mouth the refrigerator  😉
.
Here is the recipe's nutrition label:
Bring these to a friend's house, bring these to a potluck, bring these to work.  Everyone will love you.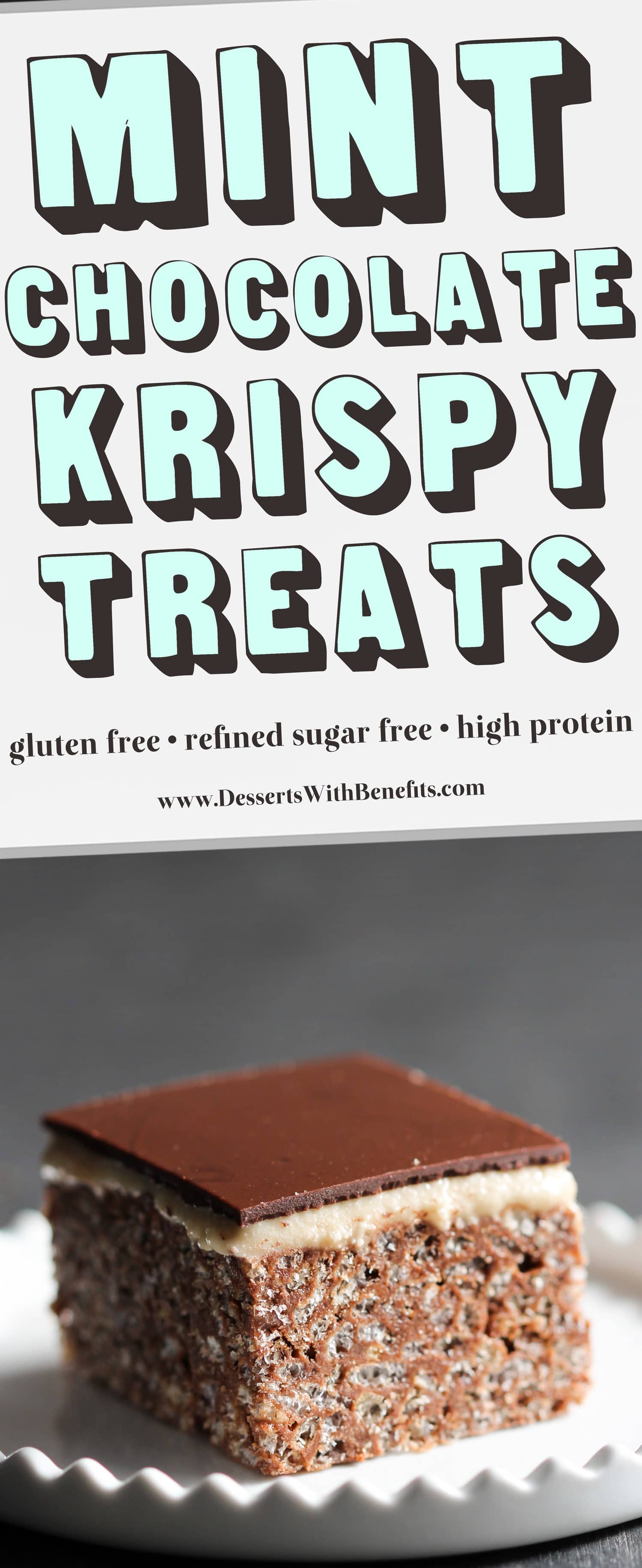 Enjoy!
.
With love and good eats,
.
– Jess
.