Healthy Crème Brûlée
Two years ago, around the time when I first started this blog, I remember being so excited to get into the kitchen and bake (pretty much the same feeling I get today, but still).  I loved the whole food-blogging process:  baking, photographing, writing, posting.  I loved stealing my sister's fancy camera to snap some photos, and I remember smiling as I wrote the post.  I remember how shocked I was when I realized that people had actually found my blog, and were reading it, surprisingly enough.
Two years ago, just like today, I had a gazillion bookmarks to scroll through on "baking day" to find the perfect recipe to bake.  I remember never being able to choose and having to ask everybody else what they wanted — Chocolate Coconut Cake, Mint Chocolate Krispy Treats, or Hummingbird Cake?  What, what, what??
People would be like, "Oooo can you make [an extraordinarily difficult dessert to healthify here]?!?!?!"  And my smile would go away.  Hello people, I'm a total baking newbie, do you seriously think I can pull that off?  Especially when it took me seven trials to get my first recipe ever to taste good?
All of that flashes back to me when I see, smell and taste this amazing Crème Brûlée…  this secretly healthy Crème Brûlée.  I remember everyone begging me to make it and me sadly declining out of fear that I wouldn't be able to make it.
Crème Brûlée is a classic unhealthy dessert — with the heavy cream, insane amount of egg yolks, pile of sugar, etc.  But I did it!  It might not be vegan, and it might not be cholesterol-free, but in my eyes and the eyes of everybody who tried it, this Crème Brûlée is the BEST it can get.
This Healthy Creme Brulee is mouth watering, creamy, sweet, rich and oh so sinful tasting.  But it's sinless.
It's impossible to feel guilty with this on your plate, especially when it's placed side-by-side with a typical Crème Brûlée.  Just look at the ingredient list (and nutrition label below!) — no heavy cream, no refined sugar, and organic eggs.
Oh, and it's so easy a caveman I could do it.  So you can too!
Rub your eyes, pinch yourself, give yourself a slap in the face, whatever it takes to make you realize that you're not dreaming!
You can have Creme Brulée…  completely guilt-free!
Indulge…  sinlessly.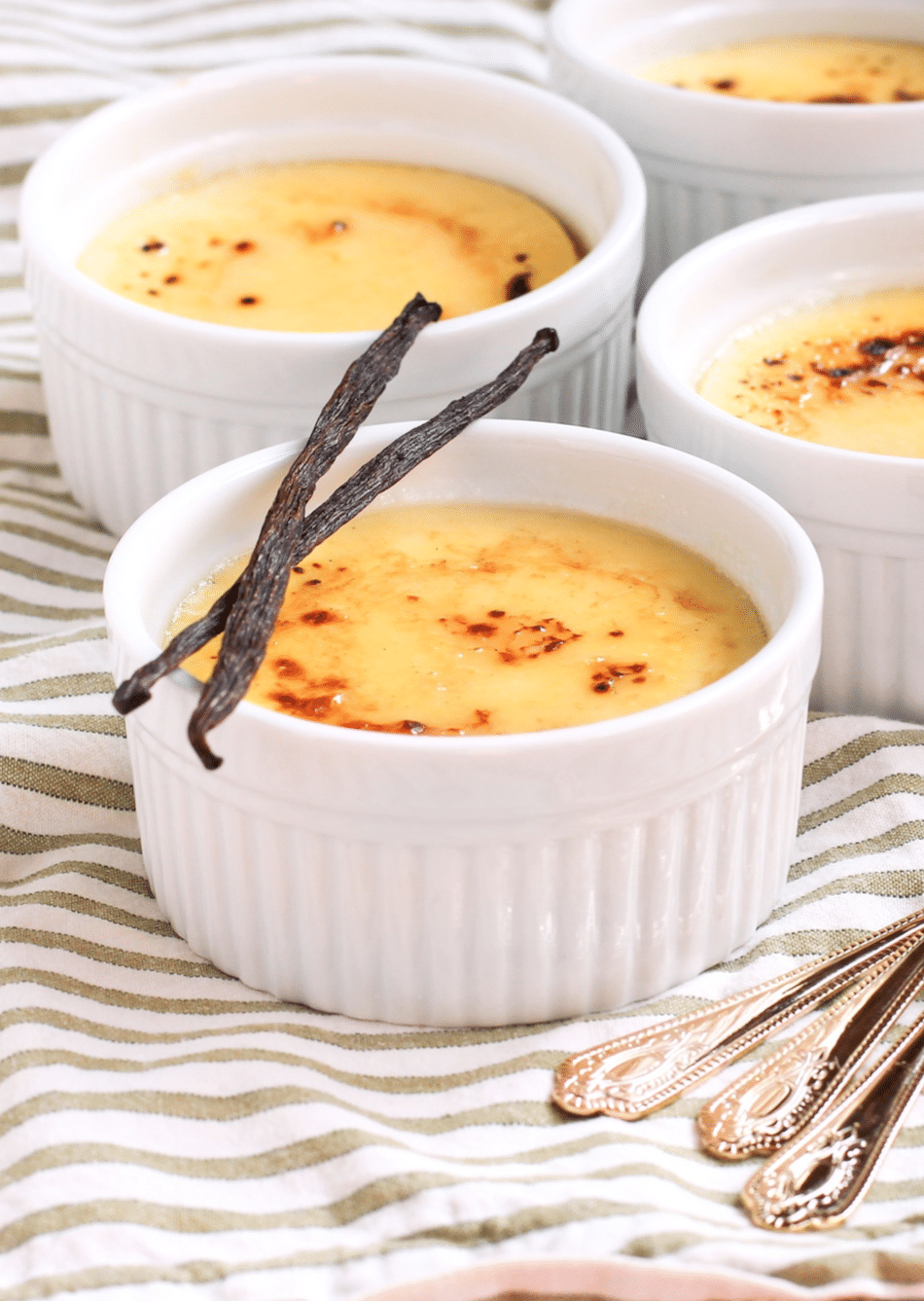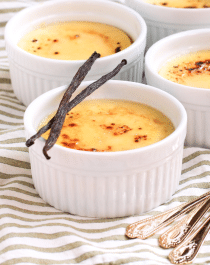 Print Recipe
Pin Recipe
Healthy Crème Brûlée
Ingredients
Plain, Nonfat Greek Yogurt

Low Fat Cottage Cheese

Egg Yolks
Recipe Notes
I originally wasn't going to share the recipe here because I worked so incredibly hard on publishing Naughty or Nice.  But, I understand not having a recipe here can be frustrating.  So, I'll meet you halfway...  how does that sound?  I'll show you all the ingredients I use in the recipe.  That way, you can determine on your own whether or not the cookbook is for you!
Nutrition Facts
Healthy Crème Brûlée
Amount Per Serving (1 serving)
Calories 140
Calories from Fat 63
% Daily Value*
Fat 7g11%
Cholesterol 255mg85%
Sodium 210mg9%
Carbohydrates 7g2%
Protein 14g28%
Vitamin A 300IU6%
Calcium 150mg15%
Iron 1.1mg6%
* Percent Daily Values are based on a 2000 calorie diet.
Enjoy!
.
With love and good eats,
.
– Jess
.