Healthy Hummingbird Cake
Hummingbird Cake is a tropical cake full of pineapple, banana, coconut, and pecans…  and lots of calories and fat too…  it's one sinfully decadent and ULTRA tasty cake.  Typical recipes call for 2 cups of white sugar, ¾ cup (or more) of oil, and bleached all purpose flour, but not this one!  This HEALTHY Hummingbird Cake so delicious, sweet, moist, and decadent, you'd never know it's lower calorie, lower fat, and lower sugar than the original.
If you know anything about me (or have seen my Red Velvet Cake or French Macarons), then you know that mostly everything I bake requires trial after trial, because what usually results is error after error (after error after error after error, etc. etc. etc.).  My goal is to "healthify" every single recipe I make by swapping out refined white flour, nutritionally deficient sugar, and unhealthy fats like shortening and margarine…  so many of my recipes do not turn out as planned.  Aaaaand that leads me to this Hummingbird Cake.
All that shizz (aka excess sugar, oil, bleached flour, etc.) is a huge dessert turn off for me, so I made the cake healthy!  Oh, it took some trial and error, though.  Believe me.  Let me walk you through it…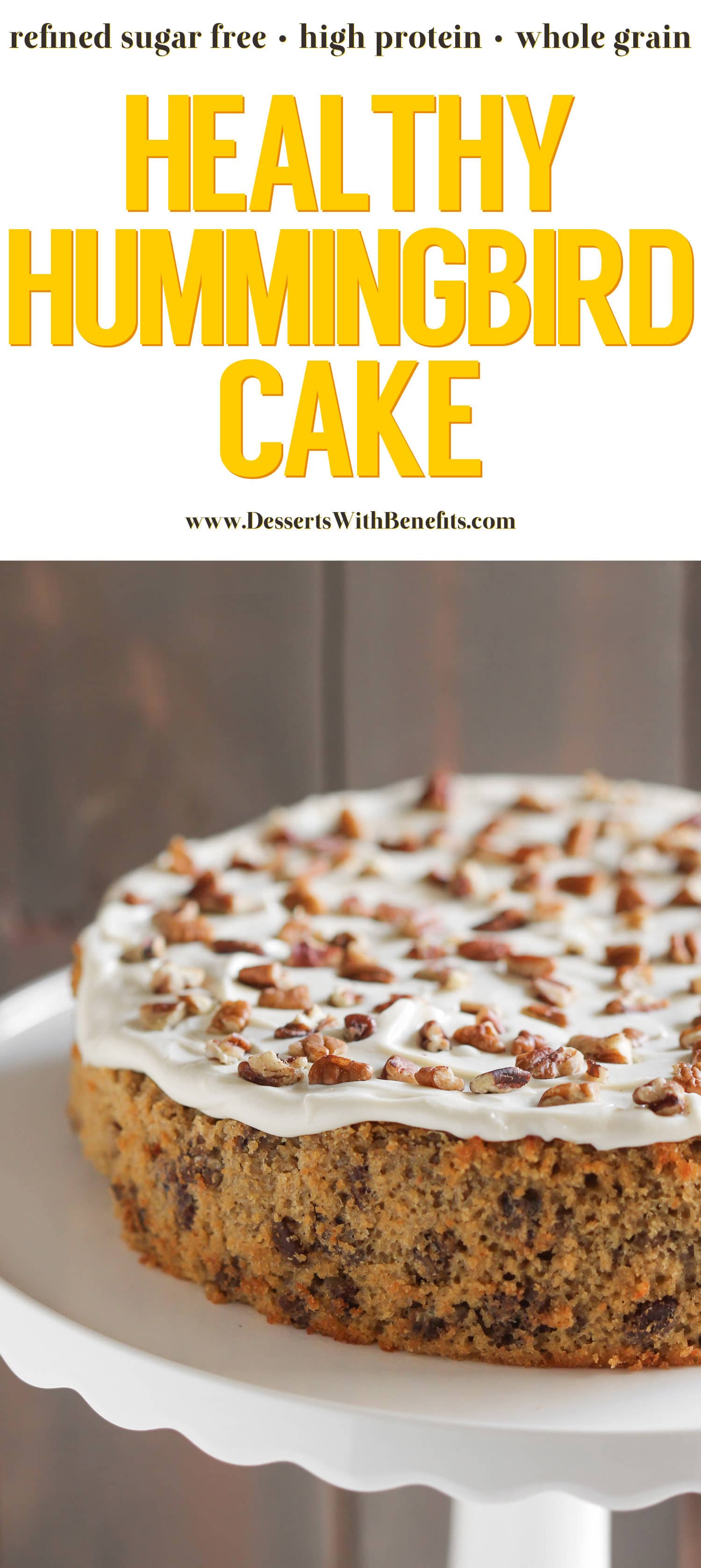 Trial #1:
I first saw a Hummingbird Cake online and it looked AMAZING.  This was wayyyy back in 2011, where I was just beginning to learn the ins and outs of healthy baking.  The ingredient list kinda scared me, so I thought I could swap the ingredients at a 1:1 ratio (damn, I was so wrong).  I swapped the all purpose flour with whole wheat pastry flour, halved the amount sugar and replaced it with sucanat, swapped half of the oil with applesauce, and used 1 egg + 1 egg white instead of 3 eggs.  At first bite, it was pretty good!  But it was super tough and dry with absolutely no pineapple flavor.  I also realized that I forgot to add vanilla extract, and definitely overbeat the batter (a no-no when working with whole wheat flour).
.
Trial #2:
I lowered the sugar even more since there was so much natural sugar already coming from the pineapple and bananas. I increased the cinnamon (PRO TIP:  cinnamon can make what you're baking taste sweeter!), drained the canned pineapples before blending (to increase the ratio of pineapple puree:pineapple juice), added an extra banana, and remembered to add the vanilla extract!  The flavor was definitely an improvement from the last trial, however this cake was far too dense — borderline mush — this time around.  Back to the drawing board.
.
Trial #3:
For extra lift, I added baking powder, an extra egg white, and used less banana.  I reduced the oil even further by adding in some yogurt, swapped the sucanat with coconut sugar and replaced some of it with pure maple syrup.  I also added a scoop of protein powder to make the cake more nutritionally balanced with healthy fats, complex carbs, fiber, and protein.  This Healthy Hummingbird Cake is DAMN DELICIOUS!  It's so sweet and moist and FULL of tropical flavors.  I love the combination of pineapple, banana, and coconut.  It's seriously divine.  My taste testers devoured this cake in TWO days!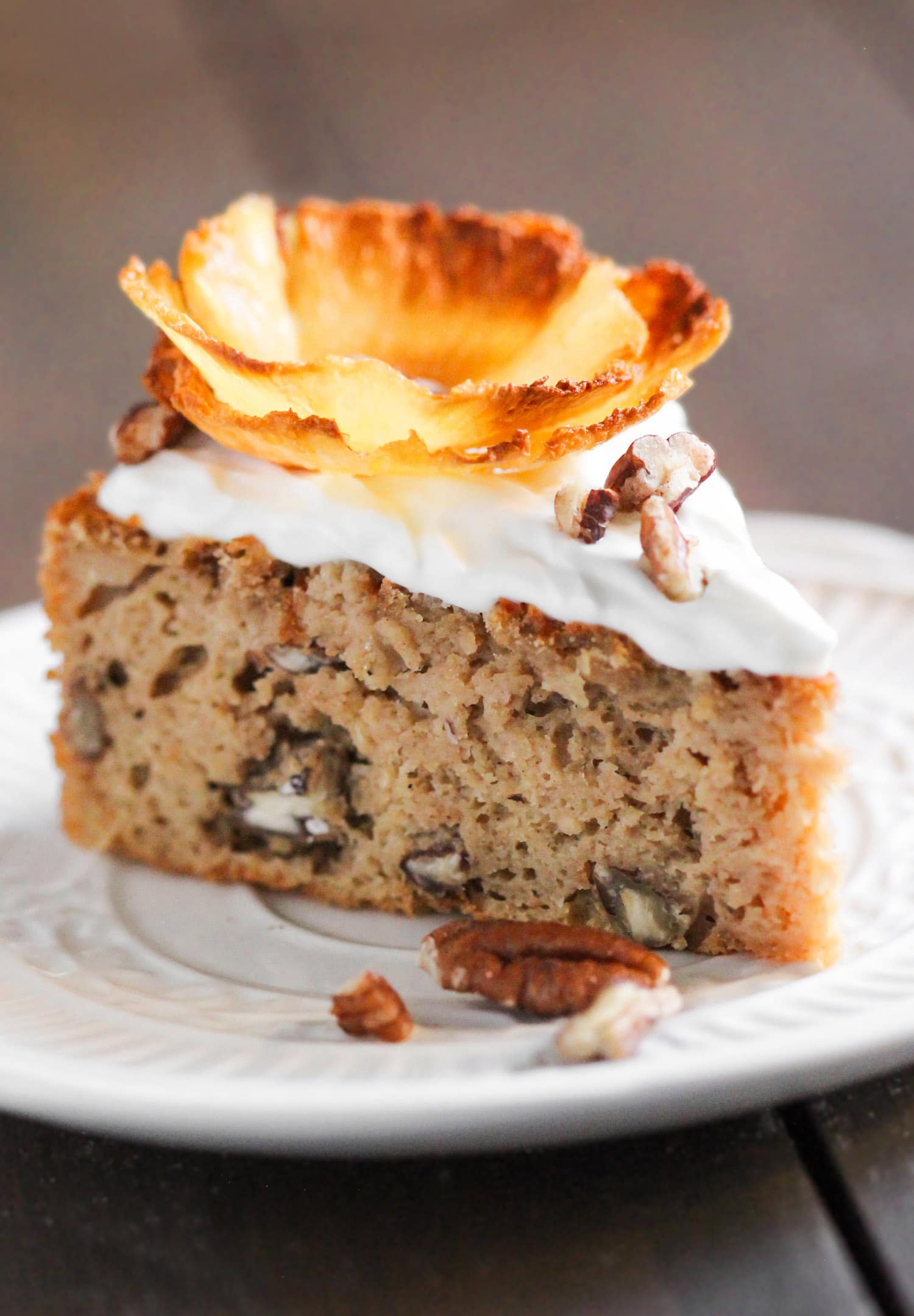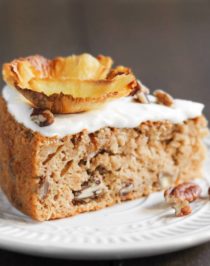 Print Recipe
Pin Recipe
Healthy Hummingbird Cake
Hummingbird Cake is a classic cake full of pineapple, banana, coconut, and chopped pecans. This healthier version is just as sweet and moist as the original, but it's been made refined sugar free, high protein, and whole grain!
Ingredients
120g

(1 cup)

Whole Wheat Pastry Flour

32g

(⅓ cup)

Unflavored Whey Protein Powder

1

tsp

Ground Cinnamon

¾

tsp

Double-Acting Baking Powder

¼

tsp

Baking Soda

⅛

tsp

Salt

½

cup

Chopped Pecans

145g

Canned Pineapple

(packed in 100% juice; weigh after draining juice)

75g

Banana

1

Large

Egg

2

Large

Egg Whites

114g

(½ cup)

Plain, Nonfat Greek Yogurt

112g

(⅓ cup)

Pure Maple Syrup

28g

(2 tbs)

Grapeseed Oil

20g

(2 tbs)

Coconut Sugar

1½

tsp

Liquid Stevia Extract

1

tsp

Vanilla Extract
Instructions
Preheat the oven to 350 degrees Fahrenheit and spray an 8" cake pan with cooking spray.

In a medium-sized bowl, whisk together the flour, protein powder, cinnamon, baking powder, baking soda, salt, and chopped pecans.

In a blender (I used my

NutriBullet

), add the drained pineapple, banana, egg, egg white, yogurt, maple syrup, oil, coconut sugar, stevia extract, and vanilla extract.  Puree until completely smooth.  Pour over the dry ingredients and fold together.

Pour the batter into prepared pan and bake for ~55 minutes or until the surface springs back when tapped.

Let cool completely, flip the cake onto a serving tray or cake stand, and wrap with plastic wrap. The next day, frost with

Cream Cheese Frosting

and sprinkle with chopped pecans. If you're feeling a little extra, make pineapple flowers too and you've got yourself a showstopping dessert! Slice, serve, and enjoy.
Recipe Notes
Keep leftovers covered and refrigerated for up to 4 days.
Nutrition Facts
Healthy Hummingbird Cake
Amount Per Serving (1 serving = 1/10th slice)
Calories 200
Calories from Fat 72
% Daily Value*
Fat 8g12%
Cholesterol 25mg8%
Sodium 125mg5%
Carbohydrates 27g9%
Protein 7g14%
Calcium 80mg8%
Iron 1.1mg6%
* Percent Daily Values are based on a 2000 calorie diet.
Just as a comparison, typical Hummingbird Cake has around 700 calories, 36g fat, and a whopping 75g of sugar.  Soooo yeah, this Healthy Hummingbird Cake is definitely the better choice!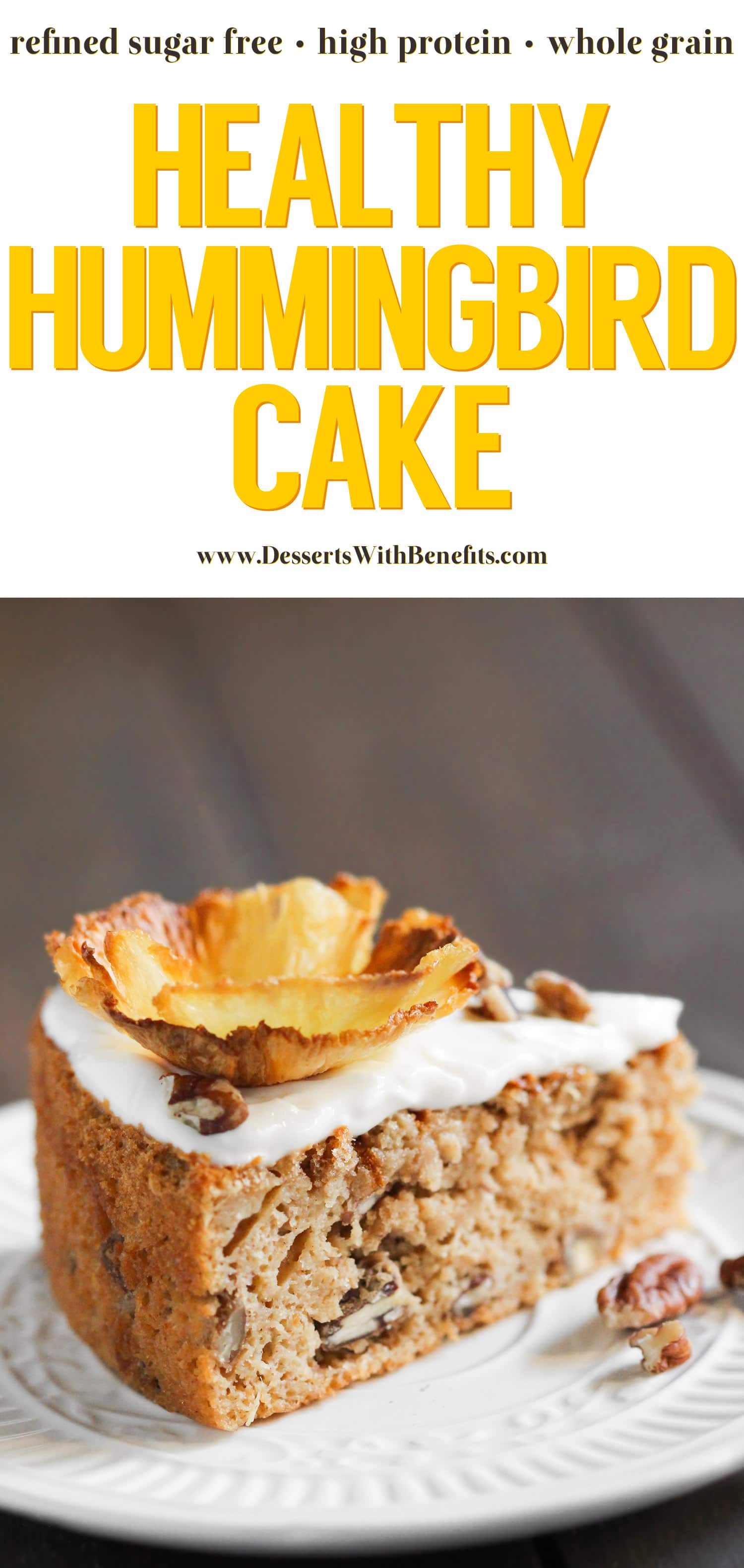 Enjoy!
.
With love and good eats,
.
– Jess
.