Healthy Red Velvet Cake with Cream Cheese Frosting
This is definitely an exciting cake to share.  As embarrassing as it is, it took me nine trials to make a successful all-natural, nutritionally balanced, healthy Red Velvet Cake.  I've done the research, I've done the measuring, I've done the thinking, and I've definitely done the taste testing (where do you think all those batches went?!).  Thank goodness every trial was healthy, otherwise my hips would be hanging off the seat as I type this…
Anyways, making a tasty and healthy Red Velvet Cake took a lot more work than I thought.  The batter has to be acidic, the cake has to be moist, it has to taste sweet sweet sweet, and lastly, it has to look red.  Duh.  But to meet my standards, the recipe also has to be good for you, which is quite the contrary to the classic Southern recipe.  Here are the ingredients I had to swap:
AP Flour, Cake Flour

  >  Whole Grain Gluten-Free Flours

Oil, Butter, Shortening

  >  Beet Puree, Coconut Oil

Artificial Food Coloring

  >  Natural Food Coloring

Eggs, Egg Yolks

  >  Egg Whites

Buttermilk

  >  Unsweetened Almond Milk

Sugar

  >  All-Natural Erythritol
That's a lot of substituting to make, yes?  So, I guess we should start from the beginning:  Trial #1.
Take a deep breath…
Trial #1:
I based the recipe off my Citrus Pound Cake recipe, since that is the recipe my friends and family request me to make the most.  The texture was great, but had no flavor whatsoever.  The cake was reddish, but not burn-your-eyes-out red like the classic red velvet cakes.  The frosting was too thin and wasn't very sweet.
Trial #2:
I improved some of the problems from Trial #1, but the cake tasted off.  I tried coloring it without food coloring by using beet puree but it turned more like a faded fuchsia.  There wasn't enough cocoa and the cake was a little dry.
Trial #3:
I changed routes and decided to make Red Velvet Brownies rather than cake.  I based the recipe off my Lemony Peach Blondies, but it turned a Devil's Food Cake color and tasted too much of chocolate to be a red velvet.
Trial #4:
I fixed some of the problems from Trial #3 but the brownies still had that Devil's Food Cake color.  The brownies were extremely doughy, sticky and difficult to slice.  It had a less noticeable chocolate flavor, but now it had no flavor.
Trial #5:
This trial ended up being really doughy and sticky as well.  It was slightly cakey and had a great taste but the flavor was simply not that of a red velvet.  Unfortunately, it was an unappealing faded red-brown color.  Ugly, but tasty!
Trial #6:
This trial = DISASTER!  I doubled the recipe and baked the batter in cake pans rather than brownie pans.  The cake was soft, moist and delicious, yet a little on the dense side.  I tried using a different brand of food coloring but it turned the cake a hideous greyish-brown color.  While people liked the cake, no one really understood what the main flavor was.  I told them it was supposed to be a red velvet but ended up looking like chocolate.  Didn't matter too much though, cake is cake.  And it's healthy?  Okay, this cake is good cake!
Trial #7:
I quit it with the red and made this (Orange Velvet) Pumpkin Cake instead.
Trial #8:
I did some more research on how to get a cake to turn red naturally.  It's a science, not something I could guess on.  So when I sliced into this cake I thought I was going to see red.  Oh I saw red, just not in the freaking cake.  GAH!  I wanted to cry and throw my stand mixer out the window smush the cake with my hands.  I carved myself a slice and angrily shoved it in my face.  Oh.  My.  Gosh… it was delicious.  It was a bit dense, like the previous trial, but so damn good.
Trial #9:  (Finally, success!)
Before I even turned on the oven, I expected a baking failure that day.  I mean, I was let down 8 times already, my confidence in baking truncated with each failed trial… I expected less than post-worthy results that day.  To my surprise, though, things were looking up!  The batter was a bright fuchsia and turned more and more red as the cakes baked in the oven.  Good things do happen when you least expect them to.  I sliced the cake and my heart skipped a beat, I almost fainted.
FINALLY.  It was RED!  (Thank you baking gods)
I was so excited to take a bite that I ate a slice right off the cake stand.
This Healthy Red Velvet Cake is absolutely delicious.  It's sweet, it's fluffy, it's moist, it's red.  Naturally red.  It's nutritious, free of sugar, butter, and all things artificial and manmade.
If you gave this to me when I was ten years old (you know, when I ate three Hershey bars a day and ate Pillsbury frosting out of the tub?), I would have eaten this without any complaints.  I would have eaten this with my hands (because who needs a fork?) in about 2 minutes flat.
Oh wait, that's what I did as a twenty year old…
Anywaysss, this cake is magnificent.  Both a success and accomplishment that were a long time coming.  Nine trials long, but totally worth every hour spent researching (and eating).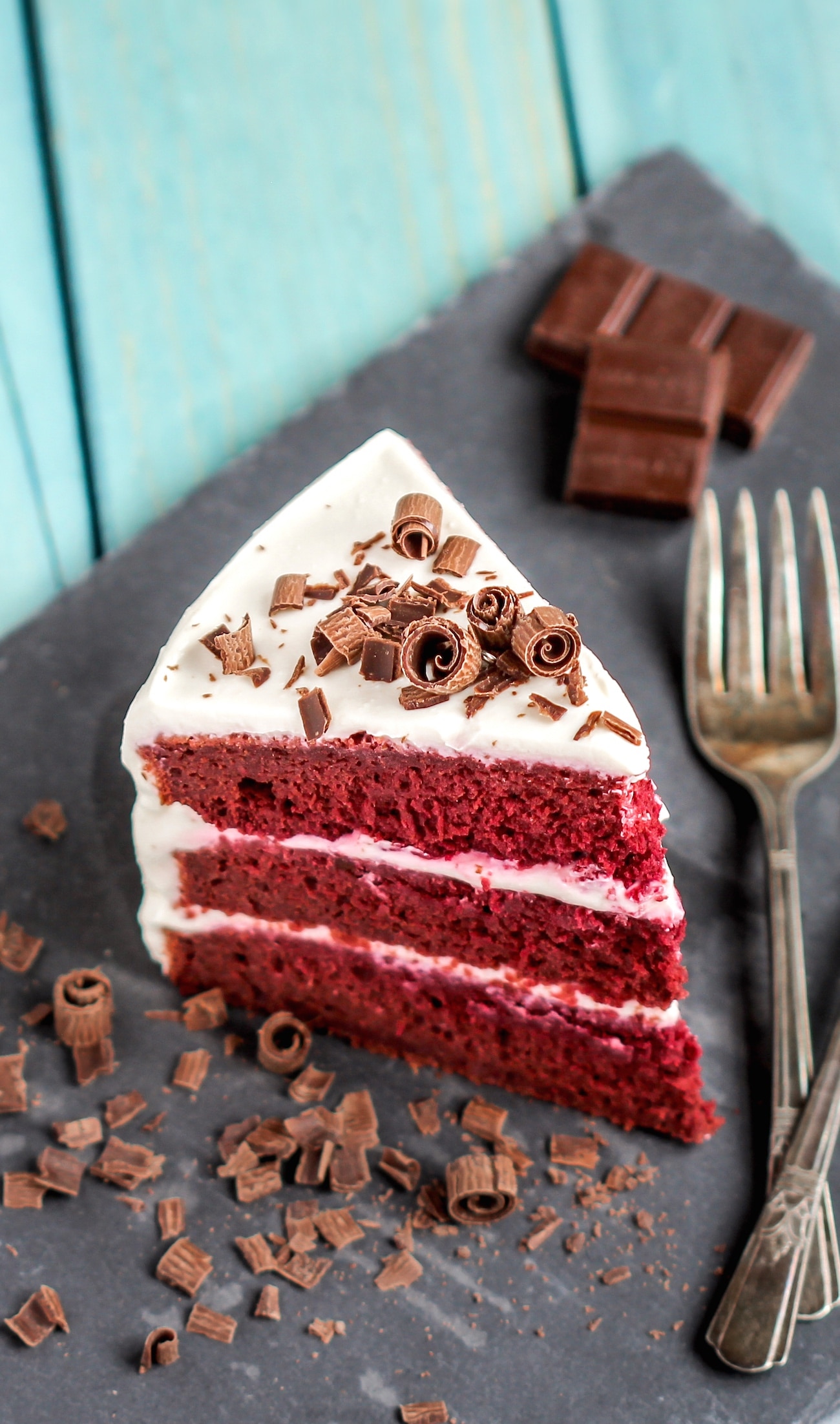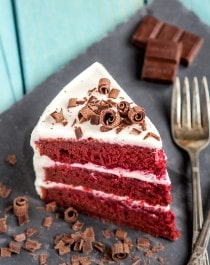 Print Recipe
Pin Recipe
Healthy Red Velvet Cake with Cream Cheese Frosting
Ingredients
Beets

Oat Flour

Arrowroot Starch

Unsweetened Natural Cocoa Powder

Double-Acting Baking Powder

Salt

Egg Whites

Unsweetened Vanilla Almond Milk

Coconut Oil

White Vinegar
Recipe Notes
I originally wasn't going to share the recipe here because I worked so incredibly hard on publishing Naughty or Nice.  But, I understand not having a recipe here can be frustrating.  So, I'll meet you halfway...  how does that sound?  I'll show you all the ingredients I use in the recipe.  That way, you can determine on your own whether or not the cookbook is for you!
Nutrition Facts
Healthy Red Velvet Cake with Cream Cheese Frosting
Amount Per Serving (1 cake)
Calories 220
Calories from Fat 90
% Daily Value*
Fat 10g15%
Sodium 200mg9%
Carbohydrates 28g9%
Protein 5g10%
Calcium 100mg10%
Iron 1.1mg6%
* Percent Daily Values are based on a 2000 calorie diet.
Enjoy!
.
Be happy.
Live fully.
Feel naughty, eat nice.
.
– Jess
.