Healthy Citrus Pound Cake
Yes, you read that correctly…  today, I bring you the recipe for this HEALTHY Citrus Pound Cake!
Did your jaw drop to the floor?  Did you just question my sanity?  Because obviously, there is no such thing as a healthy pound cake…  right??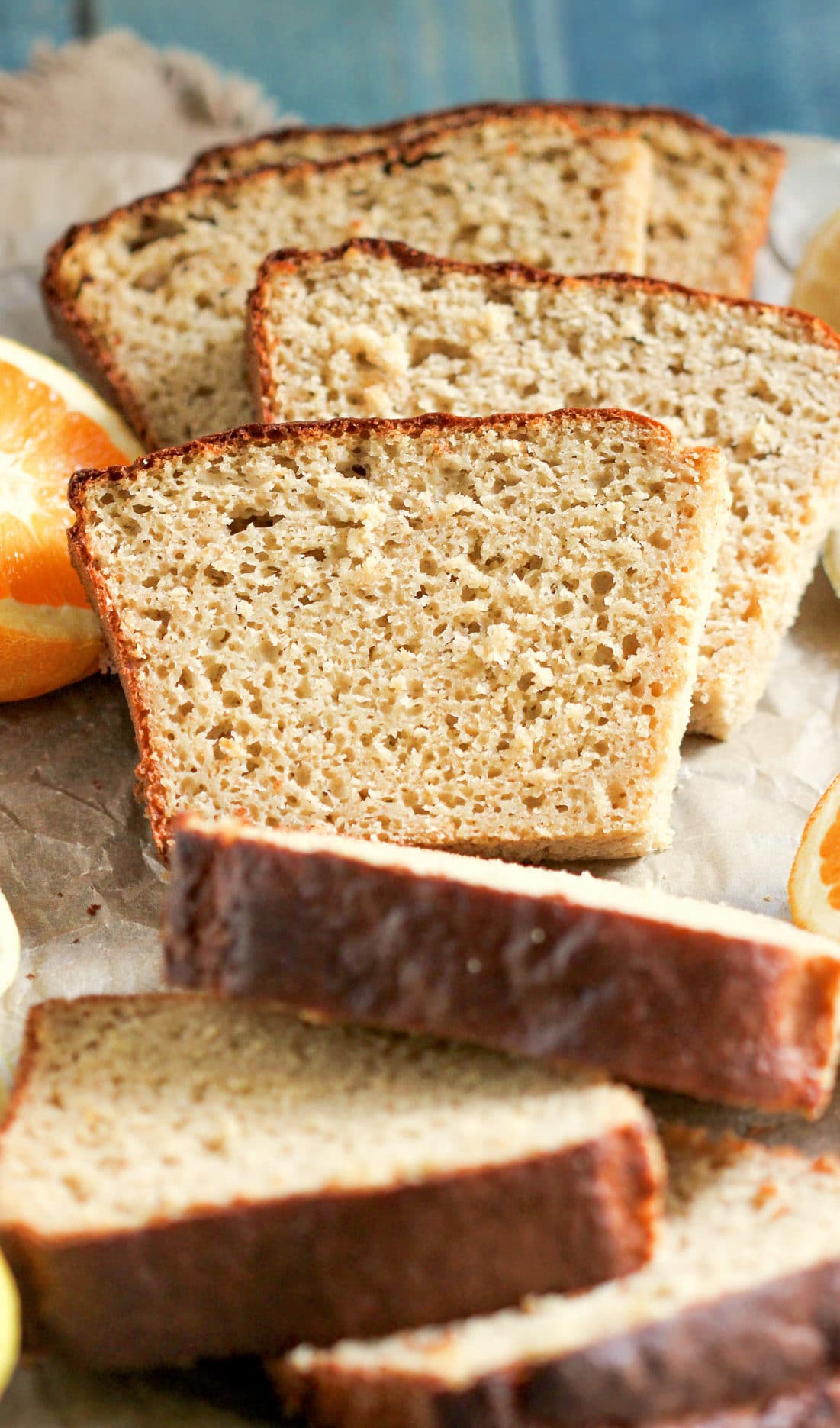 Wrong, folks!  This Healthy Citrus Pound Cake exists, and I know that for a fact because I ate so damn much of it 😉
I think we just made history…  this is a day that the history books need to include!  It seems too good to be true, but it's not.
This Healthy Citrus Pound Cake is incredibly soft, sweet, and full of refreshing lemon and orange flavor, yet it's made without butter, excess oil, refined sugar, and artificial flavors.
One bite and you'd never know it's sugar free, high protein, and 100% whole wheat!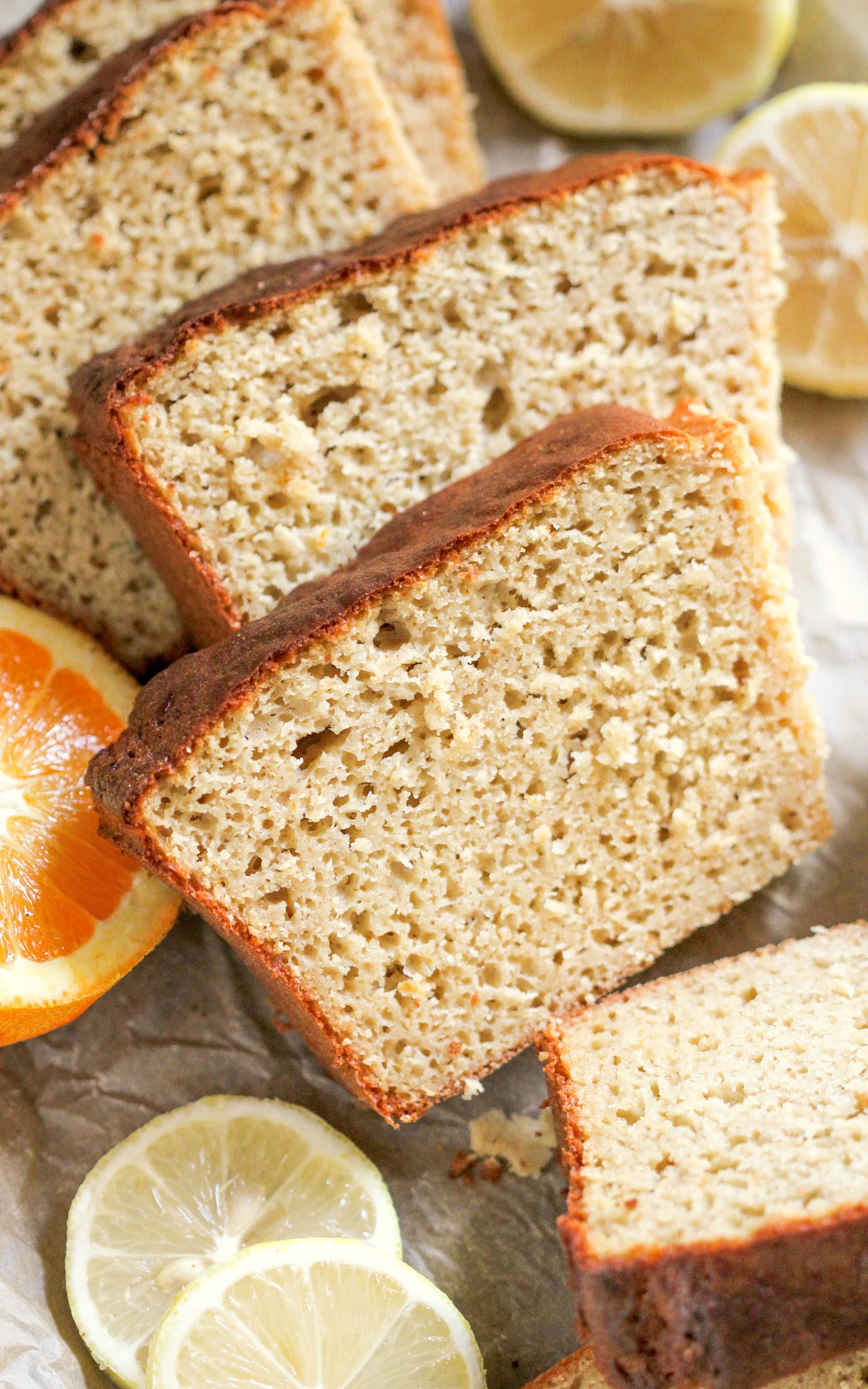 This Healthy Citrus Pound Cake will satisfy your sweet tooth without giving you a sugar rush or sugar crash.  It tastes buttery too, even without the butter, so you won't miss that butter flavor typical to classic pound cakes.
One huge plus about this recipe is that it's totally breakfast-worthy, so be sure to bake this and EAT IT UP!
If you've read My Story, then you know all about my childhood addiction to sugary, buttery, baked goodness.  Even though I studied Nutrition in college, have been baking healthfully for over 6 years now, and have kicked sugar to the curb, I still get tempted by the unhealthy sweets at bakeries and cafes.
I'm sure everyone gawks a little hard at the perfectly laid out slices of pound cake at the Starbucks checkout line.  No worries, I'm guilty of it too.  But why buy their artificial, overly processed, sugar-in-a-loaf cake when you can have this WAY better version?
This Healthy Citrus Pound Cake was a long time coming.  I first posted the recipe for this cake back in 2011, but wanted to simplify the recipe (previous recipe had way too many ingredients and steps) and give the post a little sprucing up with better pictures (I've learned a lot over the last 6 years!).
Here are some of the changes I made to the recipe:
Increased Whey Protein Powder, ¼ cup to ⅓ cup
Increased Applesauce, ½ cup to 1½ cups
Increased Stevia Extract, 2 tsp to 1 tbs
Replaced Lemon + Orange Extracts with Lemon + Orange Zest
Replaced Sucanat with Granulated Erythritol
Replaced 182g pureed Tofu with 2 Eggs
Omitted Honey
Typical pound cake recipes can call for up to 4 sticks of butter (!!!), 2¾ cups of sugar, and 8 egg yolks.  Ummmm, no thank you?  I'll make my own, and make it healthy while I'm at it!
Let's take a walk through the trials, shall we?
.
Trial #1:
This trial was surprisingly a successful one!  The texture was pretty good — moist and very dense — but the flavor could use improvement.  I used 1 tablespoon of lemon zest, which ended up being a little too much and tasted bitter.  I think the cake could use more butter flavoring too.
.
Trial #2:
I increased the starch, the butter flavoring, and applesauce, and reduced the oil.  I baked the previous trial at 325 degrees Fahrenheit, which I increased to 350 degrees this time around.  I also baked the cake in mini loaf pans, which is probably why they rose so much in the oven.  This cake was mighty tasty with a tight crumb…  definitely a cake I'll be making time and time again.
.
Trial #3:
This Healthy Citrus Pound Cake is sweet, moist, fluffy, and buttery.  It tastes just as good as the real thing, but it's made without any of the nasty ingredients typical to classic pound cake.  Let's skip out on the refined white sugar, excess butter and oil, and bleached white flour, and make this better-for-you version instead!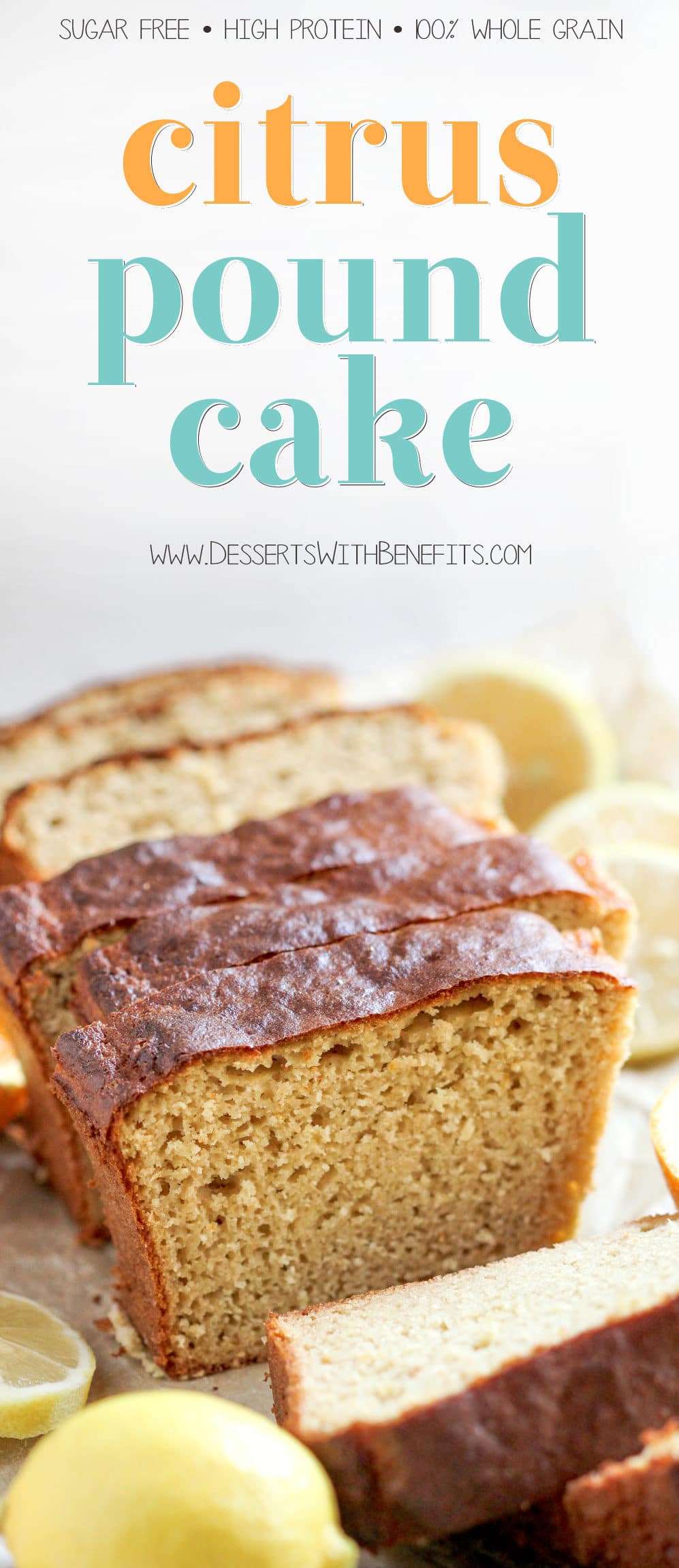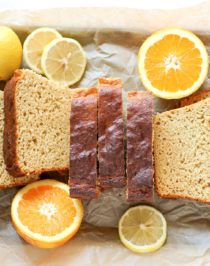 Print Recipe
Pin Recipe
Healthy Citrus Pound Cake
This Healthy Citrus Pound Cake is incredibly soft, sweet, and full of refreshing lemon and orange flavor, yet it's made without butter, excess oil, refined sugar, and artificial flavors.
Instructions
Preheat the oven to 350 degrees Fahrenheit and spray a 9×5″ loaf pan with cooking spray.

In a small bowl, whisk together the whole wheat pastry flour, starch, protein powder, baking powder, baking soda, and salt.

In a stand mixer bowl fitted with a beater attachment, add the applesauce, yogurt, eggs, oil, erythritol, stevia, butter flavor, and zest.  Mix on low speed until smooth and even.

Dump the dry ingredients into the stand mixer bowl and mix until ALMOST combined.  Scrape down the sides of the bowl and mix one more time, JUST until the batter is even.

Pour batter into the prepared pan and bake for ~55 minutes, or until the surface forms a brown crust and springs back when tapped. Let cool completely in the pan, then slice and serve!  Keeps for ~1 week in a tightly sealed container in the fridge.
Recipe Notes
If you're looking for an even SWEETER and decadent cake, whisk together the following ingredients and brush it over the freshly baked cake:
¼ cup Agave Nectar, Honey, or Pure Maple Syrup
2 tbs Orange Juice, freshly squeezed
Nutrition Facts
Healthy Citrus Pound Cake
Amount Per Serving (1 slice)
Calories 250
Calories from Fat 81
% Daily Value*
Fat 9g14%
Cholesterol 55mg18%
Sodium 260mg11%
Carbohydrates 34g11%
Protein 8g16%
Vitamin C 1.7mg2%
Calcium 100mg10%
Iron 1.8mg10%
* Percent Daily Values are based on a 2000 calorie diet.
Daaaaaang!  Only 250 calories for a big ol' slice of POUND CAKE?  Plus 8g of protein and 4g of fiber??
Yes, please.  Compared to the Lemon Pound Cake from Starbucks, my Healthy Citrus Pound Cake has:
220 less calories
11g less fat
37g less sugar (that's over 3 tbs of sugar you're saving!)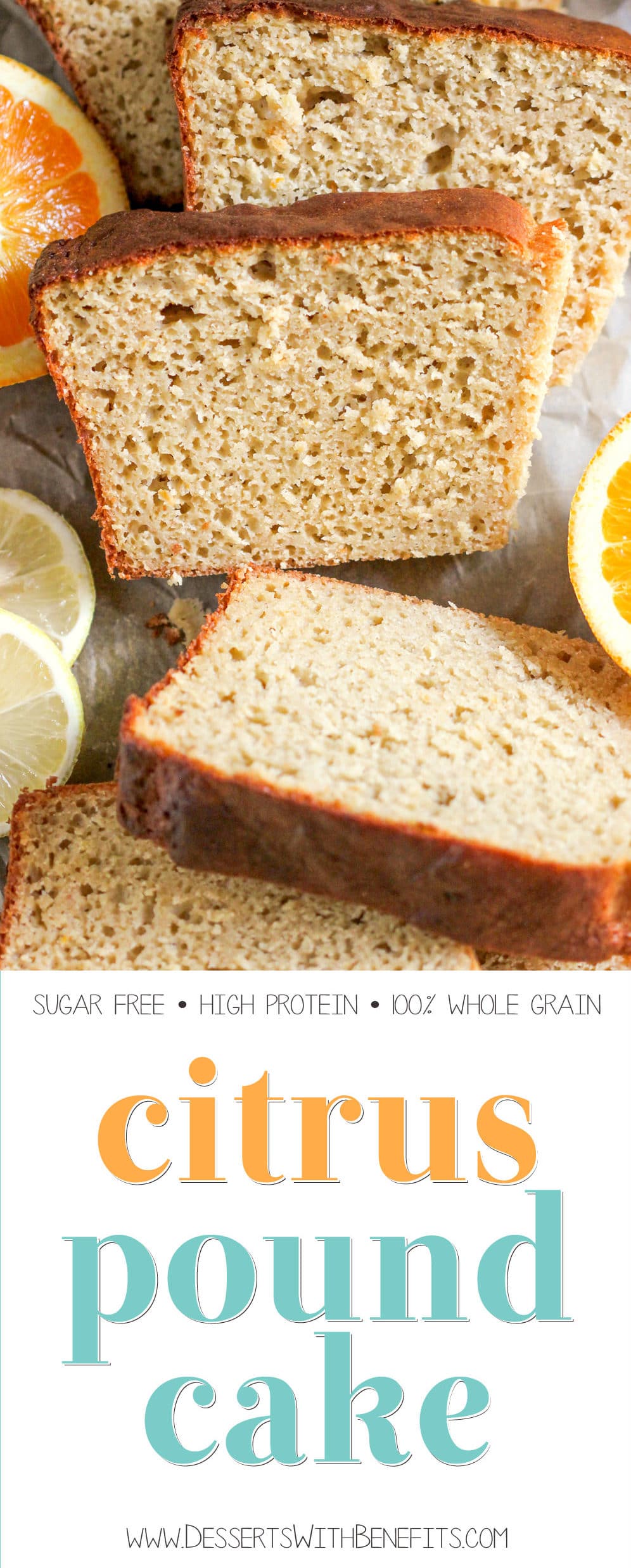 If you want to top the cake with an icing, try this White Icing Recipe!
I am so happy to see that unhealthy desserts actually can have a healthy alternative.  You gotta make this recipe.  You won't regret it!  🙂
.
With love and good eats,
.
– Jess
.