Healthy Lemon Poppyseed Cake
Get ready for Spring with this Healthy Lemon Poppyseed Cake!  It's so moist and filling, it's light and refreshing from the lemon, and it isn't tooth-achingly sweet.  This cake could work as both a dessert treat and a balanced breakfast.  Yes, I'm serious.  This cake doesn't have any added sugar, it's 100% whole grain, and has a healthy dose of protein, fiber, and healthy fats too!
I recently bought a new loaf pan because my old ones started to rust, so obviously I had to christen it with a dessert of some kind.  I went to the grocery store to get some inspiration of what I could bake in it.  The baking aisle seems to lure me in.  I just love looking at all the different flours, extracts, utensils, and bakeware!  I walked towards the baking mixes…
Banana Bread?  Been there.
Pound Cake?  Done that.
I found myself picking up a Lemon Poppyseed Muffin baking mix.  Yeah, I'll bake that!  And from scratch too because almost all baking mixes are completely horrendous and made with garbage ingredients.  No, Betty Crocker, your mixes no longer appeal to me when you stuff 'em full of crap!  Guys, just look at their ingredients (unhealthy ingredients in bold):
Sugar, Bleached Flour, Corn Syrup, Partially Hydrogenated Soybean/Cottonseed Oil, Modified Corn Starch, Poppy Seed, Baking Soda, Monocalcium Phosphate, Sodium Aluminum Phosphate, Water, Salt, Corn Starch, Lemon Juice Concentrate, Citric Acid, Distilled Monoglycerides, Maltodextrin, Agar-Agar, Natural and Artificial Flavor, Xanthan Gum, Cellulose Gum, Yellow Dye 5 & 6, Potassium Sorbate and Alpha Tocopherol (preservatives)
*gags*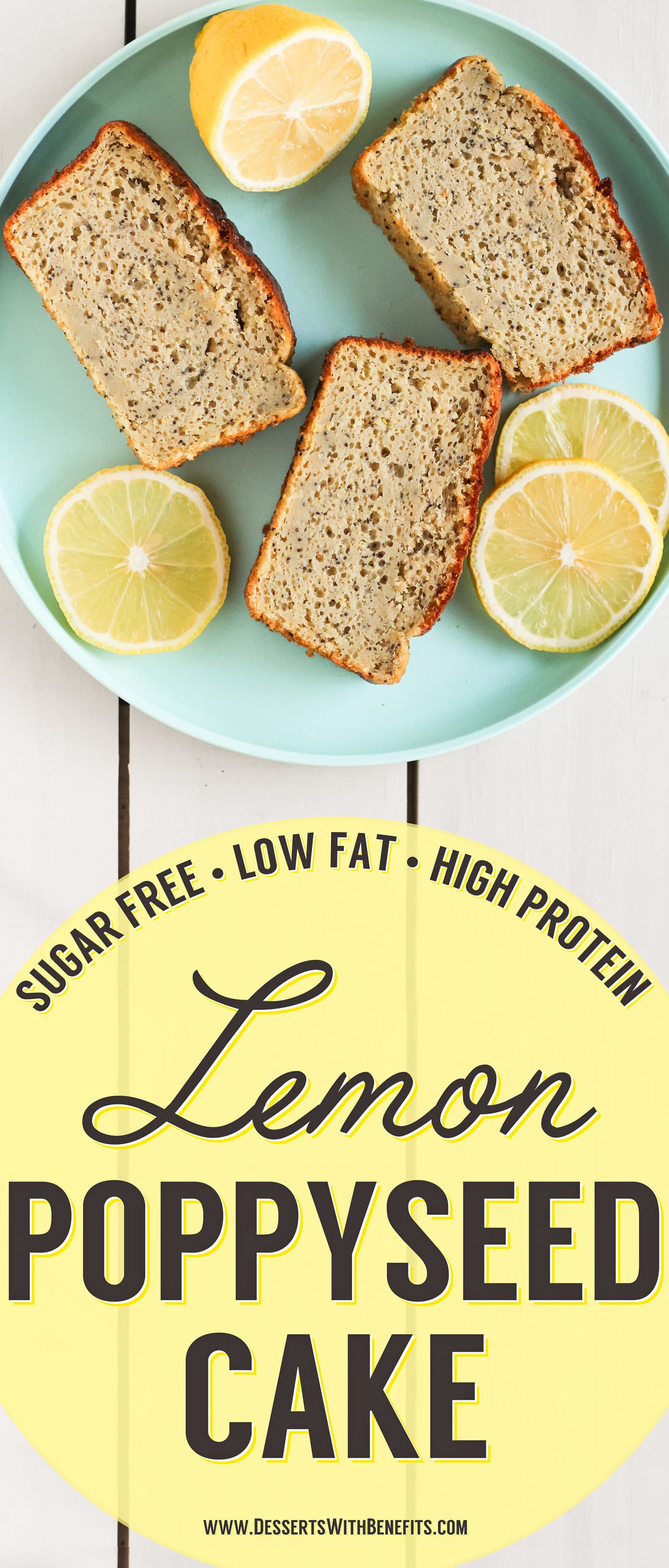 This Healthy Lemon Poppyseed Cake is soft, dense, and moist, but also light and fluffy.  It's perfectly sweet with a bold and bright lemon flavor.  Every bite of this cake is delicious and enjoyable to eat.  All my taste testers loved it!

Healthy Lemon Poppyseed Cake
Prep Time: 20 minutes
Cook Time: 40 minutes
Total Time: 1 hour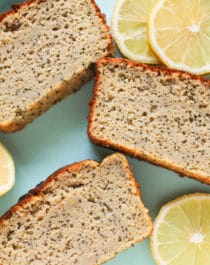 Fat per serving: 9
Calories per serving: 180
Ingredients:
Directions:
Preheat your oven to 375 degrees Fahrenheit.  Spray an 8×4″ loaf pan with cooking spray and line one way with parchment paper.
In a small bowl, whisk together the whole wheat pastry flour, erythritol, protein powder, poppyseeds, baking powder, baking soda, and salt.
In a large bowl, whisk together the applesauce, yogurt, eggs, and oil.  When smooth, whisk in the lemon zest, stevia extract, butter flavor, and vanilla extract.
Dump the dry ingredients over the wet ingredients and whisk together JUST until everything is incorporated.
Transfer batter into the prepared loaf pan and bake for ~40 minutes, or until the surface of the cake springs back when tapped.  Let cool slightly in the pan, then transfer to a wire cooling rack to cool completely.  Slice and serve!
Notes:
To store, cover and keep refrigerated for up to 5 days.
All images and text ©
.
**The recipe above is the new and improved recipe.  The old version was just as delicious, but I feel like I used an unnecessary amount of ingredients (aka it was annoying to make) and I wanted to make a sugar-free version.  In case you wanted to try the old version instead, I'm providing it here:
Cake:
480g (4 cups) Whole Wheat Pastry Flour
120g (1½ cups) Whey Protein Concentrate
96g (½ cup) Sucanat (or dry sweetener of choice)
¼ cup Poppyseeds
1 tbs Double-Acting Baking Powder
1 tsp Baking Soda
½ tsp Salt
21g (3 tbs) Egg Replacer Powder + ½ cup Water
738g (3 cups) Unsweetened Applesauce
225g (1 cup) Plain, Nonfat Greek Yogurt
84g (¼ cup) Honey
56g (¼ cup) Grapeseed Oil (or any other neutral oil)
5 tsp Stevia Extract
4 tsp Lemon Flavor
2 tsp Vanilla Extract
2 tsp Natural Butter Flavor
White Icing:
147g (7 tbs) Honey
52g (6 tbs) Dried Nonfat Milk
For the Cake:
Preheat the oven to 325 degrees Fahrenheit and spray a bundt pan with cooking spray.
In a medium-sized bowl, whisk together the whole wheat flour, protein powder, sucanat, poppyseeds, baking powder, baking soda, and salt.
In a large bowl, whisk together the egg replacer and water. Whisk in the applesauce, yogurt, honey, oil, stevia extract, lemon flavor, vanilla extract, and butter flavor.
Dump the dry ingredients over the wet ingredients and fold together (do not overmix). Pour batter into the bundt pan and bake for ~1 hour + 20-30 minutes, or until the surface of the cake is firm when tapped.
Flip the pan onto a wire cooling rack, leaving the pan over the cake for ~10 minutes. Carefully remove the pan and let cool completely.
For the Icing:
In a medium-sized microwave-safe bowl, microwave the honey for 10-15 seconds, or until warm.
Stir in the dried milk.  It will look like there is not enough honey, but just be patient, it will mix in. It will also be super thick so flex those muscles!
Let the icing cool, then spoon over the cake!  If you don't use all the icing, place in the fridge and use for any other dessert topping 🙂
Here is the (updated) recipe's nutrition label:
Oh yes!  This Lemon Poppyseed Cake has just 180 calories per slice!  Plus, 8g of protein, 3g of fiber, and zero added sugar.
As a comparison, a slice of Starbuck's lemon pound cake has 470 calories, 20g fat, only 1g of fiber, and a whopping 42g of sugar…  eek…

This Healthy Lemon Poppyseed Cake is pure deliciousness!  Enjoy  🙂
.
With love and good eats,
.
– Jess
.