Healthy Banana Bread
GUYS GUYS GUYS GUYS GUYS.  I'm beyond excited right now, and I'm typing at about 7x my standard speed because I am bringing this amazing Healthy Banana Bread recipe to y'all.  It's without a doubt the best Banana Bread I have ever made, and eaten, in. my. life.  This is real people, not a joke, not an exaggeration.  This creation right here?  You're DAMN RIGHT I'M PROUD OF IT. 🍌🍞
One bite in and I was like, "WTF who stole my Healthy Banana Bread and swapped it with this unhealthy one??" 😳🤔
It tastes like it's full of sugar and butter.  And it certainly does not feel or taste gluten-free.  It doesn't fall apart like sand, and thankfully, it doesn't taste like sand either 👍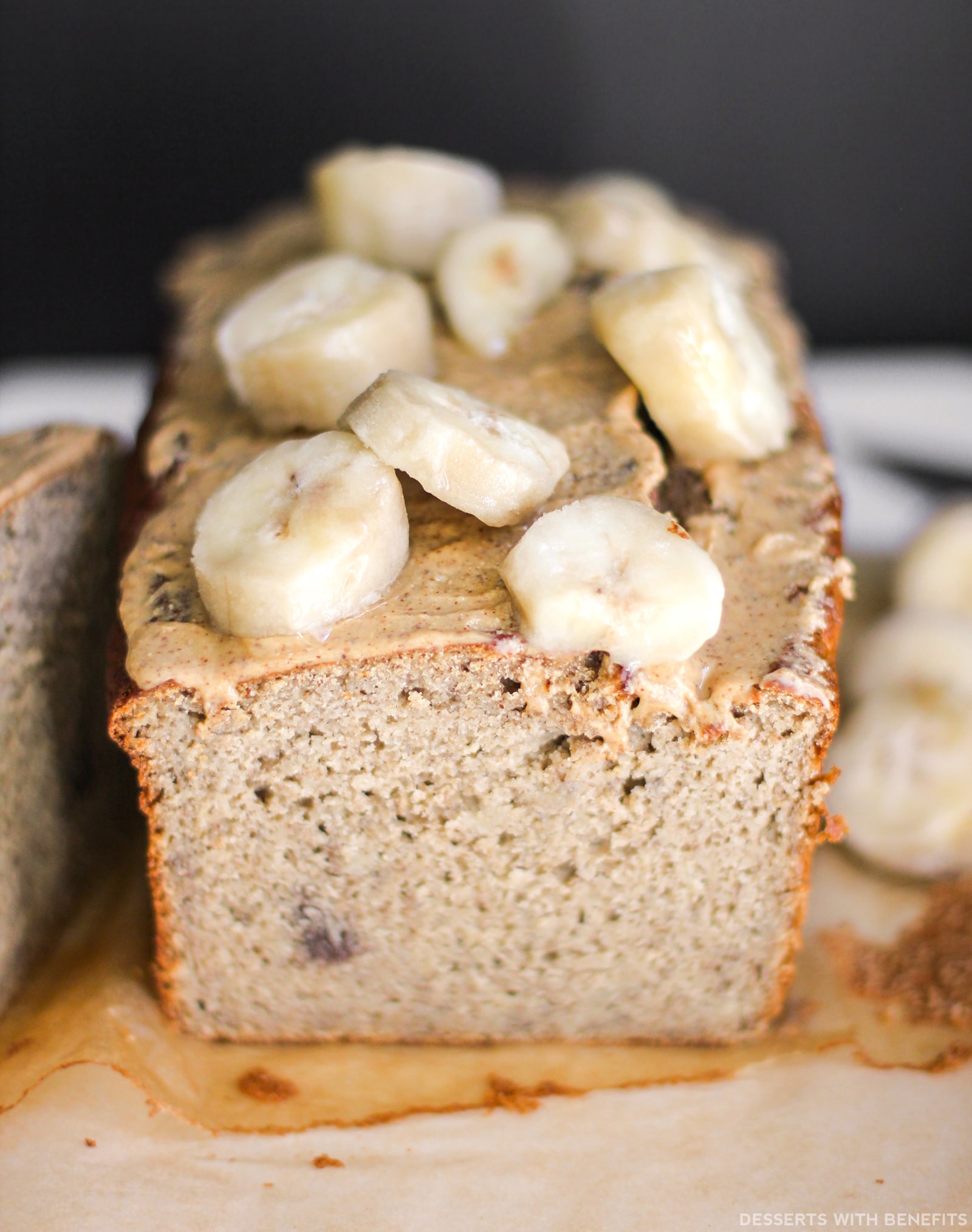 It's so full of banana flavor too.  I CAN'T EVEN 😱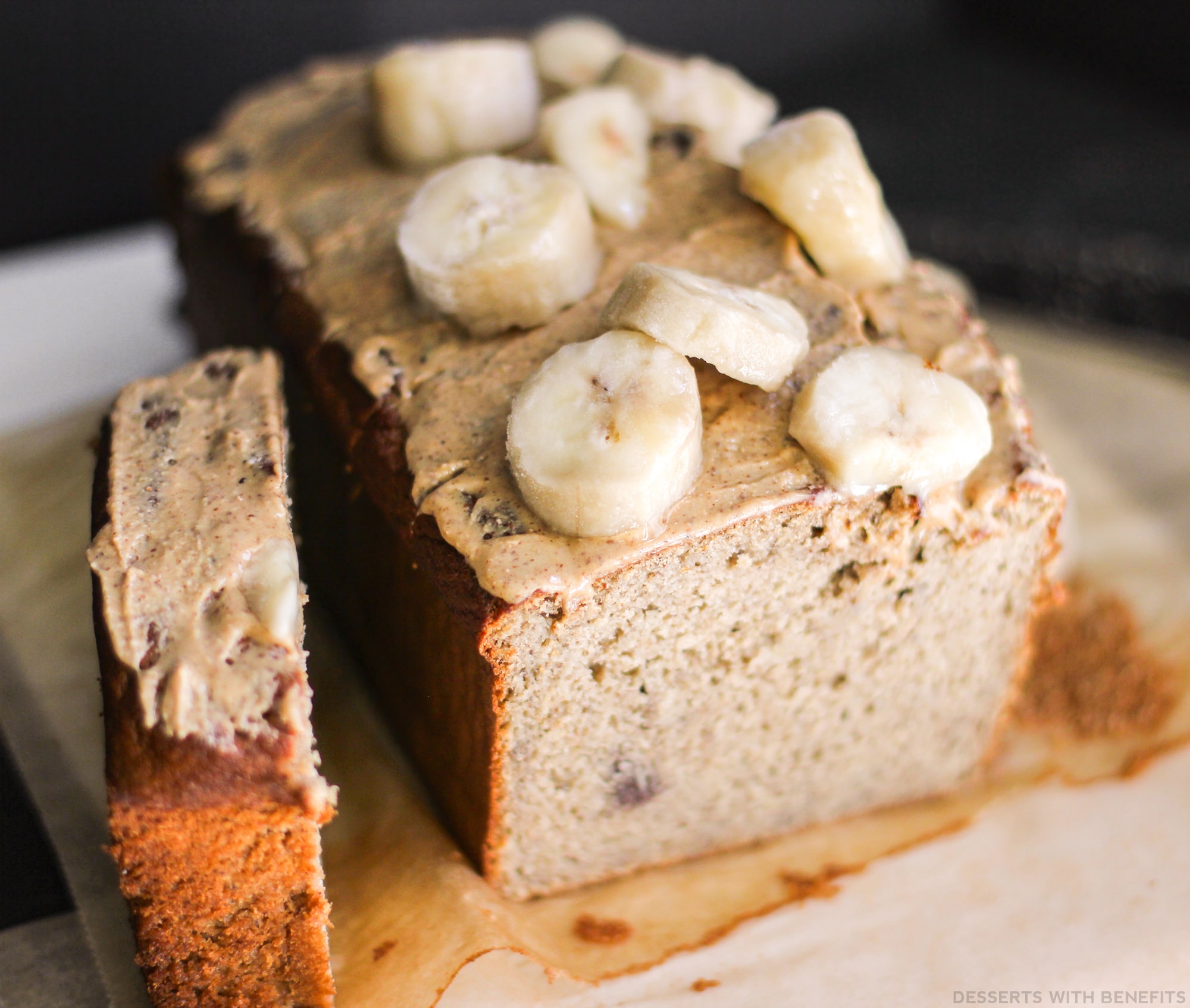 I could die a happy girl right now.  But only if you bury me with a loaf of this Healthy Banana Bread 😎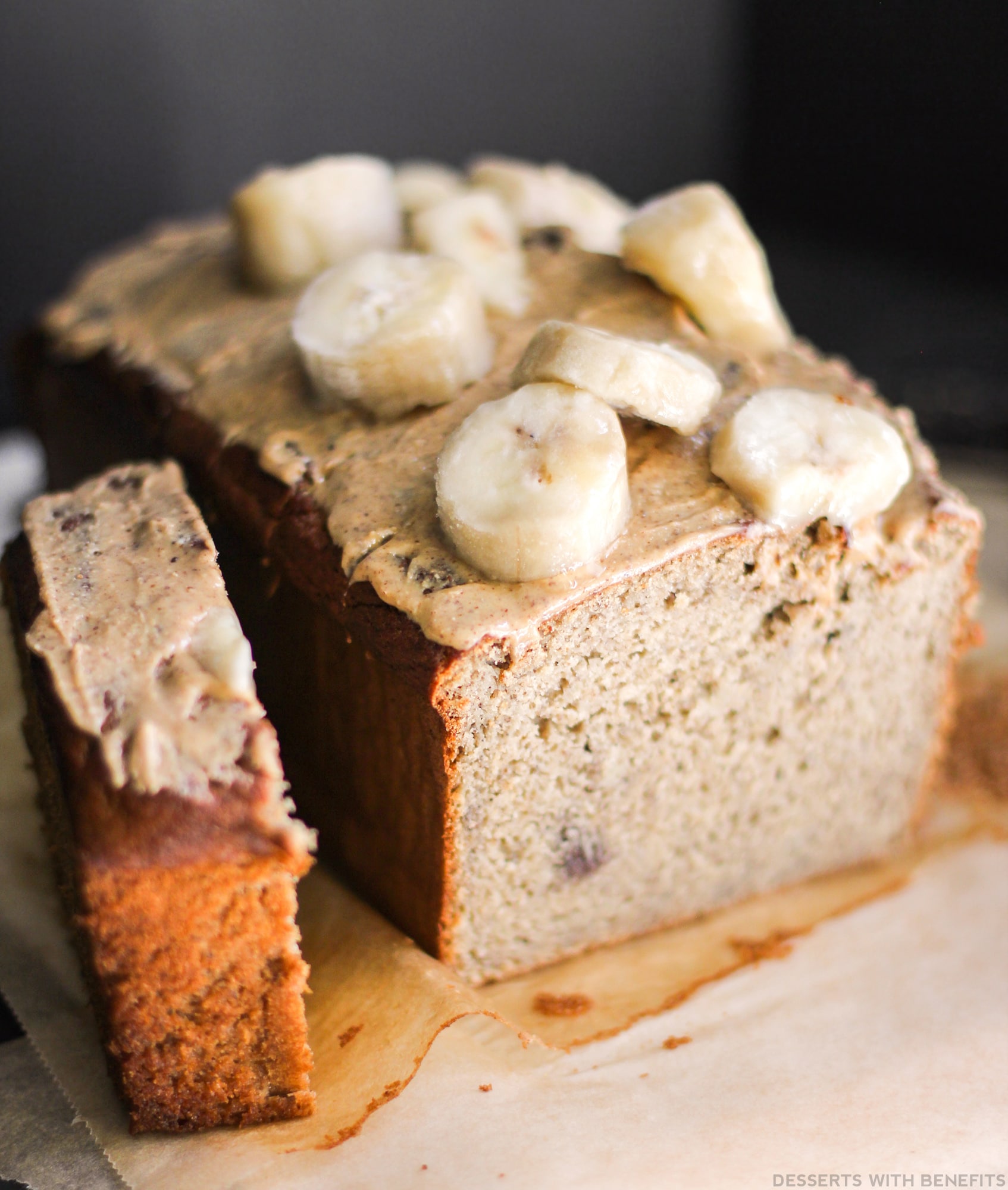 A couple months ago I was contacted by the Peanut Butter & Co. team and was asked to develop a recipe using their brand new product, Bestie® — a peanut-free nut butter line with almond butter, cashew butter, and an almond-cashew butter.  The Bestie line is non-GMO, vegan, kosher, with no added sugar.  PS:  Scroll down below to enter the Bestie giveaway!  Whoop whoop!
When I was thinking of a recipe to make, I was craving Banana Bread.  Hard.  But I didn't have any fresh bananas on hand…  because, of course, the previous day I had frozen a full set of 8 super spotty bananas.  My life just works like that alllll the time.  Just HAD to freeze 'em the day before you were gonna use them, didn't ya Jess!
*rolls eyes* 🙄
I contemplated going to the store to get fresh bananas but nah, I was too lazy, so I defrosted those recently frozen bananas and got to work.  This Healthy Banana Bread is soft and springy and moist and sweet and addictive and packed with banana flavor.  I gave half of the loaf to my parents because they were going to have a few friends over for dinner and everyone loved it.  I'm so glad my parents moved to Texas because now I can get their input (and sometimes, harsh criticism) on the baked goods I send their way.  It's all for the better, though — only the best for you guys!!
Healthy Banana Bread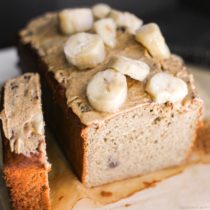 Ingredients:
Directions:
Preheat the oven to 350 degrees Fahrenheit.  Spray a 9x5" loaf pan with cooking spray and line one way with parchment paper for easy removal later.
In a medium-sized bowl, whisk together the sorghum flour, oat flour, erythritol, baking powder, cinnamon and salt.
In an electric stand mixer bowl fitted with a whisk attachment, add the almond milk, mashed bananas, Bestie nut butter, eggs, vanilla extract and stevia extract.  Mix on low speed.
Add the dry ingredients to the stand mixer and increase the mixer speed to medium.  Mix until the ingredients are fully incorporated.  Scrape down the sides of the bowl if necessary.
Pour the batter into the prepared loaf pan.  Bake for ~70 minutes, or until the surface forms a light crust and springs back when tapped.
Let cool in the pan for 1 hour, then transfer the loaf to a wire cooling rack to cool completely.  Slice and serve, or store in a tightly sealed container in the fridge for up to 4 days.
Be sure to follow @DessertsWithBenefits on Instagram!  If you try this recipe, make sure to snap a picture of it, tag me @DessertsWithBenefits, and hashtag #DessertsWithBenefits.  I'd love to see it and feature you on #FanFaveFridays!
.
Here is the recipe's nutrition label:
Does this Banana Bread make for the bestest, healthiest breakfast EVER?! 🍌🍞
Why yes, kind reader, YES IT DOES 🤓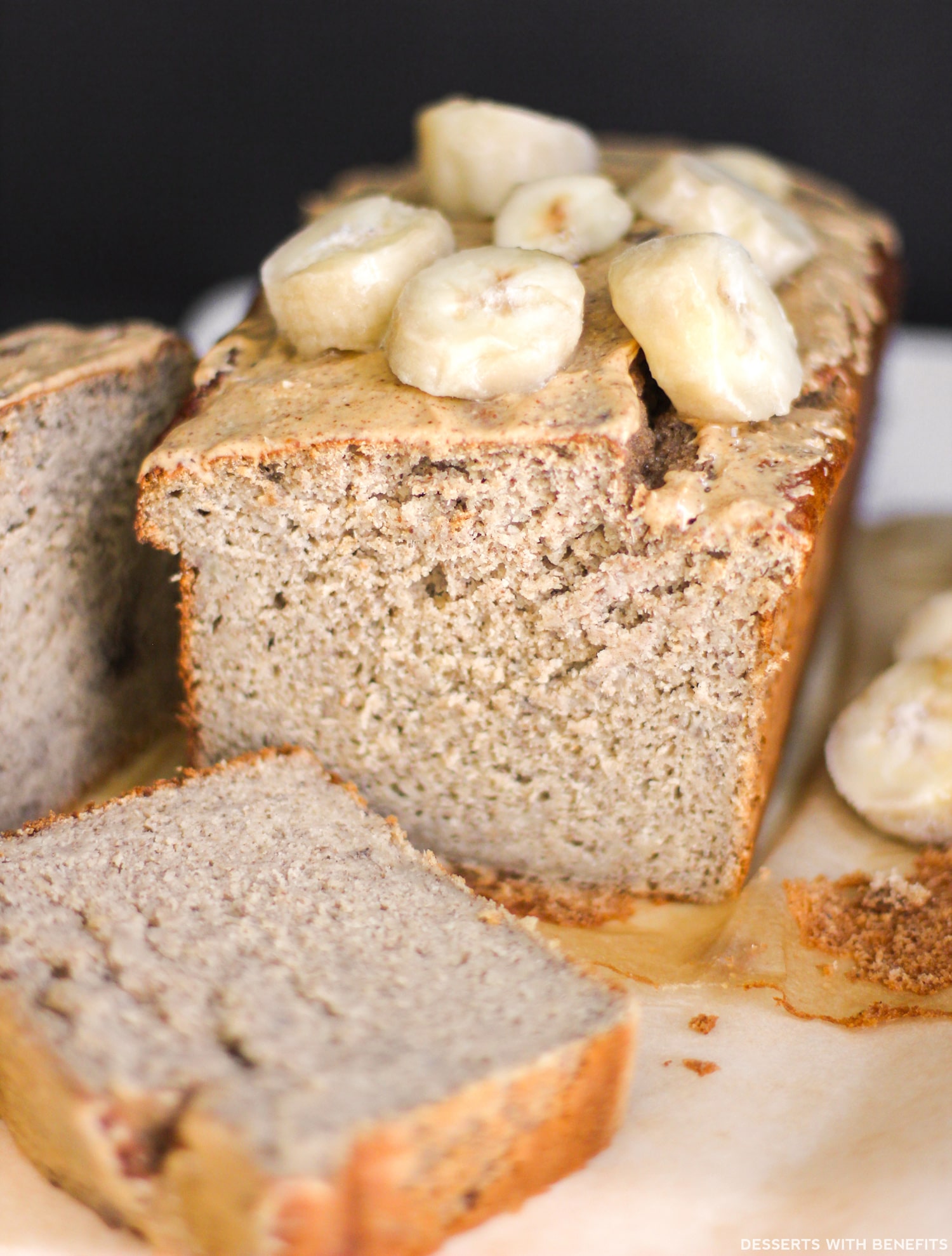 Now it's time for the giveaway.  Let's go win some NUT BUTTA!
(I'm slightly jealous of whoever wins this giveaway because you'll be getting free nut butters delivered to your doorstep. Free nut butter?! Can I come over?!)
Peanut Butter & Co.'s "Bestie" (Almond & Cashew Butter) Giveaway!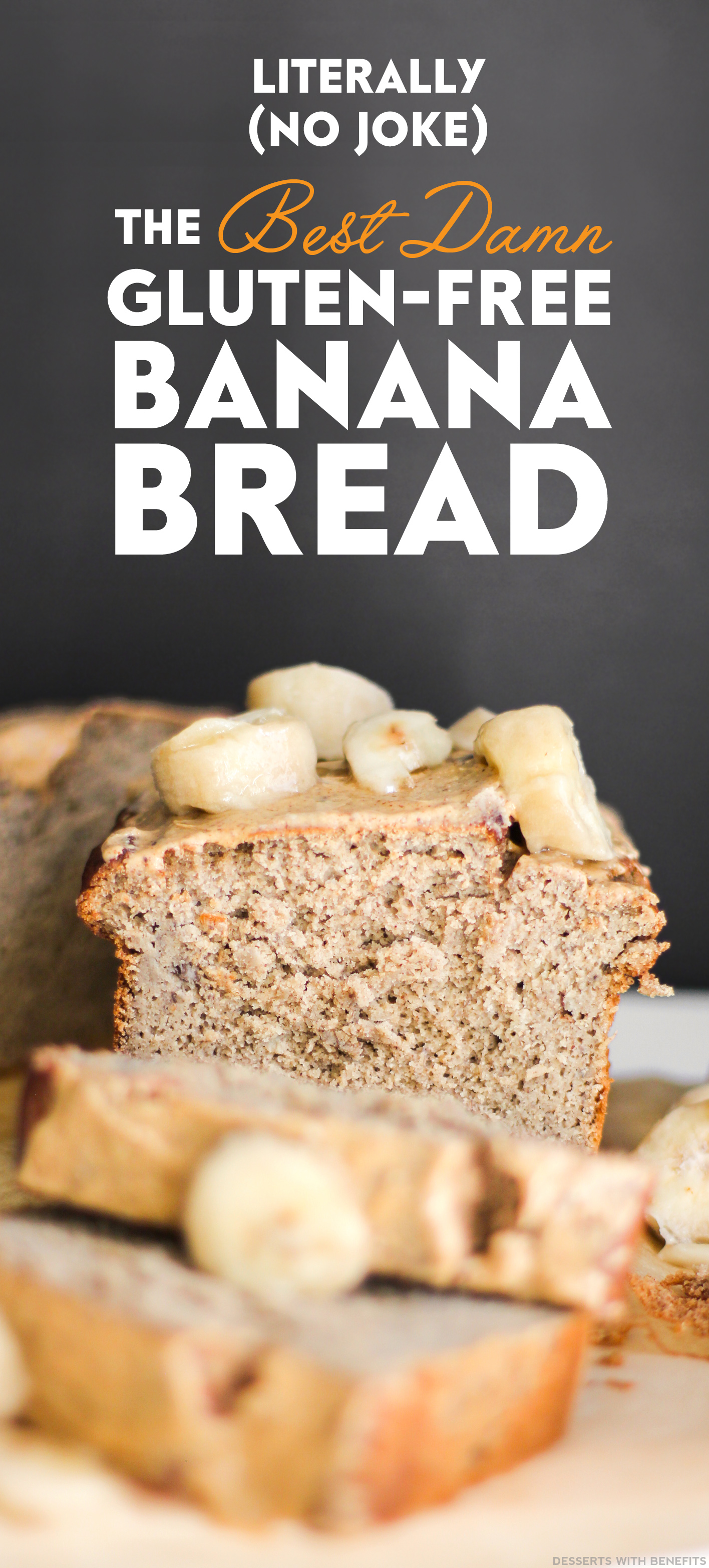 Enjoy!
.
– Jess
🎂🍴💕
.
This post was sponsored by Peanut Butter & Co.  All opinions are mine and mine alone!
Thank you for supporting the sponsors that keep Desserts With Benefits going  ☺️