Healthy Banana Bread Pound Cake
This Banana Bread Pound Cake is comfort in a slice with a hidden dose of healthy.  Oh yeah, that's right.  This is a HEALTHY Banana Bread Pound Cake!
*gasps*
After one bite you'd never believe me, but this incredibly moist, buttery, and sweet goodness is refined sugar free, low fat, high protein, and 100% whole grain.  It seriously tastes like it's from a bakery.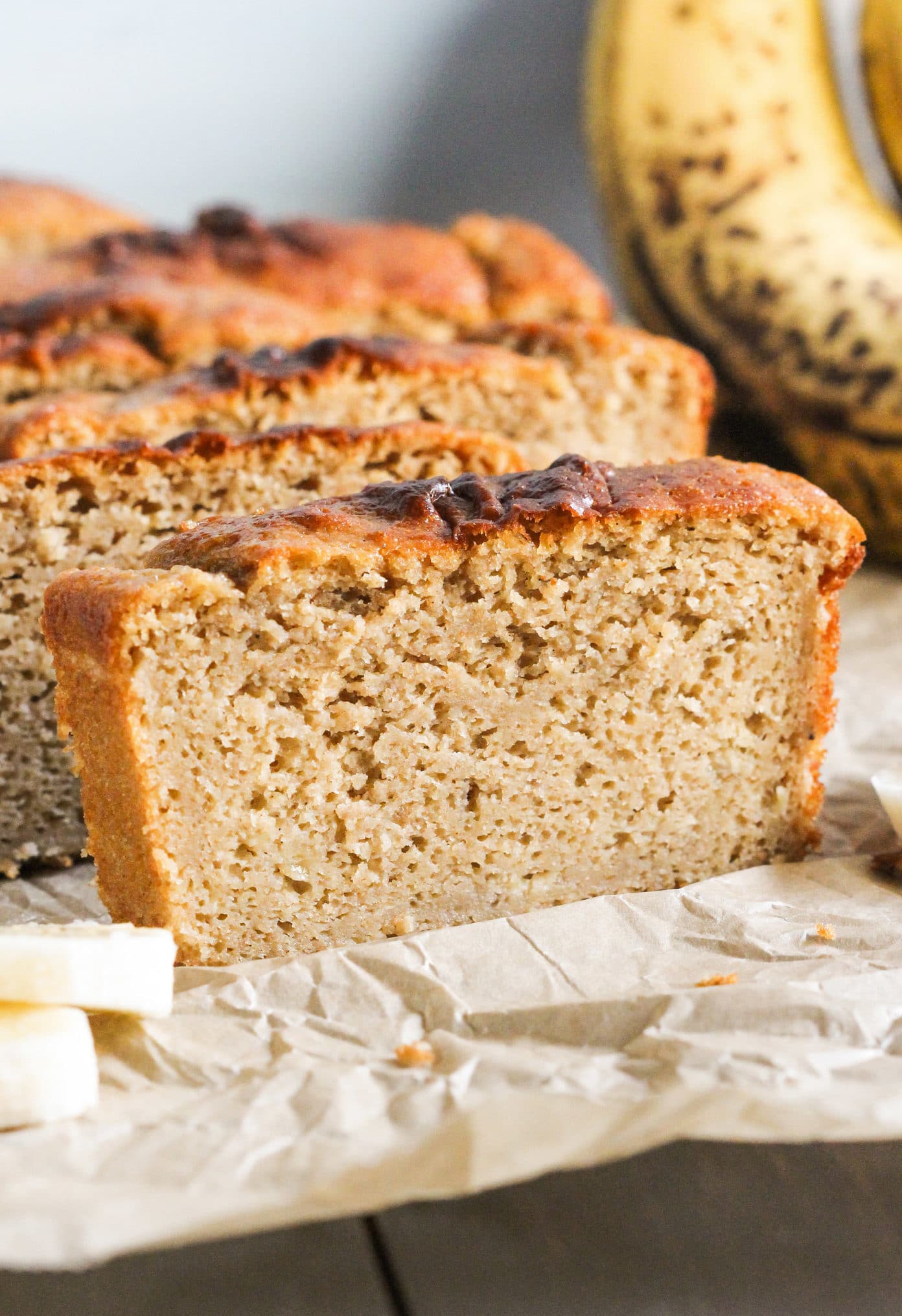 It's still hot here in Texas, but it's just starting to drop out of the 90s and 100s.  THANK THE LORD.  Because it's really no fun getting back into your sauna of a car after a quick 5-minute trip to the grocery store.
It's not even cold yet, but I'm already craving ALL the comfort foods that come along with the fall and winter.  You know, foods that you can snuggle up with on the couch in a comfy robe? 😉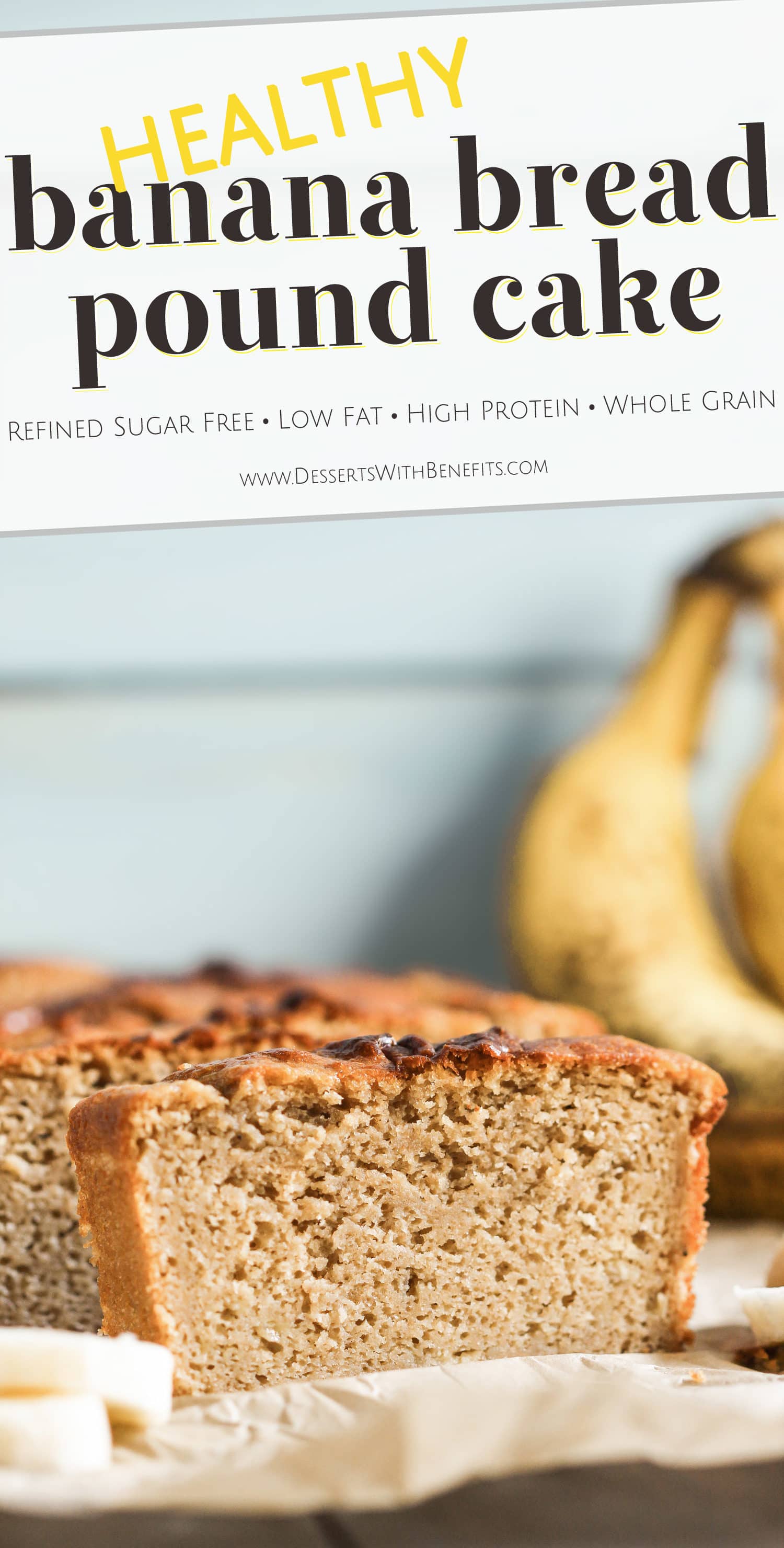 Banana Bread has been, and always will be, my choice comfort food.  But this Banana Bread Pound Cake is giving it a good run for its money.
It's just TOO. DAMN. GOOD!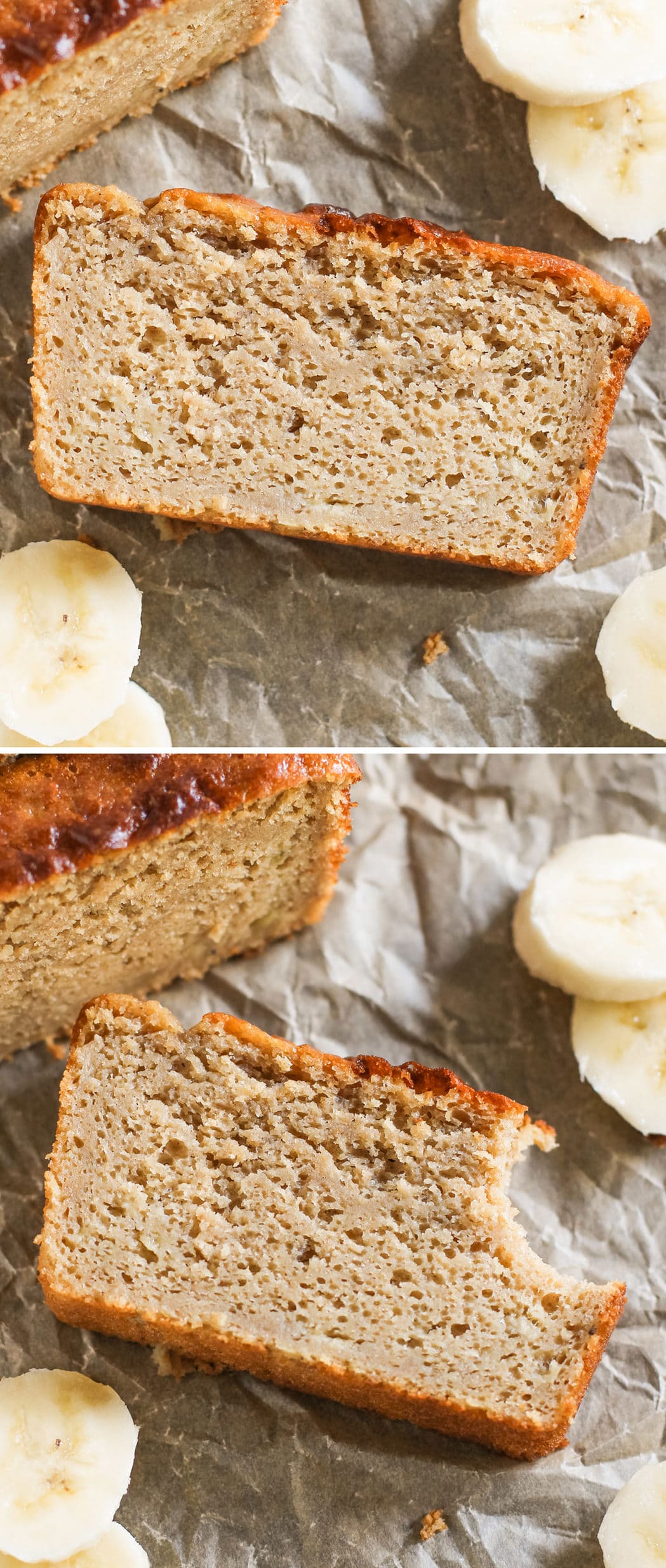 Healthy Banana Bread Pound Cake
Prep Time: 20 minutes
Cook Time: 40 minutes
Total Time: 1 hour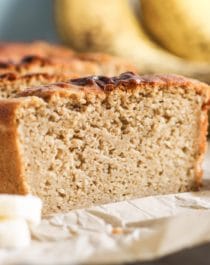 Fat per serving: 5
Calories per serving: 190
Ingredients:
Directions:
Preheat the oven to 350 degrees Fahrenheit and spray an 8×4″ loaf pan with cooking spray.
In a small bowl, whisk together the whole wheat pastry flour, protein powder, cinnamon, baking powder, baking soda, and salt.
In a large bowl, mash the bananas.
To the bananas, add the eggs, yogurt, maple syrup, oil, erythritol, stevia extract, vanilla paste, and butter flavor.  Whisk until completely combined.
Dump the dry ingredients over the wet ingredients and fold together until everything is incorporated.  Pour batter into the prepared pan and bake for ~40 minutes, or until the surface browns and springs back when tapped. Let cool in the pan for 30 minutes then transfer to a wire cooling rack to cool completely. Slice and serve!
Notes:
**Vanilla extract works too.
Store in a tightly sealed container in the fridge for up to 5 days.
All images and text ©
.
.
Here is the recipe's nutrition label:
Yes, a thick slice of this Healthy Banana Bread Pound Cake has only 190 calories and 5g of fat (just a fraction of typical storebought or homemade pound cakes).  Plus, 8g of protein and 3g of fiber, with no butter or white sugar in sight!
Just to see how this recipe stacks up to the competition, I compared the nutrition facts for my recipe to the Starbucks banana bread.  My recipe has:
230 less calories
17g less fat
24g less carbs
18g less sugar
Yeah, you can enjoy TWO slices of this Healthy Banana Bread Pound Cake and still have less calories than a single slice of Starbucks banana bread.
A guilt free treat?  Totally.
.
With love and good eats,
.
– Jess
.