Healthy Vanilla Protein Ice Cream
Ice cream.  ICE CREAM.  IIICCEE CRREEEEAAAAAMM!!!  Sorry, I'll try to contain myself from now on, I'm just a little (read: extremely) excited to share this recipe.  Vanilla Bean Ice Cream is an all-time classic…  and now it's been made totally, utterly, and completely guilt-free with this Healthy Vanilla Protein Ice Cream recipe.  This sweet and creamy, mouthwatering amazingness is refined sugar free, low carb, low fat, and high protein, but you would NEVER ever ever suspect it.  Ohhhh yes.
I worked pretty darn hard to perfect this recipe.  It required three trials to get just the right flavor, texture, and amazing nutrition label.  But it was so, so worth it.

In my first trial, I tried to make a no-churn ice cream by blending all of the ingredients in a blender, pouring everything into a ceramic loaf pan, then freezing until firm.  Sadly, it froze into a rock hard brick, and even after thawing it for a while, each scoop was super icy and crystallized.
In the second trial, I gave up on the no-churn ice cream idea and used my ice cream maker.  The texture was spot on, but it wasn't flavorful enough and could be a bit sweeter.
In the third (and final) trial, I added more stevia extract and some more Homemade Vanilla Paste.  To achieve that "true" ice cream flavor, I also added a tiny bit of butter flavoring.  My first bite?  FOODGASM ON A SPOON.
This Healthy Vanilla Protein Ice Cream is delectable all on its own, sandwiched in between two Peanut Butter Oatmeal Cookies, on top of a warm slice of Citrus Pound Cake, added to a Red Velvet Smoothie to transform it into a milkshake, or served alongside some Homemade Maraschino Cherries!  No matter how you serve this sugar free ice cream, you'll be glad you did.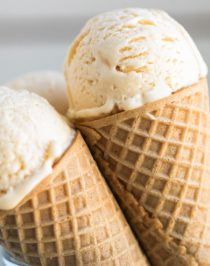 Print Recipe
Pin Recipe
Healthy Vanilla Protein Ice Cream
This Vanilla Protein Ice Cream is sweet, creamy, mouthwatering amazingness! Oh, and it's refined sugar free, low carb, low fat, and high protein too!
Instructions
In a blender, add the yogurt, milk, vanilla paste, stevia extract, and butter flavor. Blend until smooth.

In a small bowl, whisk together the protein powder, xanthan gum, and salt.  With the blender running, slowly add in the dry ingredients.  Blend until smooth.

Place the frozen ice cream maker attachment onto the stand mixer and turn on the "stir" speed. Pour ice cream mixture into the ice cream bowl and churn until soft-serve consistency.

Transfer the ice cream into a freezer-safe dish. Cover and freeze until it's the texture you prefer (~3-5 hours). Serve and enjoy!
Recipe Notes
After freezing solid, I find the best way to "thaw" the ice cream is in the fridge for a couple hours, rather than sitting on the counter or some time in the microwave.
Nutrition Facts
Healthy Vanilla Protein Ice Cream
Amount Per Serving (1 cup)
Calories 150
Calories from Fat 5
% Daily Value*
Fat 0.5g1%
Cholesterol 20mg7%
Sodium 180mg8%
Carbohydrates 10g3%
Protein 24g48%
Vitamin A 100IU2%
Calcium 250mg25%
* Percent Daily Values are based on a 2000 calorie diet.
WHHHHAAAT?!?!?!?  CAN YOU BELIEVE IT???  Only 150 calories, .5g fat, and 10g of carbs PER CUP!
Did you know that typical storebought ice cream has 500 calories per cup?  Yeah, for real…  compared to 1 cup of Ben & Jerry's Vanilla Ice Cream, 1 cup of my Healthy Vanilla Protein Ice Cream has:
350 less calories
31.5g less fat
31g less sugar
16g more protein
I really couldn't ask for more.  Actually yes, I could — I could most certainly ask for another bowl full of this Healthy Vanilla Protein Ice Cream.
If you stopped buying ice cream from the grocery store, you sure won't be missing out on anything with this Healthy Vanilla Protein Ice Cream — it's perfectly scoopable and totally creamy, just like storebought ice creams.
The only difference is that this heavenly goodness is made without the added sugar, heavy cream, and eggs.  BOOM.

Enjoy!
.
With love and good eats,
.
– Jess
.