Healthy Homemade Rainbow Sprinkles and Confetti
SPRINKLES.   You can use them to top anything.  Anything sweet I mean, like ice cream, cupcakes, donuts, etc. (I don't think these would go too well sprinkled over pasta 🤔).  Too bad the storebought kinds are full of sugar, starch, hydrogenated oil, and artificial food coloring.  That's why I made these Healthy Homemade Rainbow Sprinkles and Confetti — these are naturally colored, sugar free, fat free, gluten free, and vegan!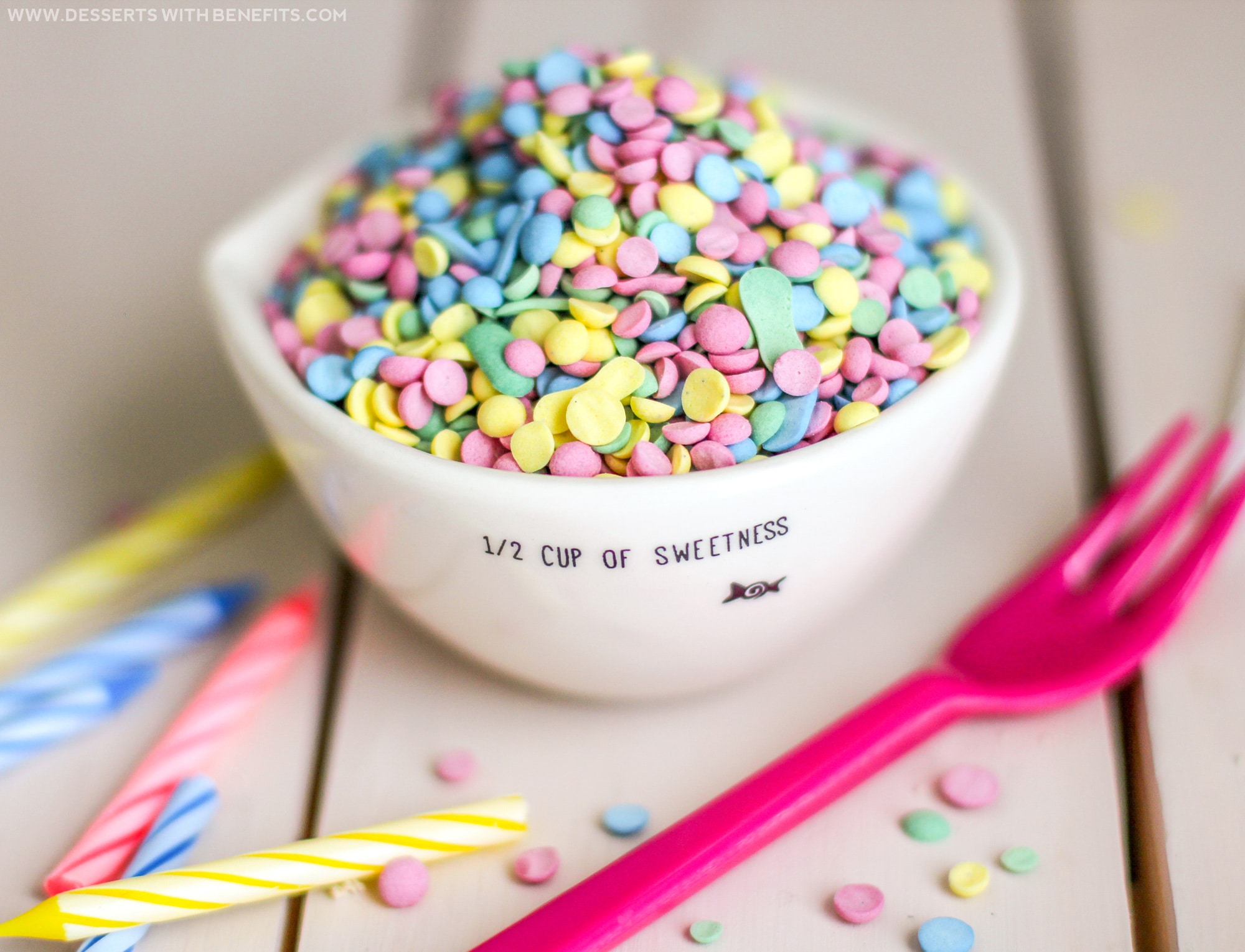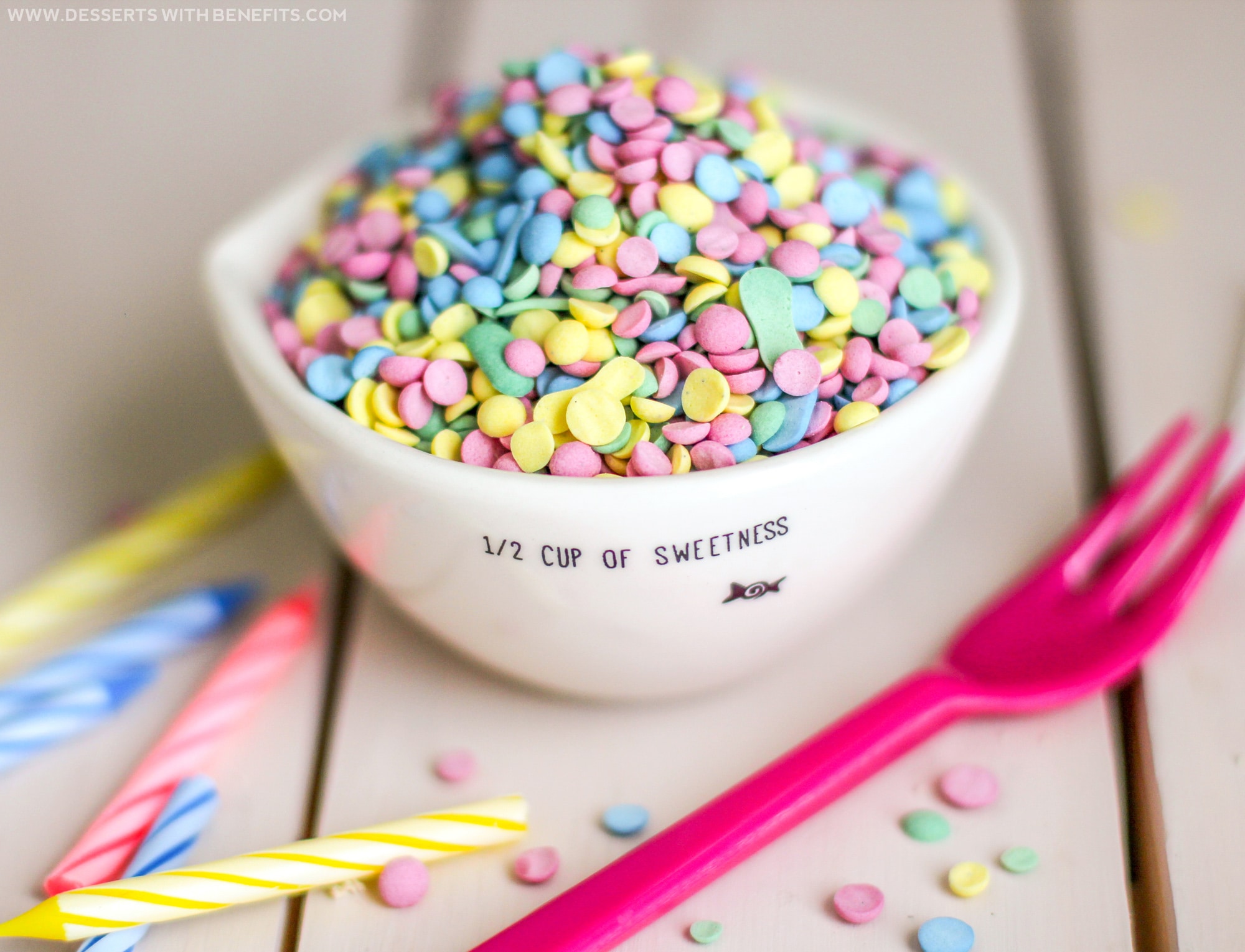 I must admit, I had/have a slight obsession with sprinkles.  In high school, every Monday my mom would bring me to Dunkin Donuts after school.  I would get the strawberry frosted donut with sprinkles and that donut ONLY.  If they were out of stock, and just had the strawberry frosted donut withOUT sprinkles, then there was no donut for me.  Yeah, I was fussy 😒
Sprinkles make food fun and exciting.  But too bad the storebought kinds are so bad for you.  Just look at Mr. Sprinkles' ingredients:
Yum!
NOT. 😡
Skip out on the sugar, trans fats, and dangerous artificial food colorings, and make a batch of these Homemade Rainbow Sprinkles and Confetti ASAP.  While it's a tedious task, these sprinkles and confetti are surprisingly fun to make.  And they're obviously super cute!  You'll be tossing 'em into everything sweet you eat ☺️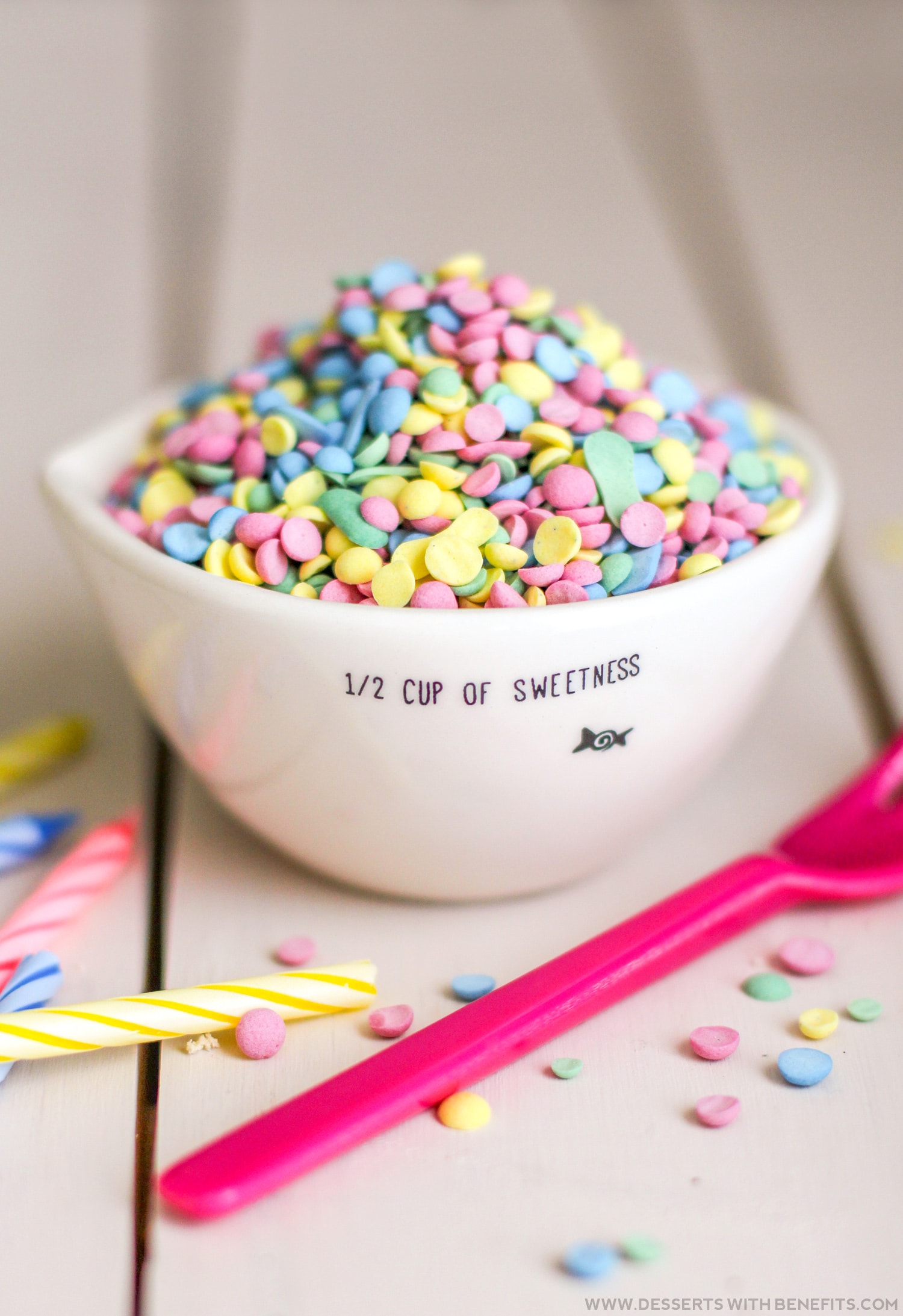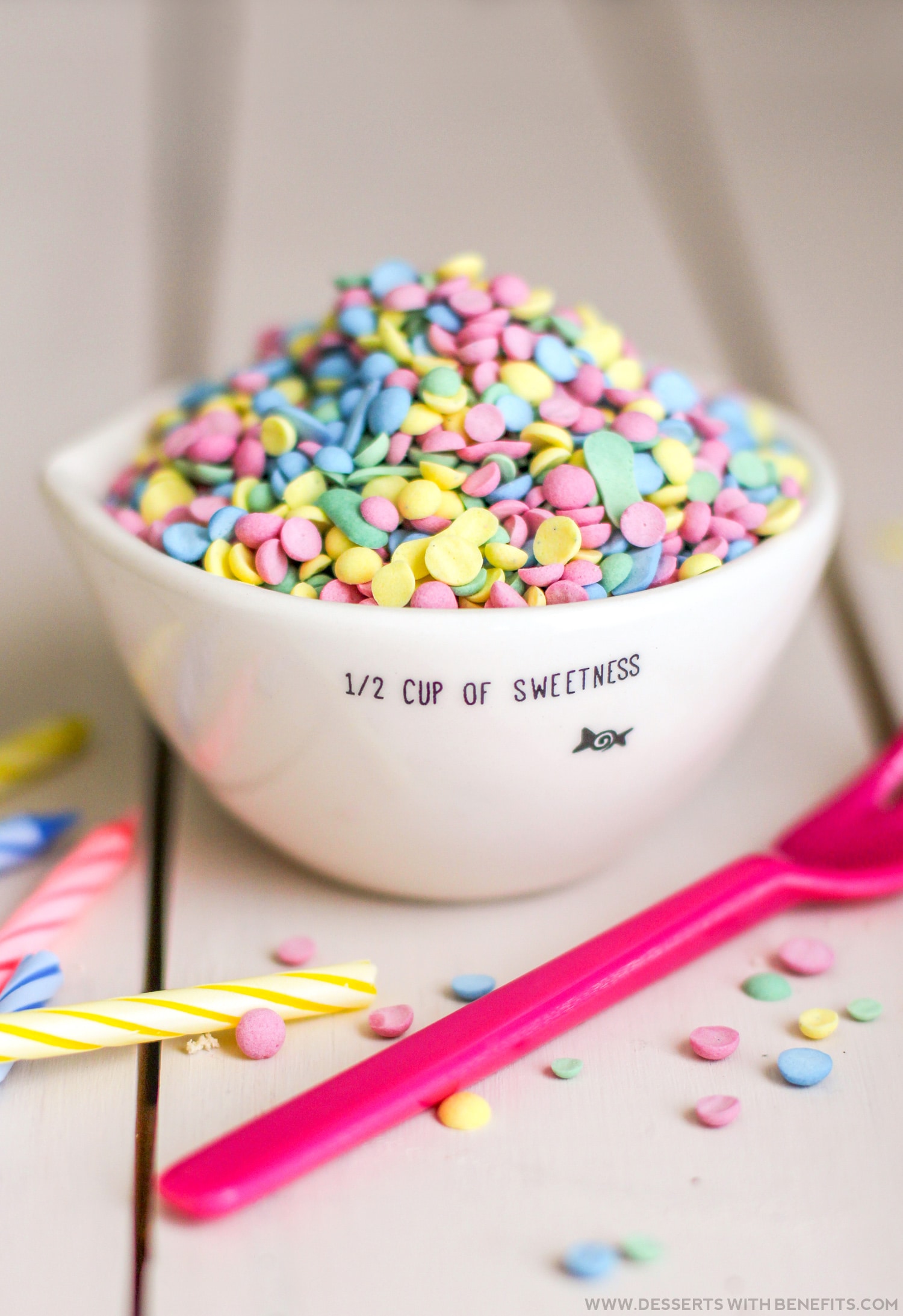 Healthy Homemade Rainbow Sprinkles and Confetti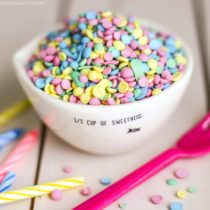 Ingredients:
Arrowroot Starch
Salt
Water
Directions:
You can find the full recipe and instructions in the Naughty or Nice Cookbook!  I originally wasn't going to share the recipe here because I worked so incredibly hard on publishing Naughty or Nice.  But, I understand not having a recipe here can be frustrating.  So, I'll meet you halfway...  how does that sound?  I'll show you all the ingredients I use in the recipe.  That way, you can determine on your own whether or not the cookbook is for you!
Notes:
**I've made these sprinkles and confetti for YEARS now, and have had to change the natural food colorings I use a few times, between Natures Flavors and
India Tree
.  I used to use Natures Flavors food colorings because they were the most cost efficient (you get big bottles for the same price as India Tree's teeny tiny bottles).  However, Natures Flavors products are 
made to order
, meaning that some batches are better/worse than others.  I've gotten food coloring that was super vibrant, and other times, the coloring faded during baking and didn't provide the sprinkles the best color.  While India Tree is damn expensive, they're product seems a bit more reliable when it comes to color.
I originally posted a Homemade Rainbow Sprinkle/Confetti recipe back in 2013, which I'm providing here for ya below (
Note
:  this is not the new and improved recipe that is published in my 
cookbook
):
150g Powdered Erythritol
24g Organic Corn Starch
1/4 tsp Salt
1/4 cup Unsweetened Vanilla Almond Milk
1 tsp Vanilla Paste
Natural Food Coloring
Be sure to follow @DessertsWithBenefits on Instagram!  If you try this recipe, make sure to snap a picture of it, tag me @DessertsWithBenefits, and hashtag #DessertsWithBenefits.  I'd love to see it and feature you on #FanFaveFridays!
.
I've made these sprinkles and confetti soooo many times, I documented a few of the batches below:
1st batch: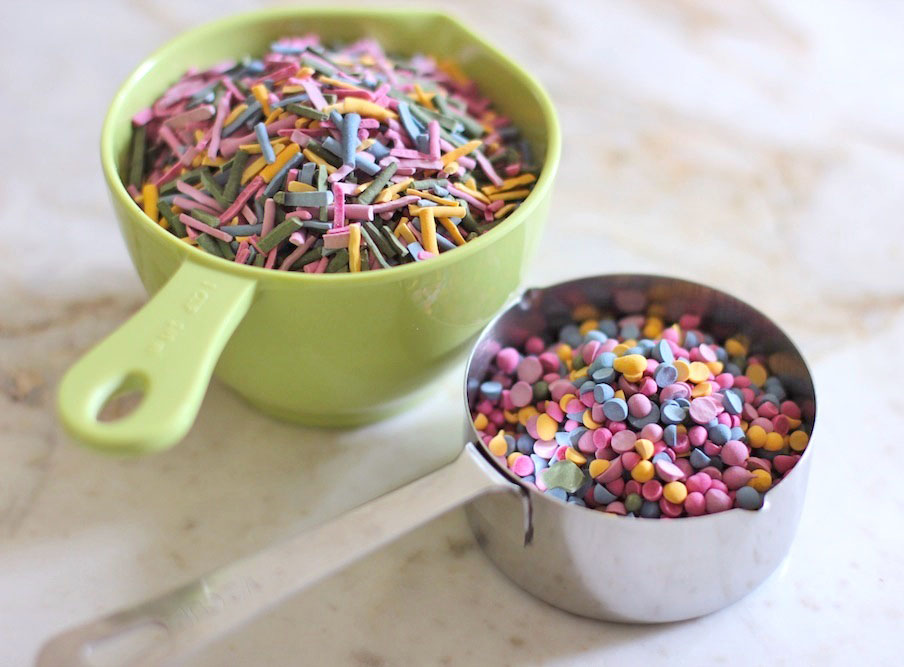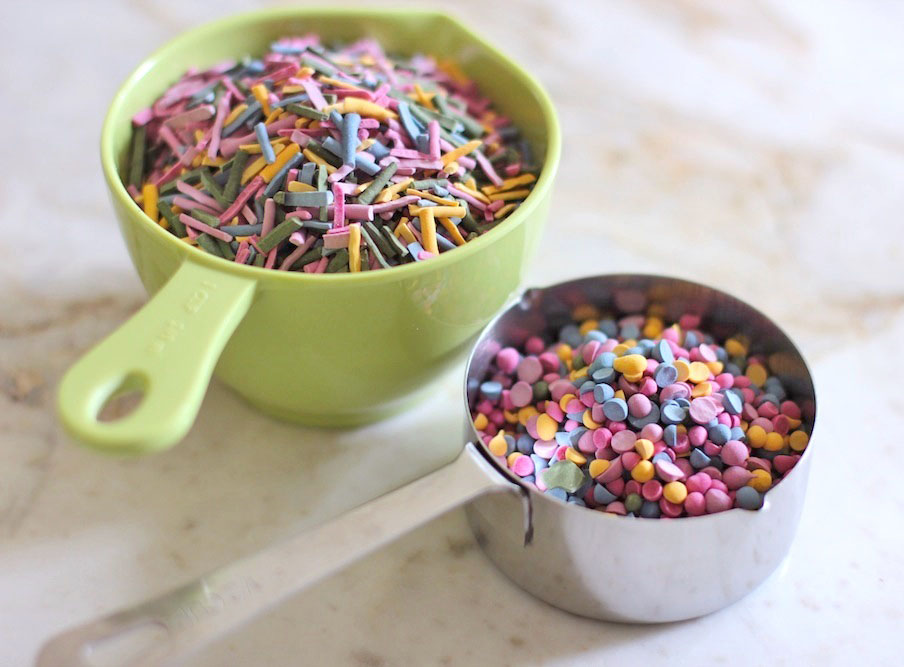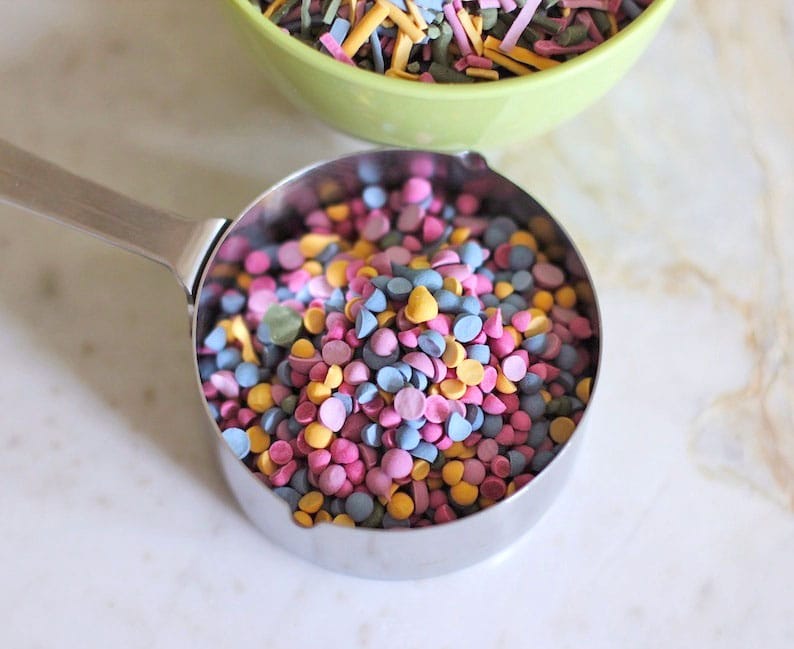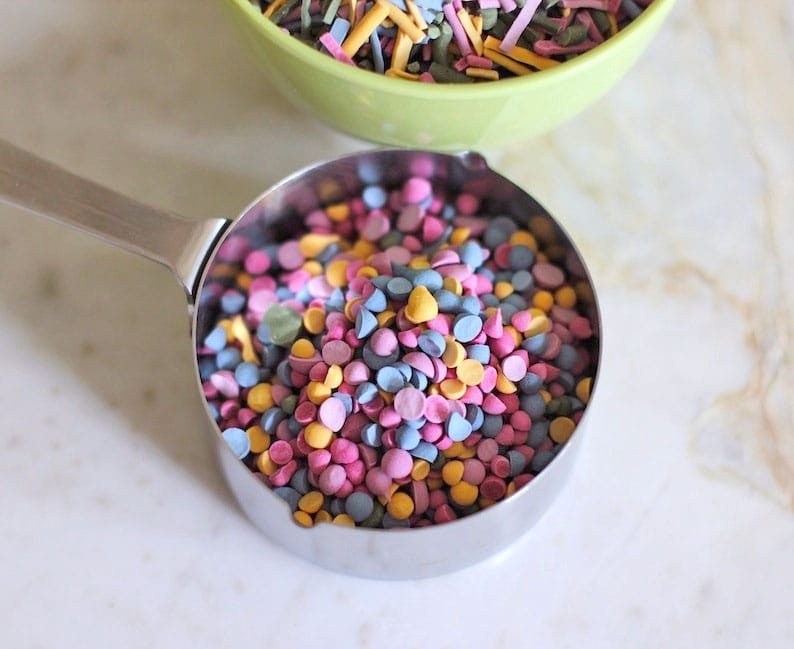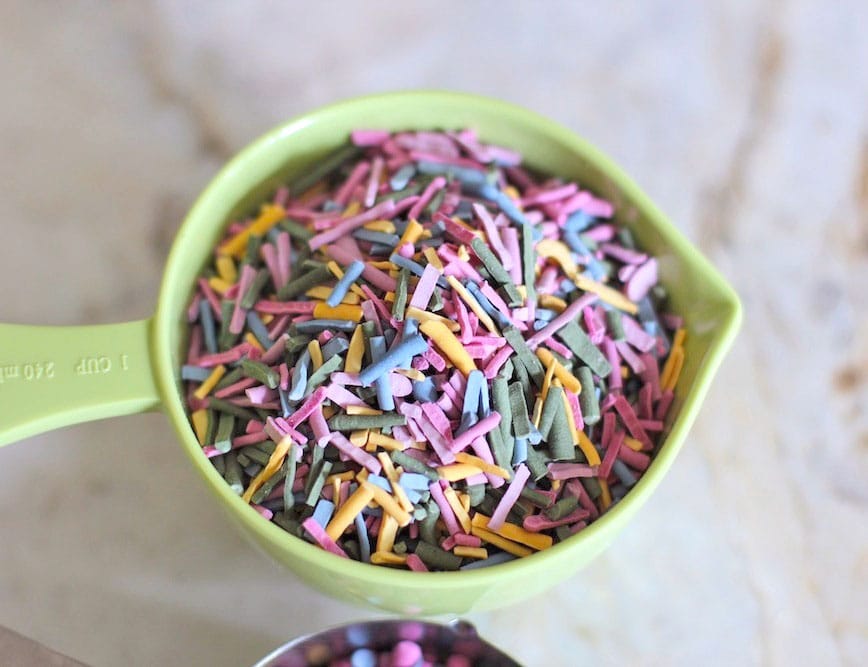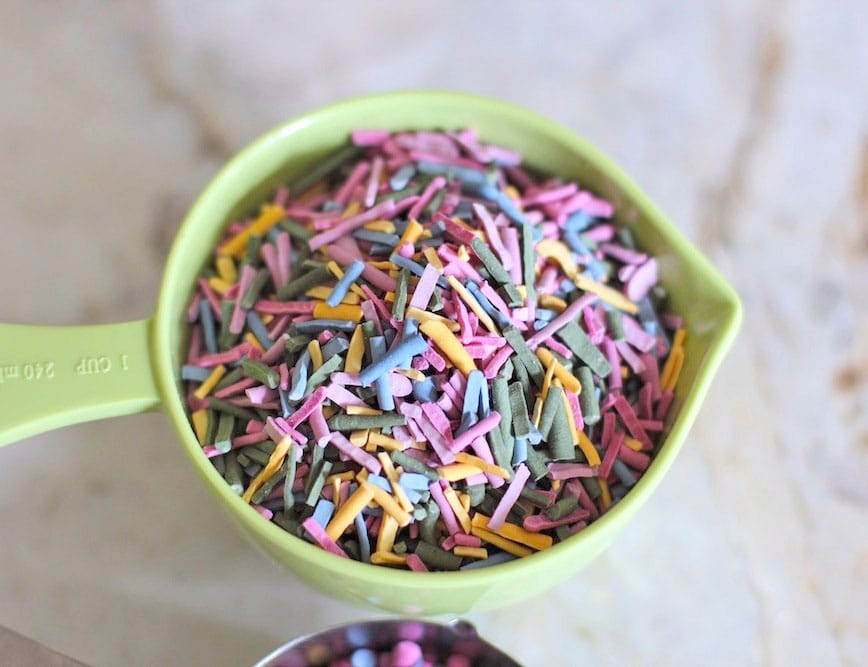 .
4th batch: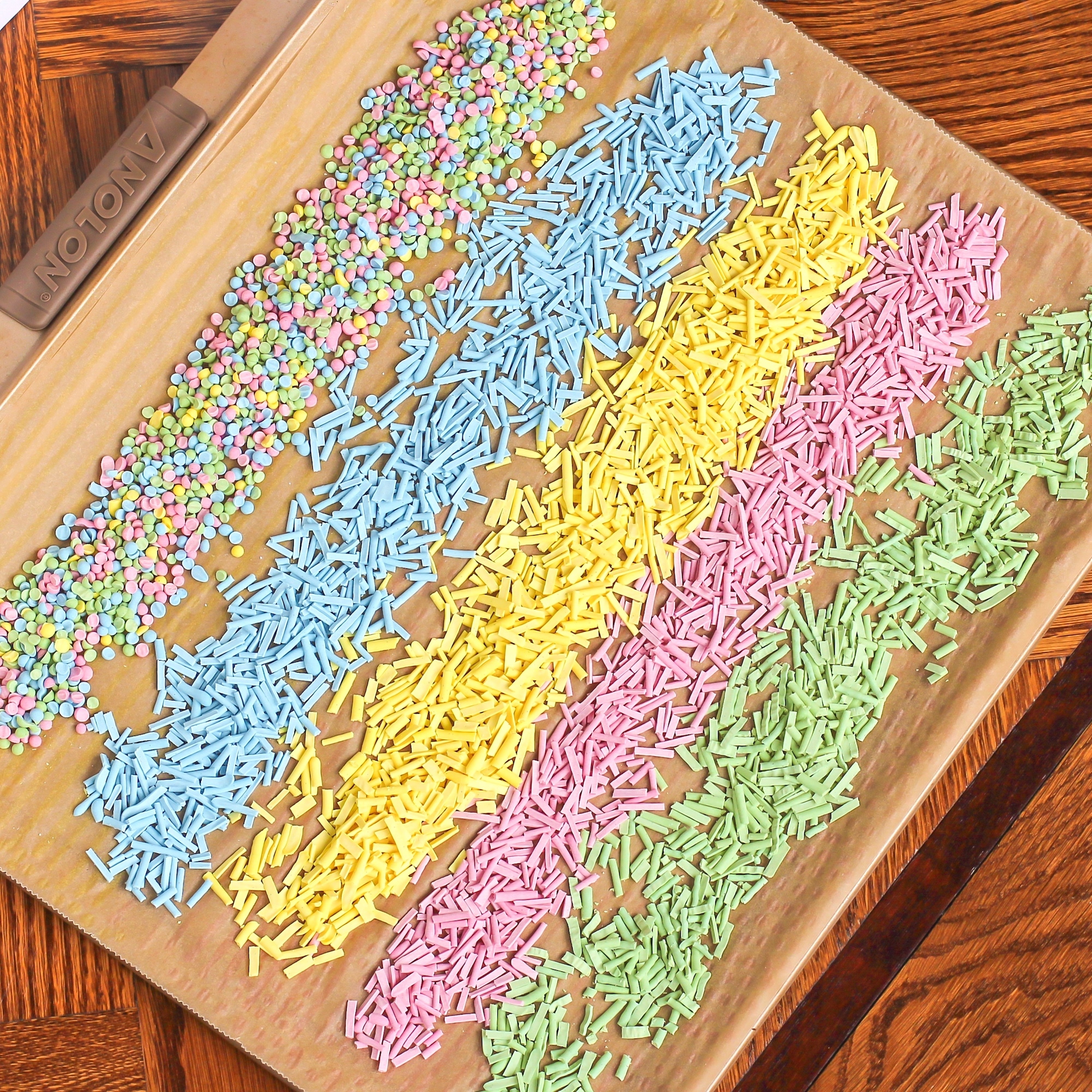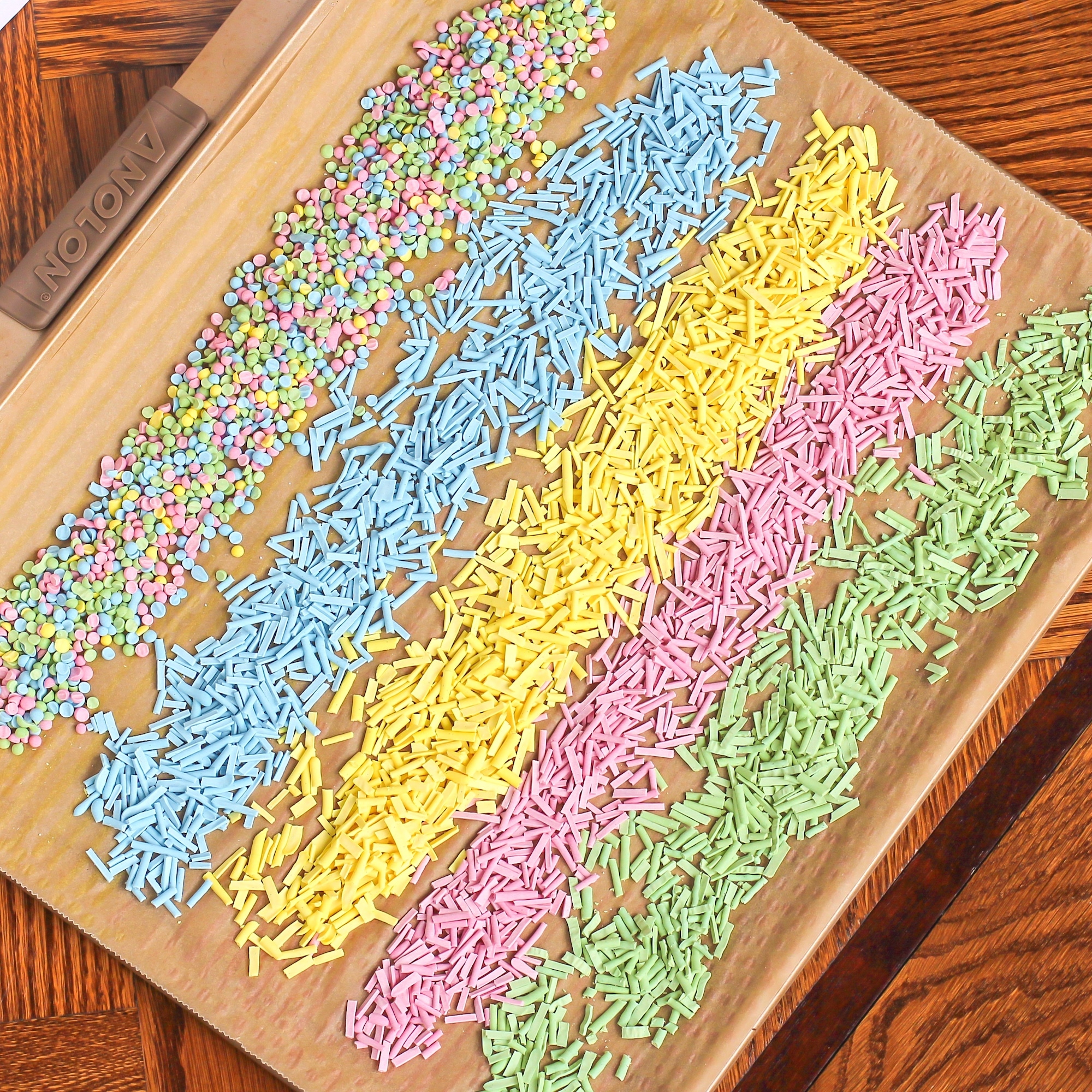 .
6th batch: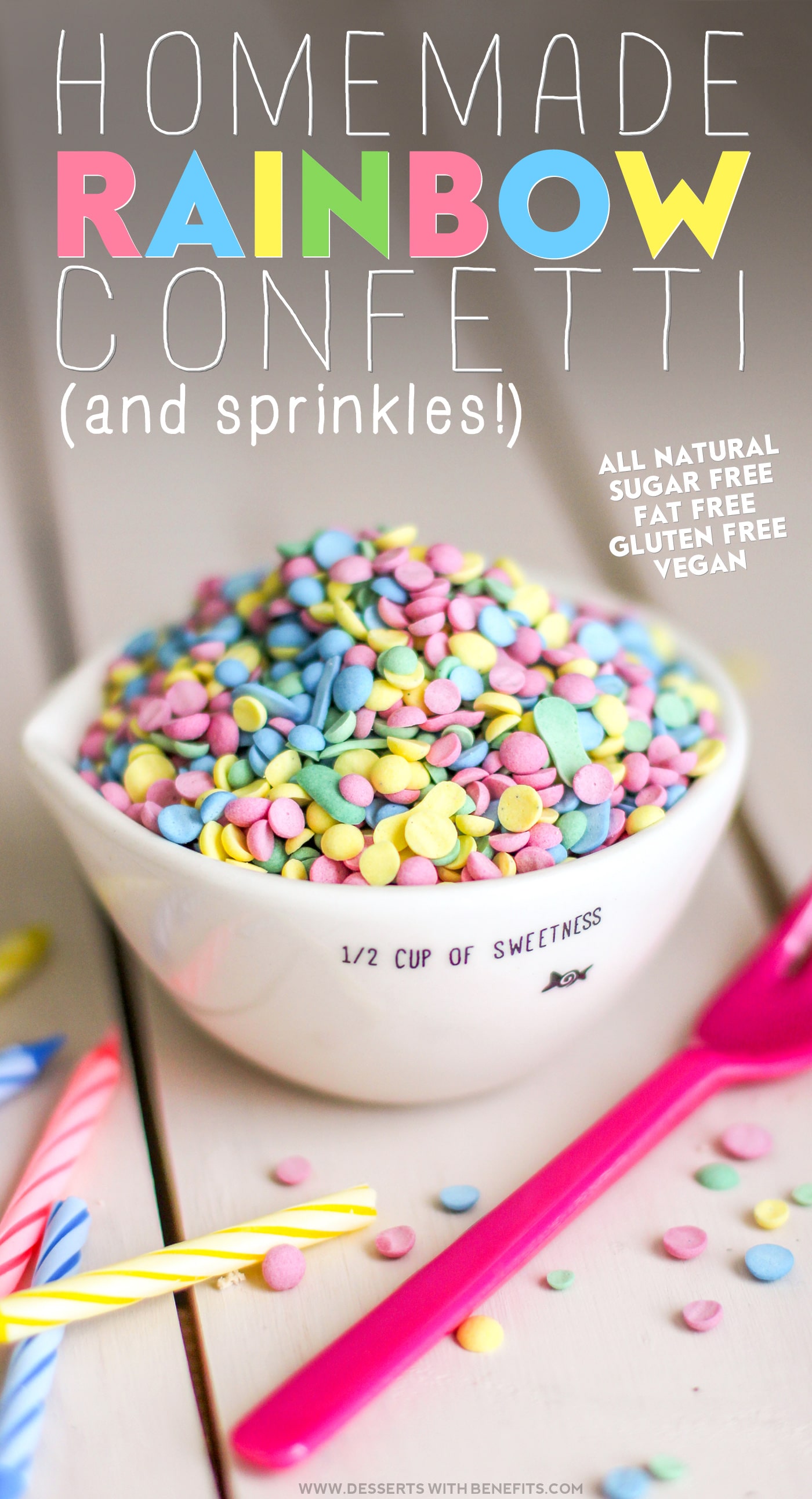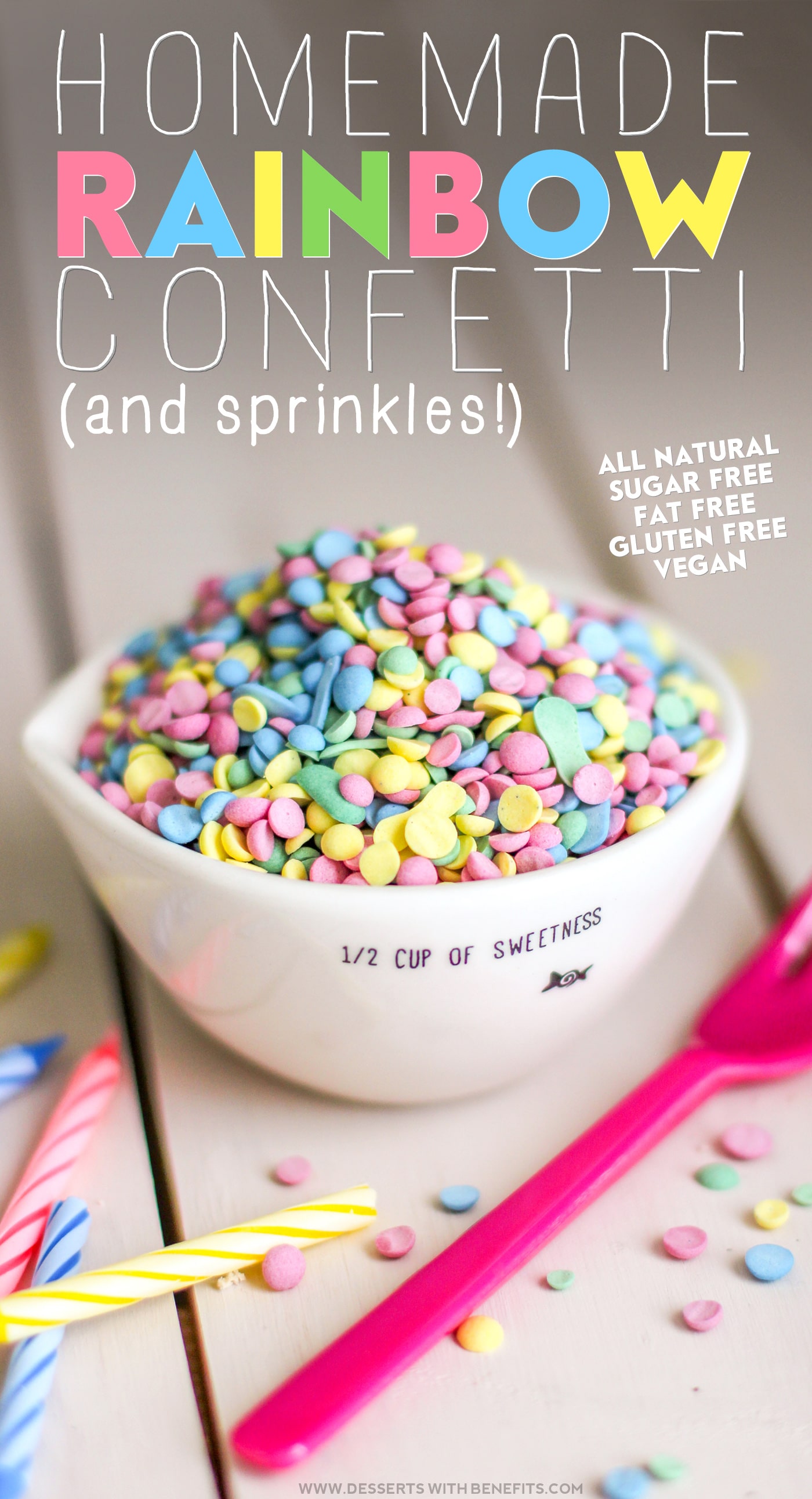 I know I totally have a bias opinion, but c'mon, these Homemade Rainbow Sprinkles and Confetti are the way to go!  We can all agree that everything is better with a drizzle of chocolate (duh), but now we can say everything is better with a sprinkle of homemade confetti 😎👌