Healthy Cake Batter Milkshake
I was craving cake all last week the other day but I wasn't all into the idea of using the oven…  every time I use it the temperature in my apartment goes up 5+ degrees (!!!) and it's already hot as *bleep* enough as it is.  So, I made a nice and creamy Cake Batter Milkshake instead!
It has all the flavor of a slice of Vanilla Cake just in drinkable form — no mixing, no baking, and no waiting necessary.  And best of all, no need to deal with the apartment turning into a sauna  😉
It all started with a bottle of kefir I bought on a whim…
I polled everyone on my Instagram asking whether or not they've tried kefir.
51% voted yes.
49% voted no.  Close call!
I then asked what I should make with it.
32% voted Pumpkin Overnight Dessert Oats.
68% voted Cake Batter Milkshake.
Cake Batter Milkshake it is!  🙂
So I pulled my blender out and got started.
This Cake Batter Milkshake tastes just like a slice of cake, but without all the nasty ingredients — no bleached all purpose flour, no refined sugar, and no butter!
This milkshake is incredibly thick, sweet and creamy, just like a regular milkshake, but it doesn't have any sugary ice creams, artificially flavored syrups or your entire RDI for calories, fat and carbs!
It's about time we have our cake and drink it too  😉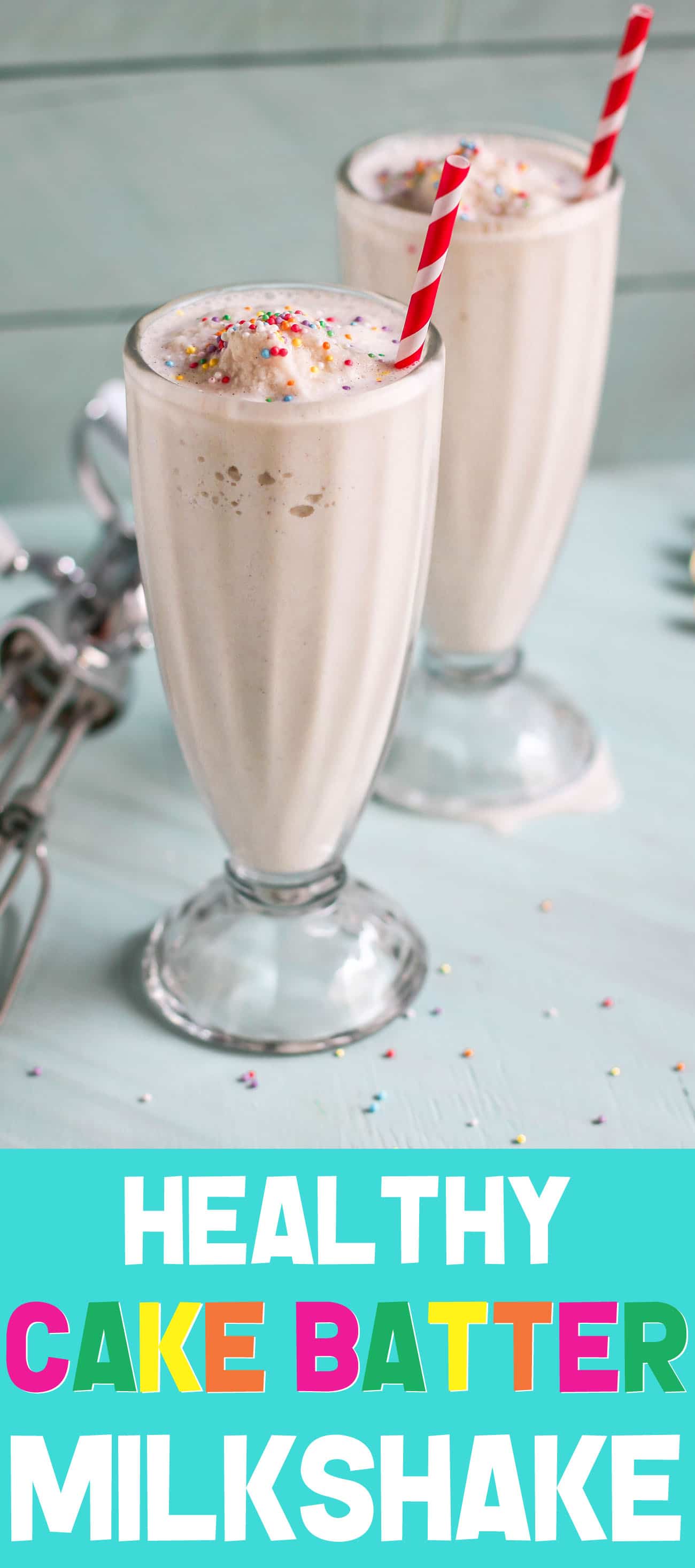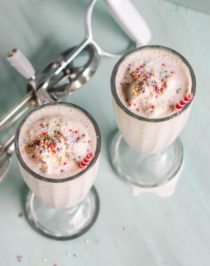 Print Recipe
Pin Recipe
Healthy Cake Batter Milkshake
Instructions
Add all of the ingredients to a blender (I used my

Vitamix

) and puree until smooth. Give it a taste and add sweetener/ice/etc. to taste.

Pour into serving glasses. Serve with natural whipped cream (avoid brands that use hydrogenated oils, I use Soyatoo rice whip) and natural rainbow confetti, or straws alone!
Recipe Notes
*I used Wallaby Organic.  Or you can use 1¼ cups Plain, Nonfat Greek Yogurt + ¾ cup Unsweetened Vanilla Almond Milk.
**Or you can make Homemade Confetti!
Nutrition Facts
Healthy Cake Batter Milkshake
Amount Per Serving (1 serving)
Calories 140
Calories from Fat 27
% Daily Value*
Fat 3g5%
Cholesterol 15mg5%
Sodium 100mg4%
Carbohydrates 21g7%
Protein 8g16%
Calcium 200mg20%
Iron 1.1mg6%
* Percent Daily Values are based on a 2000 calorie diet.
A Cake Batter Milkshake with only 140 calories??  Not too shabby!  I could have sworn it had, like, 1,400…  suuure tasted like it.

When you're craving cake but don't want to go through the hassle of baking, make this Cake Batter Milkshake! It's secretly sugar free, low fat, high protein, and gluten free too, made with kefir (or yogurt), oats, vanilla, and a couple secret ingredients that make it taste just like vanilla cake in drinkable form.
Enjoy!
.
With love and good eats,
.
– Jess
.