Healthy Vanilla Cake with Vanilla Bean Cream Cheese Frosting
This super moist Low Carb and Gluten Free Vanilla Cake is incredibly sweet and just plain addictive!
I've never tasted a cake as good as this before in my life…  words cannot even BEGIN to describe this cake.  I wish I could just hand you a slice right now through the screen so you could taste it for yourself, but uh, technology hasn't caught up with that yet.
But seriously though, you really need this in your life.  ASAP.
This cake honestly took my breath away.  I was so shocked at how similar it tasted to the boxed mixes from the grocery store and the prepared cakes you can buy from a bakery.  It tastes like it's stuffed with sugar and packed with butter, but it's sugar-free and butter-free…
!!!!
YES.
Oh, and surprise, surprise, this cake was a success on my first trial!  I usually need to bake a bajillion trial and error cakes to get the right texture and the right flavor, but not this one.  Probably because I based this recipe off the chocolate version, but still…  I'm impressed by my (usually totally suckish) baking skills  
Anyways, enough about me and more about the cake.
The cake itself is soft with a moist crumb, and it's packed with a delicious, sweet vanilla flavor.
The frosting is above and beyond what I ever expected — it's thick, it's rich, it's uber sweet and, just like the cake, it's 100% vanilla-y.  You can even see all the vanilla beans speckled throughout!
One bite will lead to two bites, and that'll lead to like, the thirtieth bite.  It's THAT good, and it's THAT healthy.  You can't possibly feel guilty about eating this cake.
Each bite and you'll swear that the cake you're eating is packed with sugar and butter and white flour, but nopity nope nope nope  
I totally ate way more than my "cake quota" this week.  But, this cake is 100% healthy and totally nutritious, so do I feel bad?  Nope.  Not one bit.  Why the bleep would I feel bad about indulging in this (secretly) guilt-free cakey deliciousness??
Did I mention that I ate this cake for breakfast?  Yes, it's super sweet and totally dessert-worthy, but in my book, that's what makes for a good great pretty damn awesome breakfast.  Just thought I'd let you know, becaaauusseee I'm sure you'll do the same  
PS:  It's great with coffee.
.
Healthy Vanilla Cake with Vanilla Bean Cream Cheese Frosting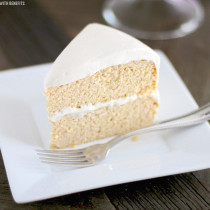 Ingredients:
Coconut Flour
Granulated Erythritol
Baking Powder
Salt
Unsweetened Applesauce
Unsweetened Vanilla Almond Milk
Plain, Nonfat Greek Yogurt
Organic Eggs and Egg Whites
Vanilla Paste
Stevia Extract
Natural Butter Flavor
Directions:
Notes:
I originally wasn't going to share the recipe here because I worked so incredibly hard on publishing 
Naughty or Nice
.  But, I understand not having a recipe here can be frustrating.  So, I'll meet you halfway...  how does that sound?  I'll show you all the ingredients I use in the recipe.  That way, you can determine on your own whether or not the cookbook is for you!