Healthy Yellow Cake with Chocolate Frosting
This sweet and buttery Yellow Cake is so light, fluffy, and moist, you'd never know it's sugar free, low fat, gluten free, and dairy free too!  And as a surprise bonus, it's only 120 calories per slice!
*jaw drops to floor*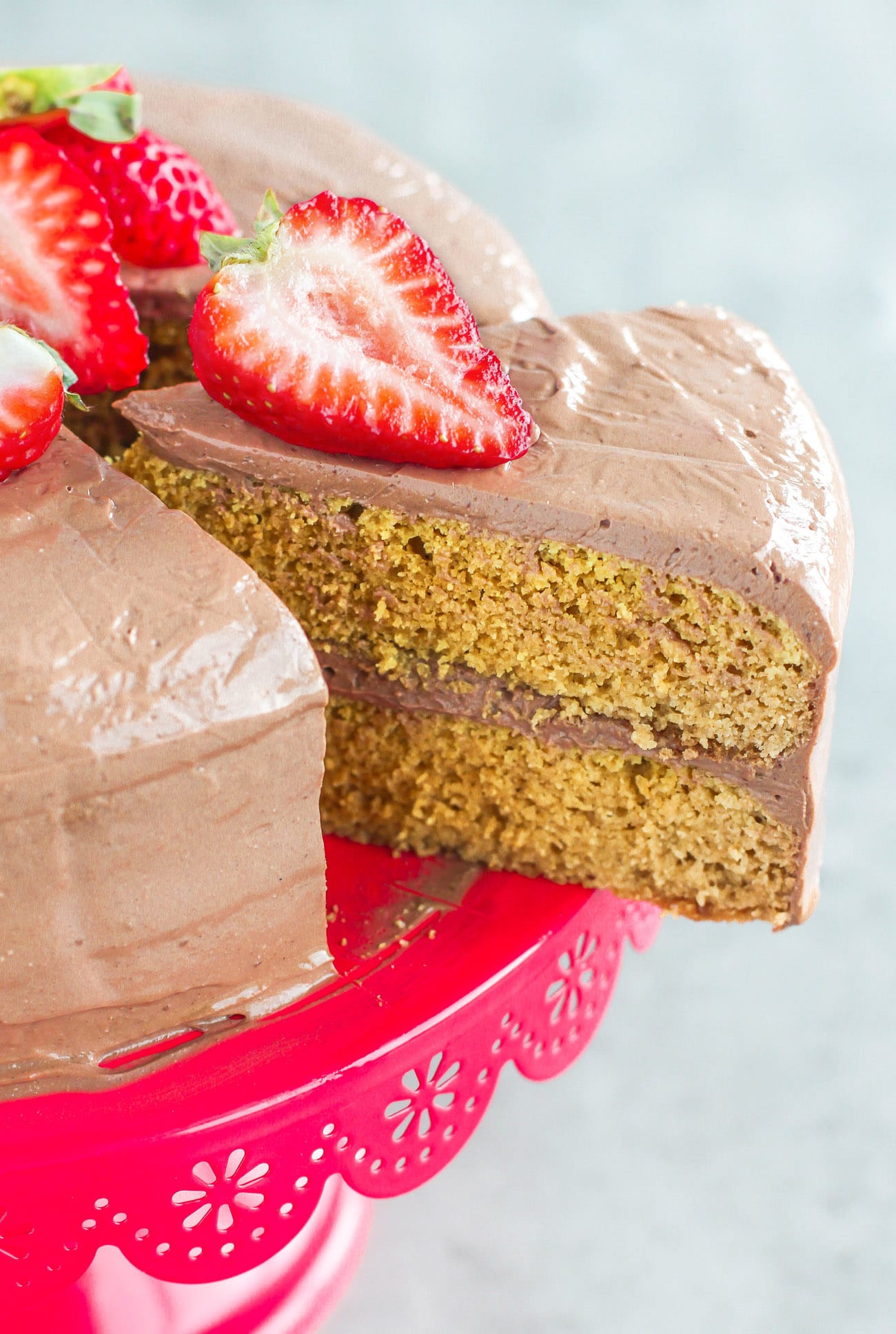 What's the difference between a "white cake", "vanilla cake", and a "yellow cake"?
Yes, the final color of the cake is most of the differentiation, but the true difference between the cakes comes down to the ingredients:
a White Cake uses egg whites, shortening, and clear vanilla extract to keep the cake as white as possible, as egg yolks, butter, and regular vanilla extract can tint the cake a yellow-tan.
a Yellow Cake uses whole eggs (sometimes with extra egg yolks added), butter, and regular vanilla extract.
And what about Vanilla Cake?  Trick question, both White Cakes and Yellow Cakes are Vanilla Cakes, since both of the cakes are flavored with vanilla  😉
You can also sometimes tell the difference between cakes just by looking at their frostings.  White Cakes are generally frosted with a Meringue Frosting and Yellow Cakes are usually frosted with a Chocolate Frosting, as seen here in this post!
But really, you can use whateeeever frosting your heart desires  🙂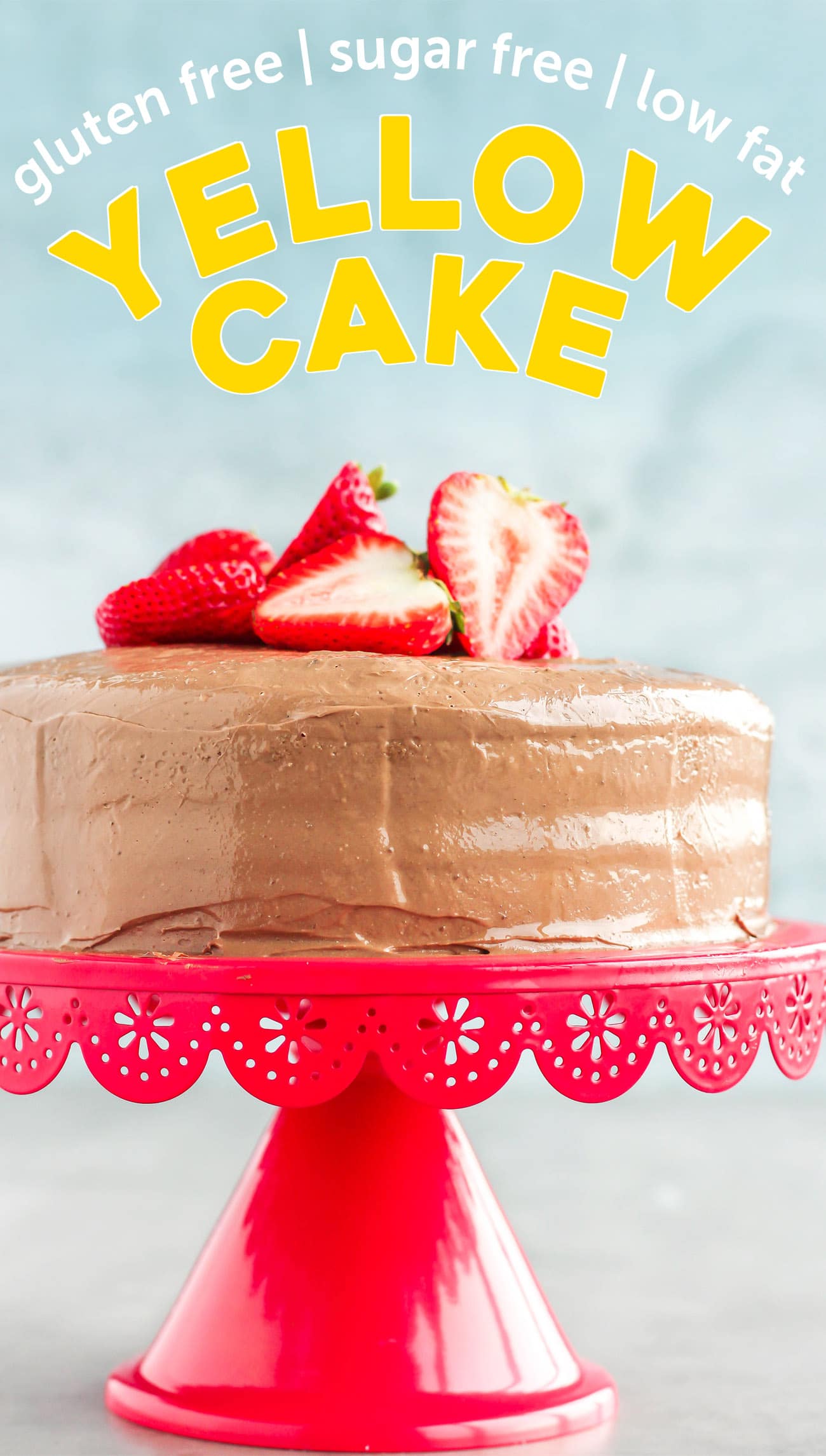 My number one goal on the blog is to make classic dessert recipes healthier.
And after 8 years of blogging, I'd like to think I have been pretty successful at it!  I've healthified Soft Sugar Cookies, Fudge Brownies, Vanilla Cake, and Red Velvet Cake.  Even a VEGAN Red Velvet Cake!  But it took me years to get the kitchen confidence to make these classic recipes.  I steered clear of them because, to put it simply, they kind of intimidated me.
Would my healthified version taste remotely like the real thing?
Would my cookies taste just as buttery?
Would my brownies be just as fudgy?
Would my cakes turn out just as fluffy and moist?
After a good run of successful recipe testing (chewy Peanut Butter Cookies being the latest feat!), I thought, why not make a Yellow Cake?
I did some research and found a few recipes online.  I remembered why healthifying this cake seemed especially daunting — typical recipes call for 1½ cups of sugar, up to 8 egg yolks, and 1 cup of butter.  Those 3 ingredients alone have 2930 calories, 232g fat, and 192g of sugar!  Replacing those ingredients seemed like a difficult task, but I tried anyways.  I settled on a recipe I found online and tried swapping out the unhealthy ingredients with healthier substitutes.
For round #1, I:
replaced the white flour with sorghum flour and oat flour
replaced the white sugar with granulated erythritol + stevia extract
replaced the butter with coconut oil + applesauce (a healthy butter/oil substitute)
It was a COMPLETE. FAIL.
The cake rose nicely in the oven but sunk as it cooled on the counter.  The flavor was alright, but definitely could have used more vanilla extract and a tad bit more stevia extract.  Whenever my gluten-free cakes sink, it's usually because the flours are too "heavy" and there isn't enough "lift."
For round #2, I:
replaced some oat flour with arrowroot starch
added 2 egg whites
reduced the coconut oil
increased the applesauce
increased the vanilla extract
increased the stevia extract
The cake texture and flavor definitely improved this time around, but it was still a bit dense and didn't have that vanilla "oomph."
For round #3, I:
replaced more oat flour with arrowroot starch
added 1 egg white
omitted the coconut oil
increased the applesauce
used Vanilla Paste instead of vanilla extract
3rd time was the charm!!
This Yellow Cake turned out light and fluffy, perfectly sweet, and FULL of vanilla flavor!
Since Yellow Cakes are usually frosted with Chocolate Frosting, I whipped up a healthy (and fudgy) Chocolate Frosting for my cake.  I blended cottage cheese with cream cheese for the base, used stevia extract instead of powdered sugar to sweeten, added cocoa powder for flavor, and tossed in some chocolate protein powder to thicken it all up without losing that chocolate flavor.  It sounds like a strange blend of ingredients, but I really enjoyed the frosting's flavor and texture!
You can use whatever frosting you like, though.  Try my other Chocolate Protein Frosting, or to keep the entire cake dairy-free, try this frosting recipe!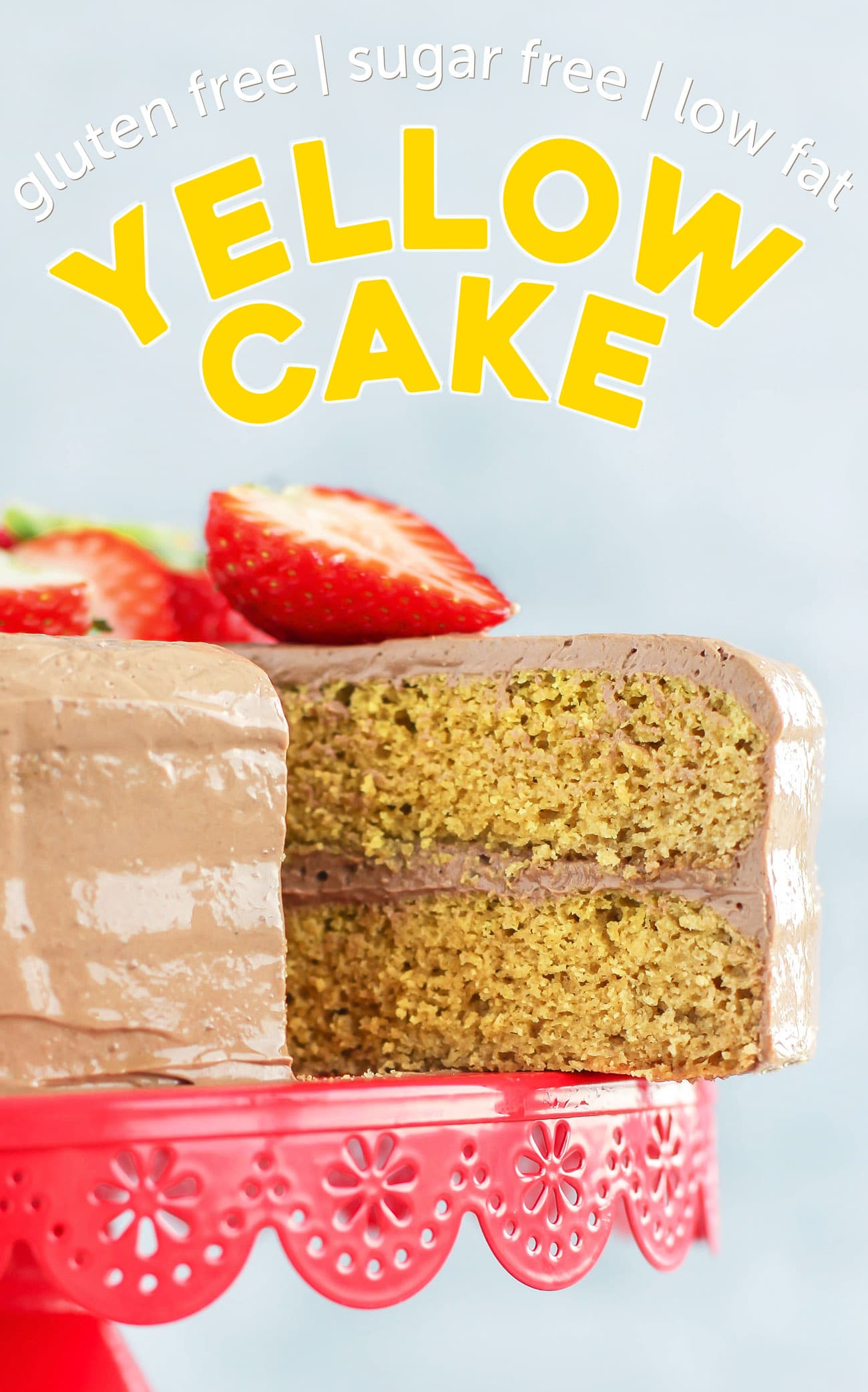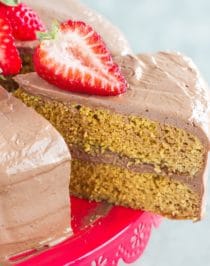 Print Recipe
Pin Recipe
Healthy Yellow Cake with Chocolate Frosting
This sweet and buttery Yellow Cake is so light, fluffy, and moist, you'd never know it's sugar free, low fat, gluten free, and dairy free too. And it's only 120 calories!
Instructions
For the Cake:
Preheat the oven to 350 degrees Fahrenheit and spray two 8" cake pans with cooking spray.

In a small bowl, whisk together the sorghum flour, oat flour, arrowroot starch, baking powder, baking soda, and salt.

In a large bowl, whisk together the applesauce, almond milk, erythritol, egg whites, stevia extract, butter flavor, vanilla paste, and turmeric. Whisk until completely even.

Dump the dry ingredients into the wet ingredients and whisk until smooth.

Lastly, whisk in the vinegar.

Pour the batter evenly between the two pans and bake for ~20-25 minutes, or until the surface of the cakes are firm and spring back when tapped. Let cool completely.
For the Frosting:
In a high-speed blender (I used my NutriBullet), add the cottage cheese and cream cheese. Blend until smooth.

Add the vanilla paste and stevia extract and blend again.

Add the protein powder and cocoa powder and blend until smooth. If it's too thick to blend, scrape it all into a bowl and whisk by hand, or use a hand mixer. Cover the bowl with plastic wrap and refrigerate until chilled throughout.

Frost the cake, refrigerate for ~1 hour for the frosting to firm, then slice, serve, and enjoy!
Recipe Notes
Store the cake in a tightly sealed container in the fridge for up to 5 days.
Nutrition Facts
Healthy Yellow Cake with Chocolate Frosting
Amount Per Serving (1 serving = 1/10th of cake (does not include frosting)
Calories 120
Calories from Fat 9
% Daily Value*
Fat 1g2%
Sodium 270mg12%
Carbohydrates 24g8%
Protein 4g8%
Vitamin A 50IU1%
Vitamin C 3.3mg4%
Calcium 70mg7%
Iron 0.9mg5%
* Percent Daily Values are based on a 2000 calorie diet.
One bite and you'll be so surprised to know that this cake is healthy.  I would even call it guilt free!
This cake is everything you'd expect from a Yellow Cake — it's moist, buttery and rich, just without the butter, flour, egg yolks, and sugar.  Because really, who needs those ingredients?  No one  😉
Make this healthy Yellow Cake for birthdays, holidays, get-togethers, or as a special treat for no reason at all!
Enjoy  🙂
.
With love and good eats,
.
– Jess
.