Healthy Yellow Cake with Chocolate Fudge Frosting (2 Ways)
I made it my number one goal to make classic dessert recipes for this blog, and so far I have been successful!  I have healthified sugar cookies, brownies, vanilla cake, chocolate cake, red velvet cake, and so on.  It was time to take a break from my not-so-typical desserts, like krispy treats, no-bake layer bars, etc…  delicious, but just not classic.  Back when I first started this blog, I steered clear of the classic desserts because, to put it simply, they kind of intimidated me.
Would my healthified version taste like the real thing at all?
Would my cookies taste just as buttery?
Would my brownies feel just as fudgy?
Would my cakes be just as moist?
I overcame my fears and just started baking!  After a sequence of successful recipes, I moved on to Yellow Cakes.  Yellow Cakes were especially daunting to me because they had to be yellow (where the yellow comes from 4-8 egg yolks, an ingredient I tend to avoid because many of my readers, friends and family try to limit yolks because of the saturated fat and cholesterol content)
I made this Yellow Cake recipe three times in order to perfect the cake's flavor and texture.  Each time I made a different chocolate fudge frosting but only liked two of them.  Chocolate Frosting #1 was made with yogurt, dark cocoa powder and powdered erythritol.  Chocolate Frosting #2 was made with chocolate protein powder, almond milk and vanilla syrup.  Both frostings were delicious but it depends on your taste for which one to use.  Frosting #1 was dark, light and fluffy,  Frosting #2 was milk-chocolatey, dense and fudgy.
I am so glad I finally healthified Yellow Cakes — who needs 8 egg yolks, bleached flour and refined sugar?  No one!  You will be so surprised to know that this cake is healthy (I would even call it guilt free), moist, buttery and rich, just without the butter, cholesterol and sugar (check out the nutrition label comparison below)!
Healthy Yellow Cake with Chocolate Fudge Frosting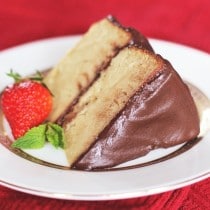 Ingredients:
Cake:
Frosting Option #1:
114g (1/2 cup) Yogurt**
14g (1 tbs) Coconut Oil
1/2 tsp Natural Butter Flavor
160g (1+1/3 cups) Powdered Erythritol
15g (3 tbs) Unsweetened Dark Cocoa Powder
Frosting Option #2:
Directions:
For the Cake:
Preheat the oven to 350 degrees Fahrenheit and spray two 6" cake pans with cooking spray.
In a stand mixer bowl with whisk attachment, add the applesauce, warm almond milk, melted coconut oil, egg whites, extracts and food coloring/turmeric. Mix on low while you gather the dry ingredients.
In a small bowl, whisk together the sorghum flour, brown rice flour, vanilla sugar, starch, baking powder, baking soda and salt.
Add the vinegar to the mixing stand mixer.
Slowly add the dry ingredients to the stand mixer. Increase mixer speed to medium and beat mixture for about 30 seconds.
Pour batter evenly into the prepared pans and bake for ~42 minutes, or until the surface is firm and springs back when tapped.
For Frosting #1:
In a microwave-safe bowl, add the yogurt and coconut oil. Microwave at 15 second intervals, stirring between each one, until coconut oil is melted (do not let mixture get too hot).
Stir in the butter flavor.
Whisk in the erythritol, then whisk in the cocoa powder. Refrigerate the frosting for ~15 minutes, or until firmer.
Frost the cake (I frosted the bottom cake layer first, refrigerated for ~20 minutes, topped the bottom layer with the top layer, frosted and then refrigerated for ~20 minutes). Slice and serve!
For Frosting #2:
Put the chocolate protein powder into a bowl and top with the sweetnol syrup and coconut oil. Stir together until incorporated, then frost the cake. Slice and serve!
Notes:
**I used a vanilla almond yogurt sweetened with fruit juice only, not sugar. However, this yogurt company went under and is no longer in production 🙁 ... you can use whatever yogurt you like -- coconut, soy, dairy, etc., just make sure it doesn't have any sugar added!
Here is the nutrition label: