Healthy Chocolate Therapy Cake (To Celebrate My 26th Birthday!)
Chocolate Therapy Cakes tend to be, well, "therapeutic" in the sense that the cake will immerse you into a deep, food- and sugar-induced coma.  Therapy Cakes tend are pretty much the unhealthiest types of cakes out there so I understand if you rolled your eyes when you read "healthy" in the post title.  Trust me, I'd think the same thing.  But this one is different.  This actually IS a Healthy Chocolate Therapy Cake!  What better way to celebrate my 26th birthday??
Hint:  There is no way.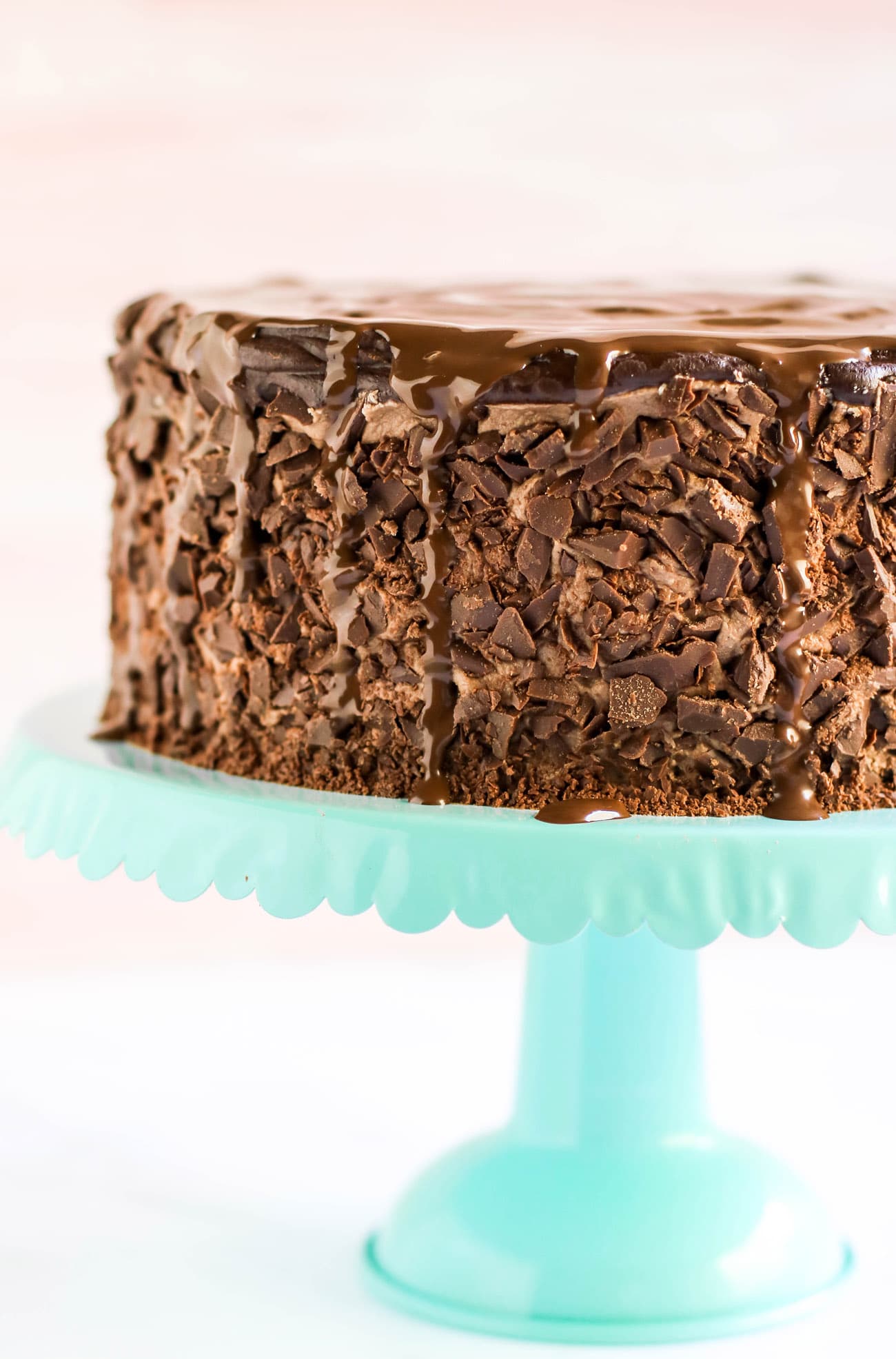 For some reason I'm feeling really sentimental, so I'm gonna take you on a stroll down memory lane  🙂
It's October 6th, 2018.  At this point in time, I have been food blogging for almost exactly 7½ years…  7½ years!!!  This blog and YOU, the person reading these very words I type, are what brings me joy every single day.  If you've read My Story, you know how I started this blog as a freshman in college because I was trying to procrastinate studying from finals (what can I say, I'm a pro-procrastinator!).  But what I've never really mentioned, because I was a little hesitant, was the state of my mind that day.
That fateful night when I created this blog, I was sitting in my college dormroom feeling completely alone.  I was on the opposite side of the country from family and friends, attending college when I didn't want to go in the first place, living in a state I'd never even step foot in before, feeling completely lost with zero drive, zero passion, and zero ambition.  I was depressed, and honestly a little suicidal.  I knew I wasn't in a healthy place, and I knew I needed to find my way to that healthy place.
So I started a blog.  And it turned my life right-side up.
This blog, the online community, and YOU — these are what fill me with so much love and purpose…  these are the reasons why I decided to get better, stay in school, and keep on keeping on.  This blog right here has given me hope, direction, passion, and a future.  I owe y'all my life.  It's hard to type out these feelings, but I guess what I'm trying to say is that I'm thankful beyond any words I can possibly form in a sentence.
I just want to share my passion for nutrition and dessert (and a mix of the two)!  I'm blessed to have one, this blog as a portal to do so, and two, a loving and caring reader such as yourself who shares this passion 😘❤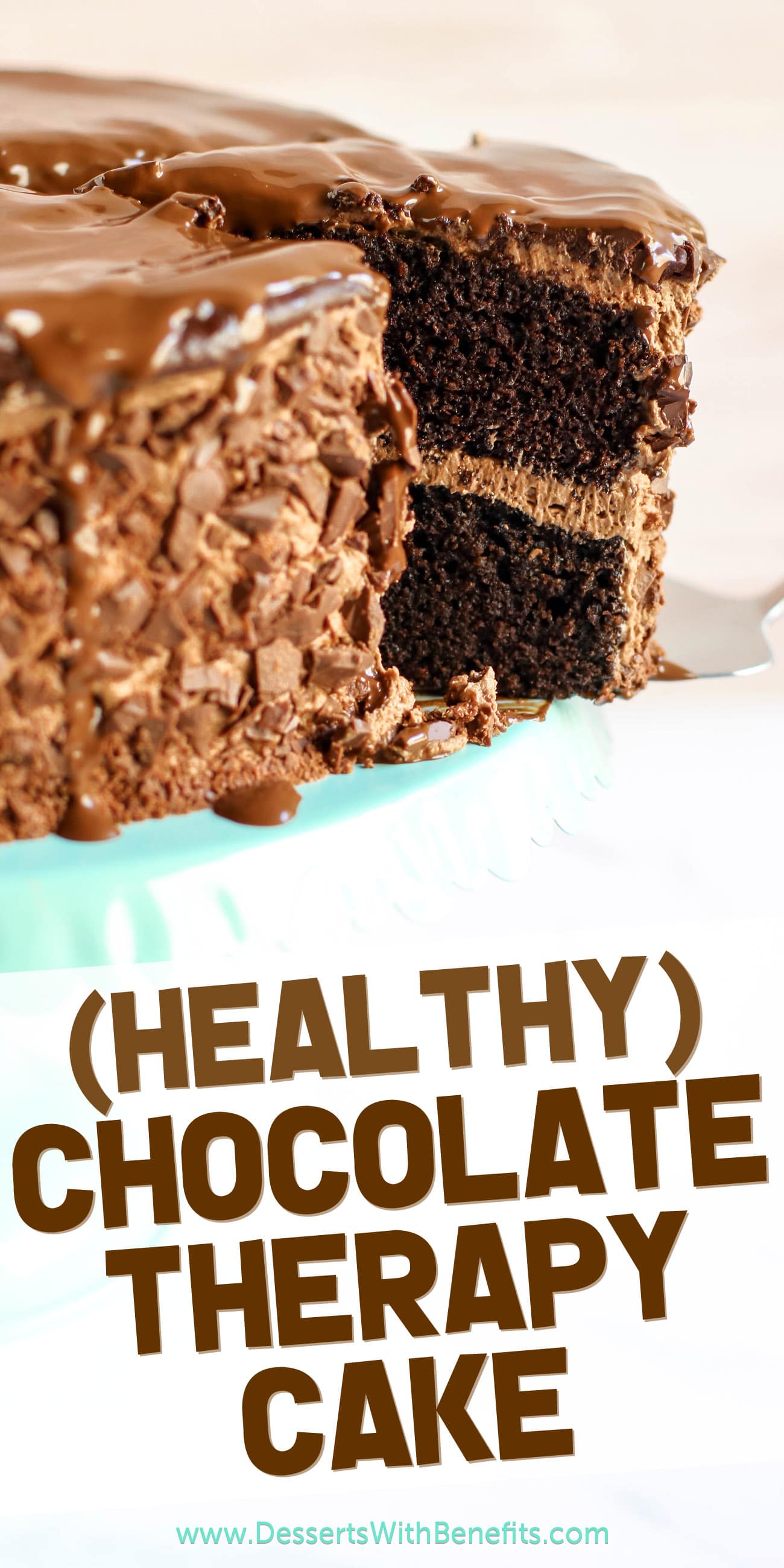 Okay, okay.  I'll talk about the real reason you're here now.  This Healthy Chocolate Therapy Cake!
I'm sure you're still raising an eyebrow…  I mean, c'mon Jessica, be real for a minute please.  A layered chocolate cake, with fluffy chocolate frosting, a thick topping of chocolate ganache, and real chopped chocolate to coat the sides?  How can that possibly be good for you??
Oh, have some faith in me!
This Chocolate Therapy Cake is secretly nutritious.  Yes, nutritious.
It's made with healthy ingredients, none of the butter, zero white sugar, and absolutely none of the bleached flour.  I used healthier alternatives to make this cake.  The coconut flour is gluten free, low in carbs and high in fiber, the eggs are high in protein, full of vitamins and packed with essential minerals.  The unsweetened applesauce provides both moisture and natural sweetness.  And protein powder in the frosting?  Oh yes  😉
Don't worry, even though this cake is healthy, it still tastes good…  OH SO GOOD!
This Healthy Chocolate Therapy Cake is rich, decadent, sweet, and chocolatey.
Certainly not the things we associate with healthy food, right?  But we finally can now!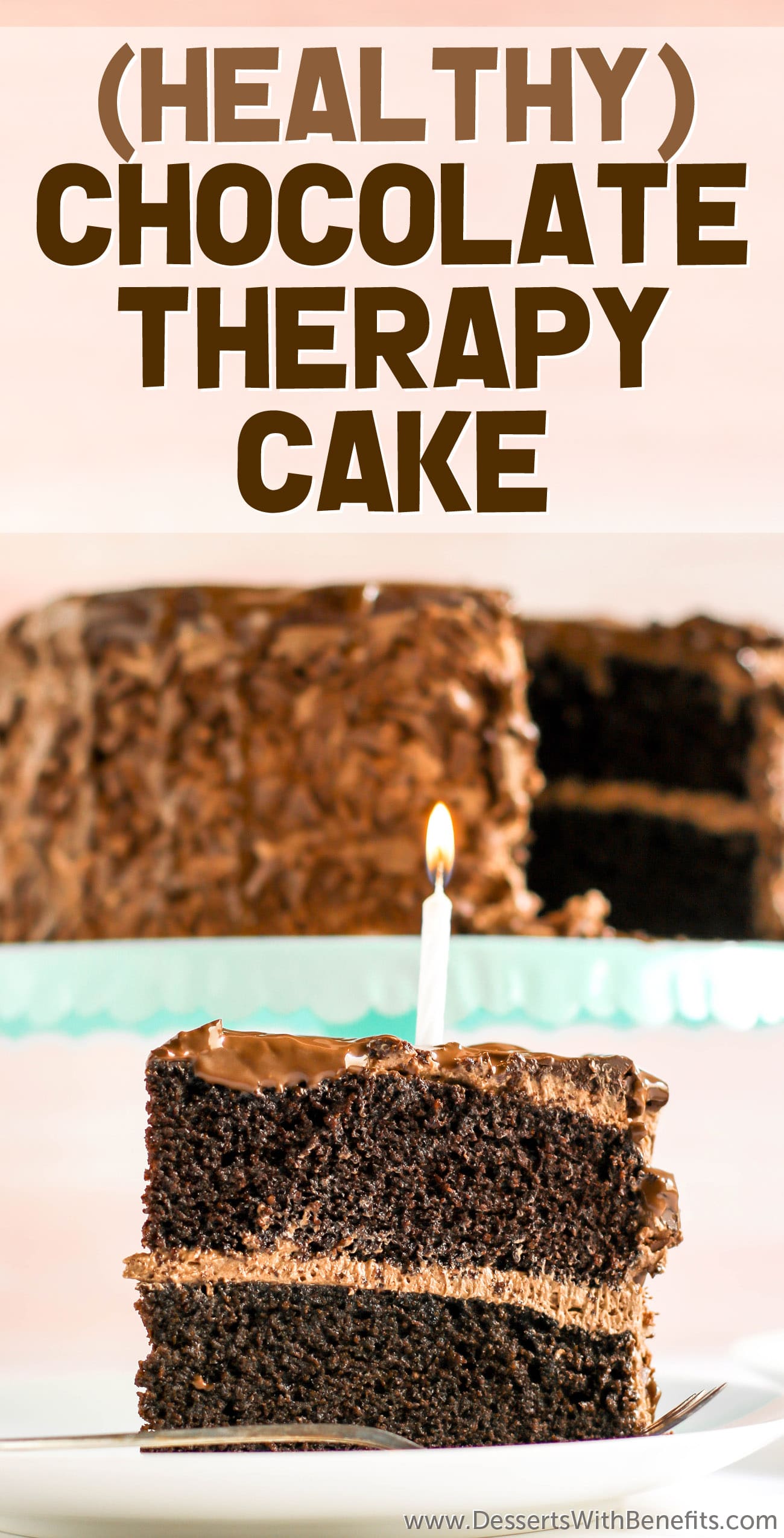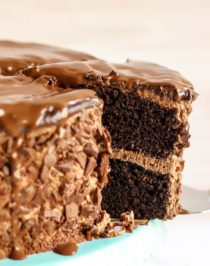 Print Recipe
Pin Recipe
Healthy Chocolate Therapy Cake
This Healthy Chocolate Therapy Cake is so decadent, rich, and delicious, you'd never know it's sugar free, low carb, high protein, and gluten free too!
Ingredients
Cake:
224g

(2 cups)

Coconut Flour

80g

(1 cup)

Unsweetened Natural Cocoa Powder

*

96g

(½ cup)

Granulated Erythritol

1½

tsp

Double-Acting Baking Powder

1½

tsp

Baking Soda

¼

tsp

Salt

7

large

Eggs

6

large

Egg Whites

308g

(1¼ cups)

Unsweetened Applesauce

1

cup

Unsweetened Vanilla Almond Milk

⅓

cup

Brewed Coffee

(cooled to room temperature)

1½

tbs

Vanilla Extract

1½

tsp

Liquid Stevia Extract
Instructions
For the Cake:
Preheat the oven to 350 degrees Fahrenheit, spray two 9 inch cake pans with cooking spray and line with parchment paper circles.

In a small bowl, whisk together the coconut flour, cocoa powder, erythritol, baking powder, baking soda, and salt.

In a large bowl, whisk together the eggs, egg whites, applesauce, almond milk, coffee, vanilla extract, and stevia extract.

Dump the dry ingredients into the wet ingredients and whisk vigorously until there are no clumps.

Pour the batter into the prepared pans and bake for ~45 minutes**. Let the cakes cool in the pans for ~20 minutes, then flip them over onto wire cooling racks and let cool completely.
For the Frosting:
In a stand mixer bowl fitted with a whisk attachment, add the coconut milk, stevia extract, butter flavor, and vanilla paste. Whisk on low for a few seconds, then turn the mixer off.

Add the protein powder and return mixer to low speed. Gradually increase the speed to high. Scrape down the sides of the bowl and mix one last time.

For the Garnish:
In a microwave-safe bowl, add 4oz of the chocolate. Microwave at 30 second intervals, stirring between each one, until the chocolate is melted.

Whisk in the coconut milk. Pour over the cake and spread it out on top.

Chop the remaining 4oz of chocolate and pat it around the sides of the cake. Slice, serve, and enjoy!
Recipe Notes
*I usually use 1 cup of Unsweetened Natural Cocoa Powder, but this time I used ⅔ cup Unsweetened Natural Cocoa Powder + ⅓ cup Dark Cocoa Powder because I wanted a dark color.
**My oven has been a little wonky lately, so this time may be off.  The cake is done when you tap the center and it springs back.  If your finger leaves an indent in the cake, it's not ready yet!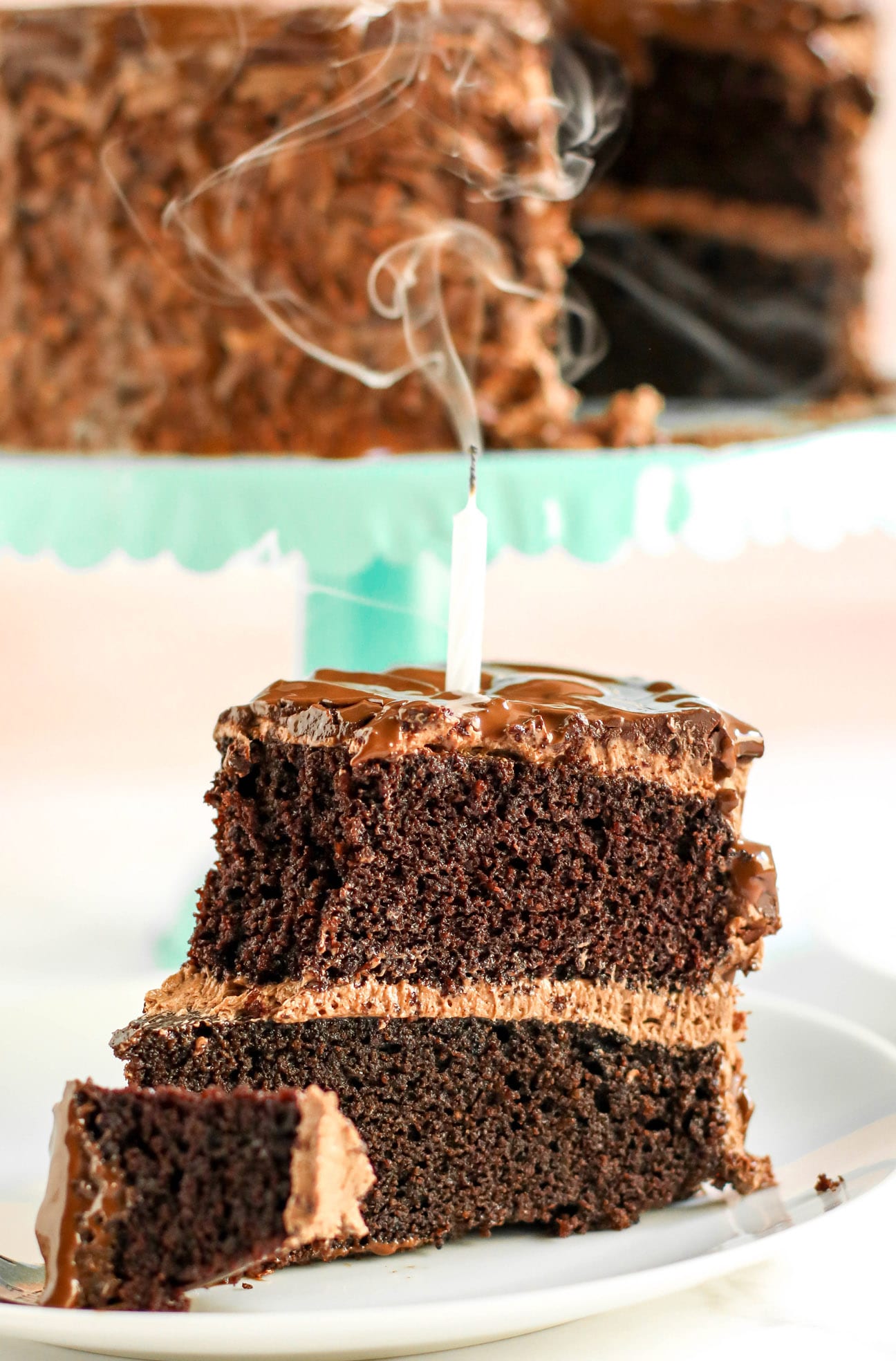 What a beautiful sight.
You can totally have that extra slice of cake.  My cake is lower calorie than typical chocolate cakes and doesn't have any of the typical unhealthy baked good ingredients.  It will make you feel like you're cheating, but you're not!  😉
Enjoy!
.
With love and good eats,
.
– Jess
.