Healthy Chocolate Therapy Cake
Chocolate Therapy Cakes tend to be, well, "therapeutic" in the sense that the cake immerses you into a deep, food- and sugar-induced coma.  Therapy Cakes tend to be the unhealthiest types of cakes out there so it's understandable if you think this one will be too.  But this one is different.  This is a Healthy Chocolate Therapy Cake!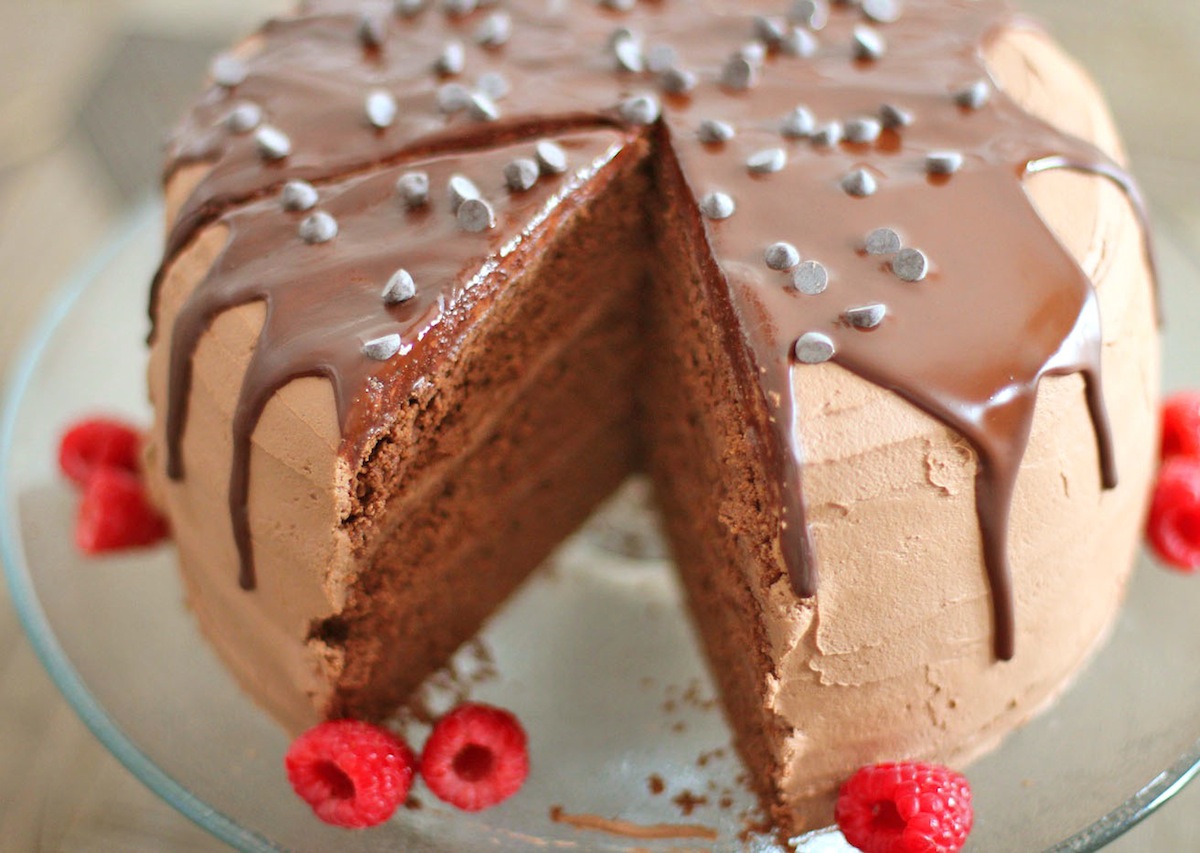 I'm sure you're raising an eyebrow.  I mean, c'mon Jessica, be real for a minute please.  A layered chocolate cake with chocolate frosting and chocolate ganache on top??  How can that possibly be good for you?
Oh, have some faith in me!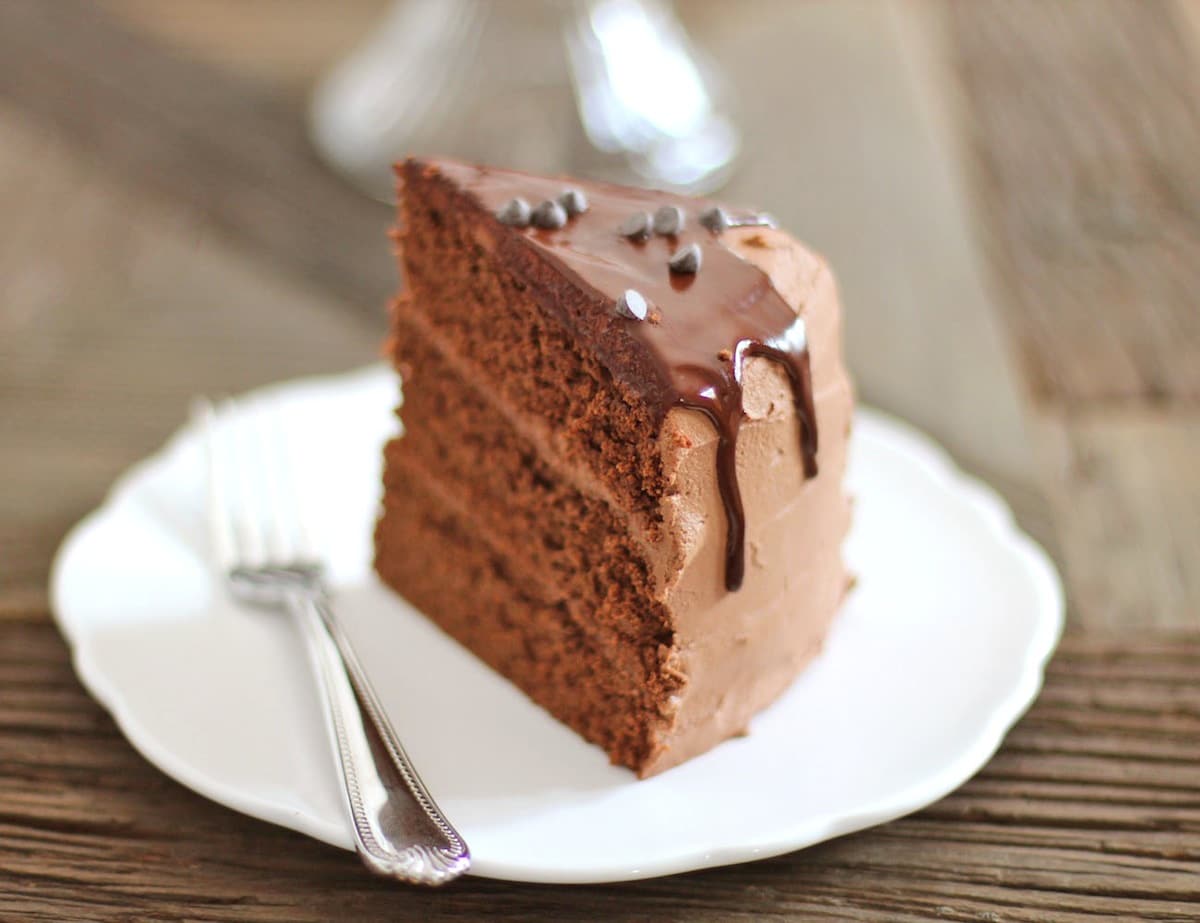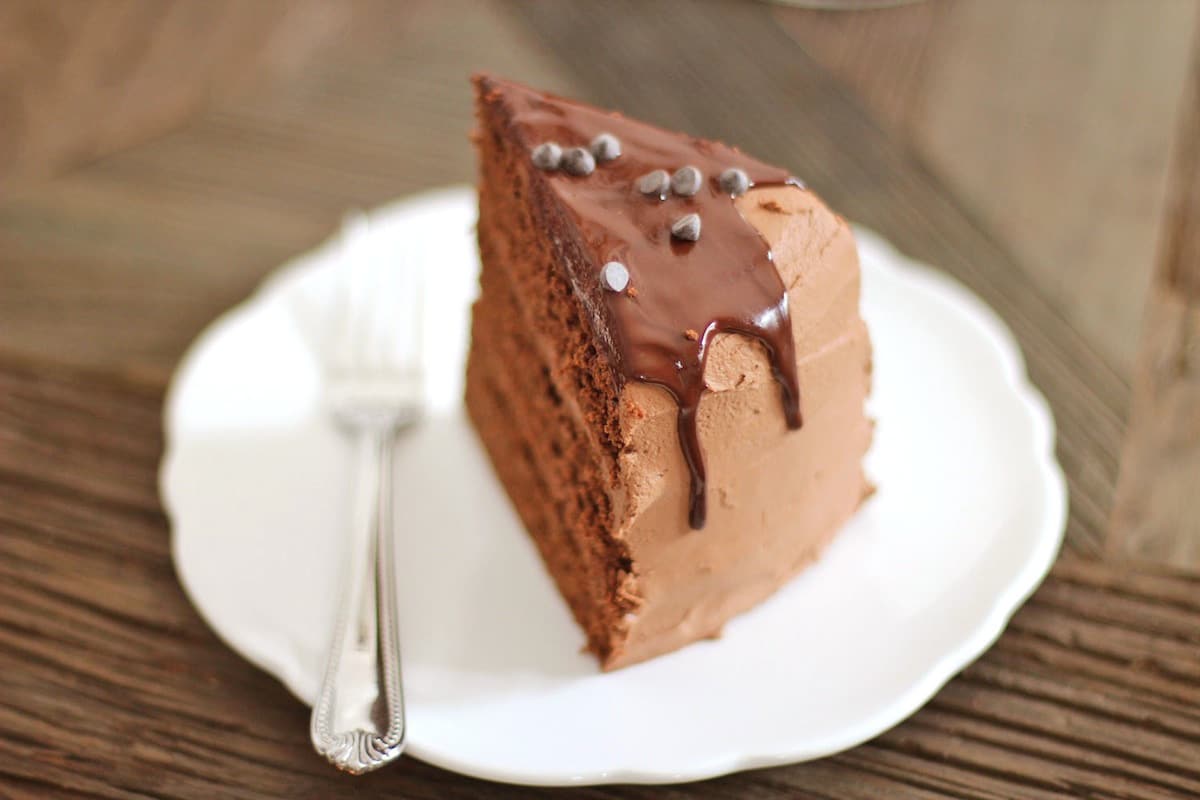 This Healthy Chocolate Therapy Cake is secretly nutritious.  Yes, nutritious.  The coconut flour is gluten free, low in carbs and high in fiber, the eggs are high in protein, full of vitamins and packed with essential minerals, and the unsweetened applesauce provides moisture and natural sweetness.  To top it off, the cake doesn't have any bleached and refined white sugar, processed and genetically modified white flour or hormone-filled butter.  Don't worry though, the cake still tastes good…  OH SO GOOD!
This Healthy Chocolate Therapy Cake recipe is rich, decadent, sweet and chocolatey.  Certainly not the things we associate with healthy food, right?  But we finally can now!
Healthy Chocolate Therapy Cake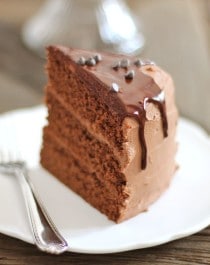 Ingredients:
Cake:
224g (2 cups) Coconut Flour
80g (1 cup) Unsweetened Natural Cocoa Powder
96g (½ cup) Granulated Erythritol (or dry sweetener of choice)
1½ tsp Double-Acting Baking Powder
1½ tsp Baking Soda
¼ tsp Salt
7 Large Organic Eggs
6 Large Organic Egg Whites
308g (1¼ cups) Unsweetened Applesauce
1 cup Unsweetened Vanilla Almond Milk
⅓ cup Brewed Coffee, cooled to room temperature
1 tbs Vanilla Extract
1 tbs Chocolate Extract (or more vanilla if you don't have this)
1½ tsp Stevia Extract
Frosting:
Ganache:
1.5oz Dark Chocolate, melted
1 tsp Coconut Oil
Directions:
For the Cake:
Preheat the oven to 350 degrees Fahrenheit, spray three 8 inch cake pans with cooking spray and line with parchment paper circles.
In a small bowl, whisk together the coconut flour, cocoa powder, erythritol, baking powder, baking soda and salt.
In a large bowl, whisk together the eggs, egg whites, applesauce, almond milk, coffee and extracts. Dump the dry ingredients into the wet ingredients and whisk very well, until there are no more clumps.
Pour the batter into the prepared pans and bake for ~42 minutes, or until the surface of the cakes spring back when tapped. Let cakes cool in the pans for ~20 minutes and then flip them over onto wire cooling racks and let cool completely.
For the Frosting:
In a small bowl, whisk together the almond milk, butter extract, vanilla paste and stevia extract.  Add the protein powder and stir together.
Frost the cake.
For the Ganache:
Whisk together the melted chocolate and coconut oil.  Pour over the cake and let it solidify slightly. Slice and enjoy!
All images and text ©
.
Be sure to follow @DessertsWithBenefits on Instagram!  If you try this recipe, make sure to snap a picture of it, tag me @DessertsWithBenefits, and hashtag #DessertsWithBenefits.  I'd love to see it and feature you on #FanFaveFridays!
.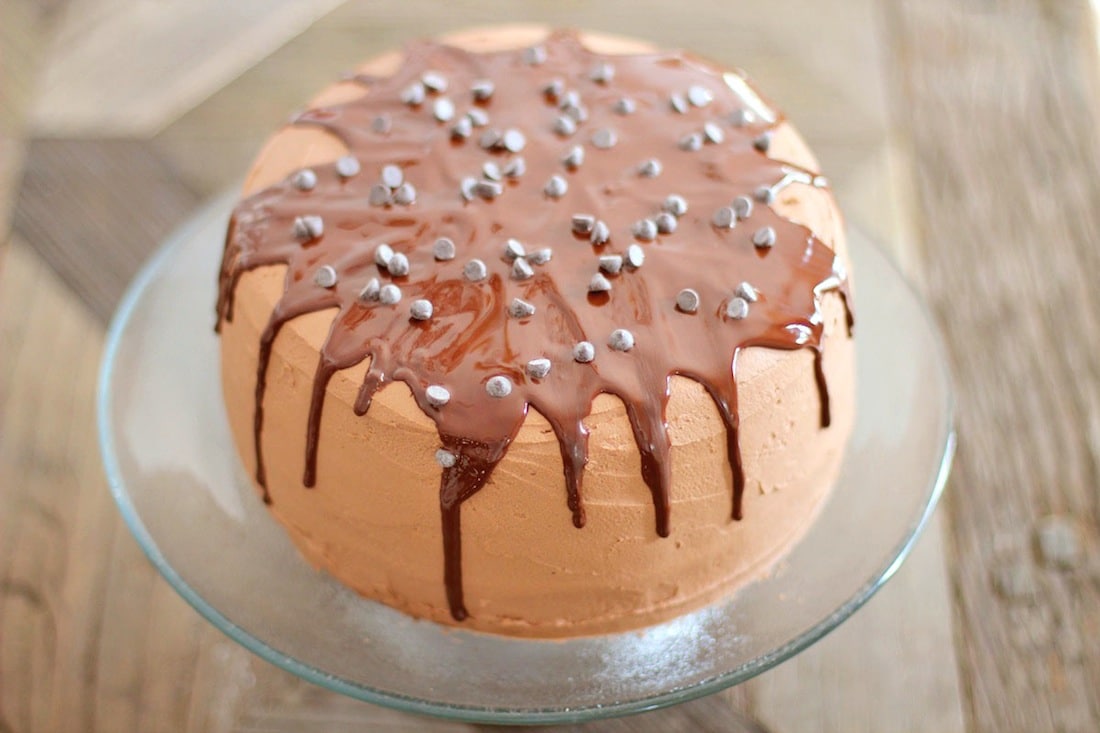 Sooooo you can totally have that extra slice of cake.  My cake is lower calorie than typical chocolate cakes and doesn't have any of the useless butter, sugar and bleached flour.  It will make you feel like you're cheating but you're not  😉
Here are a couple other times I've made this cake:
What a beautiful sight.
I made this using 6″ cake pans to create a mile high 6-layer cake.
.