Healthy Vegan Dark Chocolate Fudge
This Vegan Dark Chocolate Fudge tastes unbelievably authentic (aka, anything but vegan)!
Taste?  Dark, rich and oh so indulgent.
Texture?  Melts in your mouth.
A few years back I posted a recipe for a Vegan Dark Chocolate Fudge but I felt like it could've used some improvement and a bit of simplification.  My old recipe required lots of steps and after a few batches, I got sick of the process of making them and stopped…  *gasp*
This new and improved recipe tastes better, looks better, and is 100% simple, easy deliciousness.  It's almost criminal how fast it can be put together.  Hint: it's made in a blender!
But onto the good stuff:  FUDGE.
Fantastic, deep, dark, decadent VEGAN Fudge.
This Healthy Vegan Dark Chocolate Fudge is the perfect summertime treat because it requires zero baking (yay, no need to turn on the oven!) and is a 100% delicious, guaranteed crowd-pleaser.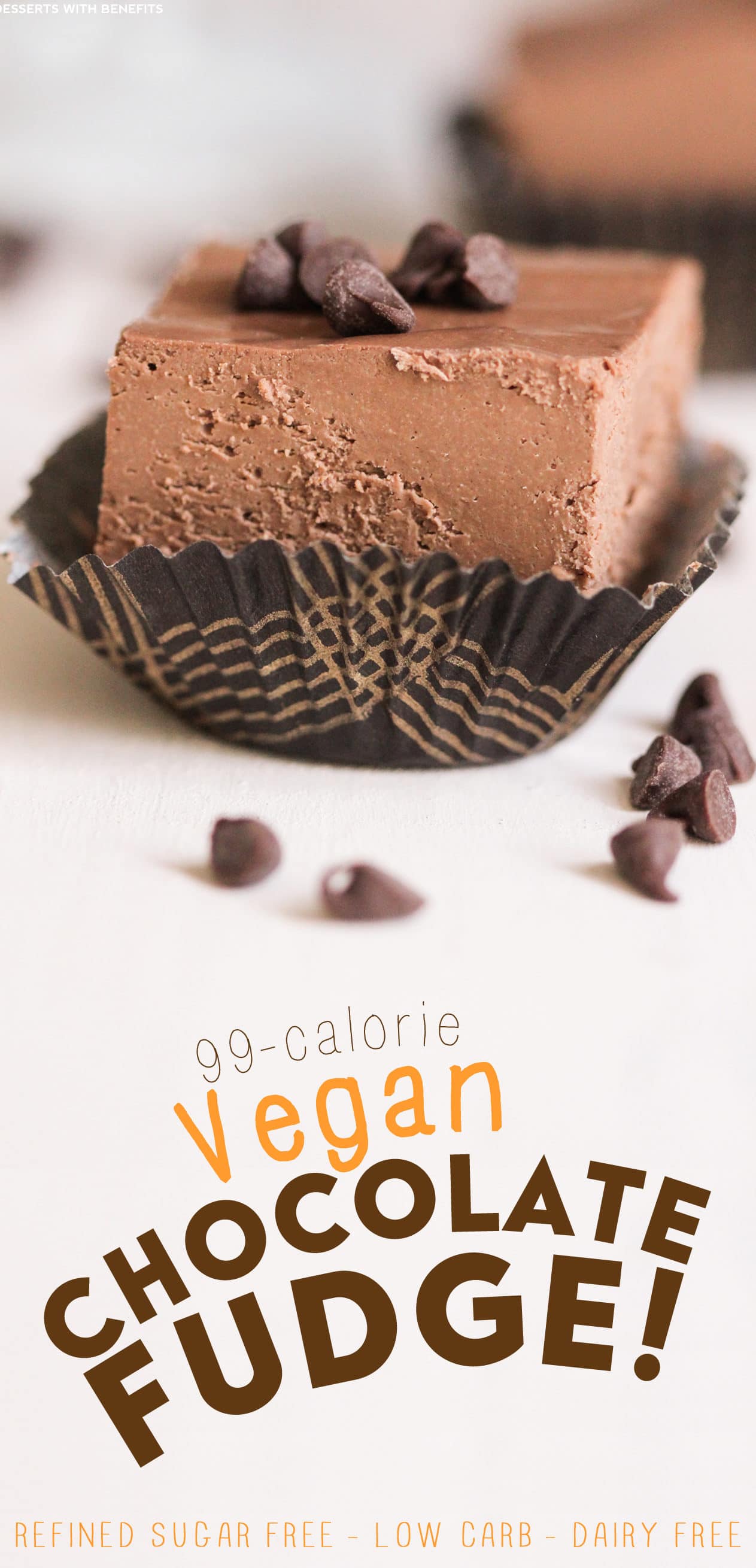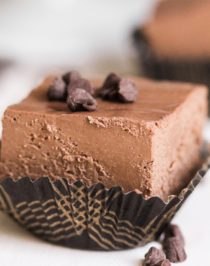 Print Recipe
Pin Recipe
Healthy Vegan Dark Chocolate Fudge
This Vegan Dark Chocolate Fudge tastes unbelievably authentic! You'd never know it's sugar free, low carb, paleo, keto, dairy free, and vegan!
Instructions
Line a 9x5" loaf pan with parchment paper one way.

In a blender (I used my NutriBullet), add the coconut milk, stevia and brown rice protein powder.  Twist on the blade top and give the mixture a very quick blend (or vigorous shake).

Twist off the blade top and pour in the melted chocolate.  Twist on the blade top and blend until completely smooth.  I blended it until it seemed even, gave the container a little shake, then blended it one more time.

Pour the mixture into the prepared pan, cover with plastic wrap, and place in the refrigerator until completely firm.  When you tap the center, it should be hard.

Use an offset spatula to separate the fudge from the 2 sides of the pan without the parchment paper, and lift the fudge out of the pan.  Slice the fudge into 18.  Serve and enjoy!
Nutrition Facts
Healthy Vegan Dark Chocolate Fudge
Amount Per Serving (1 piece)
Calories 100
Calories from Fat 81
% Daily Value*
Fat 9g14%
Sodium 10mg0%
Carbohydrates 2g1%
Protein 2g4%
Iron 0.4mg2%
* Percent Daily Values are based on a 2000 calorie diet.
BONUS!  Since this vegan fudge recipe is dairy-free, everyone can enjoy this antioxidant-filled treat.  Whoop whoop!  Yet another reason to whip up a batch, like, right now  😉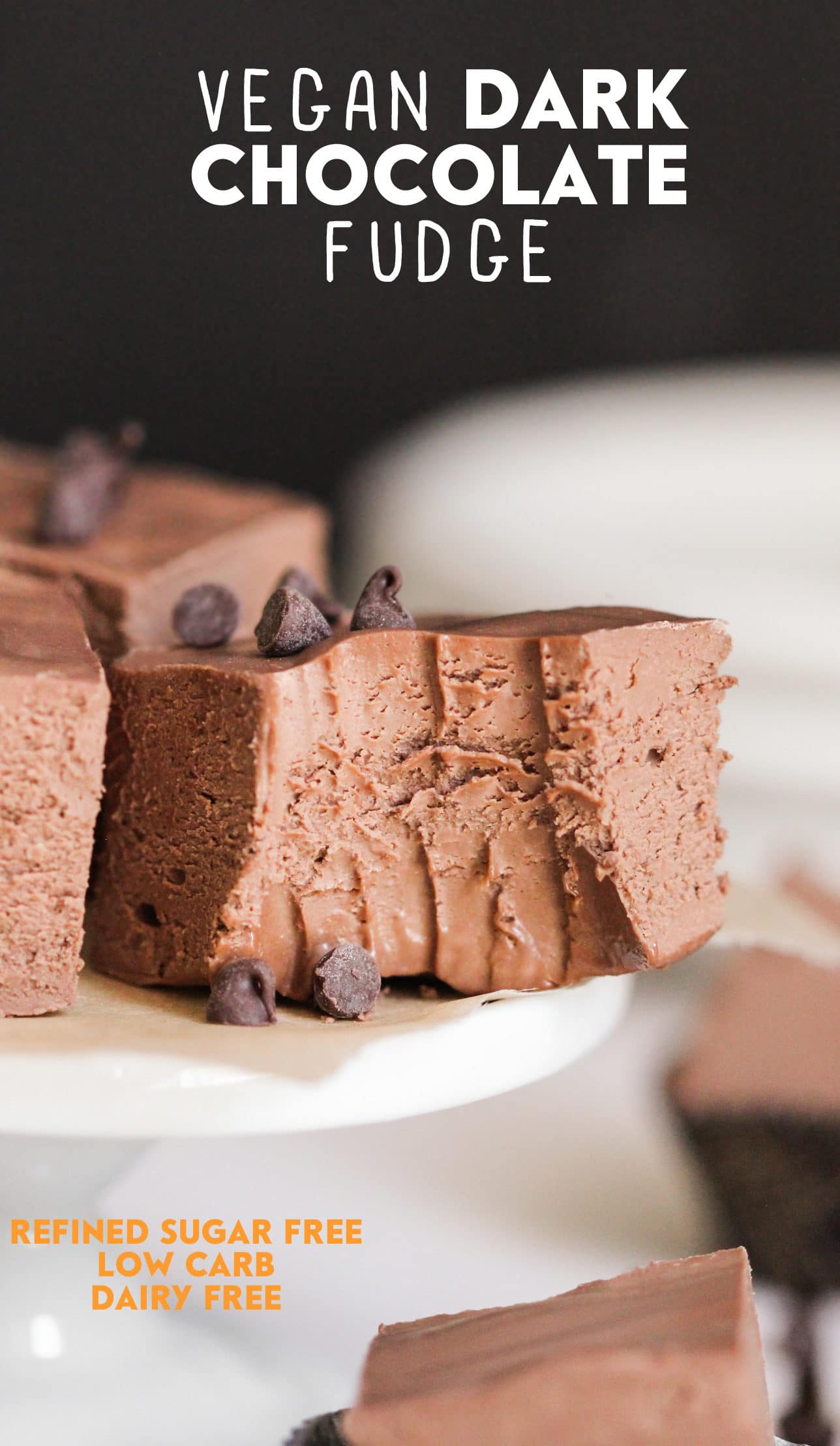 Chompity chomp chomp.  So incredibly rich, so incredibly…  fudgy.  Doh.
It was pretty much torture having to photograph this fudge, by the way.  I just wanted to eat every since piece right in front of me in five seconds flat, but couldn't because I had to shoot some photos for y'all.  But don't worry, I shoved 'em all in my face right after the photoshoot  🙂
Make this now.  I DARE you to beat my "gobble-down-some-healthy-vegan-fudge" record time!
.
With love and good eats,
.
– Jess
.