Healthy Peanut Butter Cake with Chocolate Fudge Frosting
It's about freakin' time!!!  I might have shouted that out loud in my head when I took my first bite of this cake.  It was a long time coming.  And by that, I mean, this healthy Peanut Butter Cake took six trials to perfect…  let me explain: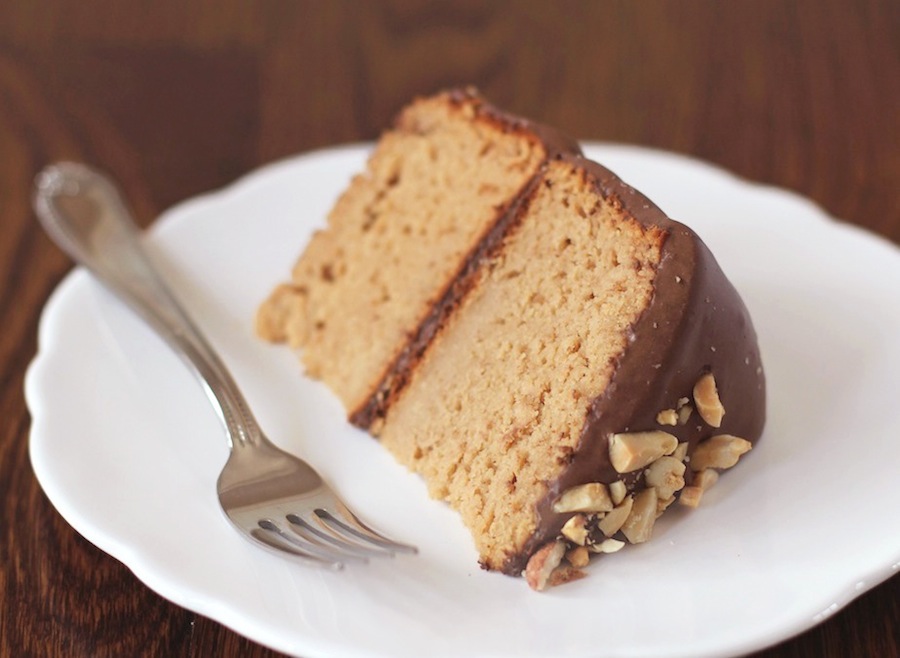 In my first attempt I was actually aiming to make simple Peanut Butter Blondies, not a cake.  The blondies were super peanutty but they were dense, rubbery, chewy and definitely not sweet enough…  yuck.
     I was still trying to making blondies in this trial.  I adjusted some of the ingredients to get a lighter and less chewy texture.  I reduced the xanthan gum, increased the baking powder and added egg whites for leavening.  I also increased the stevia extract for sweetness.  However, the blondies were still a bit dense and rubbery.
     Still trying to make blondies, I reduced the xanthan gum, increased the baking powder and upped the egg whites.  I increased the stevia which resulted in the perfect level of sweetness.  Sadly though, the blondies were dense and chewy once again!
     I started to rethink the recipe in this trial.  I added 1/3 cup of peanut butter to double the peanut butter flavor and richness of the blondies.  What a good decision that was, my taste-testing guinea pigs and I absolutely loved the flavor!  However, I wasn't really a fan of the texture…  I blame the xanthan gum…  it seems to make certain recipes bendy and rubbery.
     Finalllyyyy!!  The sucessful recipe!!  I omitted the xanthan gum, increased the peanut butter and added more egg whites.  This  created an incredibly moist, fluffy and flavorful cake-like blondie.  I baked this cake/blondies in a 9″ brownie pan (because I was still expecting them to turn out as blondies) so they looked more like a snacking cake or a sheet cake.  To me, a cake has to be round.  With frosting.  And layered.  So then there was Trial #6.
Deliciousness.  It was so addicting that I ate two slices…  in a row.  Yes, I ate a quarter of the cake in less than an hour.  But I don't feel too bad, the cake is 100% healthy, low sugar, high fiber and high protein.  Plus, I was accompanied by friends who did the same exact thing  🙂
Observe the scrumptiousness, deliciousness and perfection.
Double Peanut Butter Layer Cake with Chocolate Fudge Frosting
Ingredients
Instructions
For the Cake:

Preheat the oven to 350 degrees Fahrenheit and generously spray two 6" cake pans with cooking spray.
In a large mixing bowl, whisk together the applesauce, egg whites, peanut butter, sucanat, erythritol, almond milk, stevia and salt.
In a medium-sized mixing bowl, whisk together the oat flour, peanut flour and baking powder.
Sift the dry ingredients over the wet and stir together. Whisk the batter vigorously for 10-20 seconds, or until all of the clumps are gone.
Pour batter evenly into the prepared pans and bake for ~52 minutes, or until surface is golden brown and springs back when tapped. Remove cakes from oven and let cool in the pans for 5 minutes, then turn them out onto a wire cooling rack.

For the Frosting:

In a stand mixer bowl with whisk attachment, add the protein isolate and cocoa powder. Whisk on low.
Increase mixer speed to medium and slowly drizzle in the almond milk. Add the stevia. Whisk until creamy and fluffy.
Frost the cake and refrigerate for ~30 minutes to firm the frosting.
Slice and serve!
Notes
Frost cake the day you serve it.
Cake keeps at room temp for 1-2 days. To keep for longer, just cover and refrigerate!
This recipe is: low sugar, high fiber, protein, gluten free!
https://dessertswithbenefits.com/peanut-butter-cake-chocolate-frosting/
www.DessertsWithBenefits.com
Nutrition label showdown time!  Here I compare a typical peanut butter cake with my healthified peanut butter cake recipe.  The AllRecipes nutrition label is on the left,  the DWB label is on the right:
WOW, what a difference, eh?  410 calories vs. 250 calories…  I choose 250, especially if it's higher in fiber and protein and lower in sugar and fat!  By the taste of the cake though, you would never know it's actually good for you.
My friend walked in while I was taking pictures and stood there hinting (way too many times) that she wanted a piece…  of course I gave her one, but I saved the one with more of the chocolate frosting on it for me.  Mwahaha, I hope you're not reading this B  😉