Healthy Homemade Sweetened Condensed Milk
I think we should lightly skim through the period in my life where I went crazy for condensed milk.  Like, to the point where I would use it as a dip for my morning toast.  It was like frosting to me (hey, I was young and it was pure sugar, of course I liked it)!  Thank goodness I grew out of the habit (I discovered peanut butter's superiority when it came to toast).  Today, I couldn't care less for condensed milk for a very different reason:  I have resolved to eat healthier and cut out the added sugars in my diet.  Though, just because I tossed sugar to the curb doesn't mean I had to wave goodbye to my sweet tooth.  Edit:  MAJOR SWEET TOOTH.  I still like the flavor of condensed milk, so I made my own.  Say "goodbye" to the sugary storebought cans and "hello" to this Healthy Homemade Sweetened Condensed Milk!

When I got over my condensed milk craze as a kid, I never really missed it all that much.  There were so many things that tasted just as good or better.  Vanilla Bean Icing? Yes.  Peanut Butter Cake? Of course.  Banana Bread? Um, DUH.
There was never a "void" in my daily life, but as I started college and began baking 'n' blogging, there was a void of condensed milk in my baking life.  So many dessert recipes call for sweetened condensed milk as its main ingredient — Key Lime Pie, Tres Leches Cake, Fudge, Magic Bars, etc.  I could never make those recipes the "authentic" way because there wasn't a healthy substitute for condensed milk…  until NOW!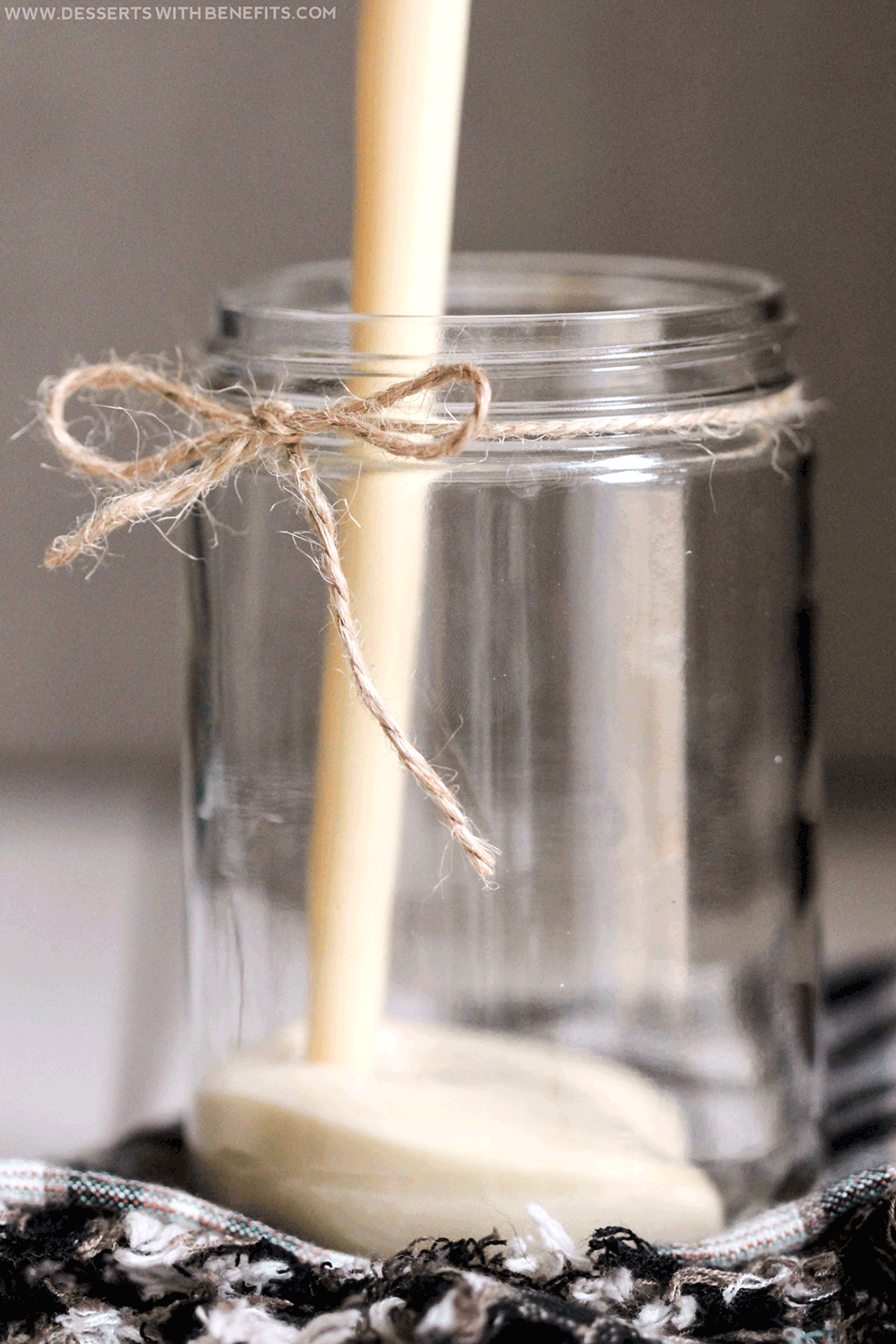 And ohhhh my gosh guys.  This Healthy Homemade Sweetened Condensed Milk is SO. SO. GOOD.
It took me way back.  Back to my childhood.  It's so thick and rich and sweet, it's like an icing that you'll want to dive into head-first.  I took down a spoonful as fast as Mary Poppins would take down a spoonful of medicine, only my spoonful was wayyyy more enjoyable.
Healthy Homemade Sweetened Condensed Milk
Prep Time: 15 minutes
Cook Time: 0 minutes
Total Time: 15 minutes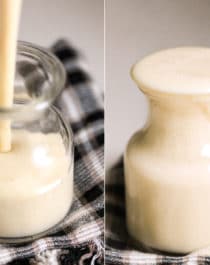 Calories per serving: 40
Ingredients:
Directions:
In a high speed blender, add the evaporated milk and stevia extract.
In a small bowl, whisk together the dried milk powder, erythritol, and xanthan gum.
While blending, add in the dry ingredients.  Blend until completely smooth.  Serve immediately or store in the fridge in a tightly sealed jar or container.
All images and text ©
.
Get the VEGAN version of this recipe here!
.
Here is the recipe's nutrition label:
WOW.  Can you believe it??  Just 40 calories and 5g of (naturally occurring) sugar while the storebought variety has 130 calories and 22g of sugar per 2 tablespoons!  That's crrrrrazy.  I'll take my version ANY DAY over the storebought kind.
With this Healthy Homemade Sweetened Condensed Milk, not only will you save your body from all the white sugar stuffed in those storebought condensed milk cans, but you will save yourself a TON of calories too.  Not to mention, a sugar rush and sugar crash!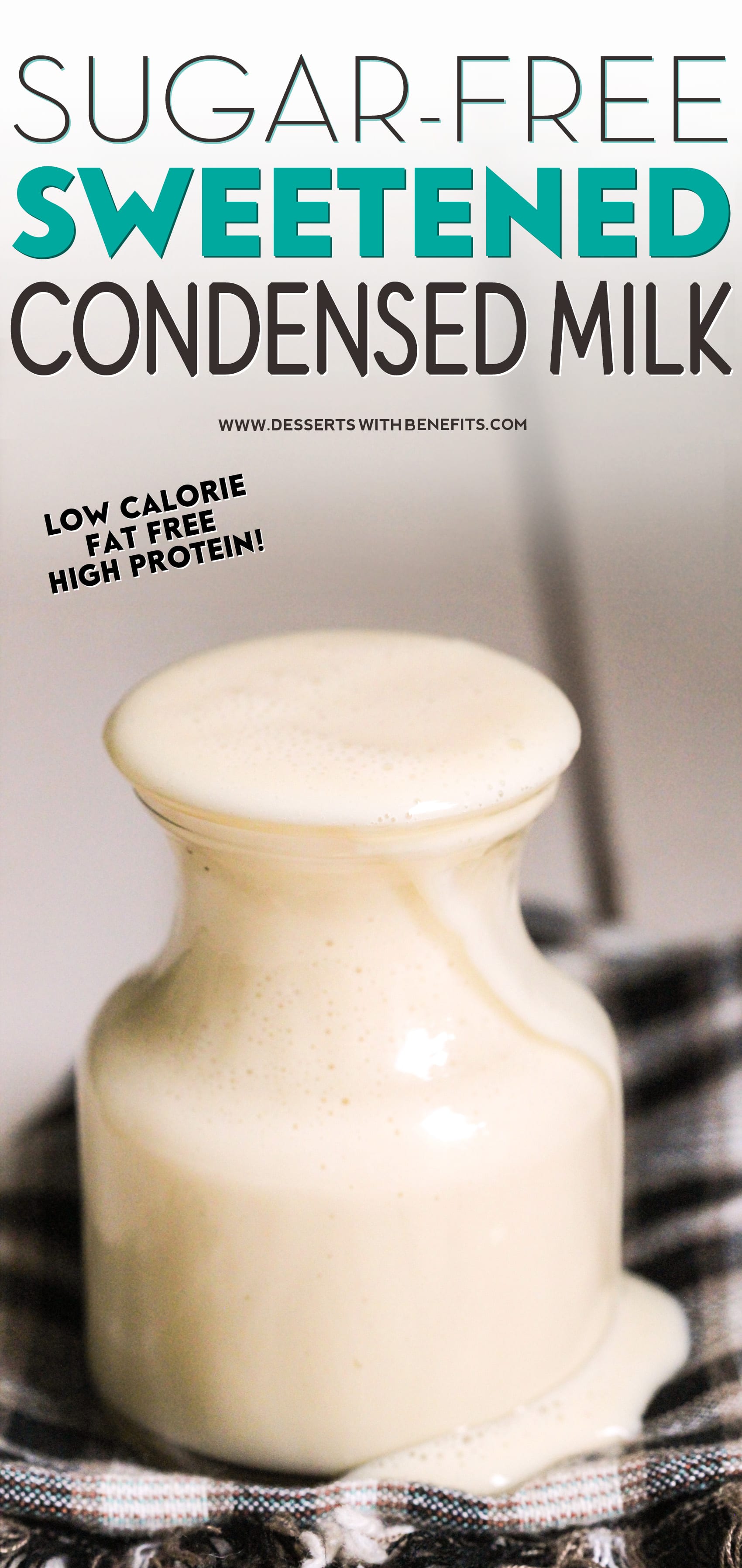 Hope you enjoy!
.
– Jess
.