Healthy Key Lime Pie
Ever dreamt of a Healthy Key Lime Pie without the healthy taste?  Your prayers have been answered!  It's got the perfect combination of tart and sweet, rich and creamy, and healthy and delicious!  You'd never know this tangy, sweet, and ultra creamy pie recipe is low in sugar, low fat, high protein, and gluten free.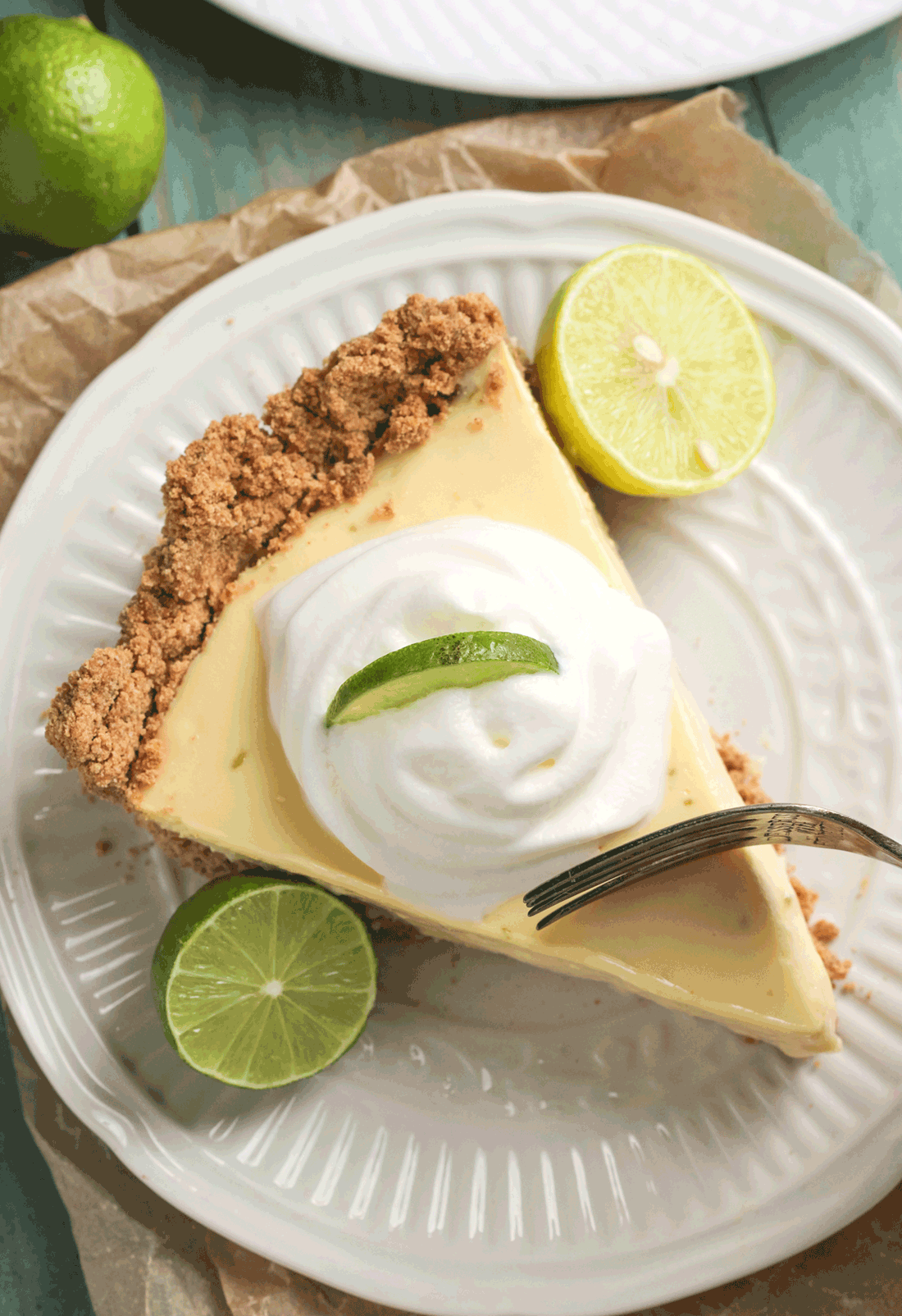 I am SO SO excited to share this recipe with you because, my very strange family who DON'T like sweets for some reason (seriously, how are we related?), absolutely LOVED this Healthy Key Lime Pie.  After taste testing (3 slices of) this pie, I drove over to my mom and dad's place to drop off a few slices for them to try.  Later that night, my dad texted me this:
"Jessica.  I don't blow smoke.  Some healthy foods jus taste ok.  But this key lime pie is different.  I can't put my finger on it yet but it is AWESOME!  Best key lime pie that I have ever had!  Not sure what is up but my taste buds are doing the happy dance."
I seriously squealed and danced around like a weirdo??  My DAD of all people, who never craves dessert, liked my HEALTHY Key Lime Pie.  I think my life has been made!
This Healthy Key Lime Pie looks, tastes, and feels like the real deal.
It tastes like it's from a bakery or nice restaurant.  And guess what, it's totally guilt-free (just check out the nutrition label below)!  Everyone who tried this Key Lime Pie gave it two thumbs up, either because their mouths were full of pie or because they were digging in for another bite  😉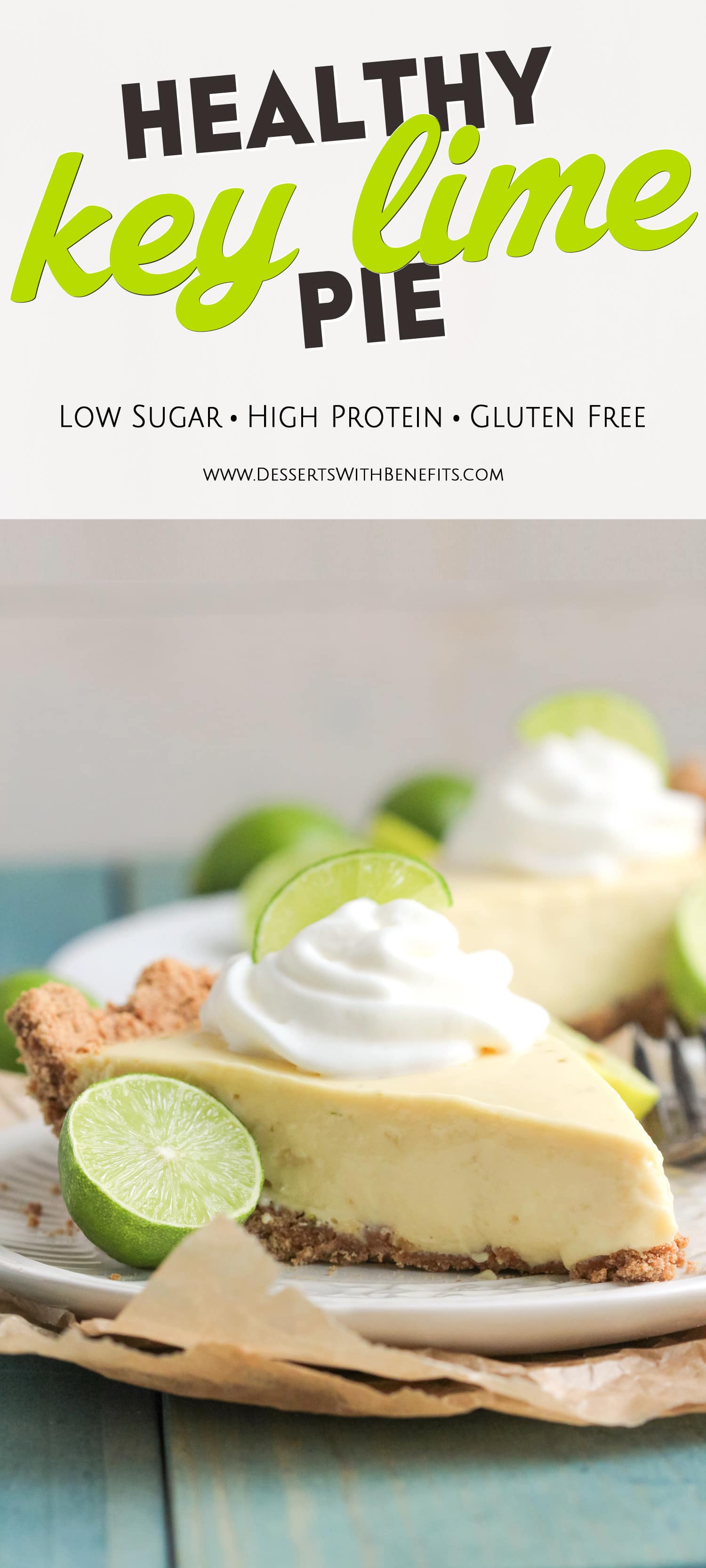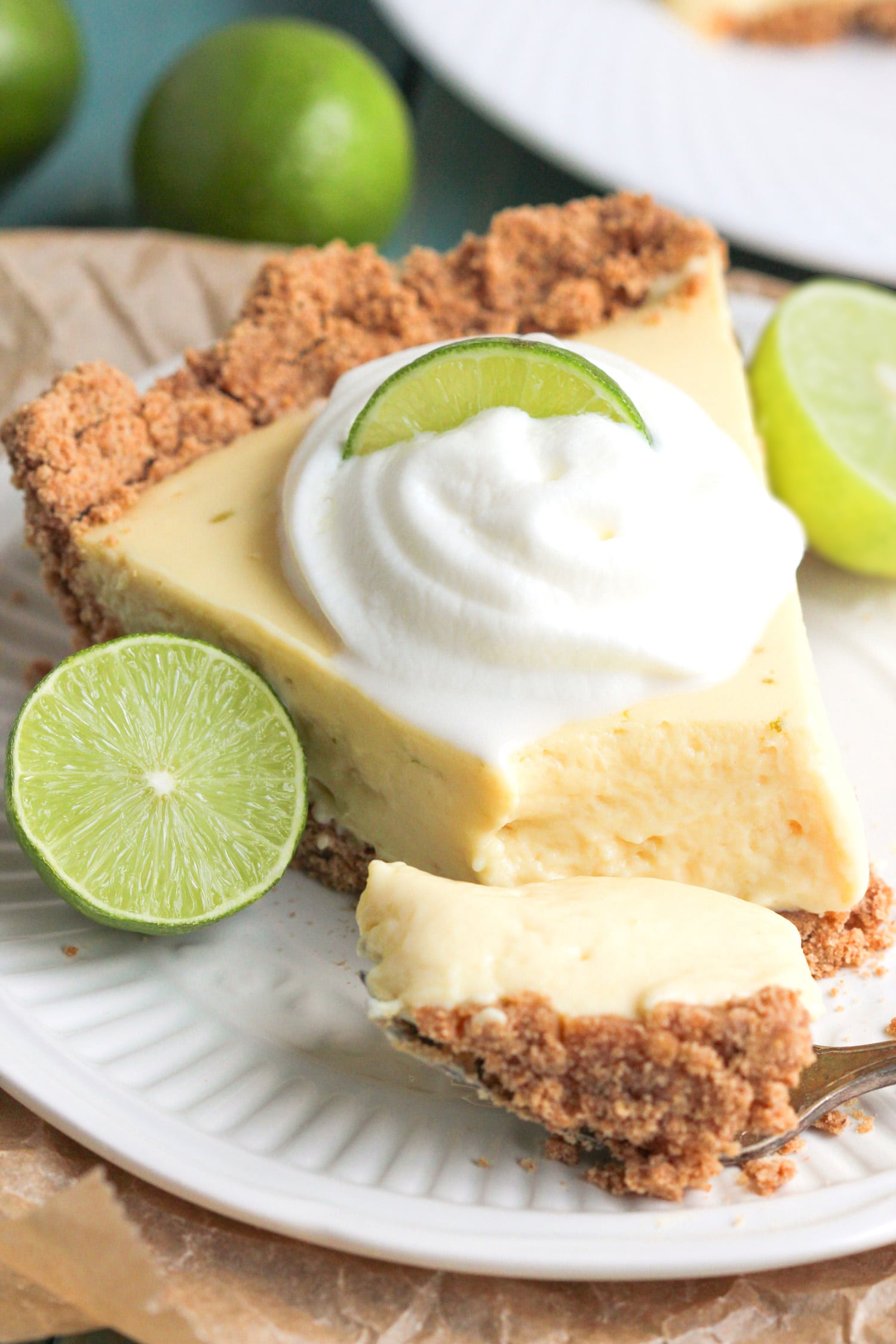 Healthy Key Lime Pie
Prep Time: 45 minutes
Cook Time: 30 minutes
Total Time: 1 hour 30 minutes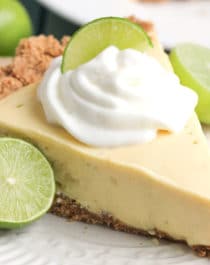 Fat per serving: 7
Calories per serving: 250
Ingredients:
Graham Cracker Crust:
Filling:
one batch Homemade Sweetened Condensed Milk (made with 1 tsp Xanthan Gum, not ½ tsp)
4 Large Egg Yolks
10g (1 tbs, packed) Corn Starch
57g (¼ cup) Plain, Nonfat Greek Yogurt
1 tsp Key Lime Zest
¾ cup Key Lime Juice, freshly squeezed
Directions:
Preheat the oven to 350 degrees Fahrenheit.
In a medium-sized bowl, stir together all of the ingredients.  Press the mixture into a 9.5″ pie dish.  Bake for 13 minutes, or until fragrant and firm. Let cool while you make the filling.
In a large bowl, whisk together the condensed milk and egg yolks.  Whisk in the corn starch, then whisk in the yogurt and lime zest.
Last, whisk in the lime juice.  It will look curdled at first, but just whisk it vigorously and it will become smooth.  Mixture should be very thick, like pudding.  Scoop the mixture into the crust and bake for ~16 minutes, or until set (when you move the pan, the center should jiggle slightly but stay in place, like jello)
Let cool for ~2 hours, then cover and refrigerate overnight.  Slice, serve, and enjoy!
All images and text ©
.
.
Here is the recipe's nutrition label:
I think my brain just exploded.  Only 250 calories for a decadent slice of authentic-tasting, tart, and sweet Key Lime Pie.  PLUS 10g of protein!  No, you're not dreaming.  This is real life.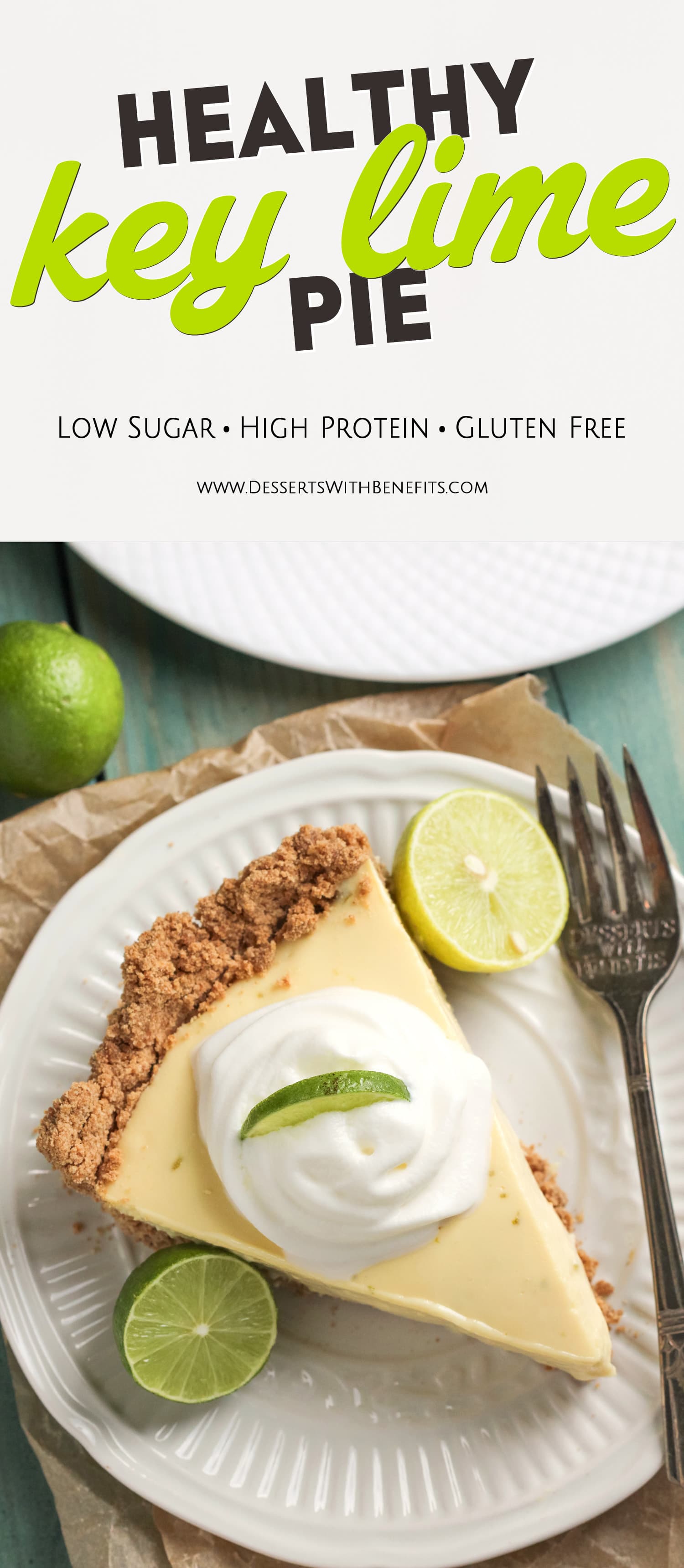 Hope you enjoy this pie as much as we did!
.
With love and good eats,
.
– Jess
.
PS:  Be sure to check out my Healthy Key Lime Cheesecake recipe!
.