Healthy Bananas Foster Ice Cream (+ Video!)
Did someone just say, Healthy Bananas Foster Ice Cream?!?  Bananas Foster + Ice Cream have officially been PUT TOGETHER?!?  Quick, someone get me a hyperventilation bag.

I used to be pretty old fashioned when it came to ice cream.  I went with Cookies 'n' Cream or Vanilla…  that was IT.  When (and if) I was ever feeling adventurous, I would go for Cookie Dough Ice Cream.  Yes, that was me stepping out of my comfort zone  *rolls eyes*
So you can probably guess that I wasn't the brains behind thinking of this particular ice cream — my sister was!  I asked my family if they wanted me to make them a specific ice cream flavor and my sister blurted out, "BANANAS FOSTER!"
At first I had no idea what was in a classic Bananas Foster so I was a bit intimidated.  It sounded fancy.  But, it sounded a lot tastier than what my dad wanted (Pistachio Ice Cream) and much less daunting than what my mom wanted (Creme Brûlée Ice Cream).  Hey, I know I've been baking for over 10 years, but I'm still no magician in the kitchen.  Creme Brûlée Ice Cream is asking A LOT, mom!  😉
Anyways, I did my research and I learned that Bananas Foster is typically made with sliced bananas, LOTS of butter and brown sugar, and then some rum.  I felt a little bit better about this unique ice cream flavor endeavor and got to developing the recipe.
This Healthy Bananas Foster Ice Cream took three trials to perfect…
1st Trial:
Surprisingly this trial was a success!  I posted the recipe back in 2013, but felt like it could use a bit of work and simplification (I used a lot of ingredients and the recipe had too many steps…  in case you wanted to check it out, I provided the old recipe in the "Notes" section of the recipe box below).
2nd Trial:
In an attempt to simplify the recipe, I created a huge disaster.  I thought it was a good idea to reduce the almond milk and increase the bananas and xanthan gum.  I definitely didn't use enough bananas because this "ice cream" wasn't sweet at all.  It was rock hard and icy too.
3rd Trial:
Instead of using almond milk, I swapped it with my Vegan Sweetened Condensed Milk.  What a good decision that was!  It provided both a creamier texture and a sweeter flavor.  Instead of using rum (I ran out), I decided to use bourbon instead.  I also increased the amount of alcohol from 2 tbs to ⅓ cup.  You still can't taste it, but it makes for a better textured ice cream.
After churning and freezing, I spooned myself a big bite, and guess what.
IT'S FREAKIN' DELICIOUS!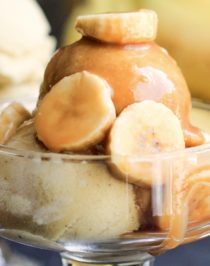 Print Recipe
Pin Recipe
Healthy Bananas Foster Caramel Ice Cream
This Healthy Bananas Foster Ice Cream is so sweet, creamy, rich, and delicious, you'll have a hard time believing it's refined sugar free, dairy free, and VEGAN!
Ingredients
5

Large

Bananas

(very ripe)

⅓

cup

Bourbon

(or Dark Rum to keep it traditional)

2

tsp

Vanilla Extract

2

tsp

Natural Butter Flavor

2

tsp

Ground Cinnamon

1

tsp

Xanthan Gum

½

tsp

Ground Turmeric

¼

tsp

Salt
Instructions
In a small bowl, whisk together the cinnamon, xanthan gum, turmeric, and salt.

In a blender (I used my

Vitamix

), add the bananas, condensed milk, bourbon (or rum), vanilla extract, and butter flavor. Puree until completely smooth.

With the blender running, slowly add the dry ingredients. Puree until completely smooth, then increase speed to high for 30 seconds.

Place the frozen ice cream maker attachment onto the stand mixer and turn on the "stir" speed. Pour ice cream mixture into the ice cream maker and churn until thickened slightly (it won't turn into ice cream just yet, this step is just to make sure the ice cream doesn't form ice crystals).

Pour the ice cream mixture into a freezer-proof dish (I used a 9x5" ceramic loaf pan). Freeze until it's the consistency you prefer (~3-5 hours).  Serve with

Homemade Caramel Sauce

and enjoy!
Recipe Notes
This recipe above is the new and improved recipe.  However, in case you wanted to try the old version instead, I'm providing it here:
Nutrition Facts
Healthy Bananas Foster Caramel Ice Cream
Amount Per Serving (1 serving = ¾ cup)
Calories 200
Calories from Fat 99
% Daily Value*
Fat 11g17%
Sodium 105mg5%
Carbohydrates 18g6%
Protein 2g4%
Vitamin C 8.3mg10%
Iron 1.8mg10%
* Percent Daily Values are based on a 2000 calorie diet.
Yup, only 200 calories for a ¾ cup serving!  Compared to a ¾ cup serving of Ben & Jerry's Banana Split Ice Cream, my Healthy Bananas Foster Ice Cream has:
175 less calories
10g less fat
32g less sugar (that's 8 teaspoons of sugar you're saving!)
.
Watch me make this Healthy Bananas Foster Ice Cream!
.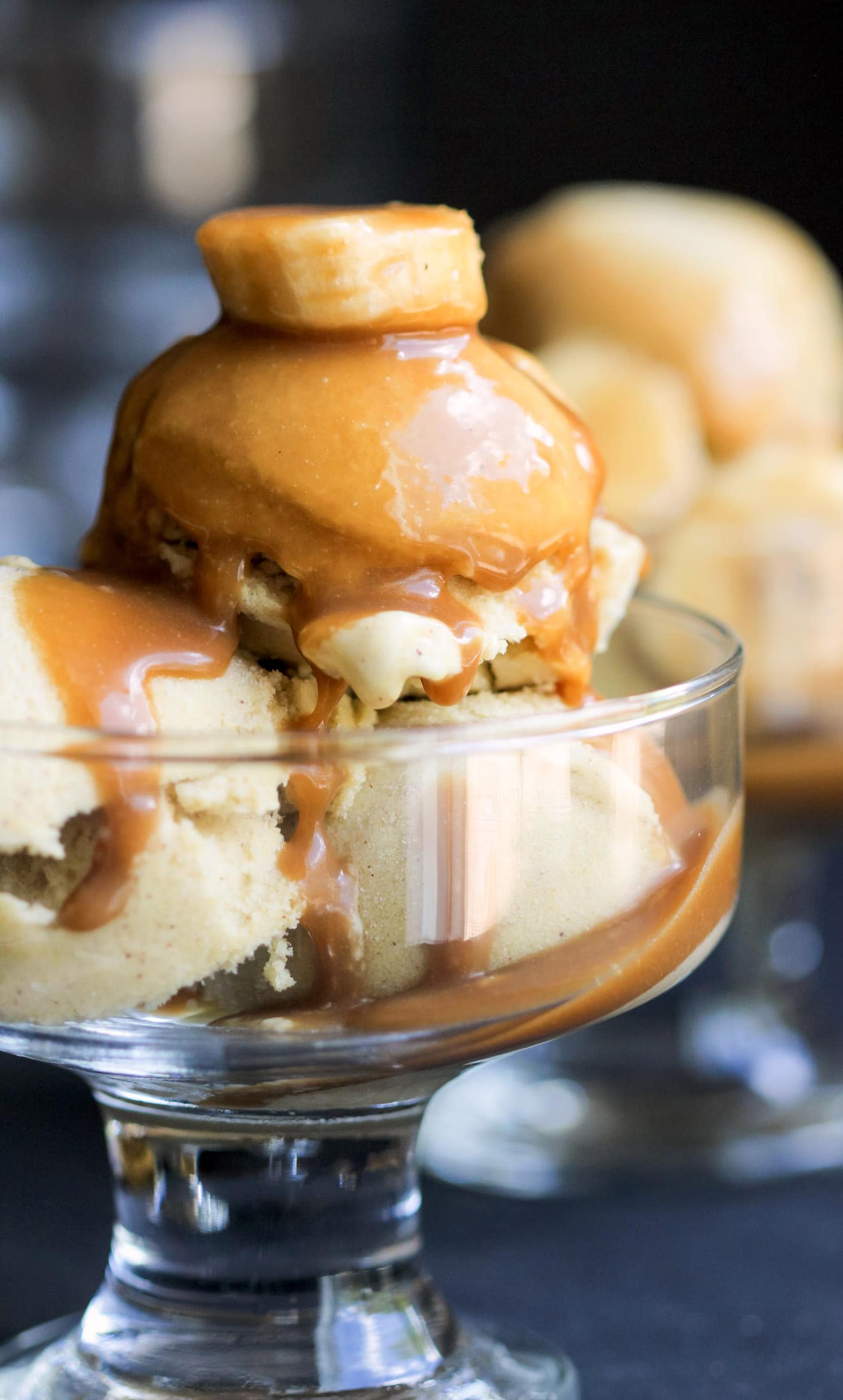 This Healthy Bananas Foster Ice Cream is the bomb.  No one believed it was refined sugar free, vegan, and 100% healthy!  Try it for yourself and you'll see why.
Bookmark this recipe and make it this weekend.  Or, you could just make it right now  😉

Enjoy!
.
With love and good eats,
.
– Jess
.