Healthy Peanut Butter Banana Cake with Caramel Frosting
What would we ever do without peanut butter?  The thick, rich and creamy spread that pretty much goes well with anything…  jelly, chocolate, maple syrup, butterscotch, celery (ew), and especially bananas and caramel!  I adapted my original Peanut Butter Cake recipe to make this banana version with a luxurious caramel frosting.
This Peanut Butter Banana Cake is incredibly decadent…  like, seriously decadent.
It's dense, moist, rich, and sweet, it's hard to believe this cake is actually healthy, even for me and I'm the one who made it!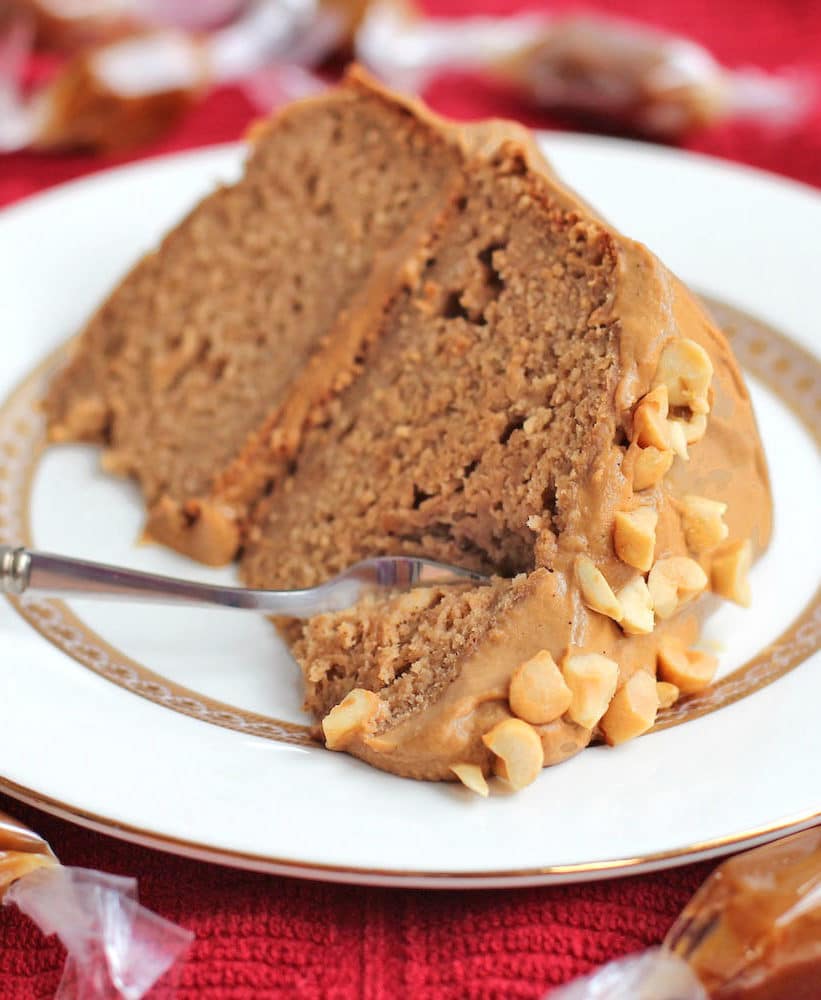 I kind of hoard peanut butter because of all those Doomsday Preppers shows I've watched.  I mean, if a natural disaster were to strike (and pretty much every "prepper" is convinced on their impending doom) and I can't have refrigerated food, I can at least have my peanut butter  😉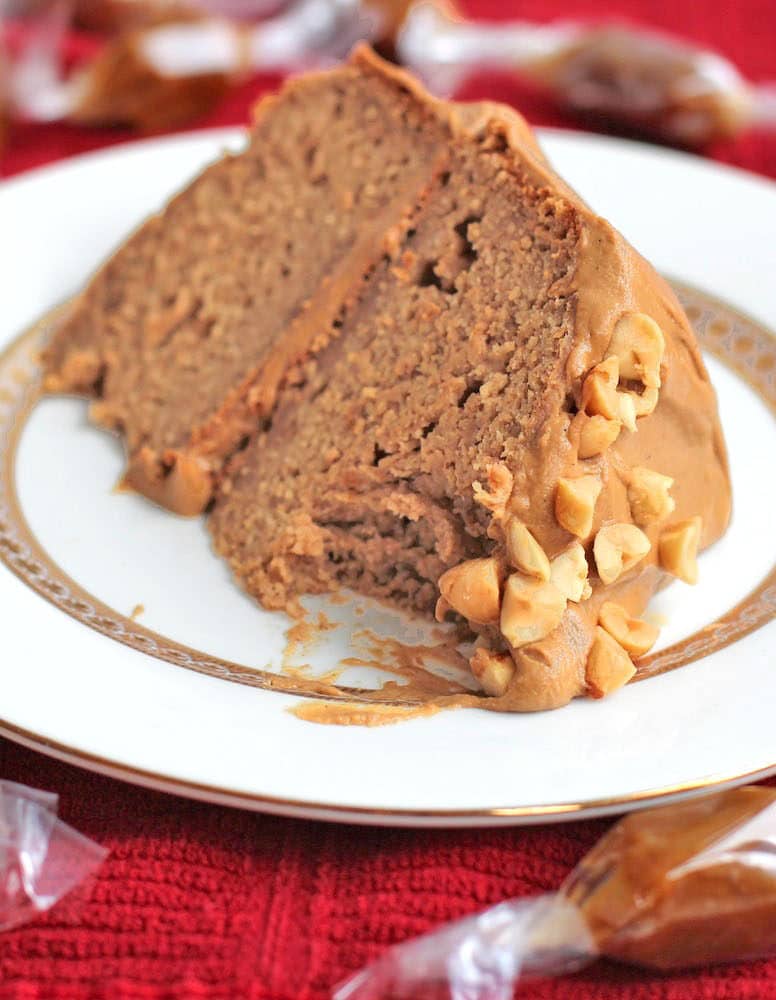 OH NO.  But, what if I run out of disposable spoons??  All those peanut butter jars without a scooping utensil?!?!  Oh wait, that's what fingers are for…  mmmm, peanut butter-covered fingers  🙂
But for now, since this isn't the end of the world or anything, we can make this Peanut Butter Banana Cake with Caramel Frosting — it will satisfy all of your dessert cravings, and because it's healthy, you don't have to feel guilty eating it!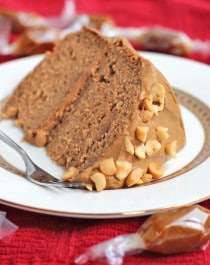 Print Recipe
Pin Recipe
Healthy Peanut Butter Banana Cake with Caramel Frosting
Instructions
For the Cake:
Preheat the oven to 350 degrees Fahrenheit and spray two 6" cake pans with cooking spray.

In a stand mixer with beater attachment, add the bananas, applesauce, egg whites, nut butter, sucanat, erythritol, almond milk, stevia extract, cinnamon and salt.

In a small bowl, whisk together the oat flour, peanut flour and baking powder. Slowly add to the stand mixer and beat on medium speed for 20 seconds (batter should look like a thin muffin batter or thick cake batter).

Pour batter into prepared pans and bake for ~48 minutes, or until the surface has risen, is firm to touch and springs back when tapped.
For the Frosting:
In a large bowl, whisk together the almond milk, caramel sauce, stevia and vanilla paste.

Whisk in the protein powder.  Frost the cooled cakes and refrigerate for 30 minutes. Slice and serve!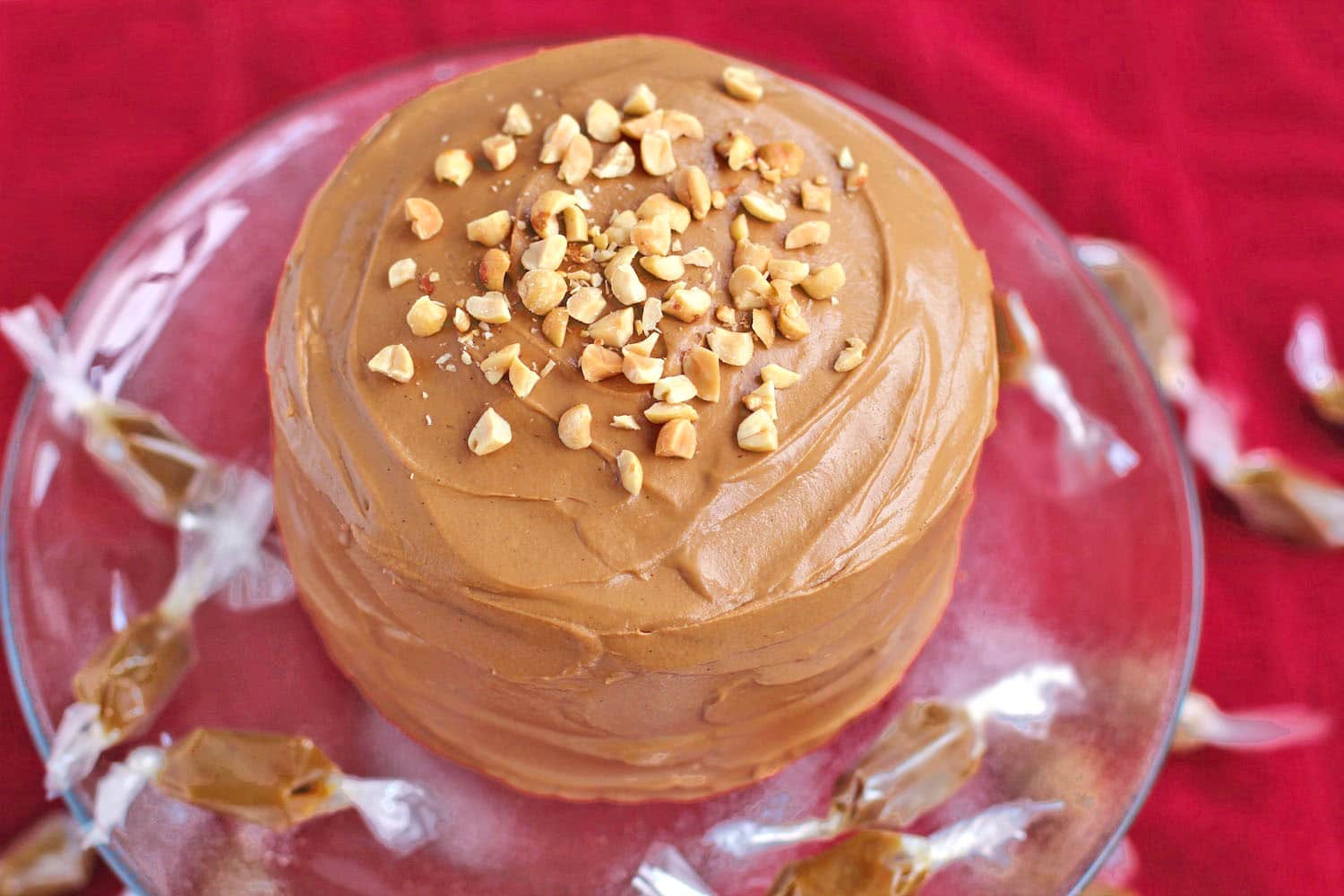 Top the cake with some chopped peanuts and serve with some Caramels on the side.  You'll have some very happy campers  🙂
.
With love and good eats,
.
– Jess
.