Healthy Maple Cake
Craving some cake but don't want all the calories, fat, sugar and unhealthy ingredients?  Then make this Healthy Gluten-Free Maple Cake!  One deliciously flavorful bite and you'd never suspect it's low-fat, refined sugar-free, high-fiber and high-protein.
This cake is so incredibly moist you'll never know it's missing the butter and oil.
It's super sweet too, yet naturally sweet, because it's sweetened with applesauce and pure maple syrup.  No refined white sugar, genetically modified high fructose corn syrup or fake "maple syrup" stuff here.
And, despite being gluten-free, this cake is 100% whole grain, thanks to the brown rice flour and sorghum flour!  Plus, it has a good structure and doesn't crumble (or taste) like sand, kind of like most storebought gluten-free baked goods.
Along with the pronounced rich maple taste, this cake gets another boost of flavor from vanilla and some ground cinnamon.  They really take the cake to the next level  
Healthy Maple Cake
Prep Time: 25 minutes
Cook Time: 25 minutes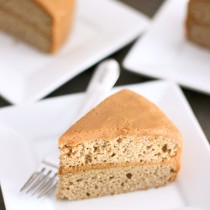 Ingredients:
160g (1 cup) Brown Rice Flour
136g (1 cup) Sweet White Sorghum Flour
1 tbs Double-Acting Baking Powder
2 tsp Ground Cinnamon
1/4 tsp Salt
246g (1 cup) Unsweetened Applesauce
1/2 cup Unsweetened Vanilla Almond Milk
168g (1/2 cup) Pure Maple Syrup (I used Grade B)
4 Large Organic Eggs
2 tsp Vanilla Extract
2 tsp Stevia Extract
1 tbs Apple Cider Vinegar
Directions:
Preheat the oven to 350 degrees Fahrenheit and line two 8 inch cake pans with parchment paper circles and spray with cooking spray.
In a medium-sized bowl, whisk together the brown rice flour, sorghum flour, baking powder, cinnamon and salt.
In a large bowl, whisk together the applesauce, almond milk, maple syrup, eggs, vanilla extract and stevia extract.
Dump the dry ingredients over the wet ingredients and whisk together.
Whisk in the vinegar, then scoop the batter into the prepared cake pans.
Bake for 25-28 minutes, or until the surface of the cakes spring back when tapped.
Flip the cakes over onto wire cooling racks and let cool completely.  Frost the cake, slice, and serve!
First, let me just apologize for not providing a frosting recipe here.  The frosting you see in the pictures was a little…  off.
I first tried making Maple Cream, which is basically boiled maple syrup that's cooled and stirred until it thickens and turns opaque.  But no luck for me.  I literally stirred super thick maple syrup (like, maple syrup as thick as hardening concrete) for 40 minutes.  My arms almost fell off so I quit.
Then I made an Almond Butter-Maple Frosting.  I based it off this recipe, but I substituted almond butter in place of the cream cheese.  It frosted onto the cake just fine, but after a few hours it thickened for some reason (like, as thick as fudge).  Ugh.  I should really just follow the original recipes instead of changing them on the spot all the time, shouldn't I?
So, I would recommend a few different frosting options:
This cake is slightly dense with a moist crumb, so I think a light frosting would contrast really well with the cake!
This cake could also probably be baked in a muffin tin if you want individual portion sizes.  Or, you could bake this in a loaf pan if you want a cake-loaf thing.  For some reason, I really like baking cakes in loaf pans.  I don't know why, but I prefer square slices of cake rather than the typical triangle ones…  is that weird?
Here is a nutrition label comparison between Bon Appetit's Maple Cake recipe and my Healthy Gluten-Free Maple Cake:
(Bon Appetit's nutrition label is on the left, the Desserts with Benefits nutrition label is on the right)
Wow, BIG difference, eh??
For the same amount of cake, my cake has:
300 less calories
14.5g less fat (and less saturated fat too!)
36g less sugar
less cholesterol, less sodium and less carbohydrates
more fiber and more protein
Yum!  Now that's what I call a healthified cake  
Enjoy!