Healthy Pumpkin Cake with Spiced Butterscotch Frosting
Do you believe me when I say that this cake is actually healthy?  Well, you should, because it is!
This healthy Gluten-Free Pumpkin Cake with a special Butterscotch Frosting is whole grain, refined sugar free and contains ZERO butter (I think Paula Deen just shuttered there for a moment).  This cake may be good for you, but trust me, you'd never know it.
See that wonderful texture?  The fork just sinks right through.
This cake is soft and moist, you'd never guess that it's made without a copious amount of butter and oil.  The entire recipe only calls for one tablespoon of oil!
The cake and frosting together are sweet and packed with flavor, you'd never know that the slice in front of you is refined sugar free and all natural.
This cake is unbelievably delicious, everyone who tried it loved it (especially the frosting, my friend and I ate the extra bit leftover straight out of the mixing bowl…  don't judge us, you will too)
Healthy Pumpkin Cake with Spiced Butterscotch Frosting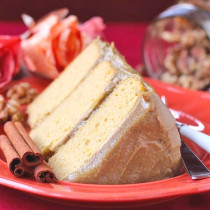 Ingredients:
Cake:
136g (1 cup) Sweet White Sorghum Flour
120g (¾ cup) Brown Rice Flour
40g (¼ cup) Organic Corn Starch
1 tbs Baking Powder
Ground Cinnamon (use 1 tsp if you make the frosting below, 2-3 tsp if using a different frosting)
¼ tsp Salt
250g (1 cup) 100% Pure Pumpkin Puree, canned
1 cup Unsweetened Vanilla Organic Soy Milk
¾ cup Egg Whites, fresh
96g (½ cup) Homemade Vanilla Sugar (or dry sweetener of choice)
14 (1 tbs) Hazelnut Oil (or any other neutral oil)
2 tsp Stevia Extract
2 tsp Vanilla Extract
1 tbs White Vinegar
Frosting:**
Directions:
For the Cake:
Preheat the oven to 350 degrees Fahrenheit and spray three 6" cake pans with PAM cooking spray.
In a small bowl, whisk together the sorghum flour, brown rice flour, starch, baking powder, cinnamon and salt.
In a stand mixer bowl with whisk attachment, add the pumpkin, soy milk, egg whites, vanilla sugar, oil and extracts. Whisk on medium/low speed.
Add the vinegar to the mixing stand mixer, then slowly add in the dry ingredients. When all is incorporated, scrape down the sides of the bowl. Whip batter on medium/high speed for 20-30 seconds.
Pour batter into the three prepared pans and bake for 28-33 minutes, or until the surface of the cakes spring back when tapped.
For the Frosting:
In a large mixing bowl, whisk together both protein powders and the coconut flour.
Whisk in the soy milk, then whisk in the extracts, spices and natural food coloring. Frosting should be thick (add coconut flour or protein powder if you want it thicker, added teaspoon by teaspoon).
Frost the cake, refrigerate for ~30 minutes, then slice and serve!
Notes:
**I also added 35 drops of Natural Orange Food Coloring because I wanted the frosting to look more caramel-like, but it is totally optional!
I know the frosting recipe here is a little wacky, I made it on a whim.  Some easier frostings include:
Healthy Maple Cinnamon Frosting.
My anxiety level used to go THROUGH. THE. ROOF. every time I'd bake and it was time to remove a cake from its pan.  My heart would beat like I had just finished some crazy CrossFit workout because I was so scared about the cake sticking to the pan.  Back in July, I was baking a layered chocolate cake for a local restaurant (on a time crunch) and it totally slipped my mind to spray the cake pans with cooking spray. I'm sure you've guessed it…  the cakes stuck to those darned pans with all their might.  Tapping the pans with my hands didn't help, and neither did slamming the pans onto my counter.  I used knives, I used offset spatulas, I even tried a spoon at one point.  After a painstaking fifteen minutes, the cake finally gave way…  a little.  Half of the cake landed onto the counter while the bottom half stuck to the pan.  That cake was laughing at me.  I know it was.  *Sigh*  If only my handy dandy notebook, I mean, bottle of PAM Cooking Spray were there to save the day!  Don't worry, I've learned my lesson from then.  In case you were wondering, I managed to scrape the bottom half of the cake out of the pan and conceal the hideously uneven cake with a thick chocolate ganache and chocolate glaze…  I've never told a soul, so SHHH!!  Now I bake all of my reduced-fat and low-fat desserts with cooking spray.  It's so much easier, quicker and healthier than smearing a stick of butter all over a pan.
Easy peasy.  That took less than 3 seconds.
Now it's time for the ultimate test  (AKA, the "get-the-cake-out-of-the-pan test")
PS:  The cake pictured below is different than the one in the post, that's why it looks different  🙂
PHEW!
Thanks, PAM.  My heart rate has returned to normal.
If you are baking (less-guilty) holiday recipes the last thing you need is for your lovely dessert to stick to its pan.  So save yourself some time and stress and use cooking spray!  It's the holidays people, celebrate and relax.  Drink a little vino and eat some of this (secretly healthy) cake  😉
Look at all that frosting!  I wish I could scoop some off the cake and hand it to you through the screen, but technology hasn't caught up with Wonkavision yet…  😉
.
This post was sponsored by PAM Cooking Spray.  All opinions are my own!