Healthy Cinnamon Raisin Chia Seed Peanut Butter
What's better than a spoonful of peanut butta?  A spoonful of THIS Healthy Cinnamon Raisin Chia Seed Peanut Butter!  It's sweet and flavorful and addicting, it's hard to believe it's refined sugar free, gluten free, and vegan!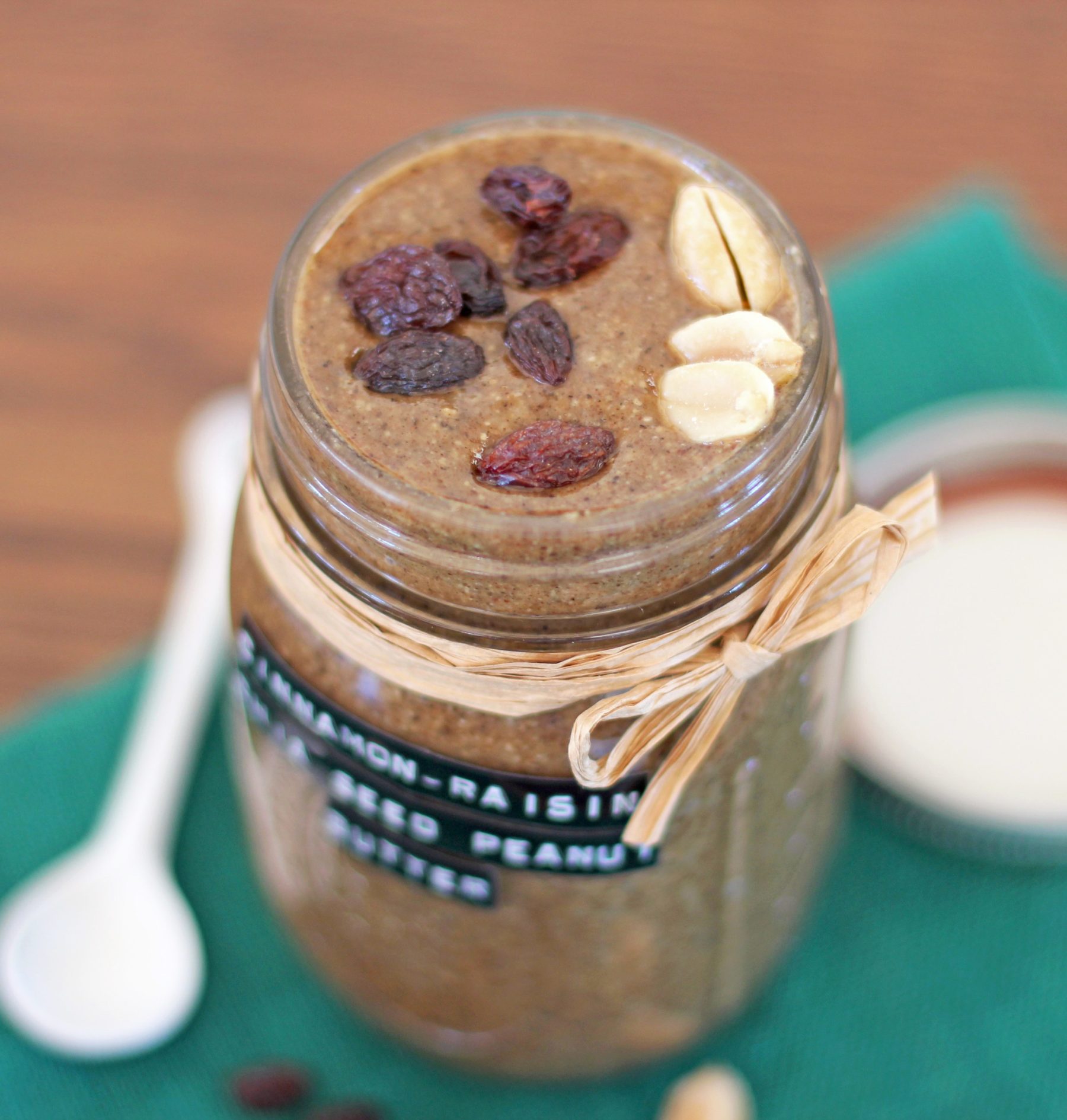 Who likes chia seeds?  Okay, cool…  Now, who doesn't like chia seeds?  *quietly raises hand*
I mean, I love the health benefits of chia seeds but I just hate how they taste.  They smell gross and they look unappetizing.
We all know that chia seeds are healthy, they have omega-3 fatty acids, complete protein and both soluble and insoluble fiber.  So I bought a bag of chia seed meal.  Sadly, it has been sitting in my pantry for over four months now.  I opened it when I first got it to see what it looked like but was immediately turned off and left it in the darkest corner of my pantry.
One day, when I was making what seems to be my fiftieth jar of peanut butter, I decided to add some chia seed meal.  I took a whiff into the food processor as I mixed the peanuts and chia seed meal but it smelled a little too much like chia to me.  I added some stevia, cinnamon, and raisins for flavor, but then the mixture turned into a Larabar-like texture.  I then added some pure maple syrup and coconut oil and was FINALLY rewarded!
This Cinnamon Raisin Chia Seed Peanut Butter is smooth and flavorful, delicious and nutritious.
I was basically just adding things and adding things into a food processor until it turned into a nut butter, so this recipe makes quite a large batch.  BUT, it's so delicious that no one minds having 3 separate jars of it staring them in the face every time they open the fridge.  It just means that you gotta sneak a spoonful or two all throughout the day…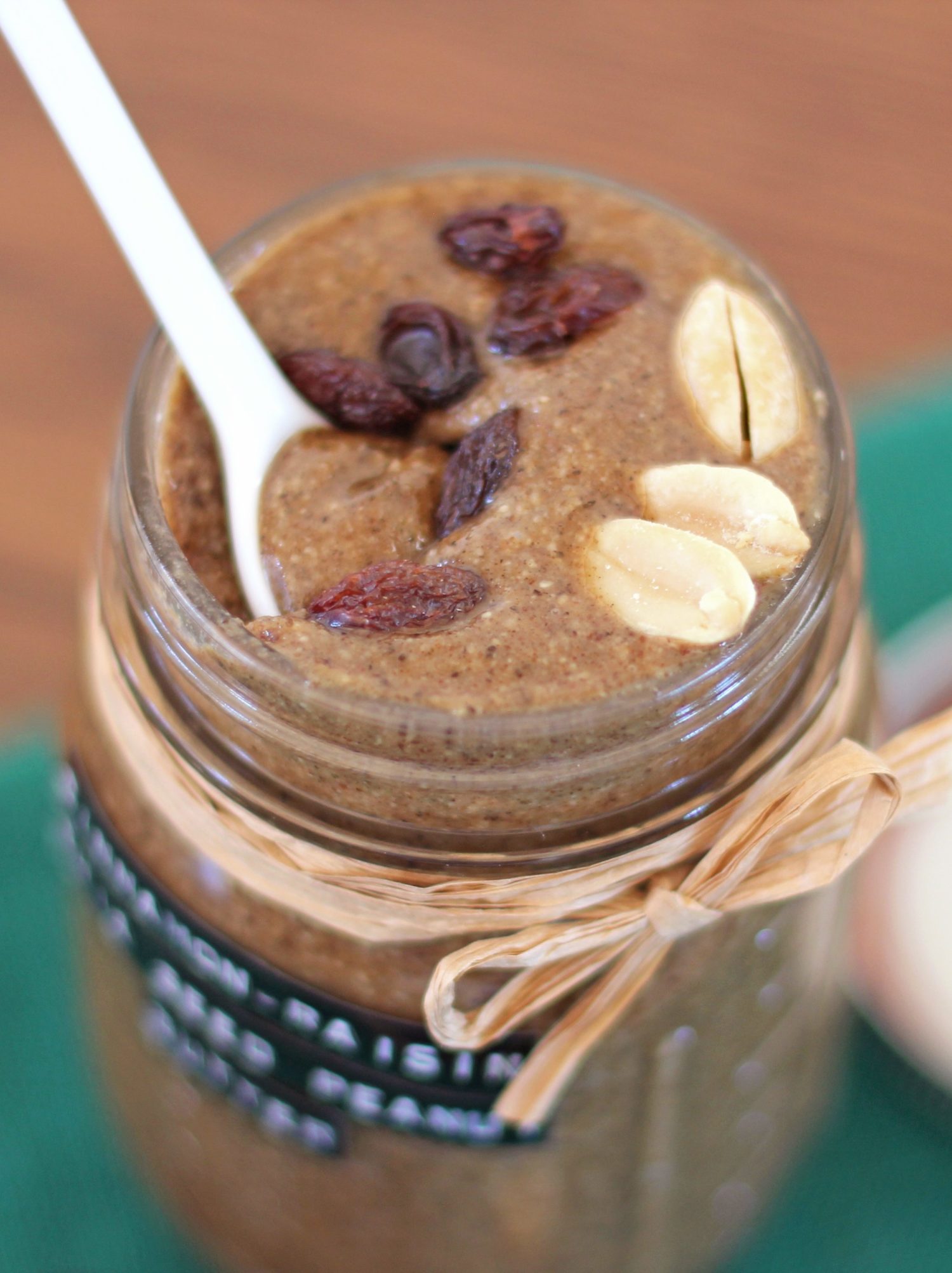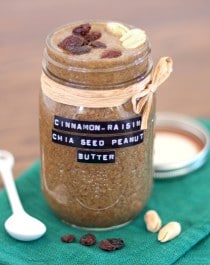 Print Recipe
Pin Recipe
Healthy Homemade Cinnamon Raisin Chia Seed Peanut Butter
Instructions
In a large food processor, pulse the peanuts until it turns into crumbs. Add the coconut oil and process into a butter (this will take a few minutes).

Add the chia seeds and stevia and grind at one-minute intervals, scraping down the sides of the bowl between each one, until thoroughly mixed together.

Add the raisins, maple syrup, and cinnamon, and grind at one-minute intervals until thoroughly mixed in.  Scoop into jars and refrigerate to store.
Recipe Notes
Feel free to half the recipe, it makes quite a bit (3⅔ cups to be exact)!
Nutrition Facts
Healthy Homemade Cinnamon Raisin Chia Seed Peanut Butter
Amount Per Serving (2 tablespoons)
Calories 185
Calories from Fat 126
% Daily Value*
Fat 14g22%
Sodium 100mg4%
Carbohydrates 11g4%
Protein 7g14%
Calcium 50mg5%
Iron 0.9mg5%
* Percent Daily Values are based on a 2000 calorie diet.
And you don't taste the chia seeds!  Perfect for those who aren't a fan of chia flavor (like me) but are a fan of the health benefits.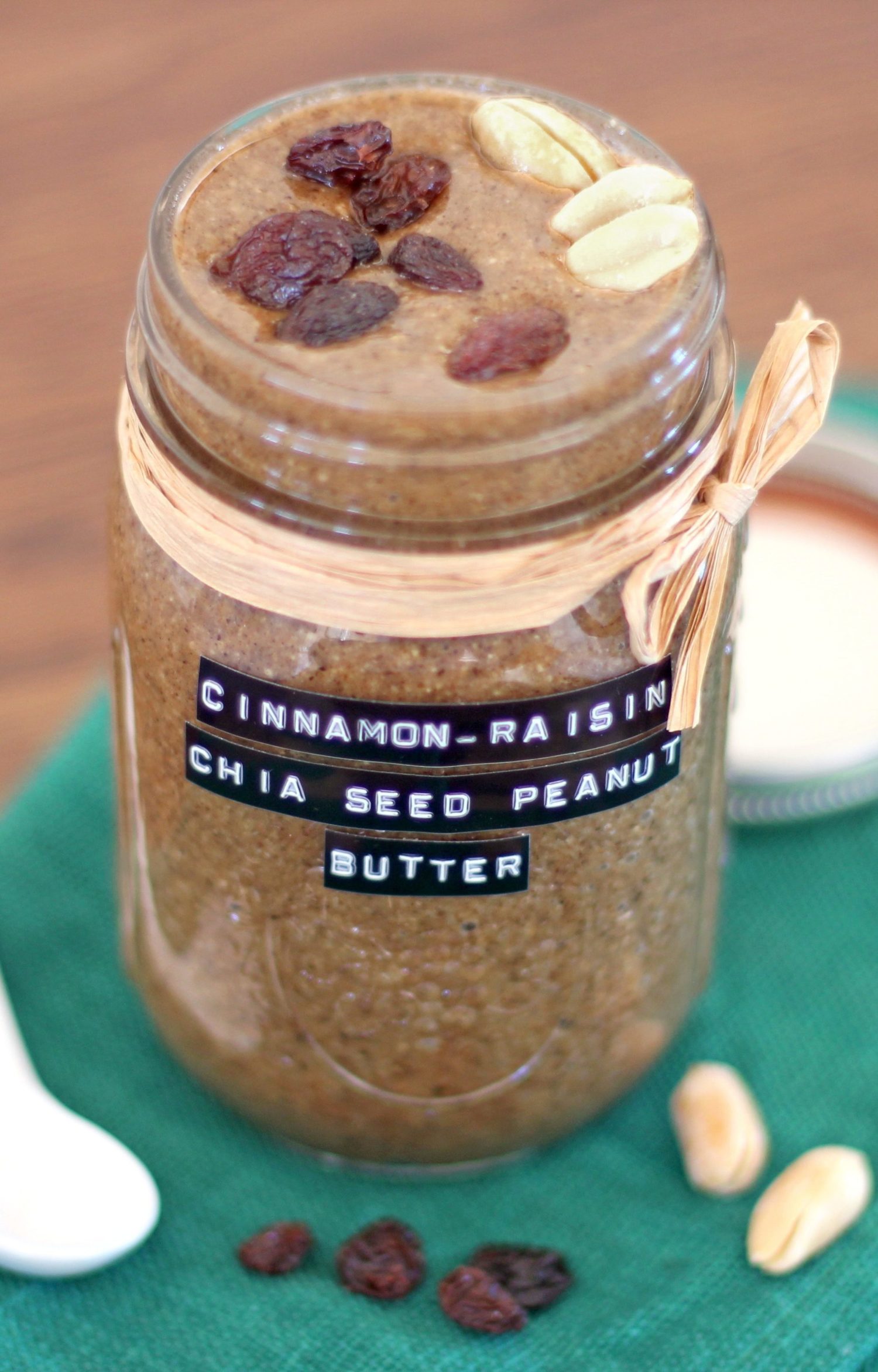 Enjoy!
.
– Jess
.