Healthy Microwaveable Apple Pie Quinoa Flake Protein Muffin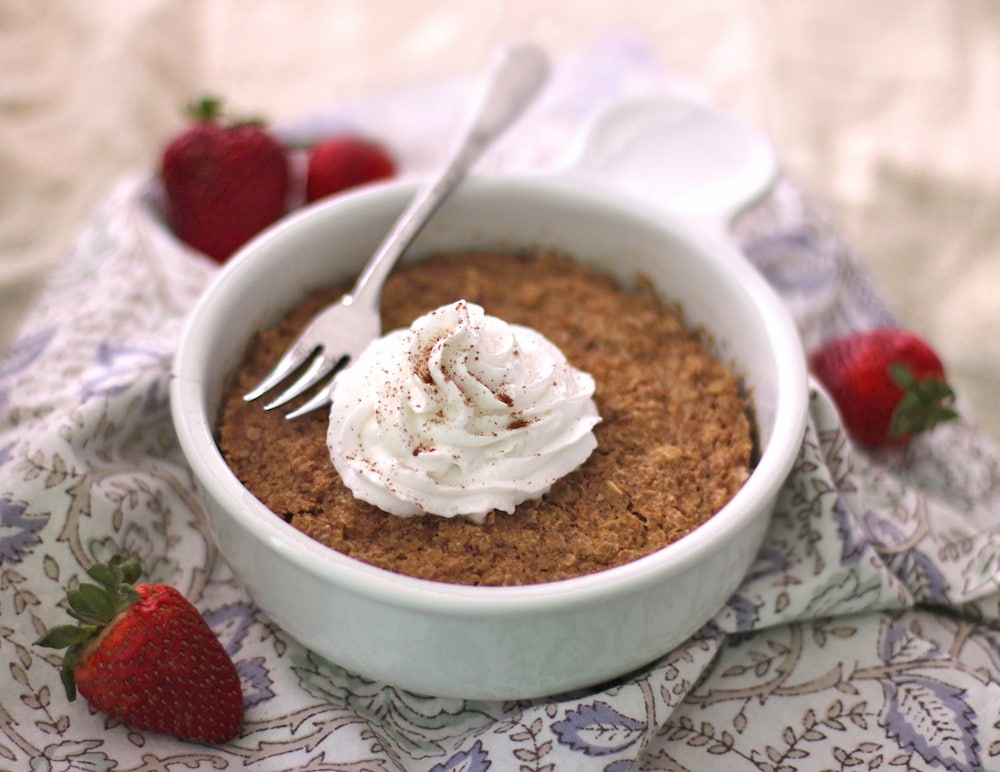 Winter break is so close I can almost taste it, but boy am I busy!  Should I be surprised?  No, I'm in college and finals are right around the corner.  I feel like everyone is running around like a hamster on a wheel.  You know the kind, the oh-my-gosh-I-have-three-exams-tomorrow-how-will-I-EVER-survive-the-world-is-coming-to-an-end-because-my-coffee-mug-is-empty-why-why-WHYYY-*head clunks on desk*-*snores* kind.
But I'm feeling pretty chill (except I agree with the oh-my-gosh-my-coffee-mug-is-empty part).  Do you wanna know why?  I'm coping with the suddenly drastic (and totally excessive) amount of schoolwork due to:
1.  Coffee (duh)
2.  Easy peasy microwave "bakes!"  Especially this 100% delicious and nutritious Apple Pie Quinoa Flake Protein Muffin  🙂
Soft, moist, sweet and cinnamon-y, this muffin is filled with healthy fats, fiber, protein and complex carbohydrates to provide sustained energy and steady blood sugar levels throughout the day so I can focus in class and party hard later…  juuuust kidding! and complete all of my assignments.
It helps tremendously to enjoy a decadent-tasting dessert for breakfast on mornings where I am crunched for time.  I feel happy, calm, energized, full and satisfied for a full day of work.  With such a quick and easy recipe, you will be too!
Healthy Microwaveable Apple Pie Quinoa Flake Protein Muffin (no sugar added, gluten free, vegan)
Ingredients
7g (1 tbs) Ground Flaxseed
3/4-1 tsp Apple Pie Spice (to taste; or cinnamon)
4 packets Truvia (or sweetener of choice)
1/8 tsp Salt
1/2 cup Unsweetened Vanilla Almond Milk
62g (1/4 cup) Unsweetened Applesauce
15g (1.5 tbs) Unflavored or Vanilla Brown Rice Protein Powder (I used NutriBiotic)
51g (1/2 cup) Quinoa Flakes
Instructions
Spray a 5" baking dish with cooking spray.
In a medium-sized bowl, stir together the flax, apple pie spice, truvia and salt.
Stir in the almond milk and applesauce.
Stir in the protein powder, then stir in the quinoa flakes.
Pour batter into the prepared dish and microwave for ~5 minutes, or until surface springs back when tapped. Let cool slightly, then dig in!
Notes
Some delicious toppings include: your fav nut butter, diced apples, pure maple syrup, raisins, whipped cream (I used Soyatoo Rice Whip), a dash of apple pie spice or cinnamon, a sprinkle of sucanat, crumbled pecans or walnuts, etc...
This recipe is: sugar free, low fat, high fiber, high protein, gluten free, vegan!
https://dessertswithbenefits.com/healthy-microwaveable-apple-pie-quinoa-flake-protein-muffin/
www.DessertsWithBenefits.com
Wow, what a balanced breakfast!  With only 330 calories, 7g of healthy fats, 8g of fiber and 21g of protein you are almost guaranteed to feel full for hours.  Personally, I like eating a higher calorie breakfast because it keeps my hunger at bay until I am finished with my morning classes so I top my Apple Pie Quinoa Flake Protein Muffin with some Homemade Almond Butter or Cinnamon Raisin Peanut Butter.  Deeeelicious   🙂
You've gotta try this recipe for yourself.  You will fall in love.
---
.
Like this recipe?  Then you'll LOVE the DIY Protein Bars Cookbook!  With 48 dessert-like protein bar recipes, full-color pages and photos for every recipe, you'll never think twice about buying protein bars from the store again.  See this page for more information on the book, including the Table of Contents, some sneak peaks and sample images.
Order it from Amazon here!