Healthy DIY Almond Butter
Save money and make your nut butters at home!  Here is a SUPER easy, healthy homemade Almond Butter recipe made all natural, sugar free, low carb, gluten free, vegan, paleo, and keto friendly too!
I feel so guilty knowing that I ever bought nut butter from the store.  I never knew how much cheaper it is to make it at home… quite honestly, I didn't know it was possible until a few months ago.  Plus, it's super easy, incredibly convenient, and oh so fresh and healthy!  So let's calculate how much cha-ching! we save by making almond butter at home:
One 3lb bag of almonds costed me $10.99 at Costco (YAY for food in bulk!), with the capability of making me ~5.5 cups of almond butter.  That's only $1.99 per cup!
Compare that to Artisana's almond butter (the brand I used to buy ~1x a month), which costs $11.99 for a 16oz jar, or $5.99 per cup!
So after making this Homemade Almond Butter and trying to count how many jars of almond butter I've gone through (and extra dollars I've spent) over the years, I want to slap myself.  Hard.
But you don't have to slap yourself for wasting any money, because now you can make almond butter at home too  🙂
Healthy Homemade Almond Butter
Prep Time: 30 minutes
Cook Time: 0 minutes
Total Time: 30 minutes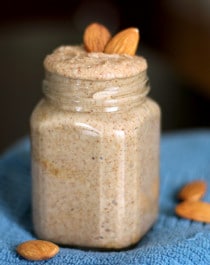 Fat per serving: 16
Calories per serving: 180
Ingredients:
3 cups Almonds, unsalted (you can use raw or roasted)
Directions:
In a food processor, add the almonds. Pulse until crumbly and flour-like, then grind constantly until smooth and buttery, scraping down the sides of the bowl as needed (depending on the processor you use, this could take anywhere from 5-10 minutes).  Feel free to add salt to taste or stevia to sweeten.
Pour the mixture into jars, seal tightly, and refrigerate to store.
All images and text ©
.
Enjoy!
.
With love and good eats,
.
– Jess
.