Healthy Carrot Cake Milkshake
This (Secretly) Healthy Carrot Cake Milkshake is super thick, creamy and satisfying you'll never know it's good for you — it's sugar free, high fiber, high protein, low fat and gluten free…  no refined flours, no refined sugars and no artificial food colorings!  Just carrot cake deliciousness that's healthy enough for breakfast and sweet enough for dessert.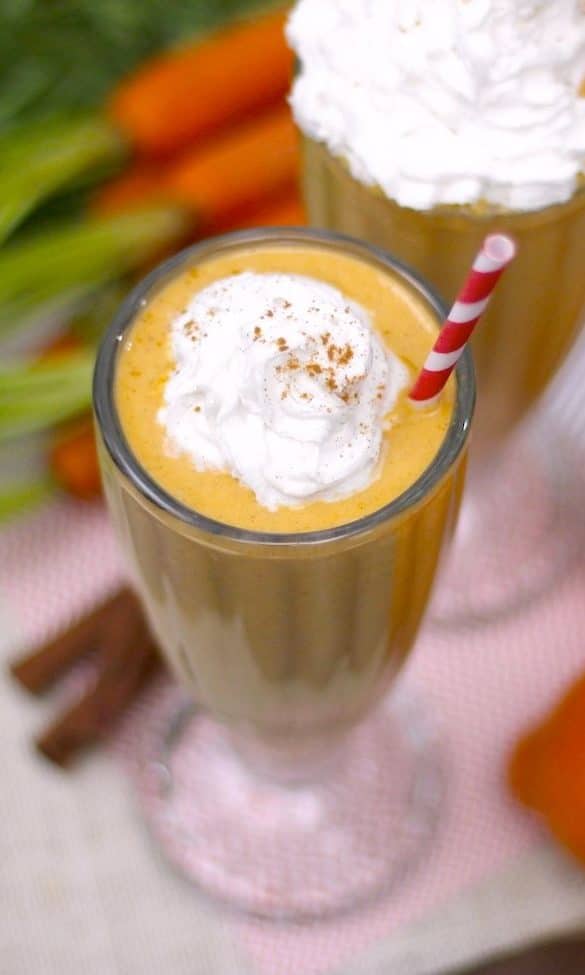 I know adding Carrot Cake flavors to a Milkshake is a pretty strange concept, but to my surprise, it's freaking delicious and I love it.  I could chug drink this all day long.  I am slightly infatuated with super thick smoothies and shakes (I used to get those Oreo Blizzards all. the. time…  my family would eat burgers, I would eat ice cream), so I am a tad bit obsessed with this recipe at the moment.
No need for the sugary ice creams or artificially-flavored syrups either.  You can get that sweet flavor and that magical "so-thick-you-can-eat-it-with-a-spoon" texture even with naturally delicious and nutritious foods.  No one wants to sacrifice flavor for health, and no one needs to with this recipe!
Healthy Carrot Cake Milkshake
Prep Time: 30 minutes
Cook Time: 0 minutes
Total Time: 30 minutes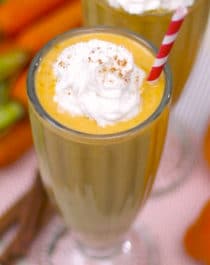 Fat per serving: 2
Calories per serving: 150
Ingredients:
3 heaping cups Carrots, steamed until tender and cooled
1 cup Plain, Nonfat Greek Yogurt
1 cup Unsweetened Vanilla Almond Milk (or milk of choice)
1 tsp Vanilla Paste (I used homemade!)
¾ tsp Stevia Extract
½ tsp Orange Zest
30g (¼ cup) Oat Flour
1½ tsp Ground Cinnamon
1½ cups Ice Cubes
Directions:
Place all the ingredients in a powerful blender (I used my Vitamix!) and puree until smooth.
Give it a taste and add more stevia, cinnamon, ice or a pinch of salt to taste.
Serve immediately with all-natural whipped cream (avoid brands that use hydrogenated oil), a dash of cinnamon, a sprinkle of unsweetened shredded coconut, crumbled walnuts/pecans or straws alone. Enjoy!
All images and text ©
.
This Carrot Cake Milkshake is REALLY thick so you're gonna need BIG straws.  Or a ladle.  😉  I wasn't expecting it to be so thick so I was going to call this a Carrot Cake Smoothie, but it's thick and sweet and packed with flavor, so I think the word "milkshake" probably suits this recipe a little bit better.  Like I said before, I wasn't expecting this to be so thick so I just stuck in my favorite red-striped straws, as you can see in the pictures.  It was pretty difficult to sip through these, so if you have bubble tea straws use those!  Or you can just drink it out of the glass and get a whipped cream mustache.  That totally works too.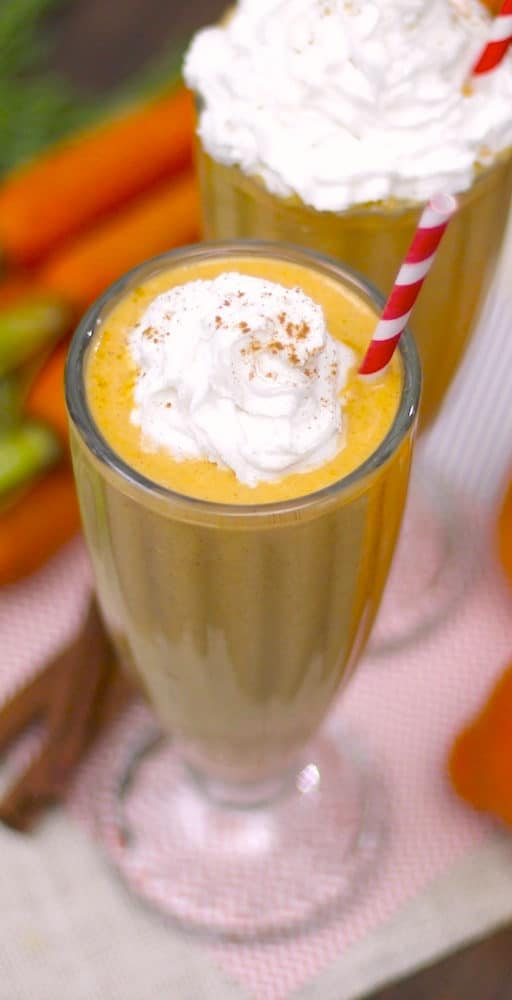 Here is the recipe's nutrition label:
When I made this nutrition label I sure wasn't expecting this milkshake to be so low in calories and fat.  To absorb the Vitamin A in the carrots you need to consume dietary fat, so I like to add a spoonful of walnut butter, pecan butter, or almond butter to the blender!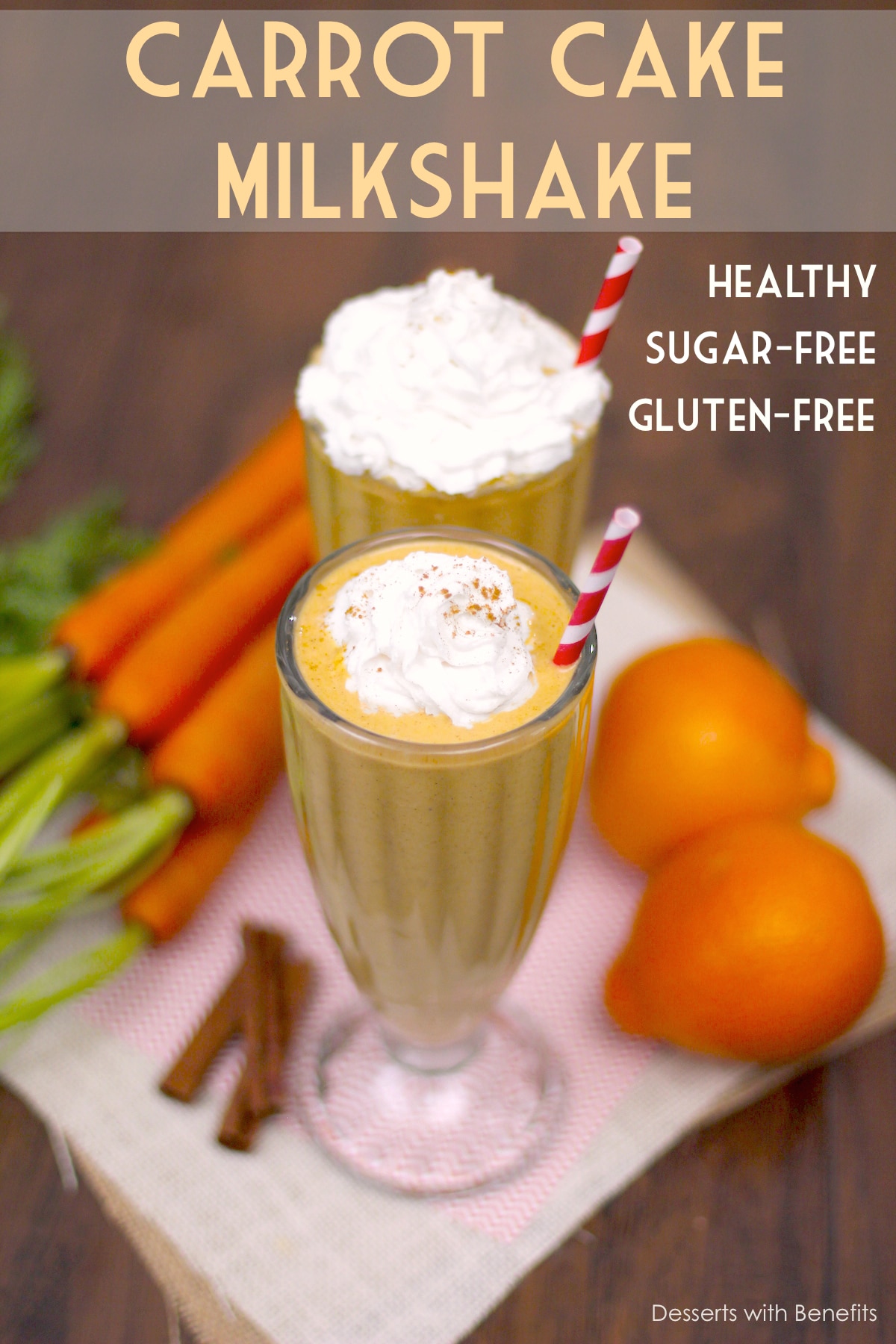 To be totally honest, I originally made this recipe on the fly because I wanted to use up some carrots.  Did I say "some" carrots?  I meant "a ton" of carrots.  You see, I bought a GIANT bag of organic baby carrots at Costco because a 5lb bag there basically costs the same as a snack-sized bag at Whole Foods.  I'm sorry, I'm frugal.  I hate wasting food so I wasn't about to toss the carrots in the trash, but I didn't really feel like gagging down another carrot either.
Solution?  Make a carrot-y dessert!
And thus, this dessert-like Carrot Cake Milkshake was born.  It's hot here in Arizona so my oven is off limits.  I'd love to bake off my Healthy Carrot Cake but my apartment would turn into a dry sauna.
Anyways, I seriously love love love this Carrot Cake Milkshake.  And now I think I need to buy more carrots…  Back to Costco I go!  *rolls eyes*
.
With love and good eats,
.
– Jess
.