Healthy Homemade Walnut Butter
Super easy and healthy HOMEMADE Walnut Butter made all natural, sugar free, low carb, gluten free, and vegan!  No need for the added sugars, oils, and trans fats whatsoever!
I've been on a nut butter craze lately, and I've bought almost every type of nut possible within the last couple of weeks.  From walnuts to almonds, peanuts to cashews, and pecans to pistachios.  I even bought some peanuts, marcona almonds, and brazil nuts.
Some nuts can be expensive, so it's best to find the best deals possible.  I've found that buying crumbled nuts rather than whole nuts are cheaper, and buying certain nuts (like peanuts) in the shell cost less than out of the shell.  And of course, buying in bulk saves money too.  That's why I bought a 3lb bag of walnuts from Costco.  Oh, those silly impulse buys.
BUT, that 3lb bag saved me tons of money in the end.  I used to buy Artisana walnut butter (also contains cashews) which costs $11.99 per 8oz jar.  That's twelve bucks for one cup of nut butter.  The 3lb bag of walnuts I got from Costco has the capability of making me six cups (or 48oz) of walnut butter.  One cup of this homemade walnut butter costs only $2.99!!
That's $11.99 vs $2.99 people.  I can't believe I ever paid such a steep price for a tiny jar of nut butter.  Making walnut butter at home saves nine dollars.  C'mon, that's money we could be spending on important stuff.  Like chocolate.
Healthy Homemade Walnut Butter
Prep Time: 20 minutes
Cook Time: 0 minutes
Total Time: 20 minutes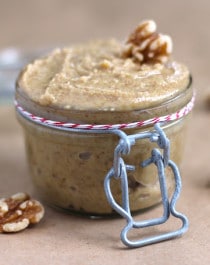 Fat per serving: 16
Calories per serving: 180
Ingredients:
2 cups Walnuts, unsalted (you can use raw or roasted)
Directions:
In a food processor, add the walnuts. Pulse until crumbly and flour-like, then grind constantly until smooth and buttery, scraping down the sides of the bowl as needed (depending on the processor you use, this could take anywhere from 5-10 minutes).  Feel free to add salt to taste or stevia to sweeten.
Pour the mixture into jars, seal tightly, and refrigerate to store.
All images and text ©
.
Incredibly smooth and buttery.  A unique nut butter to use instead of regular peanut butter!
This homemade Walnut Butter tastes delicious on toast with a drizzle of pure maple syrup and a dash of cinnamon.  Yum!
Enjoy  🙂
.
With love and good eats,
.
– Jess
.